Picking the best Caribbean islands with kids can be totally overwhelming. Not anymore!
The beaches, clear blue waters, and relaxing vibes of the islands are calling your name. But if you're a parent, you're worried about just jetting off to whichever island you choose.  You have limited time away with your family, and you want to head to one of the best Caribbean islands with kids. 
But your kids are constantly changing, and so are you! The best Caribbean islands for families with toddlers might not be the best island to visit with kids who need adventure sports, waves, or great snorkeling. So how do you choose? 
In many ways, you can't go wrong. Every Caribbean island offers something unique and, frankly, we haven't been to a Caribbean island that we think would be bad with kids. My complete list of best Caribbean islands for families would include practically all of them. (But I recognize that wouldn't help you narrow down your choices.) 
But after visiting more than a dozen kid friendly islands (and researching many, many more), it's become clear that finding the best Caribbean island with kids is really a matchmaking game: Can you find the best islands for your kids, for your stage of life and personal travel goals, and for your budget. 
In this post, I highlight 21 kid friendly Caribbean islands that are fabulous choices for a Caribbean family vacation. For each island, we'll point you to our hotel recommendations, activity ideas, and suggestions about whether the island is a good choice for babies, toddlers, elementary school kids, or teens (or everyone!). And whether it's better for luxury, lounging, or adventure. 
Whatever you hope to get out of your Caribbean family trip, you'll find it here. It may be beautiful beaches, relaxing resorts, or an adventurous trip with hiking and watersports. This guide will point you to the best Caribbean island to visit with kids of every age, and help you find the perfect backdrop for you and your busy family to have a blast and reconnect.    
Get Caribbean Family Travel Tips and Inspiration Right In Your Inbox
We're on a mission to give you the best resource for Caribbean family travel. One that helps you find the best charming and unique Caribbean destinations you can enjoy together with your kids.  
If that sounds like music to your ears, don't miss our newsletter. We feature a new destination each month, share family travel tips and hotel recommendations, and highlight our Caribbean destination guides.  
No spam, just encouragement, inspiration, and practical tips.  
Now, pour yourself a Pina Colada, and let's find the best kid friendly island for your next vacation…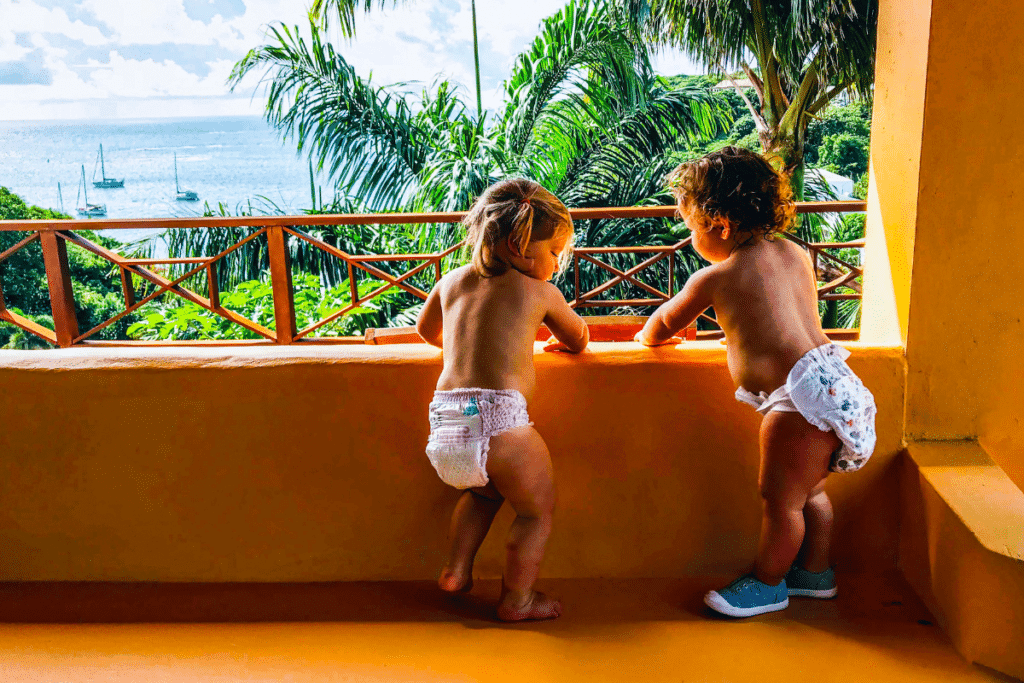 The Best Caribbean Islands With Kids 
1. 
Grenada
You may already know that Grenada was my first Caribbean love. Located at nearly the bottom of the eastern Caribbean chain, just north of Trinidad & Tobago, it has it all. 
Grenada has a few fantastic small hotels, and our favorites have an authentic vibe rather than a cookie-cutter resort feel, but otherwise remains largely under the tourism radar. There are a couple of up-scale restaurants and plenty of beachfront dining. There are no high rises here to spoil the view or overcrowd the shore.
Grenada's real star is the best produce market in the Caribbean, with bins overflowing with tropical fruits and vegetables. And spices. You'll find all the spices. Grenada is called the Spice Island for a reason. If you enjoy cooking on vacation, especially with local ingredients, you'll be spoiled for choices. 
For kids of all ages, a main attraction is Grand Anse Beach, one of the Caribbean's best beaches in our opinion: a two-mile stretch of white sand backed by palm trees. It's shallow and calm, making it ideal for young kids to swim. The more adventurous travelers with love Grenada's lush rainforest interior, with hikes and waterfalls aplenty. 
I cover all the details in this ultimate guide to Grenada with kids, including the best places to stay, activities, and restaurants. One note: Grenada is among the hardest islands to navigate by car for unexperienced island drivers. If you've driven in the islands before, you'll love it. If not, you may want to stick to excursions with a driver.   
Whether you're looking for a relaxing beach vacation or something more active, Grenada is among the best Caribbean islands for families. Especially families who love to cook.
There's also a medical school right near the best hotels! This may help to ease the minds of nervous parents looking for the best Caribbean islands for babies. 
Grenada is: 
One of the best islands for kids of all ages; 
Great for families who beach and land-based activities; 

The best Caribbean island for families who love to cook; 

A top pick for parents interested in a sharing an authentic, slightly off the beaten path experience with their kids.
2. Providenciales, Turks & Caicos
Providenciales is widely considered to be one of the best islands in the Caribbean for families. Its international airport has some of the shortest and most frequent direct flights from many East Coast cities. The convenience factor of Turks and Caicos is hard to beat.
What's more, 3-mile long Grace Bay Beach is consistently ranked as one of the best beaches in the world. It's a calm, kid-friendly beach dotted with luxury family resorts and easy access to snorkeling. If sparking blue water is on your wish list, you'll find it here. 
One thing that really makes Turks & Caicos a uniquely great Caribbean destination for families is that many of the luxury hotels have suites with multiple bedrooms and full kitchens. Grocery shopping in Turks and Caicos is easy. And on top of all that, there are plenty beachfront restaurants nearby that the whole family will love. 
With a great selection of luxury resorts – some with kids clubs! – a calm beach, and easy access from major U.S. cities, we think Turks and Caicos is one of the best Caribbean islands to visit with toddlers in particular.  
If you are traveling with older kids, and looking to break up your trip with something more adventurous, take a quick and easy ferry to relatively empty Middle Caicos. Stay at Dragon Cay Resort and wake up to some of the best views anywhere.
Turks and Caicos Is: 
The best Caribbean island for families with toddlers who want something lovely and easy;  

The perfect location for a luxury resort stay;  
Best for a great beach, clear water, and a walkable town;  
Not for the budget conscious, as its among the more pricey and built-up islands. 
3. French Saint Martin 
We know several families who have returned to the French side of Saint Martin again and again, having had fantastic trips with kids of all ages. Much as we love exploring new Caribbean destinations, St. Martin is one we've been tempted to revisit.  
A top reason to love St. Martin: the villas. French Saint Martin has an extensive inventory of gorgeous villas, which somehow remain more affordable than those in other top Caribbean destinations for kids. Families who dream of finding a sprawling Caribbean manor to rent with extended family or groups of friends should defintiely consider Saint Martin. 
And, of course, if you prefer a hotel experience, you'll find that in St. Martin / Sint Maarten! We love two small boutique hotels in Grand Case, where you'll have both beaches and food at your fingertips: Hotel L'Esplanade and Grand Case Beach Club are both walking distance to some of the islands best restaurants. 

Another great thing about tackling Saint Martin with kids is that it's easy to get around by car. The island has 37 different beaches, many of them calm and swimmable with littles. You'll want to leave the villa and explore them. There's also plenty do in Saint Martin beyond the beach. 
Our favorite St Martin beach is the stunning Pinel Island, which has perfect swimming conditions for kids and great beachside service for adults. A day at Pinel Island is a Caribbean dream.
Another reason to love Saint Martin? The French food. We love the French Caribbean vibe, starting the day with pastries or crepes for the kids, and coffee for mom and dad, before heading off to the beach. The casual lolo restaurants that dot St. Martin's towns and beaches are also excellent for kids.
Saint Martin Is: 
One of the best Caribbean islands for young families;  

Best for those who want to explore a safe, small island that's easy to navigate; 

Full of delightful food in two walkable towns; 

Great for families seeking a small casual hotel, or groups looking to book a villa. 
4. Roatan, Honduras
When you think of Honduras, you might not immediately imagine a kid-friendly Caribbean island. But Roatan, Honduras is truly a hidden gem for family travel.
There's nothing fancy about Roatan, and that's why we love it. This little island packs in a ton for kids, from animal encounters to snorkeling in crystal-clear waters, all without pretense or fuss. For a detailed account, check out our blog post on why Roatan is great for kids. 
Roatan is known for its diving, but the reef starts just off-shore. What that means for parents traveling with little ones is that the off-shore snorkeling is phenomenal. Young swimmers can wade into the water and see the reef teeming with colorful fish.
At West Bay Beach, a particularly great spot for families, low-key restaurants line the sand, offering a relaxed atmosphere and affordable prices.  
Beyond the beach, there are plenty of activities for kids in Roatan. Your little travelers will also love meeting the island's friendly monkeys, sloths, and iguanas. And, perhaps best of all, Roatan remains an affordable destination, even as other Caribbean islands have become increasingly expensive. So if you're looking for best tropical family vacations on a budget, be sure to add Roatan to your list!  And don't miss our complete guide to Roatan for families for tips on where to stay and what to do. 
Roatan Is: 
One of the best Caribbean islands for kids who snorkel; 

An excellent choices for children who love animals; 

A gem for families seeking the road less traveled, and those on a budget.
5. Dominica
When it comes to Caribbean island vacations, Dominica — not to be confused with the Dominican Republic — is often overlooked in favor of more mainstream destinations like Jamaica and the Bahamas.
Dominica's dramatic oceanside cliffs, rich history and culture, and great hotel options offer something unique for families looking to get off the beaten path. It may be the best island in the Caribbean for families looking for an active and adventure-packed vacation. It doesn't surprise us in the least that Travel and Leisure placed Dominica at the very top of the best Caribbean islands 2022 list.
Dominica's network of hiking trails, waterfalls, and natural pools are unparalleled in the region, making it the perfect place for nature lovers. There are also opportunities for whale watching, snorkeling, and swimming. (Rainforest spa, anyone?)
In terms of accommodations, your options range from some of the region's best luxury resorts to family-owned eco-cottages. You can also find small boutique hotels with private pools. Whatever you're looking for you can find it in Dominica. 
Because Dominica is not your beach-lounge type of vacation, this island may be best enjoyed with elementary-school-aged kids rather than toddlers and babies.
Dominica Is: 
One of the best Caribbean islands with kids who love hiking, waterfalls, and adventure; 

A top Caribbean island for families with kids age 4+; 
A large island with mountainous, windy roads – not for the faint of heart; 
Full of accomodation options, ranging from the most luxurious to the tiniest of eco-cottages.  
6. Bequia, St Vincent & The Grenadines
If you're looking for a family Caribbean vacation that combines adventure with a touch of family friendly luxury, look no further than Bequia.
A handful of small, lush hills plunge down into white sand bays that are perfect for smaller swimmers. The island is located in the Grenadines, just south of St. Vincent. Bequia is best accessed by a 1-hour ferry from St. Vincent, although there are also direct charter flights from Barbados and St. Lucia. It requires a journey but it's totally worth it if you have a week or more for your Caribbean family vacation.
Once on the island, visitors will love the throw-back Caribbean charm. While there is plenty to do, the pace of this tiny island is relaxed and relaxing. Families will have no choice but to slow down. Check out our complete guide to Bequia with kids for all the details, including where to stay and what to do.
If you're intrigued but wondering where to stay, Bequia Beach Hotel is one of our all-time favorite Caribbean resorts for kids.  The family vacation we spent there, when our kids with 8 months and 4 years old, was one of our best. Kids and parents alike will love the saltwater pool and well-prepared Caribbean fare (there is also an on-site Italian restaurant during the busy season). The hotel offers easy access to the island's best beach for kids, Princess Margaret beach.
For a slower, laid-back trip off the beaten path, Bequia is absolutely one of the best islands to visit with kids.
Bequia Is: 
The best Caribbean island for families who don't mind a slightly longer journey to paradise; 

A place where time slows, hours pass, and everyone relaxes; 

A great choice for families of all ages.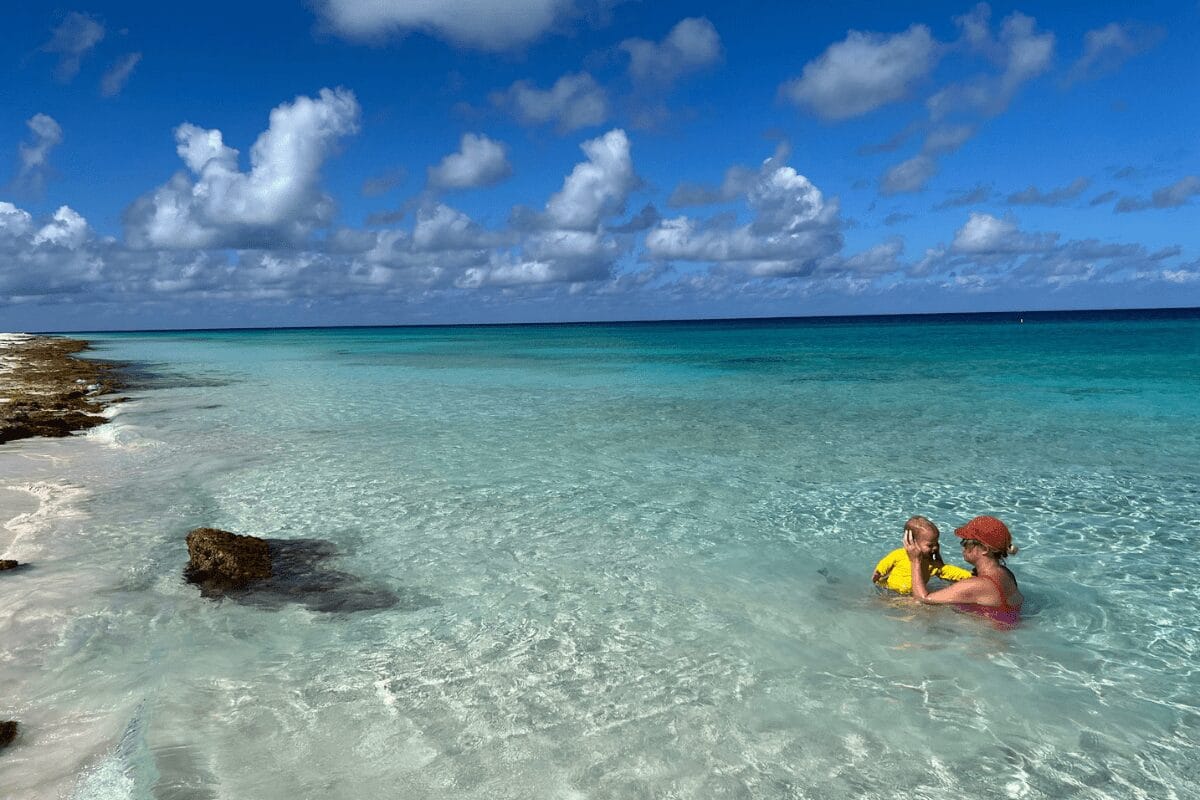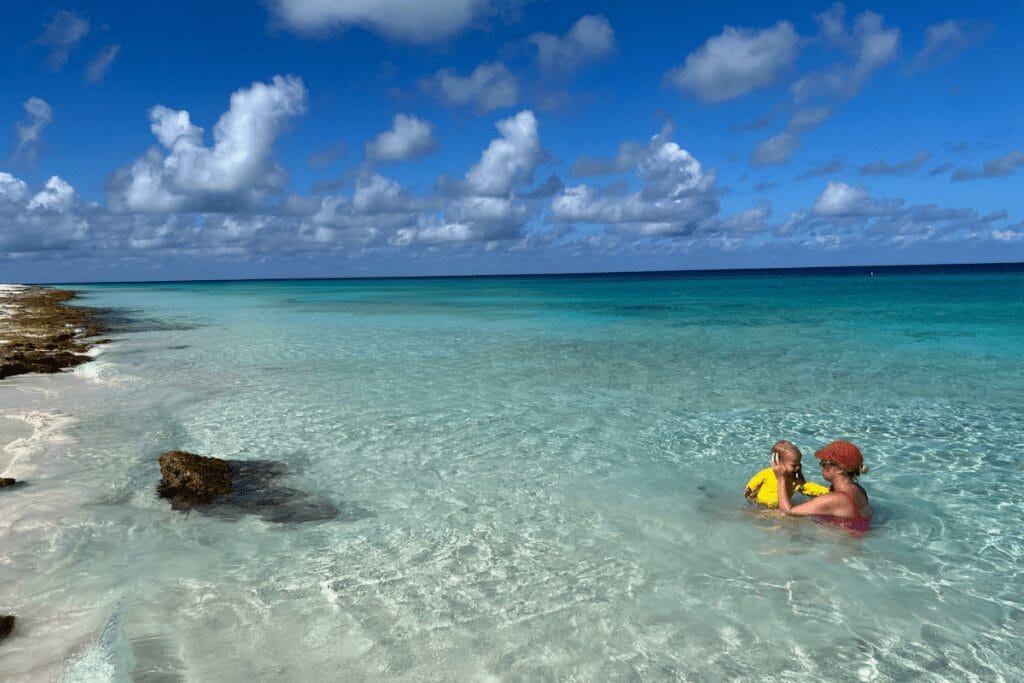 7. Bonaire 
It's always a treat to find a remote Caribbean destination that's not overly developed or touristy. But often, those destinations are either hard to get to, or hard to navigate. After all, that's what keeps the tourists away. Bonaire feels like a secret, and yet it's somehow easy. That combination is why we think Bonaire is one of the best Caribbean islands for kids.  
You will know the moment you arrive that you're in a very special place. Compared to its more populated neighbors, Aruba and Curacao, Bonaire is quiet, with only a fraction of the population. The town of Kralendijk is colorful and lively – but compact enough that you will never more than a few blocks away from the ice cream shop in the middle.
It's all about the sea here. Since 1979, the waters surrounding Bonaire have been part of a national marine park, and the marine life is the best we've seen in the Caribbean. The wildlife is abundant and accessible to kids — flamingos, iguanas, crabs, reef fish, and more are at your fingertips all day. Take your kids to explore Bonaire's best beaches, and you'll often be the only people around. 
And yet, Bonaire makes it easy for families at every turn. Customs is quick, the airport is small, and you can be at your hotel within an hour of landing in Bonaire. The U.S. dollar is widely accepted. The hotel staff is friendly, warm and welcoming. And the island's small size, and flat landscape, makes it easy to explore. 
Bonaire is: 
The perfect, easy destination for kids of all ages, but especially those who love water;  
Flat and very easy to navigate by car, with a charming walkable town in the center; 
A good choice for those who love a blossing food scene; 
Full of nature and access to wildlife.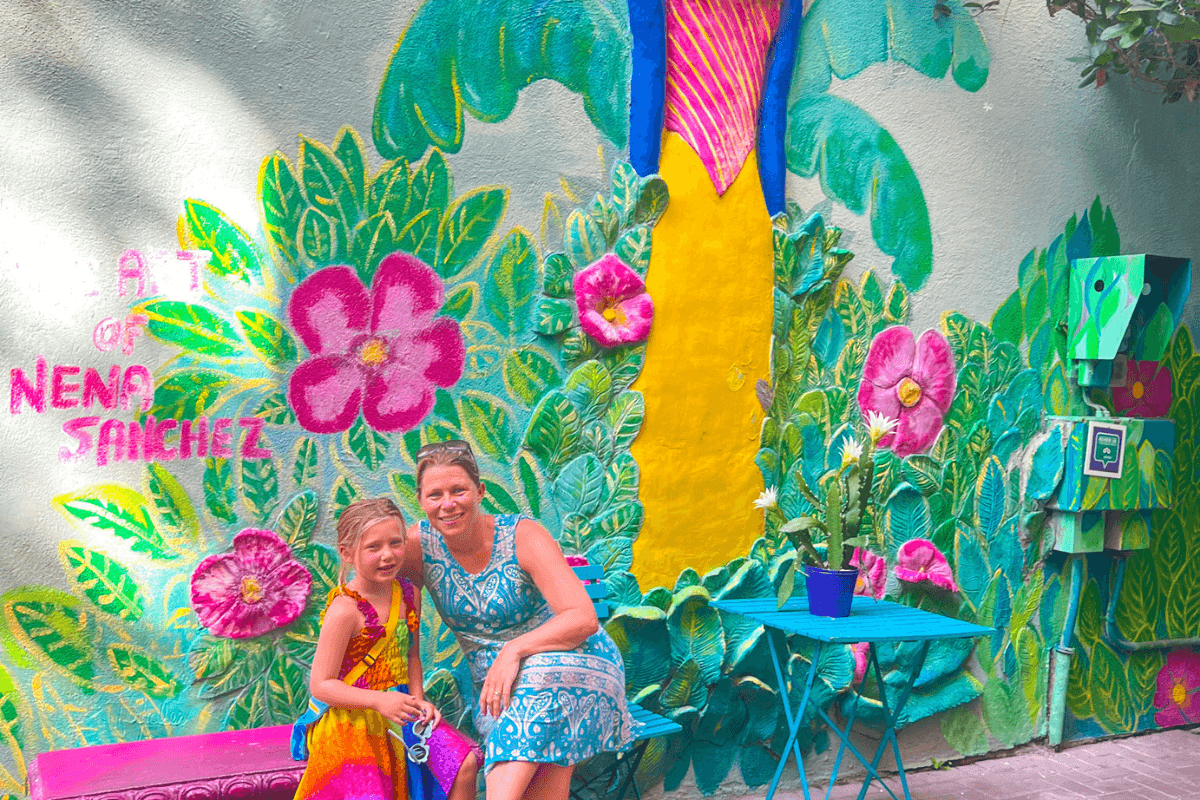 8. Curacao
Curacao island is often overlooked as a top Caribbean travel destination. But especially for families seeking a deal, and seeking to travel during hurricane season, it's an incredible choice!  Read more here about why we think Curacao is a top family destination. 
Here's what in store for you in magical Curacao:  Pristine beaches tucked into small coves.  Accessible snorkeling.  A day trip to a deserted island. A colorful capital city offering a wide range of culinary treats.  Myriad hotel options, ranging from some of the most affordable beachfront resorts in the Caribbean to ultimate boutique luxury.  
Because of its location, Curacao is often compared to its sister Dutch islands of Aruba and Bonaire.  Yet in many ways, the three could not be more different. The ABC islands each have something unique to offer your family. 
Curacao is the more European, and urban, of the three islands. The capital city, Willemstaad, is like a prism that reflects back all the colors of the Caribbean.  But there's access to nature beyond the city center, with a national park on the island's eastern end. 
Curacao is: 
One of the best Caribbean islands for families who don't want to be surrounded by Americans; 

A good option for a mix of sand and sea, but also fine-dining and European shopping; 

Best for families with kids who want to explore, and who are old enough to snorkel. 
9. Antigua
Antigua is perfect for parents who want to unwind and relax. The island has several small, all-inclusive resorts, that offer the serenity and calm of a boutique hotel but the amenities of a larger resort.   
And there is still plenty to do. Antigua is known for its 365 beaches — one for each day of the year — offering plenty of chances to explore and making this one of the best family vacation spots in the Caribbean.
Another highlight of a family trip to Antigua would be the weekly barbecue at Shirley Heights, which offers the best view on the island (shown above). On Sundays, the great food and live music create a festive atmosphere that is perfect for family fun.
Antigua also offers a snorkeling experience that caters to younger travelers, which makes it an especially good trip for the under 5 crowd. Long Bay Beach, on Antigua's east coast, has plentiful marine life on a reef in shallow water. In fact, the reefs are so shallow that you can walk to them, and even kids who can't swim yet may be able to see fish and practice with snorkel masks.
If you're based in or near New York, Antigua should be high on your list of family friendly Caribbean islands, as several airlines offer direct flights from JFK.  
Antigua is: 
One of the best Caribbean islands to visit with babies, toddlers, and grandparents; 

A safe and sleepy island, with small luxury all-inclusive resorts, but no megahotels or waterslides; 

Great for families who want a kids club, with lots of options for ave 3+; 

Fantastic for boat lovers or history buffs, with a historic dockyard worth exploring. 
19. Bermuda
Recommended by Victoria of Guide Your Travel, who spent childhood summers in Bermuda.  
Bermuda is a great place to visit with kids of all ages. The island is known for its paradise-like beaches with pink sand and crystal-clear waters. 
Bermuda is suitable for kids of all ages, but kids 6 and up will really enjoy the underwater world here.  Kids ages 12 and up can take advantage of introductory scuba diving classes.  And kids between the ages of 6 and 14 will enjoy the Bermuda Underwater Exploration Center which is a fun, interactive museum explaining Bermuda's incredible underwater world and its history with shipwrecks. 
Another great activity for kids is to explore Bermuda's stunning parks with hidden caves and underground lakes — lots to do for families beyond the beach. 
Note, though, that Bermuda can be an expensive place to visit, which is why most tourists come here as part of a cruise and only stay for one or two days. Bermuda can be more than a cruise destination for families. You could easily spend a week or two here without running out of things to do. Here are some tips for making your trip to Bermuda more affordable, so you can extend your stay! 
Bermuda is 
One of the best islands to visit with kids over the age of 6 

Best for the luxury traveler, as it is among the more expensive Caribbean islands 
20. Aruba
Recommended by Nikki of She Saves She Travels.
With plenty of amenities to make you feel at home, your family will enjoy the white-sand beaches of Aruba, definitely one of the best tropical islands for kids. On most of the beaches, you'll be able to rent palapas and chairs for shade and comfort. 
For younger children, the sand in Aruba is perfect for building sandcastles — always family favorite. Be sure to visit Baby Beach for its shallow water and extra gentle waves.
For older kids, Aruba's Splash Park, full of inflatables, offers a day of family-fun. You can also visit the Donkey Sanctuary, the Butterfly Farm, or take a tour on a pirate schooner and sail the coast of Aruba!
Teens will love the active adventures that Aruba has to offer. They can take windsurfing lessons, visit Arikok National Park and the Natural Bridge. Going parasailing or renting one (or more) UTV's for the day is a fun way to explore Aruba. There are so many things to do in Aruba, you won't get bored!
Travel tip for families: book accommodations in advance, especially if you want to stay in a hotel on Palm Beach. Many restaurants on Palm Beach require reservations for dinner, so plan accordingly.
ARUBA IS: 
One of the more built-up Caribbean islands, with lots of resorts and familiar restaurants; 

A top choice for travel with young kids and toddlers with tons of activities and calm beaches; 

One of the best islands to visit with kids over summer holidays, with great weather year-round.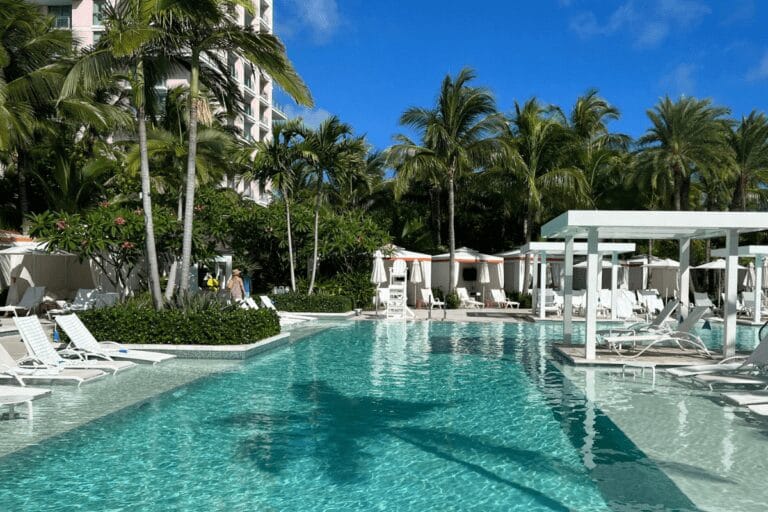 21. New providence island, Bahamas 
If you're considering the Bahamas islands for your Caribbean family trip, you can't go wrong! While these islands are not actually located in the Caribbean Sea, the Bahamas are part of the Caribbean region and the ultimate tropical destination for families. 
Nassau on New Providence Island is, from most US cities, the most easily accessible Bahamas destination.  Nassau is most recognizable for its massive mega-resorts like The Atlantis and Baha Mar. But don't fret, there are some smaller gems to find here too, plus some stellar local cuisine. 
We recommend pairing your trip to Nassau with a getaway to one of the more remote Out Islands, like Andros or Long Island.  That way, the kids can enjoy a few days of waterslides, and mom and dad also get some of the peace and quiet the Bahamas is best known for.  
Nassau, Bahamas Is: 
A great choice for young families seeking a quick getaway with a baby;

Good for a long weekend full of waterslides with older kids;

Best combined with the Out Islands for a full week. 
22. Exuma, Bahamas 
Bahamas Fun Fact: The island nation of the Bahamas is made up of nearly 700 islands, though they aren't all inhabited.  If you head out beyond Nassau, you'll find warm blue water, long stretches of beach, and adorable small hotels, ranging from casual to total luxury.  
Exuma is a collection of more than 350 islands, brimming with hidden coves, natural wonders, and off the beaten track wild attractions. Some of these Exuma islands have amazing family-friendly resorts waiting for you. 
If you want seclusion, relaxation, and quiet beaches, it's the Out Islands for you.  Destinations like Andros, the Exumas, and Harbour Island may take a slightly longer journey (unless you live in Georgia and the Carolinas, where you'll find lots of direct flights!) but it's well worth it. Put these islands on your Caribbean bucket list! 
The Bahamas easily makes our list of best Caribbean islands for families. 
What really stands out to us about the Bahamas are the long, sandy beaches in the Out Islands. If you want blue water as far as the eye can see, and shallow sloping beaches for small kids, these are the islands for you.  
The islands of Exuma, Bahamas are 
The best Caribbean destinations for families from Atlanta and Charlotte (direct flights!); 
An easy hop from Miami or Nassau for families traveling from elsewhere; 
A top Caribbean destination for clear blue water, endless beaches, and no crowds 
The Best Caribbean Island To Visit With Baby
It's one thing to travel with kids who need activities, stimulation, and their own sleeping space. It's another to take your first trip to the islands with a baby. Your needs may be totally different. 
Some of the best Caribbean Islands to visit with a baby are: 
Antigua 

Nassau, Bahamas 

Harbour Island, Bahamas 

Grand Cayman, Cayman Islands 

Providenciales, Turks and Caicos 

Grenada 

Saint Barths 

Saint Martin 
Saint Lucia 
The great thing about traveling with a baby, of course, is that you can bring a baby anywhere. That said, many parents traveling to the Caribbean with babies seek out clean water, resorts with all the baby gear on hand, and safe, comfortable spaces to relax. Not to mention a generally friendly and relaxed atmosphere, where no one will mind the occasional cry. 
The Best Caribbean Islands For Families With Toddlers
Toddlers are a different consideration, altogether. With their newly found freedom of movement, and big personalities, it's important to find a destination where toddlers can feel at home. 
These islands are the best Caribbean islands to visit with toddlers. 
Antigua 
Bequia 
Bonaire 
Curacao
Grenada
Saint Martin 
Providenciales, Turks and Caicos
Grand Cayman, Cayman Islands 
St Thomas 
When 
planning a beach vacation with toddler
, it's all in the details. Whatever island you choose, they key will be finding a toddler-friendly hotel where your little ones can safely explore.  Prioritize a calm beach, and a pool with a great shallow end. And pick a room where you won't mind lazing away the afternoons during your toddler's naps.
Frequently Asked Questions
All three of the US Virgin Islands are great for kids! Families love the Ritz St. Thomas, the Westin Saint John, and The Buccaneer resort in Saint Croix. No matter which of the US Virgin Islands you choose, you can craft an excellent family vacation. 
The best Caribbean islands for a relaxing vacations are the ones with a slow pace, and gorgeous white-sand beaches. Antigua, Turks and Caicos, and the Bahamas are our top choices for pure relaxation.
The best Caribbean islands for island hopping are the ones with nearby neighbors.  We love combining the ABC Islands; the Virgin Islands; Saint Martin, Saint Barths and Anguilla; Saint Kitts and Nevis; and Guadeloupe, Dominica, and Martinique. The Grenadines are also another terrific option. 
Let Mango Tree Find Your Island 
The bottom line: You can't go wrong in the Caribbean! There are so many kid-friendly Caribbean islands perfect for memorable family vacations.
But if this list of ideas sent your brain into overdrive, or if decision-fatigue has you shutting your laptop, let us take the hassle out of your travel planning. We'll get you to the Caribbean while minimizing stress and hassle at every stage.