Want to skip the fine dining and head to the best casual beachfront restaurants Turks and Caicos has to offer? We love your vibe.
Turks & Caicos is known for its fine dining. There are countless high-end restaurants on Grace Bay Beach—many of which, like Coco Bistro, require reservations weeks in advance. 
One of the best parts of a Caribbean vacation, though, especially when traveling with kids, is the awesome vibe of the casual beach shack. The ambience is unique to the islands, the food is usually better, and the lower prices certainly don't hurt.  
After testing many a beach bar in Turks and Caicos, we've landed on a handful of low-key dining experiences worth your while. These are the Turks and Caicos beachfront restaurants that should absolutely be on your itinerary. 
Casual Kid-Friendly Restaurants in Turks and Caicos
1. Da Conch Shack
Friends immediately recommended Da Conch Shack when we booked our Turks and Caicos family trip. This casual beachfront restaurant is a great first stop when you land. It's only a 10-minute drive from the airport so we stopped for lunch before we even checked into our villa.
Da Conch Shack settled us right into our vacation. Picnic tables in the sand, bright colors, and a wam and friendly vibe put us at ease. We dove into vacation with cracked conch, conch fritters, and a rum punch, while our daughter explored the conch-shelled filled beach. We even saw a whole wheelbarrow full of fresh conch in their shells! 
The kids' menu has all the staples—burgers, hot dogs, and chicken and fish fingers.  It's places like Da Conch that make Providenciales such a fun place to take the family.
Da Conch has live music on Wednesday nights, along with Saturday and Sunday afternoons. There's also a DJ on Friday and Sunday nights.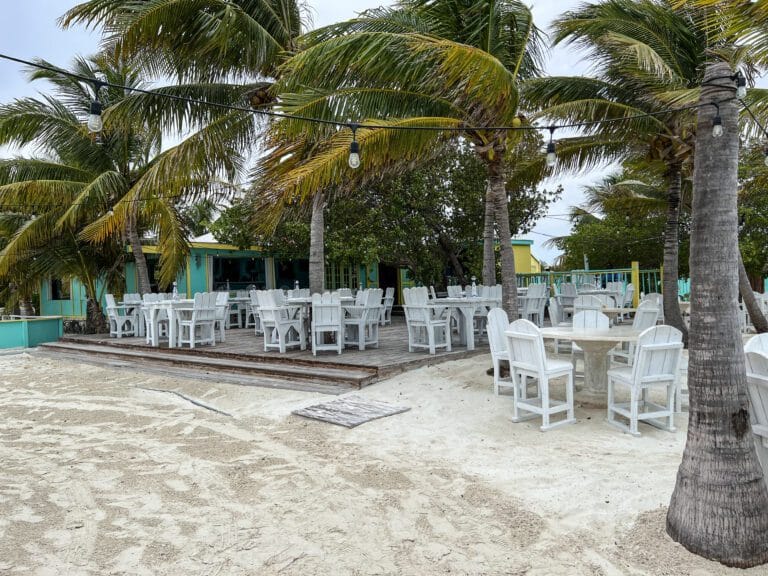 2. Bugaloo's Conch Crawl
Our dinner at Bugaloo's with the kids was one of our favorite vacation dinners. It definitely makes the list of best casual beachfront restaurants in Turks and Caicos. The pastel pink and blue beach shack is in the Five Cays Settlement on the southside of Providenciales, about an 18-minute drive from Grace Bay. It's totally worth the journey.
Bugaloo's is right on the beach and has tables in the water.  It also has old boats repurposed as tables, which the kids love. During low tide, a shallow beach with pools stretches out in front of the water. It provides the perfect backdrop for photos at sunset, and tons of fun for the kids to splash around.
The menu offers eight different kinds of conch—yum—plus a whole host of other seafood dishes and typical beach bar fare.  Turks and Caicos has a local brewery called Turk's Head Brewery. The beer is widely available at the casual beachfront restaurants on the island and pairs great with the conch and seafood and Bugaloo's. 
3. Omar's Beach Hut
Omar's is right next door to Bugaloo's in Five Cays, with a similar beach hut vibe.  It, too, allows you and the kids to wander out into shallow waters while you're waiting for your meal. 
So what's the difference? Some people swear Omar's is the best, others swear by Bugaloo's Conch Crawl, so it may just be a matter of personal choice.  Like Bugaloo's, Omar's has a nice big shaded area on the beach and offers various kinds of conch.  But its known for its jerk chicken. 
4. The Deck at Seven Stars Resort
The Deck at the Seven Stars Resort & Spa isn't a beach shack.  It may be a hotel restaurant, but it's at one of our favorite Grace Bay family-friendly hotels, with a near-perfect location overlooking Grace Bay Beach. So I couldn't leave it off the list of best casual beachfront restaurants in Turks & Caicos.  
If you're looking for a slightly more refined beachfront dining experience – but still casual enough to bring the kids – the Deck is a great option.  You can see your kids run on the beach while you enjoy the sunset.
5. Mudjin Bar & Grill
You'll have to really go off the beaten path to get to this phenomenal beachfront restaurant.  It requires a day trip from Providenciales to Middle Caicos, which involves a 20-minute ferry ride and a 45 drive.  But the adventure is amazing: Mudjin Harbor Beach is one of the most stunning beaches we've ever seen. Wild cliffs plunge into the turquoise ocean, with hidden beaches between caves.
Right on the shores, you'll fine Mudjin Bar and Grill, open every day from 11am – 3pm, serving grilled fish, conch, fish and chips and more.  Order a signature Mudjin Bar Cocktail and you won't regret it.
Get Caribbean Family Travel Tips Right Into Your Inbox 
Don't miss our other Caribbean destination guides for families!  
And for even more Caribbean and family travel inspiration, sign up for our newsletter. We feature new destinations, highlight our favorite hotels, and share family travel tips. Keep the travel dreaming coming all year long.