Turks and Caicos is a popular destination for family vacations.  Many parents with young kids choose to stay at Beaches Turks & Caicos—an 800+ room all-inclusive complex with all the bells and whistles. But we prefer smaller hotels, and generally do not choose all-inclusive resorts. We went in search of Turks and Caicos family resorts that are a little more our speed.   
There are a lot of hotels in Turks & Caicos. The main tourist hub is the 3-mile long Grace Bay Beach on the island of Providenciales (Provo). Dozens of hotels line this beach, many claiming to be among the best Turks & Caicos kid-friendly resorts. Frankly, it can be quite hard to tell them apart, especially based on websites alone. So we've tried to narrow them down for you.  In our opinion, these are the best hotels for families in Turks & Caicos who want to something a little more intimate.
All of these hotels offer one- and two-bedroom suites for families – something we really appreciate when traveling with small kids – as well as kitchens. The first three are on Grace Bay Beach, and the last two in more unique locations.  Have a favorite hotel for families that we missed?  Please let us know in the comments!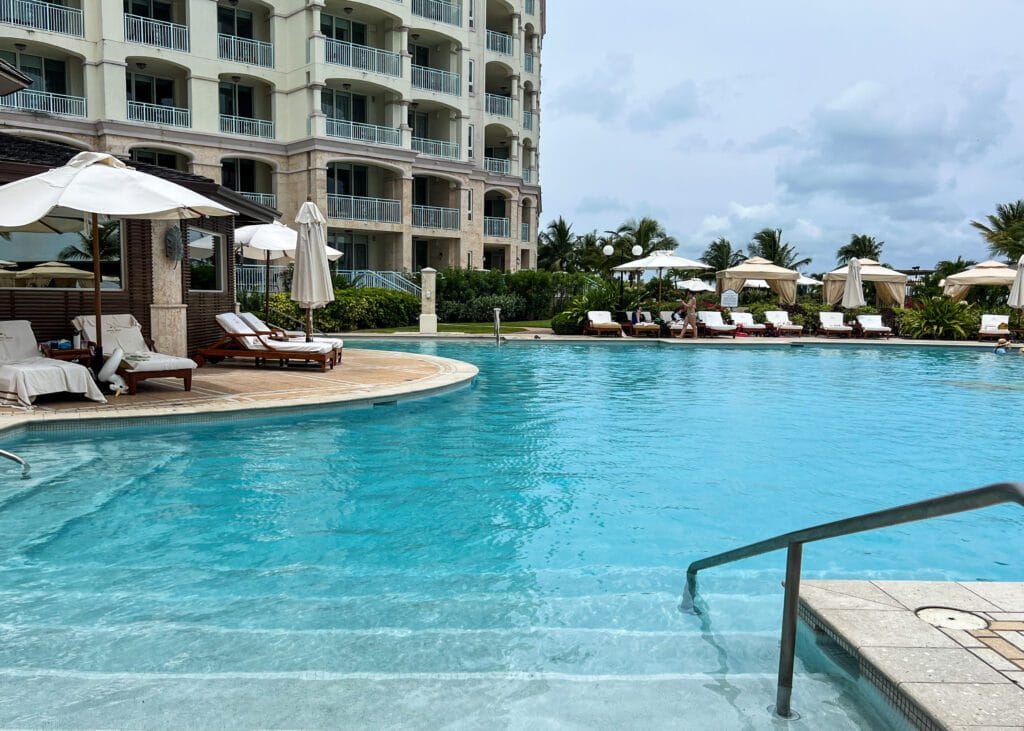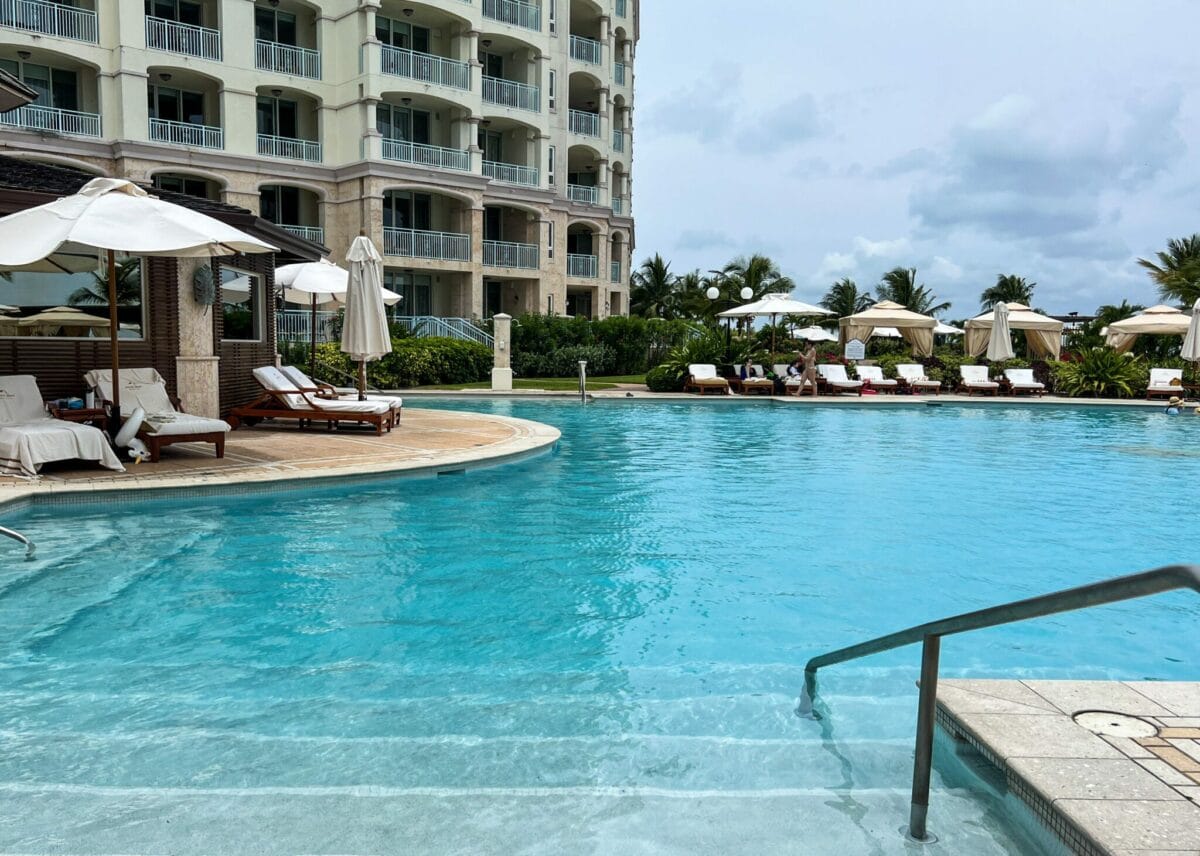 Seven Stars: Kid-Friendly Luxury Resort
Walk onto the grounds at Seven Stars and you'll immediately feel a sense of luxury. For a high-end family vacation right on Grace Bay Beach, this could be the Turks & Caicos kid-friendly resort for you. The hotel has a great location next to the Ritz, right in the center of Provo's strip of shops and restaurants. But unlike the Ritz, it has extremely spacious suites for families. In 2017, the hotel added a new class of two-bedroom suites specifically designed for families, with a king room, a second room with two twins, a large balcony, and a full-kitchen. You can order groceries in advance and have them delivered to your room, an awesome kid-friendly perk.
The hotel's 115 rooms are located in three towers surrounding the pool. The resort has all the amenities you need for a relaxing stay on Grace Bay, including a spa, an adults-only pool, a fitness center, and tennis courts. The pool's shallow end offers long, flat stairs that are a great hanging spot for kids. And the beachfront restaurant, The Deck, is also a highlight, with a large patio, delicious food, and great views. There's also a formal indoor restaurant, Seven, for a breakfast buffet and gourmet dinner.
Note, however, that while older reviews mention a kids' club at Seven Stars called Shooting Stars, that kids' club closed. The hotel does help arrange babysitting, however, to give parents a break.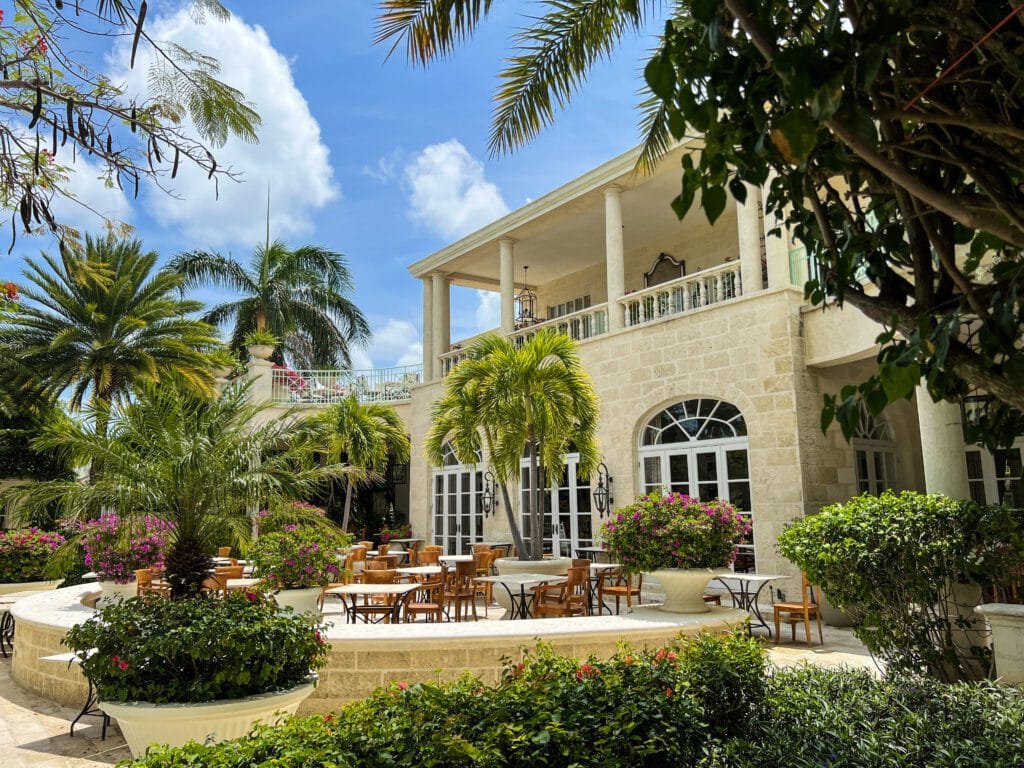 The Palms: A Family-Friendly Boutique
The kids' club might make The Palms the overall winner on this list of Turks & Caicos family resorts. The Palms has more of a boutique vibe than Seven Stars, with only 72 rooms.  But the property has a similar lush and luxurious feel. The pool here is the best we saw on Grace Bay Beach—it wraps around the pool bar and restaurant, with a long shallow baja shelf at one end, and an infinity edge overlooking the beach at the other.  There are swim up tables the kids will love.  The kids' club accepts kids as young as 4.
The Palms has plenty of family-friendly suites, including one-bedroom, two-bedroom, and three-bedroom options, many with full kitchens and laundry.  It' about a 15-minute walk, or a short cab ride, from the main shops and restaurants.  It also has six dining areas on-site, offering lots of variety.  In addition, one great perk about The Palms is that it's under the same ownership as two other Turks & Caicos kid-friendly resorts—the Sands and Shore Club—both of which make this list.  A free shuttle runs between the resorts, making it easy for you to enjoy the restaurants and amenities at the other hotels as well.
The Sands at Grace Bay: An Affordable Choice
Seven Stars and The Palms are fantastic high-end choices for a Turks & Caicos family resort on Grace Bay Beach. But they come with a price tag to match, especially during peak travel times like school breaks. If those two hotels are out of your price range, we would absolutely recommend booking one of the 114 suites at The Sands at Grace Bay.  These one- and two-bedroom suites are spacious and well-appointed, with large screened in porches and full kitchens, perfect for the whole family to spread out.  The staff here is extremely welcoming and will make sure you and your kids have a fantastic trip.
The pool isn't huge, but it's right next to the beach and has a good shallow area for toddlers. There's also a small lazy river, which kids of all ages will love, and a big lawn where kids can run freely. There's no kids' club at the Sands, but in-room babysitting is available at a very reasonable rate of $12 per hour for 1 child, $16 per hour for two.  To highlight how kid-friendly this hotel is—the on-site spa has family specials, including a "Mommy and Me Little Mermaid Package" for mothers and daughters.
The beachfront restaurant at the Sands, Hemingway's, has decent food and a fantastic kid-friendly atmosphere right on the beach. It's a great restaurant to have at your fingertips when the kids are famished, but you don't need to eat every meal here—you're less than 10 minutes from the downtown area of Grace Bay Beach with plenty of restaurant options. Plus, as we mentioned above, you'll have easy access to all the restaurants at The Palms and The Shore Club.
The Shore Club: Luxury Away From The Crowds 
If Grace Bay Beach's built-up vibe isn't quite your scene, consider The Shore Club—a unique luxury hotel that's just a few minutes away from the hustle and bustle of Grace Bay Beach but still close enough for easy access. The Shore Club is the first resort on Long Bay Beach, on the southeast side of Providenciales, and so you'll feel as though you have the beach to yourself.
The Shore Club has 110 rooms and 38 suites ranging from one to three bedrooms, the latter being perfect for families. There are also a handful of private villas for bigger groups. The hotel has tons of amenities, including four pools, a unique spa, a kids' club, fitness centers, and plenty of water sports equipment.  One cool thing that you don't see on every Caribbean beach: Long Bay Beach has shallow waters and a consistent wind, making it perfect for windsurfers that will provide tons of entertainment for your kids.
Guests rave about the amenities and comfort level of this hotel—luxury without stuffiness, and absolutely family-friendly.  And for the days that you want to explore Grace Bay Beach, you can easily do so by hopping the shuttle to The Palms.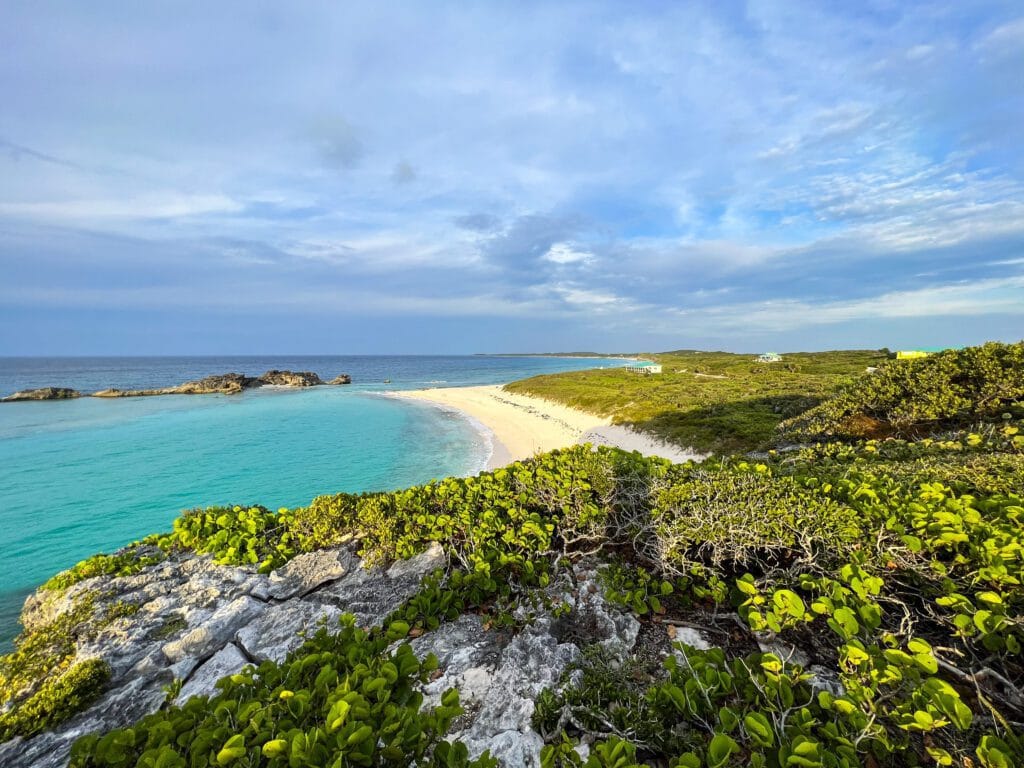 Dragon Cay Resort: A Totally Unique Getaway 
Our final Turks and Caicos kid-friendly hotel offers something completely different—and more of an adventure. This one takes you away from the bustle of Providenciales to the near-deserted island of Middle Caicos. Some families choose to take a daytrip to North and Middle Caicos, but if you get the chance to stay at Dragon Cay Resort for a couple of nights instead, grab that chance. Take a 20-minute ferry, then a 40-minute drive from Provo, and you'll find one of the most spectacular, dramatic coastlines imaginable.  Mudjin Harbour Beach truly is one of a kind, and Dragon Cay Resort is a collection of seven cottages that dot its shores. 
You won't find the amenities of a large resort here—no pool or kids' club.  There's not even a dinner restaurant—Mudjin Harbour Grill is only open for lunch. Instead, spend a few nights in a two- or three-bedroom cottage, cook dinner with your kids, go to bed early, and enjoy the stunning scenery.