So I can't help myself: Right now, I'm encouraging everyone I know to head to Bonaire with kids. 
We recently fell in love with Bonaire as a family travel destination. I just want others to have the same great experience we did!  
I truly can't recommend Bonaire island enough. As soon as we returned from our trip, I immediately added Bonaire to our list of the most kid friendly places in the Caribbean.
We loaded the profiles for our recommended Bonaire hotels as quick as possible to make it easier for other families to get there.
I quickly wrote a whole post about the ABC islands, highlighting what each one has to offer — but really to encourage families to consider a vacation in Bonaire.
If you're considering a Bonaire vacation with kids, book it. Book it fast! It's an incredible tropical destination for a family trip. You won't regret it.
Bonaire Family Travel Resources
Before we dive in, let's be sure you have our best Bonaire travel resources at your fingertips.   
Did you know we have a whole collection of recommended family hotels in the Caribbean – including in Bonaire? I'll let you in on a secret, it's sort of our pride and joy.
We've made it easier for busy parents like you to find the right Caribbean hotel for your family, with space for everyone. But don't take our word for it: Explore our collection using search filters (like room size) that we designed just for parents. 
Wishing someone else would just handle the logistics for a change? We're here for that too. We offer bespoke Caribbean family travel planning services. Our specialty? Helping parents narrow down the choices to identify the best Caribbean island and hotel for a top-notch family trip. 
And finally, want more Caribbean travel inspiration in your life? Sign up for our weekly newsletter, where we feature a Caribbean destination each month and highlight our favorite hotels and family travel tips. We also share our best Caribbean destination guides for families. 
Now, pour yourself a mojito and start planning your trip to Bonaire…
Bonaire Overview
Bonaire is the "B" in the ABC Islands, hanging out next to Aruba and Curacao off the coast of Venezuela. You're in the Dutch Caribbean now – and in Bonaire, that really shows. About 80% of the island's 20,00 residents are Dutch nationals.
Bonaire is well known to scuba divers and marine-life aficionados. For some reason, though, Bonaire seems largely undiscovered by American family travelers. Perhaps it's because of its small size, or because it lacks the endless stretches of white sand found in neighboring Aruba.
Whatever the reason, Bonaire ought to be on your radar for a Caribbean family adventure.   
Bonaire is a nature lover's paradise, under and above the water. Under water, the reefs and waters surrounding Bonaire have been protected since 1979 as part of the Bonaire National Marine Park. The reef starts right off-shore.
On land, the northern corner of the island remains protected and undeveloped Washington Slagbaai National Park. Klein Bonaire, an uninhabited island of Bonaire's coast, is a stunning place to spend the day at the beach. And the Pekelmeer Flamingo Sanctuary on Bonaire's southern tip is one of only a handful of places in the world where flamingos breed in the wild.
Bonaire also has a calming vibe, and a sort of charm that can only be found on a small island. It's quaint, accessible, and easy.  And that's what makes it right for a trip with little travelers.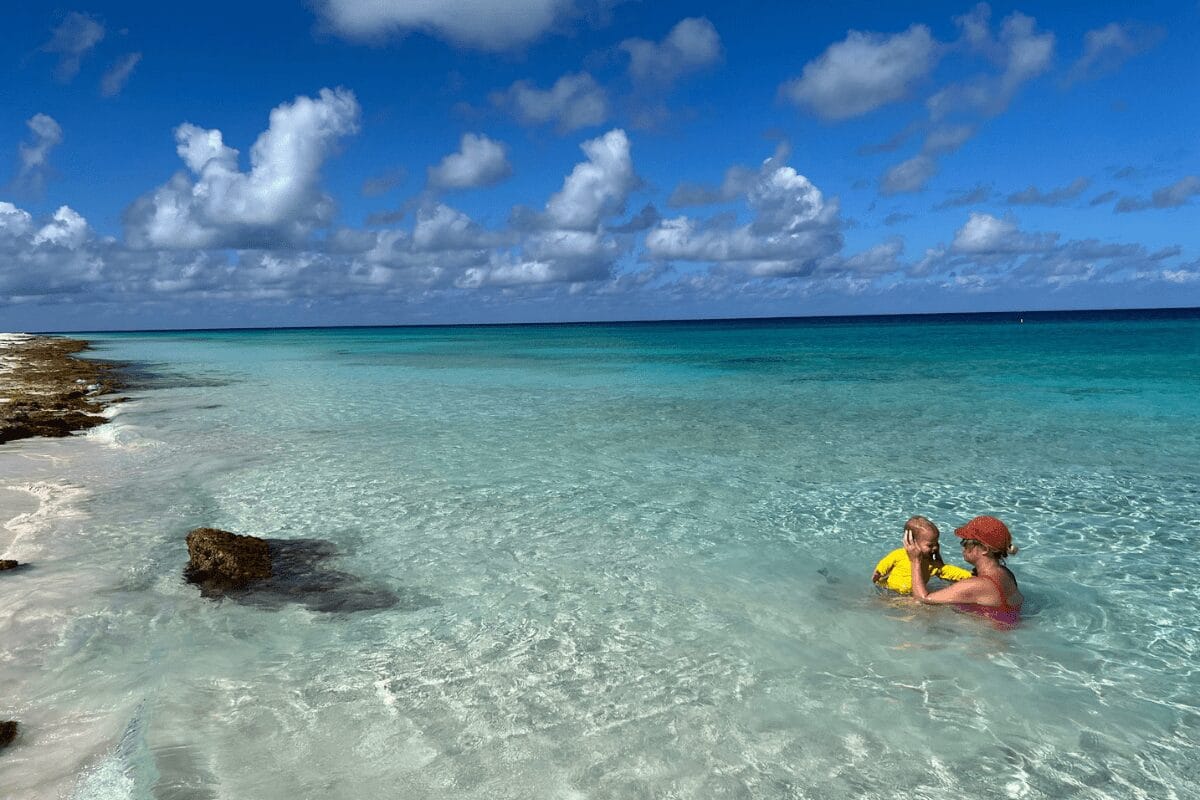 How do I get to Bonaire? 
You can fly direct to Bonaire direct from Miami, Houston, Atlanta, or Newark. Flying time from Miami to Bonaire clocks in at just under 3 hours. A direct flight from New York to Bonaire takes closer to 5 hours.   
One of the best parts of Bonaire? When you arrive at Bonaire's small international airport, you can clear customs (located outside) in under 15 minutes.  Once you clear customs, most hotels are only a 10-minute drive away.  We were at our hotel less than an hour from when we landed, which is almost unheard of for an international trip.
The easier-than-average Caribbean travel day started our family vacation off on the right foot.  
Four Reasons To Travel To Bonaire With Kids
Each Caribbean destination has something unique to offer families, it's just a matter of figuring out what it is. Here's what sold us on Bonaire.
1. An Easy Off-The-Beaten-Path Destination 
Experience an off-the-beaten path Caribbean destination should be on every family's bucket list. 
It's always a treat to find a remote Caribbean destination that's not overly developed or touristy. But often, those destinations are either hard to get to, or hard to navigate. After all, that's what keeps the tourists away.
Bonaire is neither of those things. We felt like we'd landed in a very special place, and yet it was easy with kids every step of the way. As I mentioned above, we were at our hotel within 10 minutes of landing in Bonaire. The U.S. dollar was widely accepted. Our hotel had great suites for families, kids' menus, and helped us to arrange babysitters.  
We saw unique wildlife – but it was right outside our front door, so no one even had to put on shoes to find it. The town was colorful and lively – but small enough that you were never more than a few blocks away from the ice cream shop in the middle. We went to a breakfast with a playground. It just felt easy.
2. The Snorkeling 
If I could describe Bonaire in one sentence, it's "never go anywhere without your snorkel."  
The Bonaire marine park offers snorkelers and scuba divers some of the best marine life in the Caribbean. The reef in Bonaire begins basically at the shoreline.  In fact, each hotel has a "house reef" right offshore (I'd never heard of such a thing). There are bars where you can have a drink, then jump into the water and snorkel.  
The reef and marine life is accessible to even the youngest swimmers. If you have kids who are learning to snorkel, or who already have the hang of it, you will really be able to enjoy this destination together.
Bonaire's beaches are small – and many of them rocky – but stunning in their own way. The best Bonaire beaches are made less for sunbathing and more for snorkeling, though.
You go to the beach in Bonaire to get in the water, not to lounge by its side.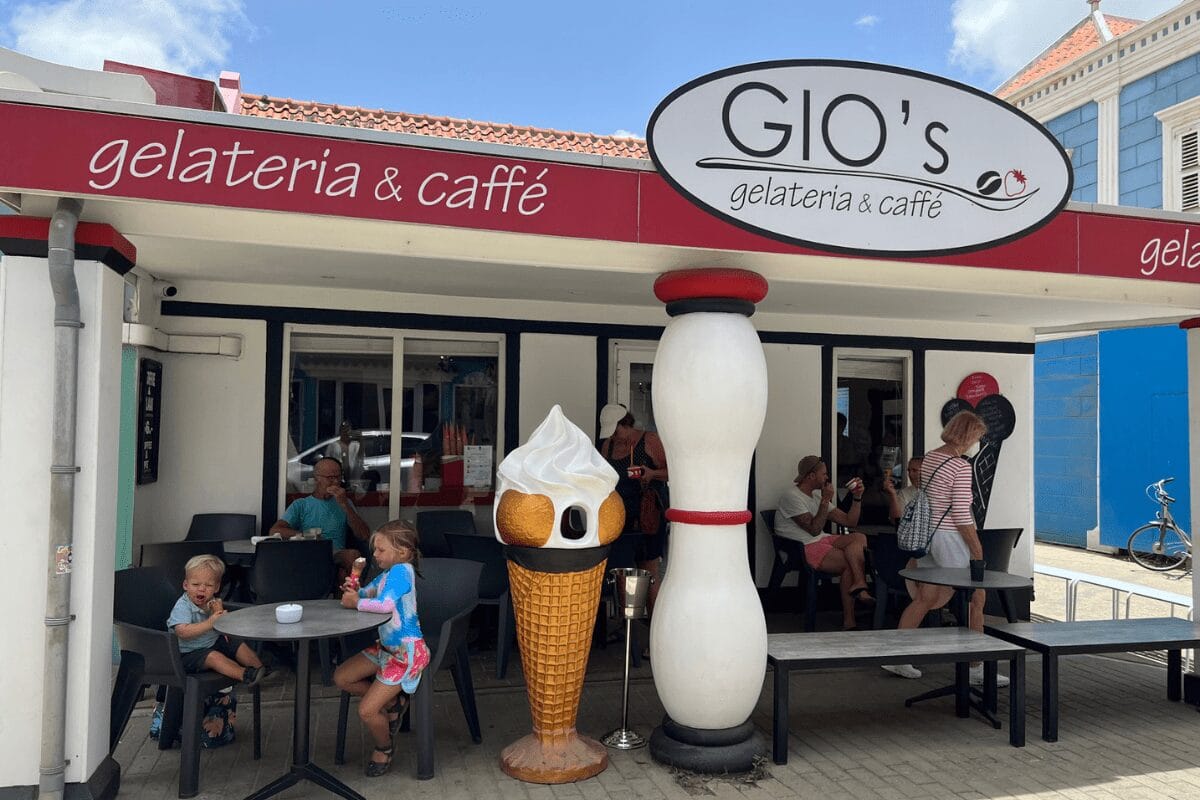 3. The Vibe 
I would describe Bonaire's vibe as colorful, quirky, and chill. There's not much by way of nightlife here because everyone wants to be in the water early.
There's a great little restaurant scene in downtown Kralendijk, with two main streets of shopping, an ice cream shop, a handful of beach bars, and an overall sense of ease and calm. It's quiet but not boring. People just genuinely seem happy to be there.
At the risk of totally oversimplifying: Bonaire is a calm, laid-back island, where everyone is focused on being near or under the sea.
4. The Wildlife 
Bonaire is a nature lover's paradise above the water too. Everywhere we went, we saw pelicans diving for fish, crabs jumping from rock to rock, and iguanas lazing in the sun. The Pekelmeer Flamingo Sanctuary on the island's Southern tip is one of only a handful places in the world where flamingos breed in the wild.
For parents traveling with kids, the wildlife provides constant, natural entertainment. We lingered over our coffee in the morning so the kids could watch the pelicans. We got an extra 30 minutes at the beach one day because an iguana decided to take a nap on our lounger. Better than an iPad.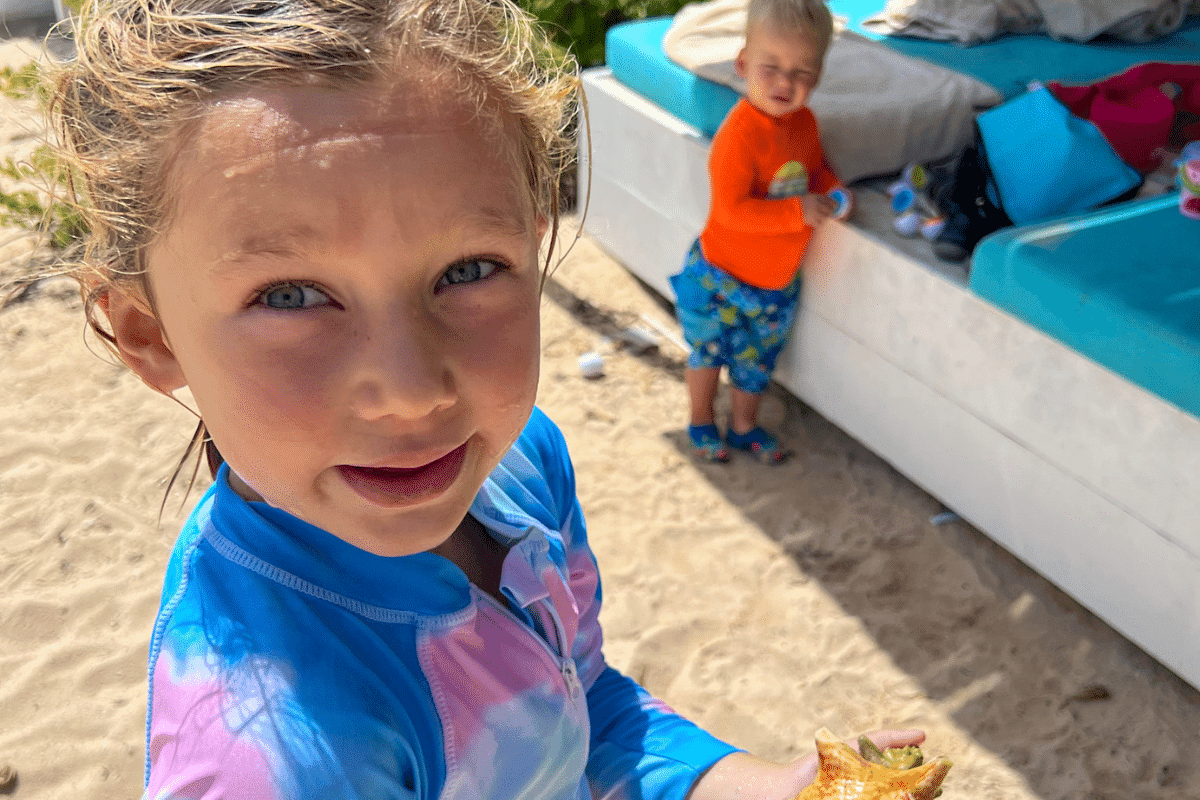 Things To Do in Bonaire with Kids 
There's no shortage of activities to keep kids – and parents – entertained in Bonaire.  
1. Explore a new beach every day.
It will be near impossible for you to see all of Bonaire's beaches on a family trip.  But you can give it a try! From the uninhabited beaches of Klein Island to the shallow windsurfing beaches of Lac Bay, Bonaire's small beaches are stunning – truly postcard worthy.  Our personal favorites with kids were Sorobon Beach and Pink Beach, both described on our article about Bonaire's best beaches.
They offer shallow waters, abundant coral, and exceptional marine life. The best beaches in Bonaire for kids include options for kids of all ages.
2. Go on a snorkeling excursion
With little kids, you may find sufficient snorkeling right off the shore where your kids can stand and take a break. But if you have older kids who are comfortable in the water, there's no better activity in Bonaire than a snorkeling excursion. Get on (and under) the water for a day on a luxury yacht, kayak, catamaran, or glass-bottom boat.
3.Visit The Donkey Sanctuary
For something unusual, and a break from the sun, visit Bonaire's donkey sanctuary. Donkeys were originally brought to Bonaire during the salt mining days but did not thrive on the island once they were no longer needed for labor.
The reservation supports more than 600 donkeys. Your kids will love feeding them carrots from the car.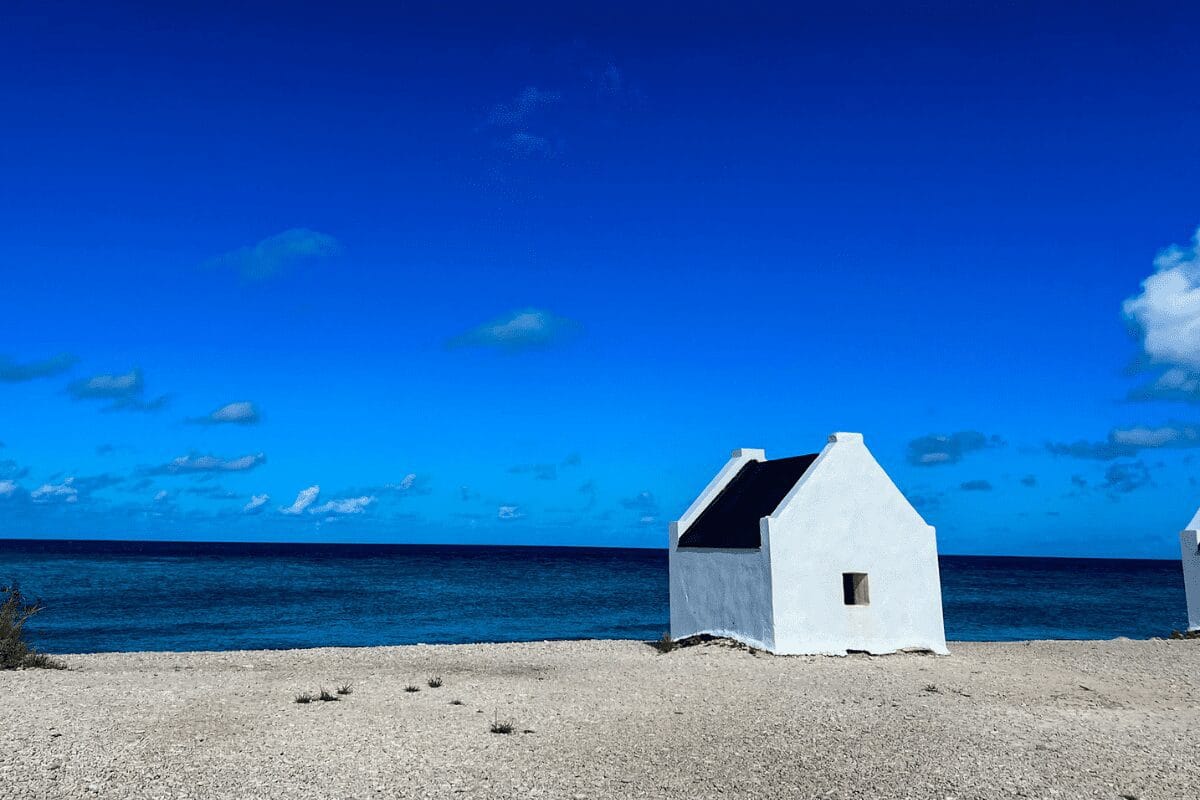 4. Visit Bonaire's Salt Pyramids
Just a 10-15 minute drive south of Kralendik is Bonaire's solar salt facility – one of the largest salt productions in the Caribbean. The salt pyramids, each one about 50-feet high, rise from the flat, tropical landscape like out-of-place ski slopes.  
Next to the salt flats, you'll see acres of pink condenser ponds used to extract salt from the Caribbean Sea. It's quite the view.
As you drive past the salt flats, don't miss taking a stop to see the former slave huts. These tiny shacks used to house slaves working in the salt extraction. The stark white buildings are beautiful in their own way when contrasted against the turquoise water behind them. They serve as a reminder of the island's dark past, while also offering a teaching opportunity about equality and history. 
5. Take a Journey to Washington SlagbAai National Park 
The northern third of Bonaire island is a national park, a prime destination to connect with nature with your kids. If you fancy dramatic views, rugged and nearly deserted beaches, and iguanas, it's worth the road trip. There are two routes through the park, a longer 2.5 hour route and a shorter 1.5 hour route. Whichever route you take, the sights will be amazing.    
6. Explore Downtown Kralendijk 

We love a Caribbean island with a walkable town. Kralendijk fits the bill. It's just the right size to explore with kids, with pops of color, souvenir shops and welcoming restaurants. 
Perhaps best of all: There's a delicious ice cream shop right in the middle of town, never too far in a moment of desperation when the kids need a treat.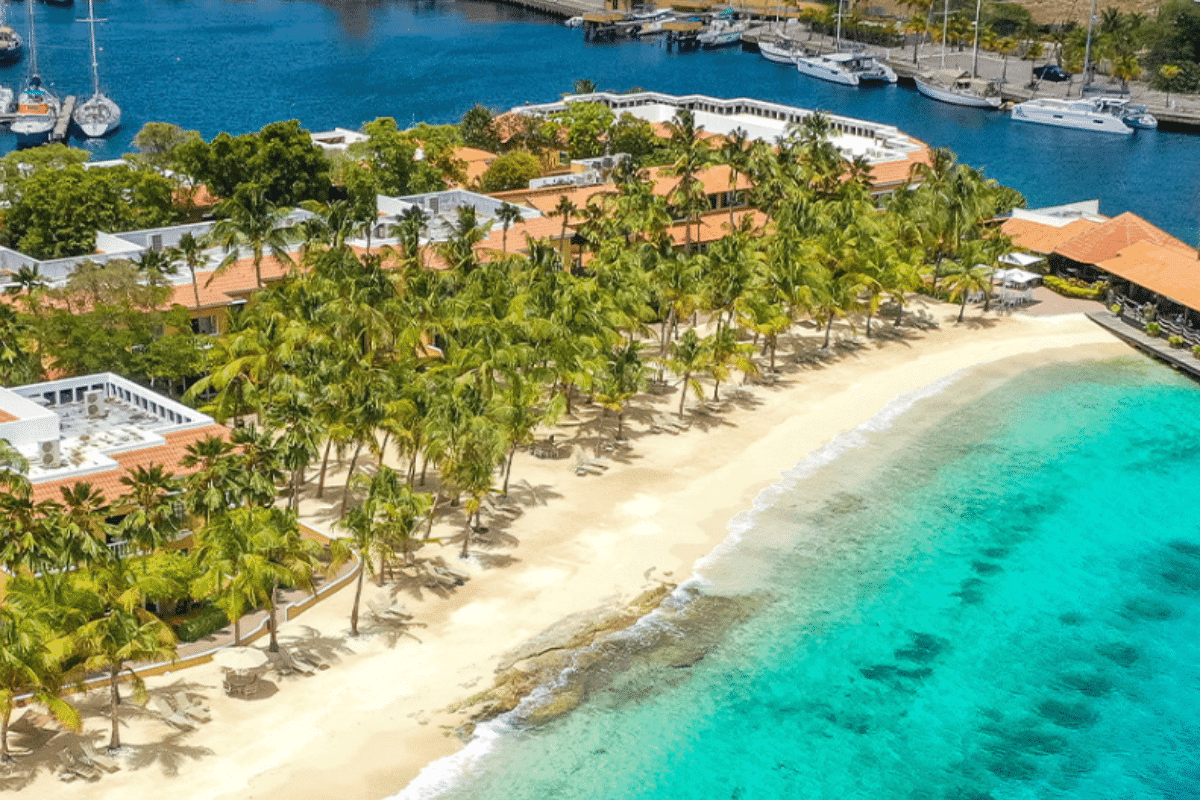 Where to Stay in Bonaire With Kids
We recommend four hotels when in Bonaire with kids, depending on what you're looking for.
(Note: If you're searching for Bonaire all-inclusive family resorts, you may not find one: Bonaire doesn't really focus on all-inclusive resorts. But don't let that deter you! These great resorts have restaurants and bars on-site, and provide a great home base for exploring the island.)
First, we love Harbour Village Beach Club for a laid-back, family-friendly vibe with well-appointed rooms and a beach you can't wait to return home to at the end of each day.  
Second, Delfins Beach Resort is the right choice for families looking for a lively atmosphere, a great pool, and delicious food.  
Third, Bellafonte Bonaire is our recommended choice for families traveling with older kids looking for a mix between a luxury boutique hotel and a self-catering apartment.
And finally, there's Buddy Dive Resort. If you're looking for one of the Caribbean's best resorts for scuba diving, Buddy Dive tops every list. This hotel is all about diving – but they make it easy for parents to get underwater. They have suites with multiple bedrooms, seasonal kids'  camps, and offer babysitting.
No matter the hotel or activities you choose for your family trip, you simply can't go wrong in Bonaire.