Roatan, Honduras: Get excited, because this small island packs a punch! And this comprehensive Roatan destination guide will help you make the most of your family trip. 
A snorkeling and diving paradise and a tropical jungle in one, Roatan offers all you need to relax and have fun with your kids. You're in for a great adventure.  But first, if need a little extra help deciding whether to take the kids, start with our article about why Roatan, Honduras is a great choice for families. 
Roatan Family Travel Resources
Before we dive in, let's be sure you have our best Roatan resources at your fingertips. 
Did you know we have a whole collection of recommended family hotels in the Caribbean – including in Roatan? I'll let you in on a secret, it's sort of our pride and joy. 
We've made it easier for busy parents like you to find the right Caribbean hotel for your family, with space for everyone. But don't take our word for it: Explore our collection using search filters (like room size) that we designed just for parents. 
Wishing someone else would just handle the logistics for a change? We're here for that too. We offer bespoke Caribbean family travel planning services. Our specialty? Helping parents narrow down the choices to identify the best Caribbean island and hotel for a top-notch family trip. 
And finally, want more Caribbean travel inspiration in your life? Sign up for our weekly newsletter, where we feature a Caribbean destination each month and highlight our favorite hotels and family travel tips. We also share our best Caribbean destination guides for families. 
Now, pour yourself a Monkey Lala and start planning your Roatan adventure…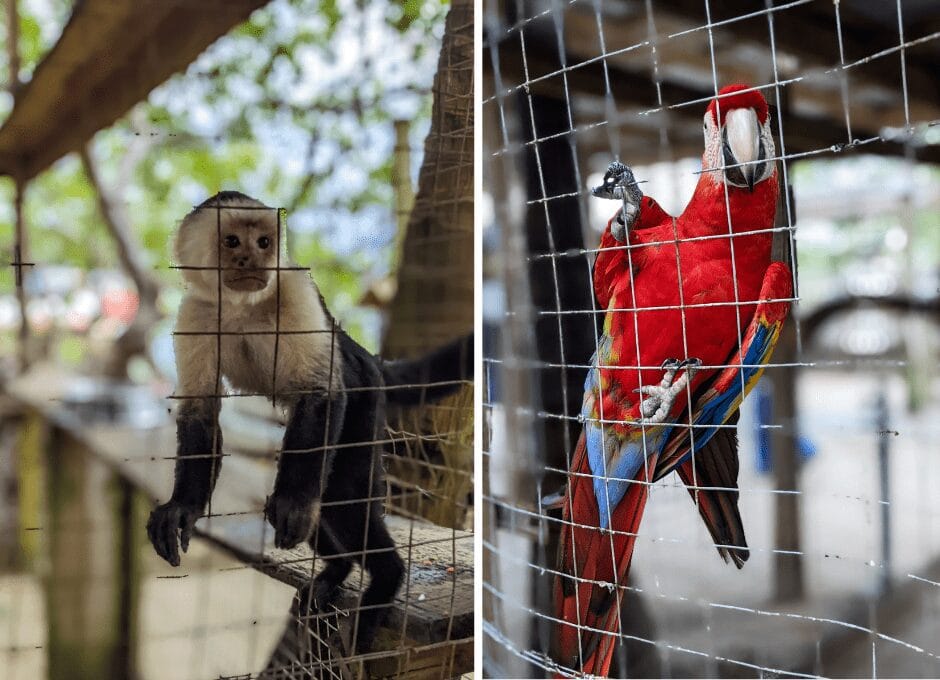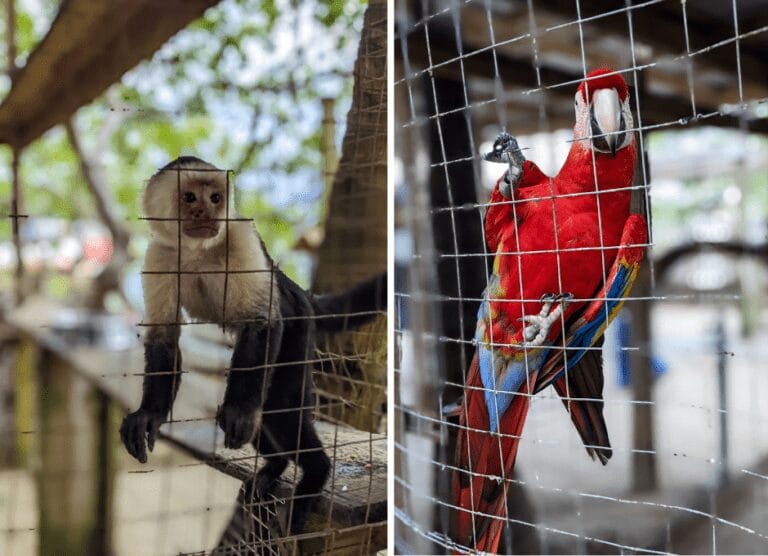 Roatan Destination Guide Basics: Location and Geography
Roatan is one of the three Bay Islands off the coast of Honduras. (It attracts the most tourists of the three. If you're looking for more of an untouched vibe, and are traveling with kids old enough to snorkel, consider a daytrip to Utila!) Roatan sits on the second largest barrier reef in the world (hence, the phenomenal snorkeling and diving). The interior is covered by lush rainforest teeming with life. Together, the rainforest and reef provide for endless land and water-based activities for kids and parents to enjoy together.
Roatan is long and thin – about 5 by 40 miles. About 115,000 people call it home. It takes roughly 2 hours to drive from end to end. A single paved road runs the length of the island, with unpaved, windy off-shoots leading down to the shoreline.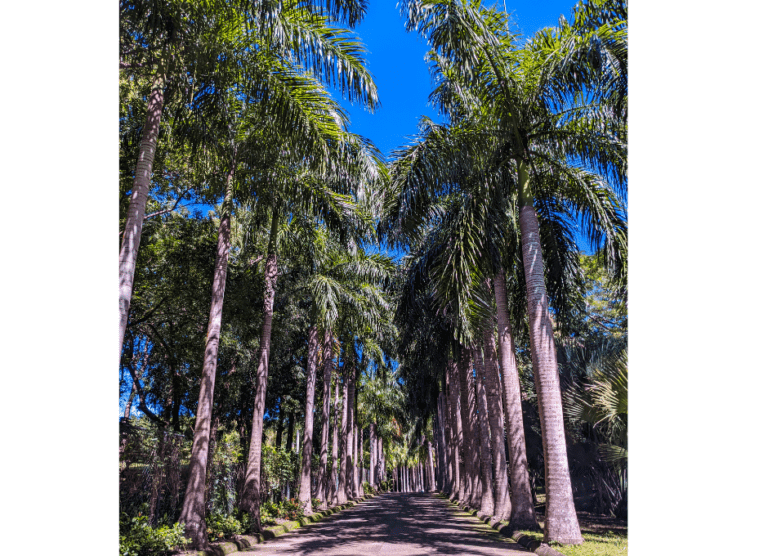 Best Time to Visit Roatan
Roatan's rainy season differs from other Caribbean islands. It runs roughly from October to December, with high season running from April to July. This offers a major upside for the U.S.-based travelers among us: When other Caribbean destinations are overflowing with tourists in February, deals can still be found in Roatan.    
Cost: Is Roatan Expensive?
No. It's not a built-up, luxury destination. Most restaurants are beach shacks, and most (but not all) accommodations are rustic. Hotels, food, and activities are all very affordable (though the flight may be pricey). You've finally found a Caribbean destination that still offers $3 beers!  
How to Get to Roatan
As of right now, Americans can fly direct to Roatan from Dallas, Miami, Houston, or Atlanta. Canadians can get a direct flight from Toronto on Canadian airline West Jet.  (I met lots of friendly Canadians on my last trip who were excited to learn I was from Ottawa, much to my delight.)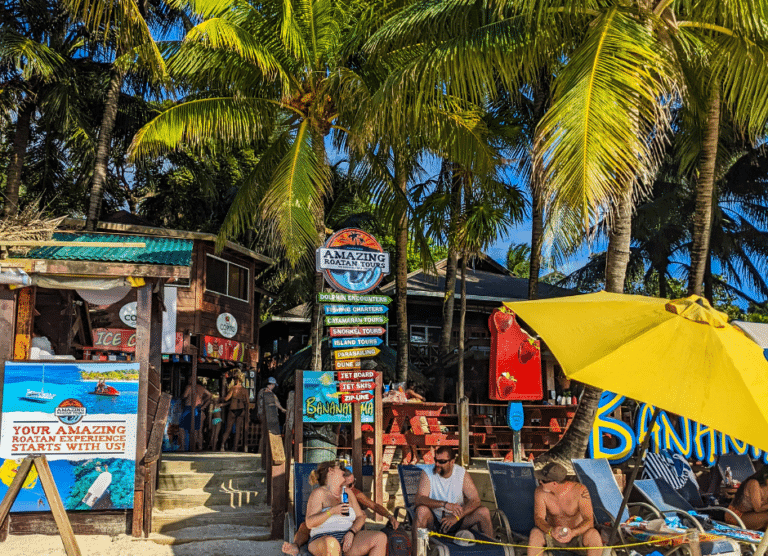 Getting the Lay of the Land
It's helpful to have an island map in your head—or better yet, in front of you – when digesting this Roatan destination guide and deciding where to stay. Start at the island's western tip and drive east along its only road. Here's what you'll see along the way –
West Bay Beach
Roatan's crown-jewel beach sits at its westernmost end.  West Bay is probably the most kid-friendly place on the island. This two-mile stretch of powdery white sand gently slopes into the sea.  The reef sits just offshore, placing world-class snorkeling at your fingertips. Kids splash around all hours of the day.  In the afternoon, they are joined by done-for-the-day divers floating in the shallow waters, beer in hand, enjoying their version of an après-scene.  The shoreline is packed with hotels and beach bars, making for a lively vibe. 
West End
No Roatan destination guide would be complete without mentioning Roatan's bohemian and dive-focused town.  West End sits 10 minutes east of West Bay (but skip the drive—take a water taxi).  Dive shops, bars, and casual restaurants line West End's dusty road, which runs along Half Moon Bay – another beach known for its near-shore snorkeling.
Enjoy the beach and town during the day with your kids, as West End loses its family-friendly vibe when the sun goes down and the divers come out to play. 
Sandy Bay
Things get quieter when you leave West End.  Sandy Bay Beach is a tranquil snorkeling spot – the opposite, in many ways, to the upbeat energy of West Bay.  Smaller Eco-resorts and dive shops dot its shore.   
Coxen Hole and Mahagony Beach
Cruise ships dock at these ports on the island's south-western shore. Generally best avoided if you're looking for an authentic Roatan experience, at least on cruise ship days.
French Harbour
French Harbour—the middle of the island—is a good place to stay if you want to spend some time on West Bay beach, but also want to explore the hidden gems of Roatan's east end.  Home to a handful of peaceful hotels.
East End
Finally, you hit the lesser explored end of the Roatan, dotted with sleepy coastal towns and small communities – Oakridge, Jonesville, Calabash Bight, Punta Gorda, and Camp Bay.  These towns may get left off the average Roatan destination guide.  But head east for a taste of untouched, authentic Caribbean charm.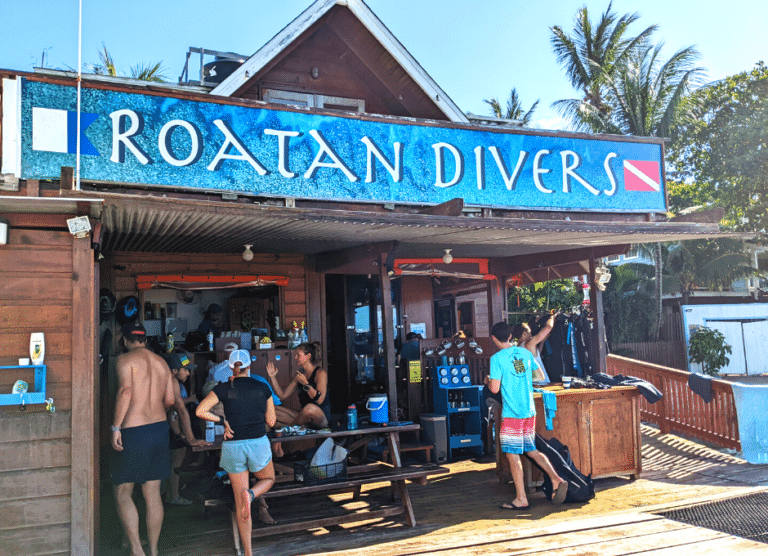 Getting Around Roatan: Rental Cars and Water Taxis
The best way to explore Roatan is to rent a car. It's easy and affordable, and you can explore the island at your own pace with kids. Taxis and private drivers, on the other hand, can get very expensive. Most hotels have free parking, so having a car won't feel like a burden.
Are you imagining bumpy and windy island roads? Don't be discouraged – driving is much easier here than many other Caribbean destinations.  It's nearly impossible to get lost on an island, given it has one paved road. Sure, you may pick the wrong off-shoot down to the shore—but hey, that may be how you find your new favorite beach bar! 
With or without a rental car, make time for the water taxi between West End and West Bay. It costs about $3 USD and offers a remarkable view of the island's most popular coastline. Think of it more as an activity than a means of transportation.
Where to Stay in Roatan
An online search for accommodations in Roatan can be overwhelming, even for seasoned travel planners. It feels like there are a million hotels, and it's hard to tell which ones will fit your family's needs. Many hotels target divers, offering the most basic accommodations. So where do you stay with kids?  We have two favorites: 
Xbalanque Resort
For a sleek, comfortable hotel near the action—but just far enough away to feel peaceful—choose Xbalanque Resort.  It sits between West Bay and West End – a 5-minute water taxi ride from each.  Take a deep breath and relax here.  Families will have plenty of space in the well-designed one- and two-bedroom suites with kitchens.  Although Xbalanque does not cater to kids, the staff welcomes them, and will ensure the whole family has a great trip.
Las Verandas
You can feel the quiet settle over you at boutique hotel Las Verandas. (I've been longing for the great sleep I had here since I left).  Go for the huge comfortable suites and villas, and the best pool I saw in Roatan.  The vibe is tranquil but not stiff.  Located mid-island near French Harbour, this is a great home base to explore the entire island.
Other Hotel Options
West Bay Resorts
XBalanque and Las Verandas are our top choices for a Roatan family trip. But if those aren't your speed, there are a number of other options.  A few all-inclusive resorts — Mayan Princess, Infinity Bay, and Grand Roatan – sit side by side on West Bay beach. Many families will choose to stay here, and these hotels offer spacious rooms and lots of amenities.  There will be crowds, though, and many rooms and facilities need updating.
A note about Grand Roatan Resort: I wanted to love it. It has the best location on West Bay beach and wonderful staff.  But its website fails to mention that it's a construction site.  Kimpton is taking over the resort and expanding its footprint. It may be a great choice for families when construction is complete but, for now, stay elsewhere.
For a budget option with a lively atmosphere, many traveling families enjoy Bananarama Resort. It has very basic but affordable family cottages in its garden off West Bay beach, and a family-focused vibe.
West Bay Village is another great find if you lean towards a self-catering option rather than a hotel.  These apartments are wedged between Grand Roatan and Infinity Bay resorts – sharing the same beach access, and in walking distance from bars and restaurants.
Anthony's key
Anthony's Key – near Sandy Bay – is one of Roatan's most known resorts because of its dolphin program. It's a rustic dive-resort sitting on its own private key, with waterside bungalows. It offers all the watersports you could want on-site – diving, snorkeling, paddleboards, kayaks, etc. But it does not have suites to fit families, or its own beach.   

Interested in booking one of these fantastic Roatan hotels? Reach out and we'll get you booked, at no cost to you. 
Guide to the Best Places to Eat in Roatan
West Bay Restaurants
Stroll down the beach in West Bay and pick the place the strikes your fancy. Kids can frolic on the beach within eyesight while you enjoy a beer (remember – $3!). Top choices include 
Thirsty Turtle Beach Bar & Pizzarama (inside Bananarama Dive & Beach Resort).
Argentine Grill (steak and seafood)  
West End Restaurants
Roatan Oasis.  For a night out in West End, locals and tourists alike head to Roatan Oasis for a rotating menu of local fare and creative cocktails.  It's small and popular so book ahead.  (Or, if you forgot – like I did – grab a seat at the bar and you might get lucky enough to chat with owner Loren Welbourn, who keeps the show running.)  
Luna Meza.  The restaurant inside adult-only Ibagari Boutique Hotel is stunning and worth a night out if you can secure a babysitter. (Here's a babysitting service to consider.)  Another reason I loved Xbalanaque Resort – this restaurant is right next door. Lotus Restaurant at Xbalanque Resort is fantastic too.   
Other solid choices in West End –
Blue Elephant (thai food in a modern space)  
Sandy Buns Bakery (fresh baked bread and treats, coffee, and smoothies)  
Sundowners (burgers, live music, and sunset views – after 6pm becomes a divers' bar)
French Harbour Restaurants
Gios is your spot for seafood.  Its claim to fame is the Spiny Caribbean King Crab, indigenous to Roatan's reef system.
Silversides. If you're driving up the island, make a point to stop at Silversides with your kids. You could spend the whole afternoon at this pool-side restaurant, a hidden gem inside Barefoot Cay dive resort.  Dessert is featured on the first page of the lunch menu.  Owner Scotty C makes his own hot sauce, which you can find behind the bar (and also plays guitar some nights at Sundowners).
Street Food
Roatan's culinary claim to fame are Baleadas. Don't leave without trying one.  Homemade tortillas stuffed with cheese, beans, cream, and sometimes meat and avocado, these will fill you up for your day of adventures. You'll find them at local street food stalls throughout West End.  
What To Do In Roatan 
There's so much to say about this island that we had to break our Roatan destination guide into two separate posts.  Now you know where to stay and eat with kids in Roatan.  And head over to Part II to learn about the best kid-friendly activities in Roatan! 
Seen enough already? Ready to go, but wishing someone would just hand you a customized itinerary for your next family trip to Roatan? Now you're speaking our language.