Headed to St Martin with kids?  You won't regret it. The island is full of great beaches, delicious French food, and more. But with 37 beaches, it's hard to know which ones to visit. Which are the best beaches in St. Martin for kids?  We're here to help guide your way. 
At the end of my second maternity leave, our newly-minted family of 4 braved the voyage to French Saint Martin. It was our first international trip since COVID, and our first family trip with the new baby. 
We explored the island by car, on a hunt for the best beaches in St. Martin for kids (and parents!). 
This list includes our recommendations for the best Saint Martin beaches. But we couldn't visit them all, and so we've also included tips on the best beaches in St Maarten for families from other travelers we trust, including our other Caribbean-focused travel bloggers. 
Without further ado, let's get you to the beach. 
Saint Martin with Kids: Travel Resources
But before we dive in, let's be sure you have our best resources at your fingertips for traveling to Saint Martin with kids.
Did you know we have a whole collection of recommended family hotels in the Caribbean – including St. Martin? I'll let you in on a secret, it's sort of our pride and joy. 
We've made it easier for busy parents like you to find the right Caribbean hotel for your family, with space for everyone. But don't take our word for it: Explore our collection using search filters (like room size) that we designed just for parents. 
Wishing someone else would just handle the logistics for a change? We're here for that too. We offer bespoke Caribbean family travel planning services. We specialize in helping parents narrow down the choices to identify the best Caribbean island and hotel for a top-notch family trip. 
And finally, want more Caribbean travel inspiration in your life? Sign up for our weekly newsletter, where we feature a Caribbean destination each month and highlight our favorite hotels and family travel tips. We also share our best Caribbean destination guides for families. 
Now, pour yourself a glass of rose and start thinking about your beach day in St. Martin…
The Best Beaches in St Martin with Kids
First Things First: French or Dutch Side? 
I
s St Maarten good for families? Yes. But while the Dutch side has plenty to offer, it's more built up than French St Martin. (And to experience the Dutch Caribbean, we highly recommend the ABC Islands in the southern Caribbean.) F
rench Saint Martin has a calm and laid-back vibe, which we like better for families traveling with young kids.
And, in our experience, the best Saint Martin beaches, especially when traveling with Saint Martin with kids, are on the French side.
All things being equal, we would recommend staying on the French side during your trip.
But rest assured: Even if you choose to stay in Dutch St Maarten, everything is close! You can still rent a car and explore the beautiful beaches of both sides of the island.  
So with that all said, let's dive into our list of best Saint Martin beaches.   
Orient Beach St Martin (French Side) 
Orient Beach, on St Martin's northeastern coast, is arguably the most popular of the St Martin beaches.
Some beaches on this list are recommended for their serene calm and remote vibes. 
Not
Orient Beach St Martin. This beach is one of the best beaches in St. Maarten for families because it's full of activities: water sports, jet ski rentals, beach bars, hotels, kid friendly restaurants, shopping, and more. 
So set yourself up at a beach club, where food and drinks will be delivered to your beach chairs. The oldest beach club on Orient Bay is Bikini Beach, located at the Orient Beach Hotel. But families also love Kontiki beach restaurant, with a high-end atmosphere but a kids menu too. (Reserve your
beach chairs at Kontiki
in advance.) 
The restaurant at La Playa is another great option for those
traveling with small kids.
The bar opens for breakfast at 7am! Enjoy your pancakes and a mimosa with your feet in the sand, facing the ocean. 
Spend some time relaxing on the beach, and then explore for lunch or some afternoon ice cream or shopping when the kids need a break from the waves.
No one will be bored at Orient Beach in St Martin, which is what makes it one of the island's best and most popular beaches.  
One thing to note up front though: Orient Beach has a nude section, at the south end of the beach near Club Orient. If you stay north of there, including at the beach clubs mentioned above, you are not likely to encounter full body nudity. You may see the occasional topless sunbather on the rest of the beach (technically, tops are optional on all St Martin beaches) so consider whether you want to prepare your kids ahead of time.  
Pinel Island (French side) 
I was stunned to find that many lists of the best beaches in in St Maarten for families leave off this gem. 
Our day on Pinel Island was hands down one of the best days of on our entire trip. You should go out of your way to get to it.  Pinel Island is without a doubt one of the best beaches in St. Maarten / St. Martin. 
Pinel Island is a tiny cay off the Northeast corner of the French side of St. Martin (see the map at the end of the post). Take the Pinel Island Ferry from Cul-de-Sac to get there.  St. Martin is small enough that the drive to Cul-de-Sac takes a maximum of 35-40 minutes from even the farthest points on the island. 
The Pinel Island Ferry Schedule is easy to remember. The ferry, a small wooden boat that fits about 25 people, leaves every 30 minutes starting at 9:30am. 
In five minutes, you'll be setting up in a lounge chair on Pinel Island.  Plan to get to Pinel Island early because it's a popular spot. 
There are two restaurants on the beach, Yellow Beach and Le Karibuni, and both allow you to reserve beach chairs ahead of time. By doing that – and by arriving on the first ferry – we were able to get front row beach chairs for the entire day. 
The beach juts out in a white sand peninsula amid calm, turquoise waters that have a long, shallow slope, making a great place for kids under five to splash around. Our kids were on the brink of learning to swim, but not fully confident in the water, so this was perfect for us. The restaurants deliver food and drinks to the beach chairs. 
It's a full day excursion, but one that should be at the top of your list for a St. Martin family vacation. 
Mullet Bay Beach (Dutch Side)
Although Mullet Bay Beach is close to the airport, it feels very peaceful. It was once home to a luxury resort, but it was destroyed by Hurricane Luis in 1995 and never rebuilt. So, these days, this strip of powdery white sand on the island's south coast feels relatively untouched. Many believe it's the best beach in Sint Maarten. 
At Mullet Bay, chairs and umbrellas are available for rent.  Da Waterhole restaurant serves cold beach drinks and kid-friendly food; and the cove at the south end of the beach is calm and great for small kids.  For older kids who are stronger swimmers, it's also a good place to snorkel. This beach feels peaceful, but not secluded, and the chairs will fill up over the course of the day.
Airplane Beach (Maho Beach) (Dutch Side)
If Mullet Bay is a slow reggae jam, the dubstep remix is around the corner: the famous Airplane beach in St Martin (Maho Bay Beach).
Kids – and maybe airline enthusiast parents – will love watching the airplanes come in just overhead to land at Princess Juliana International Airport. They will have a blast trying to see if they can capture the perfect photo of themselves holding an airplane. (We failed…evidence below…and should have better managed expectations.)  
That said, be sure that your trip to Maho Bay Beach is timed right. 
Don't go here for a relaxing beach day, and don't plan for a full day here either.  
The beach itself is busy, wavy, and steep.
  M
ajor airlines typically fly in from the US and France in the afternoon, so check the daily arrivals schedule 
here
.  
Your best bet is to grab an afternoon cocktail at Sunset Beach bar, get the photo op, and then be on your way.
Friar's Bay Beach (French Side)
Friar's Bay Beach is another of St. Martin's best beaches that is well-protected from winds and large surf.  Because of its calm waters and wide stretches of sands, it's a top beach in St Maarten for families with young children, including those learning to snorkel. 
It's also a bit more off the beaten path than some of the other choices on this list – we were some of the only people on the beach when we came here.  The beach is down a bumpy dirt path off the island's main road north of Marigot.  
You can get food, drinks, and beach chairs from Friar's Bay Beach Café.  It has a reputation for serving great French food.  (That said, when we visited with a big group with lots of kids, the restaurant was empty, and yet they did not seem particularly interested in accommodating us. We ended up leaving the beach at lunchtime.)
Whether you try the restaurant or not, the beach alone is worth the trip here!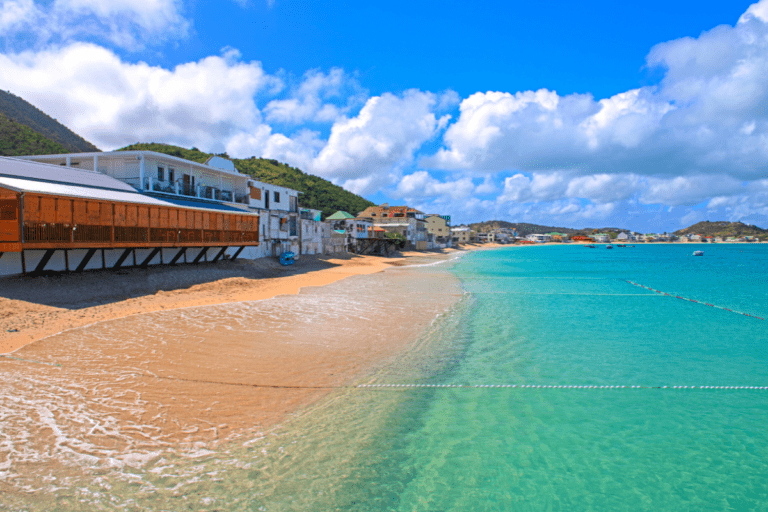 Grand Case Beach (French Side)
The best part of this beach, in my opinion, is its proximity to Grand Case, a small town on the French side of St. Martin. Sometimes referred to as St. Martin's "restaurant row," Grand Case has a restaurant for every appetite — from some of the best French food on the island, to casual Caribbean barbeque stands called lolos. The restaurants all run right alongside this beach. 
Like many of the other beaches that made my list of favorites, Grand Case beach has a gradual slope into the sea and calm water.  As such, it's another safe place for kids to swim or splash around. It is not a sprawling stretch of sand, however – it's more of an urban beach. Come for an afternoon swim with the whole family, and then finish the day with cocktails and dinner in Grand Case.  
Given the kid-friendly beach and top-notch dining in Grand Case, it should come as no surprise that our recommend Saint Martin hotel — Hotel L'Esplanade — is in Grand Case. Stay here for an excellent boutique hotel experience, a home away from home where your kids will be more than welcome.
Reach out and we'll get you booked (at no cost to you)! 
Baie Rouge Beach (French Side)
Baie Rouge is located in Terres Basses, a neighborhood in the south west corner of St. Martin's French side filled with sprawling vacation homes and rental villas. The beaches are all public but they stay quiet because there are no major waterfront hotels. Baie Rouge is a long stretch of sand with sweeping views of the surrounding hills. 
Baie Rouge beach has no restaurant or beach bar, so you'll need to bring all your gear, food, and water.  However, it's great if you are seeking seclusion. It's a 10-minute drive to nearby Marigot, so stop by Croissant Royal for breakfast before hitting this beach. 
Other Saint Martin Beaches To Visit
As I mentioned above, it would be a real challenge to check out all of St. Martin's 37 beaches!  The ones on the list are the best beaches in St. Martin for kids that have comes across my radar.  But others to consider include Cupecoy Beach, Dawn Beach, and Simpson Bay Beach – we will have to save those for the next trip. 
You should also know that, from Saint Martin, you may have easy access to other islands in the Dutch Caribbean. If you're looking to island hop, you might explore the best beaches of Bonaire, or see what the incredibly diverse island of Curacao has to offer. 
Anyone else have a favorite Saint Martin beach that should absolutely be on this list?  Help us round out the list in the comments below.  
The map below shows you where to find these kid-friendly beaches around the island –