You did it! You've just found the ultimate Curacao itinerary for your family trip.
If you've been scouring the internet trying to piece together the best plan for your family vacation in Curacao, you may be running out of research steam. Whether you have one week in Curacao, or 10 days in Curacao or more, crafting the perfect Curacao itinerary with kids can feel overwhelming.  There's just so much to do.
Curacao is far from your typical Caribbean destination—it's an island bursting with character. Think family-friendly activities that go beyond the resort: from a sea aquarium and ostrich farm to exploring caves in a national park.
And hotels, oh the hotels.  If you love small boutique hotels – yes, even with kids! – then we've got options that offer a bang for your buck, all without skimping on luxury or space. We've vetted these properties with our own kids and can wholeheartedly recommend them to you and yours.
And let's not forget the island's European charm, most evident in its vibrant capital, Willemstad. Whether it's world-class snorkeling or hopping over from another Caribbean jewel, Curacao offers a unique blend that makes it a must-visit for families.
Our Curacao itinerary for families captures it all (with much needed downtime, too!).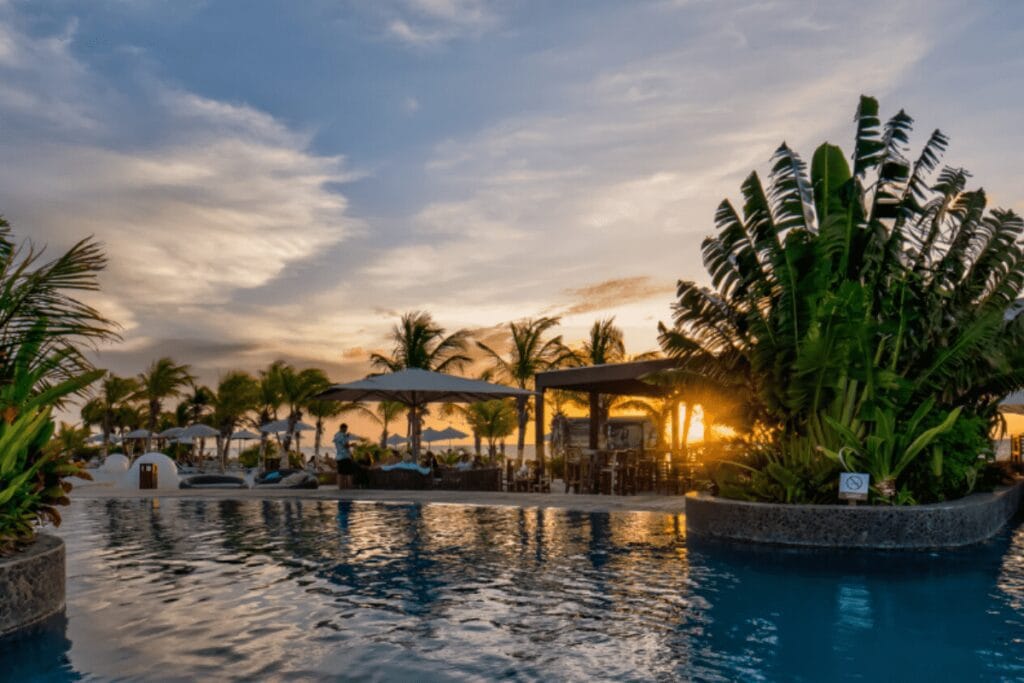 What to Know About Curacao 
Geographically, Curacao sits pretty in the southern Caribbean, just off the coast of Venezuela. It's part of the ABC islands (Aruba, Bonaire, Curacao) which are known for their arid climates—meaning less chance of your vacation getting rained out.
What sets Curacao apart from other Caribbean destinations? Well, for starters, it's not overrun by tourists. The island offers a more genuine, laid-back experience. You will find few all-inclusives here, and no beaches lined with massive resorts.
Then there's the snorkeling—rocky coves, small bays, and thriving reefs make it a snorkeler's paradise.
And don't forget affordability; whether you're going for a luxury boutique hotel or a budget-friendly stay, Curacao offers excellent value for your money.
Finally, let's talk culture! Curacao is a melting pot, with influences ranging from Dutch colonial history to African heritage. The island's capital, Willemstad, feels like a slice of Amsterdam with a tropical twist, thanks to its colorful buildings and European vibe. This unique blend is also reflected in the local language, Papiamentu, a Creole mix of Portuguese, Spanish, Dutch, and African dialects.
Weather in Curacao
The year-round gorgeous weather is a big selling point for Curaçao!
Located outside the traditional Caribbean hurricane zone, Curaçao offers a weather advantage that's hard to beat. While other islands are stocking up on storm supplies from June to November, Curaçao is enjoying its usual sunny, dry climate with temperatures averaging around 86°F (30°C).
This means you can plan your family getaway to Curacao any month of the year — without the added stress of worrying about the weather.  
That said, during the summer months, the heat can feel quite stifling in Curacao, as there is less wind from August to October.  If you're waiting for a breeze to cool you down, you may not find it during the day, and shade and water will be critical.
How to get to Curacao  
In 2023, you can fly direct to Curacao from many major U.S. and Canadian airports, including:
Newark (United)
New York – JFK (JetBlue)
Philadelphia (American)
Charlotte (American)
Atlanta (Delta)
Miami (American)
Toronto (Air Canada)
Montreal (Air Canada)
You can also fly direct to Aruba from several other U.S. cities, and then take a short hopper flight on Divi Divi Air to Curacao.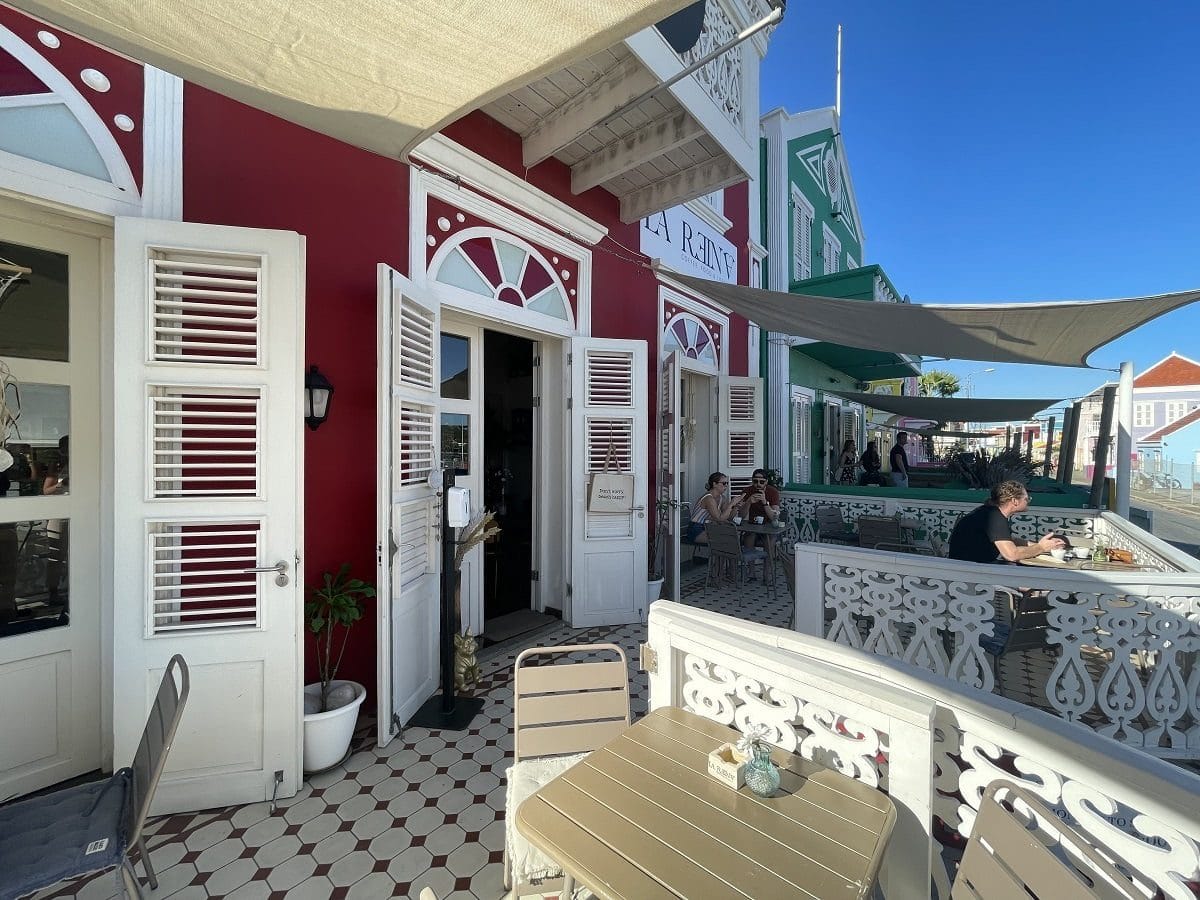 Is Curacao Safe?
Traveling to Curacao with kids is generally considered safe and hassle-free.  Curacao is considered one of the most LGBTQ+ friendly Caribbean islands, and generally, you will find the people to be warm and welcoming of others.
Most residents speak some English, making it easy to get around.
Crime rates in Curacao are quite low, but that doesn't mean there's no crime. Normal vigilance while traveling is always recommended, and keep a close eye on your belongings to avoid pickpocketing in crowded tourist areas.
How long should I stay in Curacao?
On my first trip to Curacao, a local hotelier told me that many visitors feel you need at least 10 days in Curacao to see it's main sights.  Unlike smaller islands – where you can get a feel for the place in just a few days – Curacao has enough to keep you entertained for a much longer trip
That said, with even just 4 days in Curacao, you could have a wonderful getaway.  A shorter trip would likely focus on Willemstad and Curacao's beach resorts.   A longer trip, such as one week in Curacao or more, gives you more time to get out and explore the island's more remote ends.  
Best Time to Visit Curacao  
As with many Caribbean islands, high season in Curacao is during the winter and early spring months, from December to April.  But one of the best things about Curacao is that unlike many other Caribbean islands, there's no real rainy season.  This makes the off-season, with lower prices and fewer crowds, a great time to visit this Caribbean island.  Just be prepared for slightly hotter weather.  
Where to Stay in Curacao 
First Trip: Stay in Willemstad
When planning your Curacao itinerary, start in Willemstad. It's the island's capital and the center of activity.  The best hotels in Curacao are all within a 15-minute drive from Willemstad – some right downtown or within walking distance.  
Our Curacao itinerary recommends two delightful beach hotel – one a classic resort, and the other a luxury boutique.  But there are also several budget hotels in Willemstad that have multiple bedroom suites for families that would make a suitable home base for families looking to explore.
Whatever your budget and style, there's a hotel for you in Curacao.
Take a Side Trip To Curacao's West End
If you're craving even a little bit of adventure, be sure to spend a day exploring Curacao's less-developed West End.  You can explore several beaches without crowds, like Kenepa Grandi or Cas Abao, which have calm waters and vibrant coral reefs.
You can also visit the Shete Boka National Park. This place has seven inlets where the sea meets the rugged coastline, making for some great photos.  Don't forget to stop for lunch at a local countryside restaurant, choosing to eat local over touristy.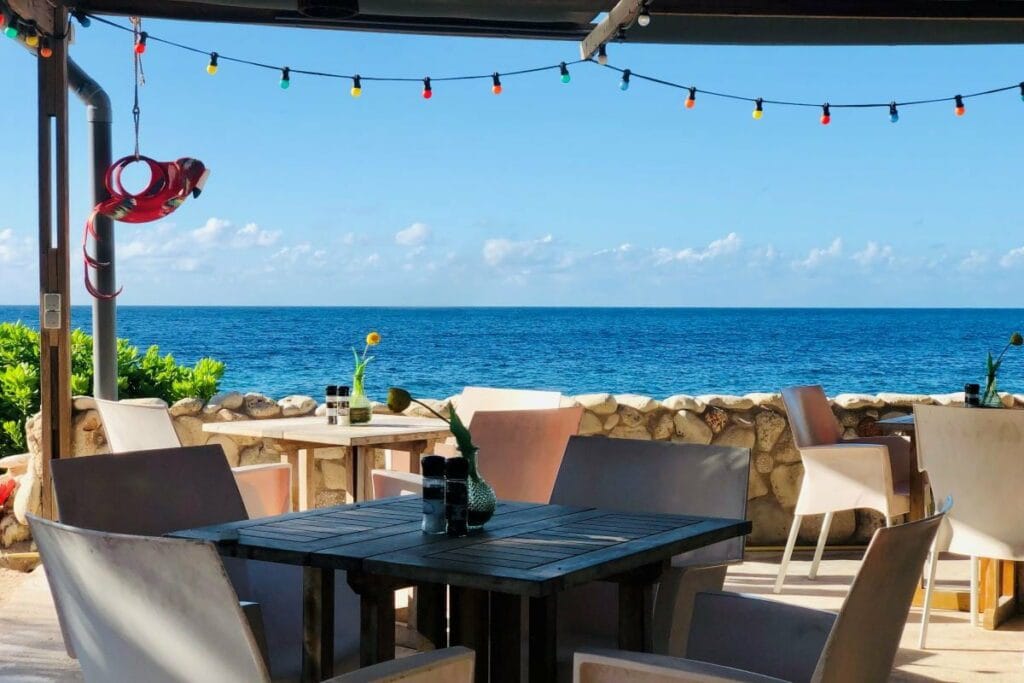 Where to Eat in Curacao
Curacao is a tempting destination for foodies.  With an urban center, there's a true food scene here.  In one week, you'll only be able to scratch the surface.  
Curacao's dining scene is as colorful as its iconic waterfront. In Willemstad, you'll find cozy cafés perfect for breakfast or a light lunch. These spots often offer international fare with a Caribbean twist, like avocado toast topped with local spices.
For a laid-back vibe, you can't beat the beachside eateries. Nearly every beach in Curacao has at least one—and sometimes many—casual beachfront restaurants and beach bars. You'll find a lot of seafood options, like freshly grilled fish tacos, and tropical drinks are a given. It's the ideal setting for a mid-day break with a view, or an easy dinner after a day in the sun.
Now, if you're looking to sprinkle in some luxury, there are a few fine dining options worth checking out too!  Our favorites include Fish and Joy Bistro and Wine Bar, Bij Blauw, and the Balinese-inspired restaurant at Baoase Luxury Resort. These are the spots to go when you're in the mood for a more sophisticated atmosphere and are willing to splurge a bit.
What To Do in Curacao
Everything.
Curacao is a destination that invites you to explore.  Activities include everything from a sea aquarium, an ostrich farm, caves, and a national park, to colorful city center with a European vibe, and dozens of beaches with lively energy. This list just scratches the surface of the things to do with kids in Curacao beyond the beach resorts.
But don't worry—the beaches will wow you too.  Again, you'll see something different here.  Rather than one or two long stretches of white sand, Curacao has dozen of cove beaches to explore, each one offering better snorkeling than the last.  Spend at least a few days beach hopping to find your favorite.
Curacao's Willemstaad is a true cultural city to explore, with colorful facades and street art around every turn. That vibe is reinforced by the notable lack of American tourists. The artsy Pietermaai district, a UNESCO World Heritage site, is very walkable in the mornings and evenings, with cozy cafes, boutique hotels, and welcoming storefronts.  Don't miss a stroll across the floating Queen Emma Bridge.
So how will you fit it all in?
Mango Tree Travel's Curacao itinerary ensures you won't miss a thing, offering the perfect blend of beach relaxation and exhilarating activities. We handpick the best tours and seamlessly weave them into your Curacao one-week itinerary, with easy booking links for everything.
Best Day Trips in Curacao
The best trip from Curacao is absolutely to Klein Curacao! It's the kind of spot that makes you feel like you've stumbled upon a well-kept secret. This uninhabited island is a slice of Caribbean paradise that offers a break from the hustle and bustle. Your day there will be all about that pristine, powdery sand and crystal-clear water.
Getting to Klein Curacao is an adventure in itself. Your options range from motor yachts to small or large catamarans, and even small powerboats. The travel time varies based on your choice, but it will take you roughly 60-90 minute.
When you pick your tour operator to Klein Curacao, note that departure times can range from the early birds at 6:45am to a more leisurely 9am start.  You should also pay attention to the amenities offered by each tour operator, as only a few of them have shady beach houses on the deserted island—a game changer if traveling with kids.
At the end of the day, a trip to Klein Curacao is about unplugging and soaking in the beauty of an untouched Caribbean gem. It's where you go to feel like you're the first to discover a beautiful secret, even if it's just for a day.
You won't regret adding this day trip from Curacao to your Curacao itinerary, especially if you have 10 days in Curacao to fit everything in.
The Mango Tree Turks and Caicos Itinerary – 7-Days Of Exploration and Relaxation
When you're planning a trip with kids, time is of the essence. But quality shouldn't be compromised.
That's where your handcrafted Curacao itinerary comes into play.
Our detailed guide is jam-packed with handpicked hotels for every budget, kid-friendly activities, and tours that are worth your time and money.  You'll hit all the Curacao highlights, and some hidden gems too.
Here's a sample of what you'll find inside:
Wondering what each day could look like on your Curacao trip? Here's an overview: 
Day 1 – Arrive and Settle In
You land in Curaçao and head to your hotel—and get those kids straight in the pool! Enjoy a refreshing al fresco dining experience to let the kids burn off energy.  Each of our recommended hotels has a perfect spot for your family's first night. 
Day 2 – Willemstad
Start your day with a leisurely coffee and spend the morning by the hotel pool or beach. Trust me, a low-key morning is the antidote to any travel fatigue. Enjoy Sunday Brunch at a unique restaurant on a working farm, then spice up the afternoon with a visit to the Ostrich Farm or Hato Caves.  End the day with a casual dinner on Jan Thiel Beach.
Day 3 – Curacao's West End  
Start with breakfast at one of our favorite in-town restaurants before heading to Curacao's West End. Just a 45 minute drive, it feels like another world. 
Start your day by snorkeling with sea turtles at Grote Knip Beach or Playa Forti.  Spend the afternoon exploring the island's national parks, like Christoffel National Park or Sheta Boka National Park.  Don't miss lunch at a top local restaurant in the countryside. 
Put the kids to bed early, and arrange a babysitter through the hotel to top off a big day with an adult dinner. 
Day 4 – Pietermaii and Punda
Put on your sneakers and enjoy a guided walking your of Pietermaai and Punda.  (Or, with very little kids who may get tired in the Caribbean heat, a tuk-tuk tour may be the way to go.)  Grab lunch downtown by the water. Spend the afternoon exploring a new beach, like Playa Porto Mari where kids can make driftwood souvenirs as the sun goes down.  After you clean up from your beach day, another fabulous dinner awaits.
Day 5 – Klein Curacao
Get up and go! Today you'll have a full day outing to the deserted island of Klein Curacao, where you'll legitimately feel like you're at the end of the world.  See our recommended top Klein Curacao tour providers that will make this experience enjoyable for the whole family.
Day 6 – Resort Day
You can't leave Curacao without spending at least a day at the incredible Baoase Luxury Resort. Perhaps you've opted to make Baoase your home base this trip, in which case enjoy this full day at your resort. If not, get a day pass and have a completely relaxed morning. Once you're recharged, spend the evening in Punda for dance performances and fireworks.
Day 7 – Snorkel and Aquarium  
Start the day with an epic snorkel at Tugboat Beach, one of Curacao's famous snorkeling destinations. Take in Mambo Beach, and then hit the Sea Aquarium, often rated as the highlight of most kids' Curacao vacation.  We've got a special beach restaurant picked out for your last night in town—with a stop to see the flamingos on the way.