Considering a trip to Grenada with kids? Go for it — you won't regret it. 
Grenada is a very special place for my family. A six-week adventure to the Spice Island in 2012 sparked our love for the Caribbean, and inspired the name for Mango Tree Travel. 
Six years later, our first Caribbean trip as new parents was a Grenada family vacation. If you're thinking about a trip to Grenada with kids, don't hesitate – just book it! And keep reading to learn all about our favorite Grenada hotels and activities. 
Grenada Family Travel Resources
Before we dive in, let's be sure you have our best Grenada travel resources at your fingertips.   
Did you know we have a whole collection of recommended family hotels in the Caribbean – including in Turks and Caicos? I'll let you in on a secret, it's sort of our pride and joy. 
We've made it easier for busy parents like you to find the right Caribbean hotel for your family, with space for everyone. But don't take our word for it: Explore our collection using search filters (like room size) that we designed just for parents. 
Wishing someone else would just handle the logistics for a change? We're here for that too. We offer bespoke Caribbean family travel planning services. Our specialty? Helping parents narrow down the choices to identify the best Caribbean island and hotel for a top-notch family trip. 
And finally, want more Caribbean travel inspiration in your life? Sign up for our weekly newsletter, where we feature a Caribbean destination each month and highlight our favorite hotels and family travel tips. We also share our best Caribbean destination guides for families. 
Now, pour yourself a rum punch and start planning your Grenada family vacation…
Grenada With Kids: An Overview
Grenada is coming up fast on the list of great family getaway destinations.  But for now, it remains something of a Caribbean hidden gem. There are only a few direct flights from the U.S. every week. As a result, you won't find miles of built-up shoreline. There are not (yet) as many large hotels or all-inclusive resorts compared to some of the other usual suspects. 
Instead, families travelling to Grenada with kids will find something unique: a place just far enough out of the way for a real adventure – with the right balance of activities, culture, and R&R. Once you set foot on Grenada's gorgeous white sand beaches, experience the local fruits and spices, and hike through the lush rainforest, you'll be counting down the days until you can return.
Where To Stay In Grenada With Kids
There are so many amazing hotels in Grenada–ranging from small eco-friendly resorts to luxury all-inclusive hotels. If we were headed back to Grenada with kids tomorrow, these are our top choices.  Full profiles are available on the Mango Tree site with all the details you need to pick the hotel for you.   
Mount Cinnamon Resort 
Centrally located on Grand Anse Beach, this beachfront hotel has full kitchens – a huge perk in Grenada, where cooking is so much fun.  Mount Cinnamon Resort is an intimate, boutique hotel with 37 suites and villas, many of which have more then enough room to fit families.  Mount Cinnamon consistently gets five-star reviews, and travelers emphasize all aspects of the resort: the spacious rooms, ocean views, sprawling property, direct beach access, delicious breakfasts, and, above all, amazing and attentive staff.  The kids' club is an added bonus.  
Spice Island Beach Resort 
For all-inclusive luxury, there is Spice Island Beach Resort. Grenada's picture-perfect Grand Anse beach is one of the Caribbean's best.  The beachfront, family suites at Spice Island Beach Resort offer you the chance to enjoy your morning coffee right on its sandy shore – while your kids hit the beach right in sight.  This is a perk very few Grenada hotels can claim.  Spice Island just might have the best location of all of Grenada's hotels. 
Blue Horizons Garden Resort
If you prefer a lower-key self-catering option, Blue Horizons Garden Resort offers great value for your money with one- bedroom cottages. 
Kids will love walking (or running) through the beautiful gardens and taking in the natural colors and sounds – there's even a playground on site. The hillside garden setting offers something a little different from the typical beach-front Caribbean resort.  
Blue Horizon guests can use the beach chairs and the luxurious Spice Island Beach Resort. Get the best of both worlds with peaceful, garden cottages, plus direct access to a luxury beach resort.
Other Options
Haven't found your match yet? Try the design-focused boutique at Silversands, which boasts the longest pool in the Caribbean.  Or, for something modern and secluded, 473 Grenada Boutique Resort (new to the island in 2018) has 9 stylish villas, with access to two beaches and private pools. You can get colorful island charm at the relaxed, eco-friendly True Blue Bay Resort. And, with older kids, the hillside villas at Maca Bana provide another self-catering option. All of these hotels are less than 20 minutes from the airport.  
Interested in booking one of these fantastic Grenada hotels? We've got you covered. 
What To Do In Grenada With Kids 
Rent a Car and Hit the road
Although not as big as some of its Caribbean cousins, Grenada is incredibly diverse. The best way to take it all in – from its southern beaches to its rain-forested mountaintops – is to rent a car. If you start early — which shouldn't be a problem when in Grenada with kids —  you can make a full loop of the island in one relaxed day.  Take pitstops at various beaches and kid-friendly attractions along the way. 
Be aware: You'll drive on the left hand side of the road in Grenada.  Plus, some of the mountain roads are narrow and windy, which takes getting used to.  I highly recommend renting a jeep or SUV.    
Shop at St. George's Market and Do Some Cooking
If you like to cook, you will love to cook in Grenada.  It's always a perk to have a kitchen when traveling with kids, but Grenada is an especially great place to cook with local produce. 
The outdoor market in the capital city of St. George's is one of the best in the Caribbean. On Saturdays, it boils over with color and sound. Pay a few dollars to park at the Esplanade mall – which you can access without navigating the city's narrowest roads – and then the market is a 2-minute walk. You'll find bags of mangoes, starfruit, papayas, bananas, golden apples, and guavas. Everyone is selling local spices like nutmeg, cinnamon, cloves, turmeric, and ginger. Nutmeg is the island's signature spice, and you can buy nutmeg coffee, nutmeg jelly, and fresh nutmeg to bring home. If you're an early riser, a nearby fish market has fresh fish caught daily. Even the pickiest eater (big or little) might be convinced to try something new.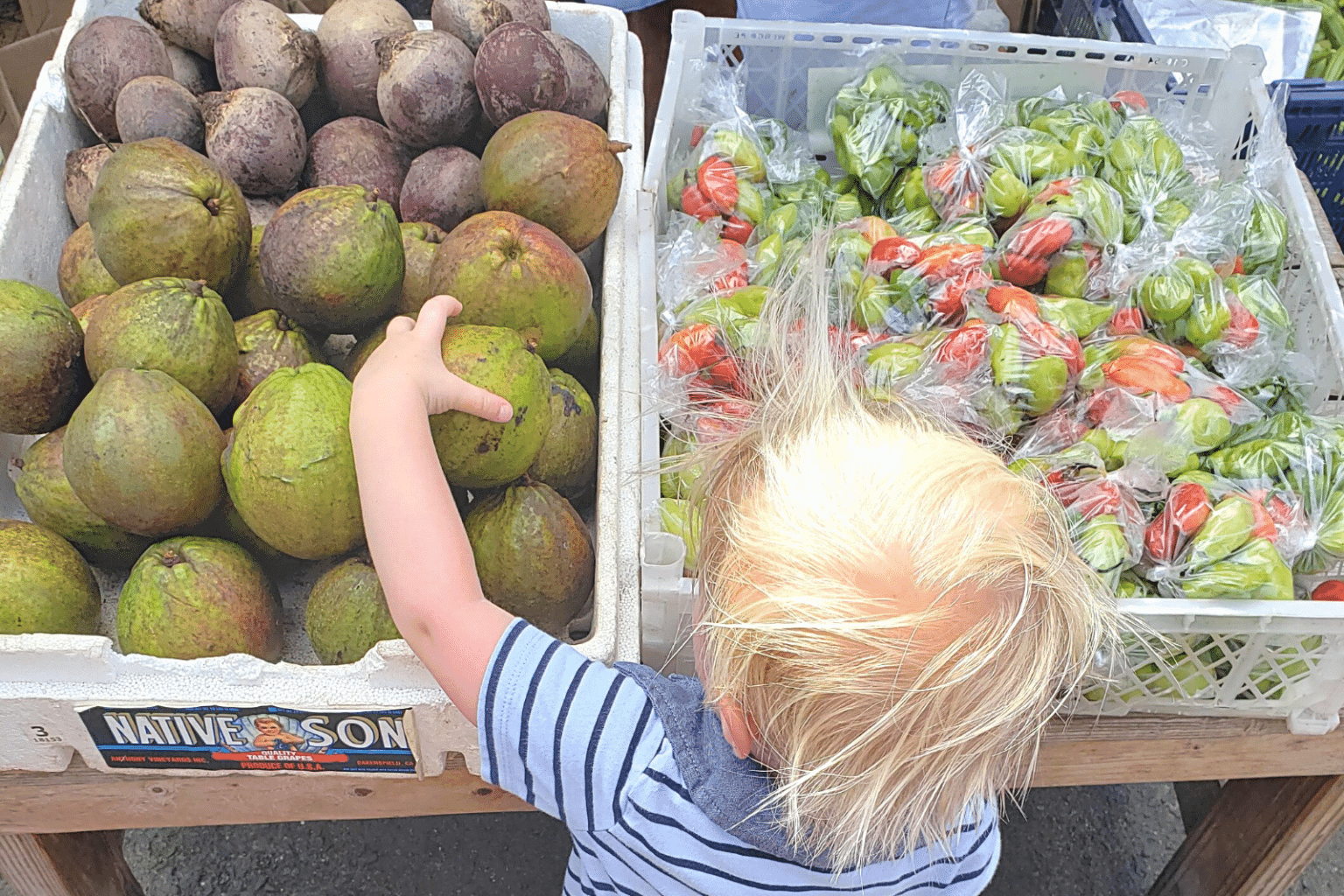 Enjoy Grenada's Kid-Friendly Beaches 
Grand Anse Beach
When it comes to beautiful beaches, this 2-mile-long stretch is hard to beat. None of the hotels along the water are too imposing, so there is always a peaceful vibe and plenty of space to spread out. (Cruise ship days may be the exception.) The gentle slope into the Caribbean sea makes this a great spot for young children to safely splash around. There are a handful of restaurants on the beach, meaning food, drinks (and cocktails) are never too far.
La Sagesse
For something a little more remote, take a drive to La Sagesse Nature Preserve and spend an afternoon on a secluded shore.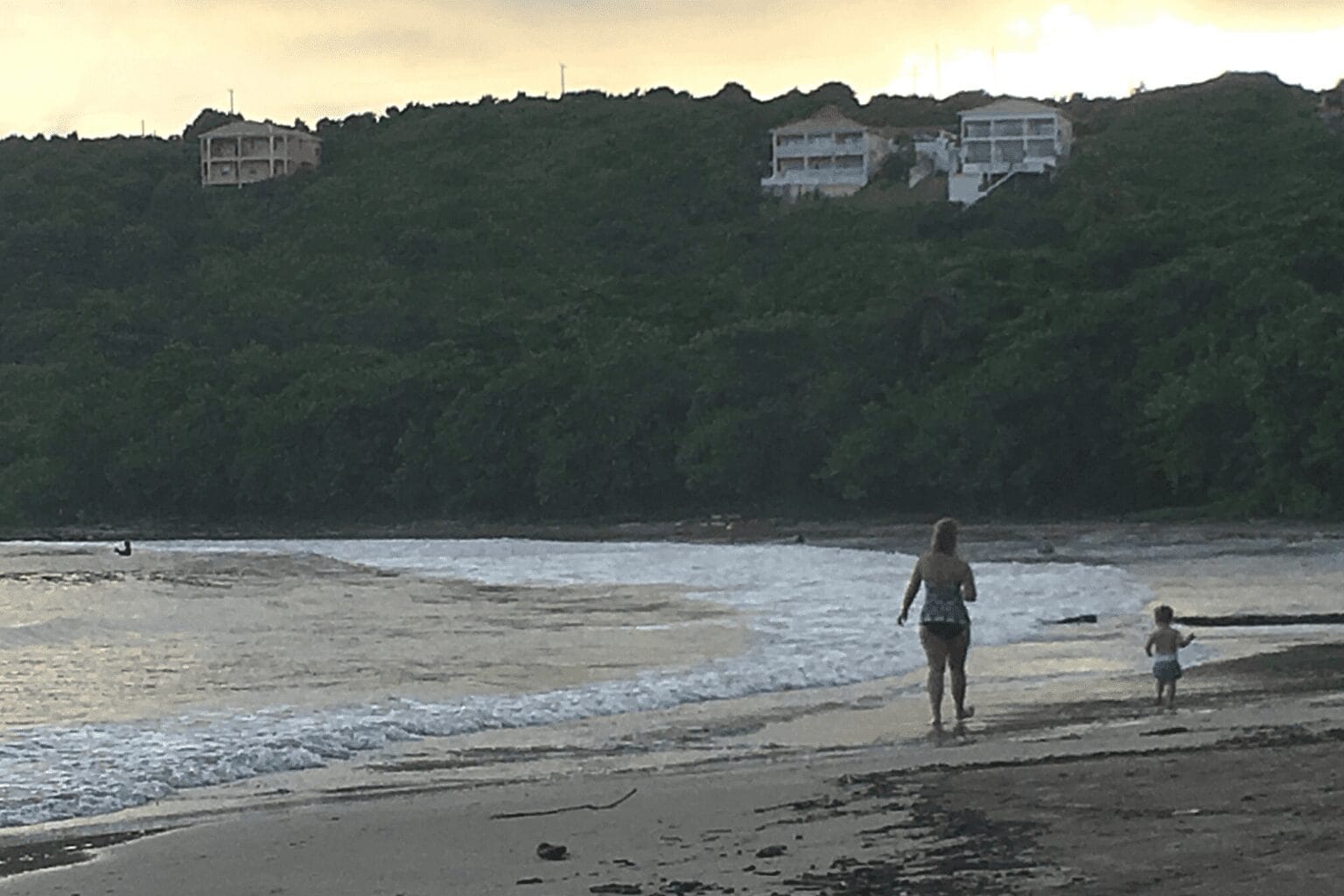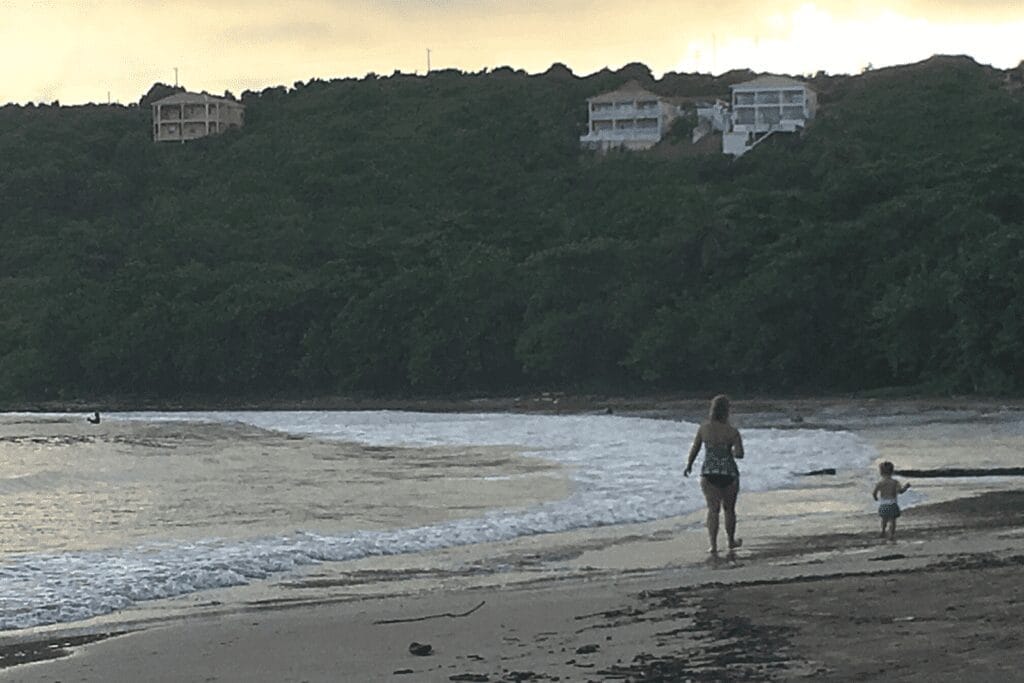 Levera National Park
To find something really off the beaten track, you'll definitely want to stop at Levera National Park on your drive around the island.  It's all the way in the Northeast corner. You may be the only people on this beach, with your only company some ghost crabs and wild cows.  
HOG ISLAND
Pack a picnic, catch a water taxi, and take your kids to the Sunday BBQ on Hog island. (If you're planning your day on Hog Island, check out this detailed blog post by Caribbean Authority, which has lots of thorough advice for travel to Grenada.)
SANDY ISLAND
For an adventurous day trip – best for older kids – catch a ride with a local fisherman to the uninhabited Sandy Island, which has one of the most beautiful beaches and some of the most colorful water I've ever seen.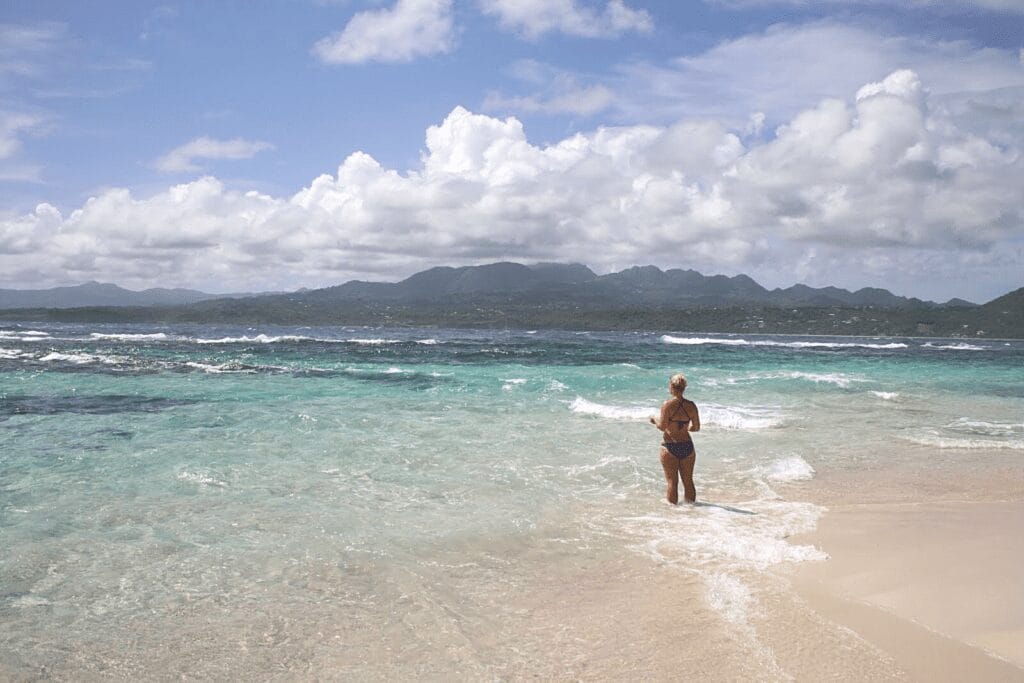 Get Out On (Or Under) The Water
If your kids are old enough, take them snorkeling with Native Spirit Scuba
 the only Grenadian-owned dive shop on the island. The owner, Adrian, and his wife Rahel run a smooth, safe, and friendly operation and will make sure you have a wonderful time on the water.  Kids will love seeing an underwater sculpture garden.  If you want to snorkel without getting on a boat, Magazine Beach (right by the airport) is your best bet.
Explore the Rainforest
Grenada is mountainous with a rainforest covering most of its middle, which makes it a prime hiking destination. There are a number of kid-friendly hikes in Grenada to choose from, including: 
Grand Etang National Park
About a 45 minute drive from Grand Anse, this hike is the star of show when it comes to hiking. Many of the hikes here are quite challenging. If you're traveling with older kids, opt for the hike up Mount Qua Qua, which rises to a height of over 2,370 ft (720 m). The hike takes about 90 minutes, and requires sure footing along some ridges, long pants, and plenty of water, but the view at the top is worth it.
Another fan-favorite for avid hikers is the Seven Sisters trail, named for the seven waterfalls of Grand Etang. This hike can take longer (up to 3 hours) and includes hiking along wet boulders in a stream. Not for the faint of heart, but perfect for a family trip with adventurous older kids. A guide is recommended for this one – if for no other reason than to encourage you to take the plunge.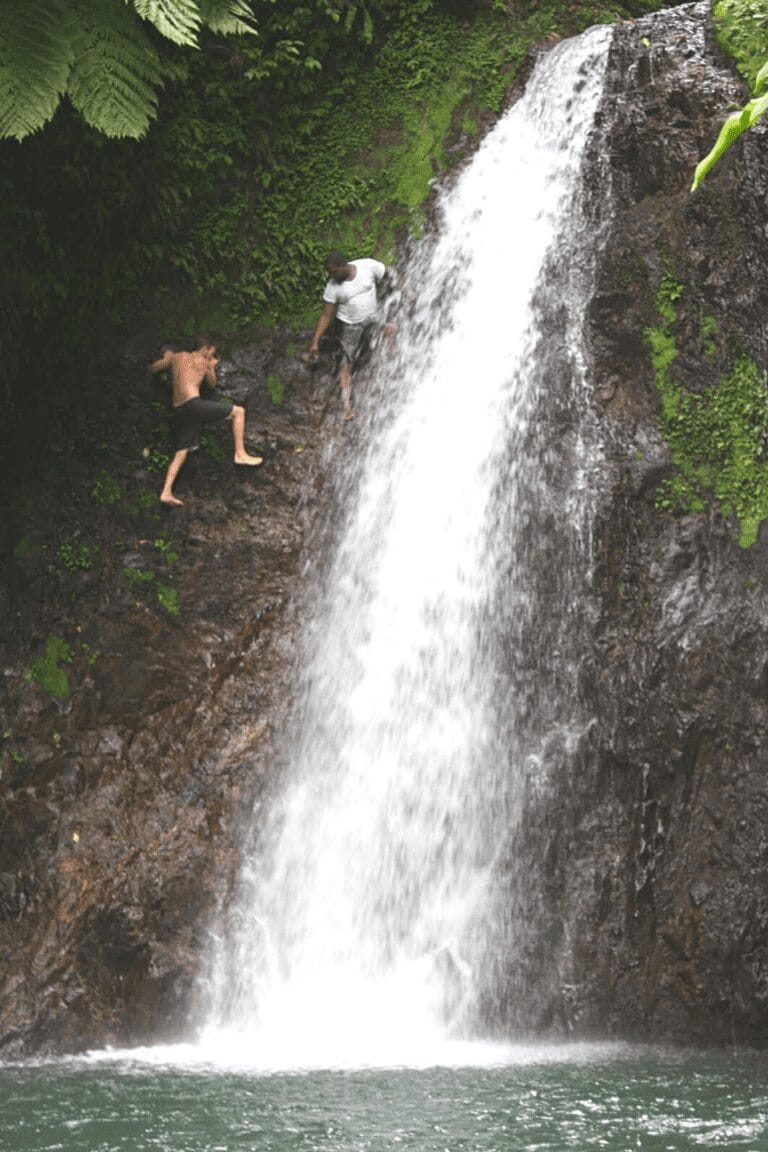 Annandale Falls
I would not recommend the Mount Qua Qua or Seven Sisters hikes with kids under 7 or 8. If traveling to Grenada with kids that are younger, consider a visit to Annandale Falls instead.  It's about a 10-minute walk from the trailhead to the falls themselves, which will still give you a feel for the Grenada rainforest.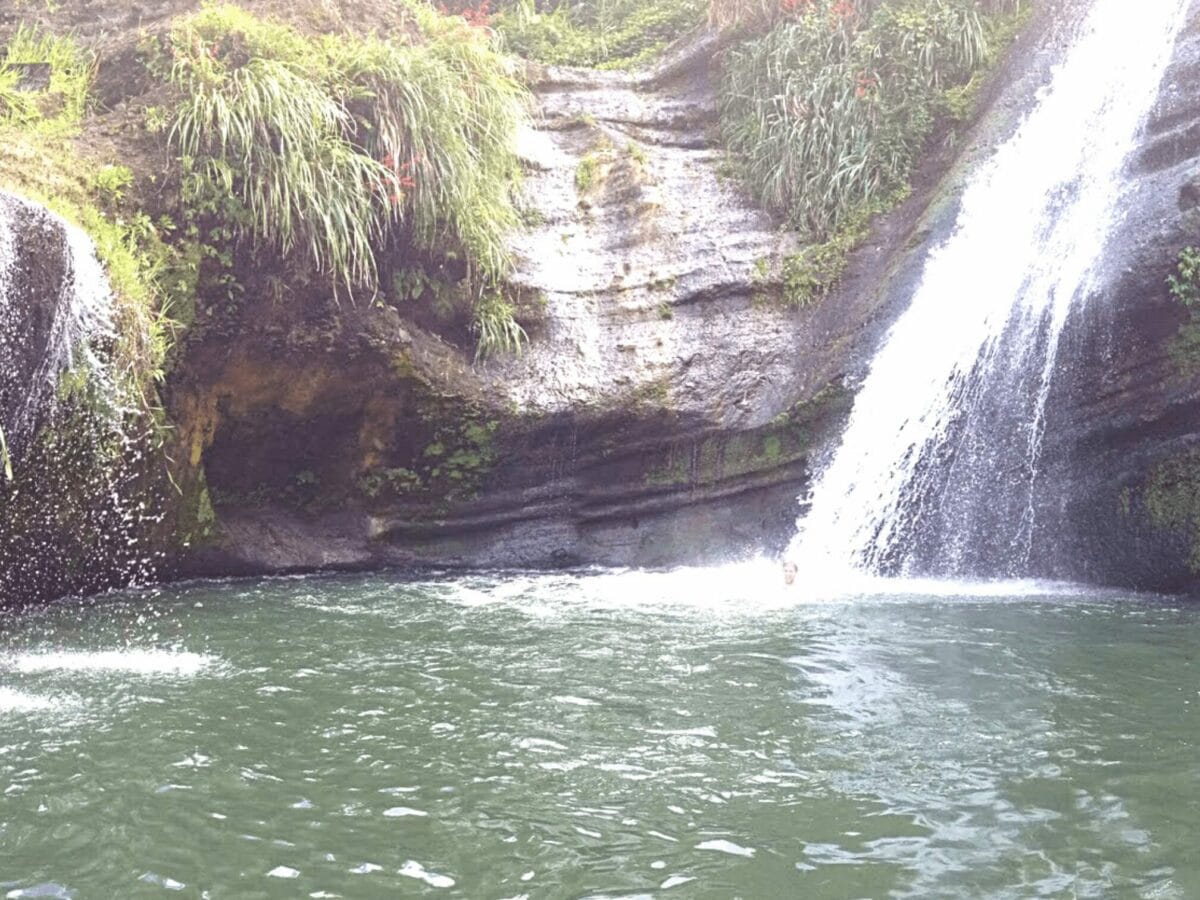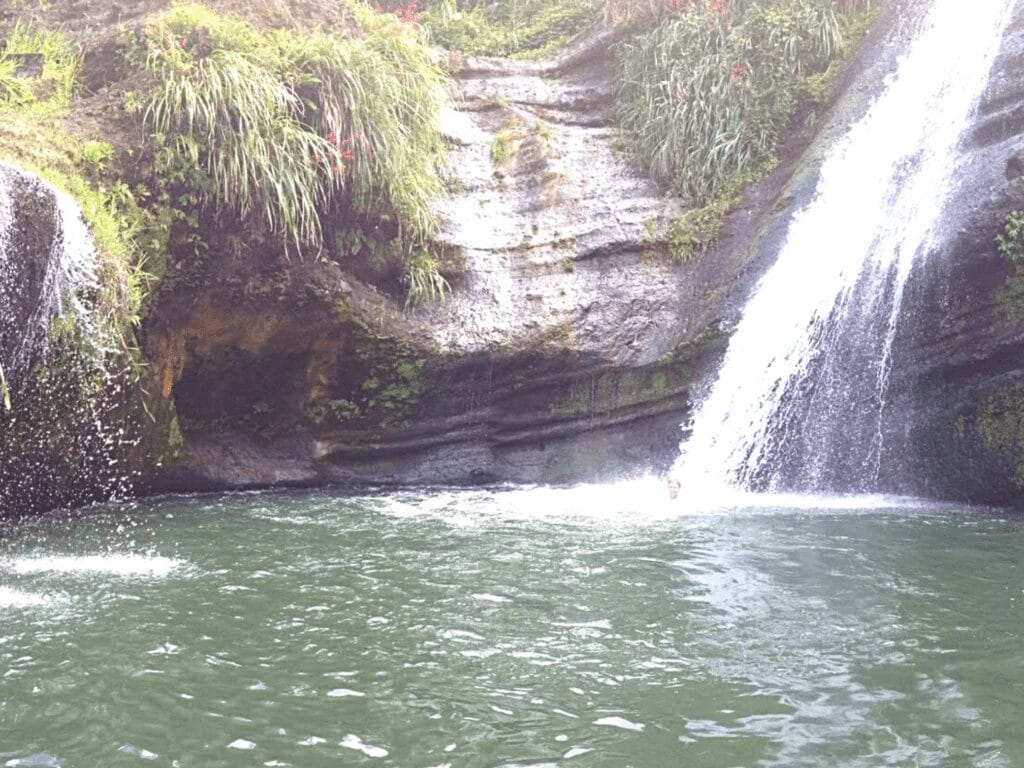 Enjoy Some Rum and Chocolate
Belmont Estate 
Kids can learn about cocoa processing at this 300-year old working plantation.  While you're there, have lunch at the restaurant, and bring home Grenadian chocolate for all your friends. 
The River Antoine Rum Distillery
The rum coming out of The Rivers is so strong that some of the production is banned from airplanes as a combustible liquid. But it is one of the last distilleries anywhere still using traditional methods employed since the 1800s to produce its top-rated rum. Your ability to sip it straight may vary (literally, it may be hard to stay upright), but you and your kids can all enjoy the tour.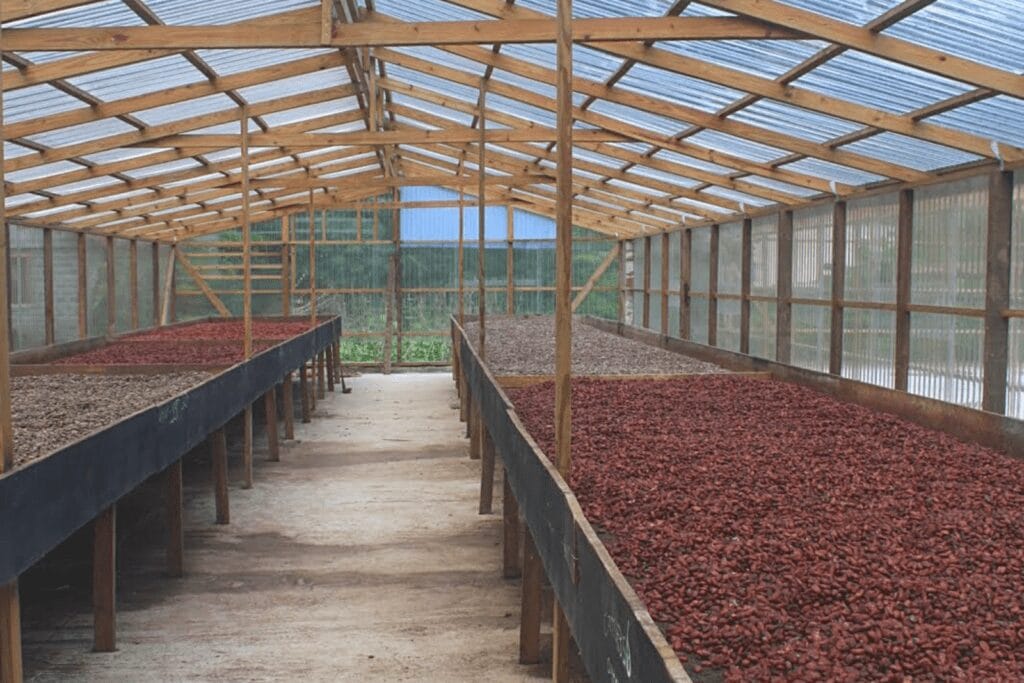 Where to Eat in Grenada with Kids
Grenada's restaurant scene is more limited than some other Caribbean islands. But there are few not-to-be-missed staples, and a handful of fine-dining choices. The key to eating well in Grenada with kids is to experience casual, local specialties — and to cook fresh food yourself from the market. 
Local Specialties 
Ask around about the national dish, Oil Down, a stew made with breadfruit, salted meat, a local root vegetable, dumplings, and coconut milk. If you're in Grenada on a Friday night you can definitely find this dish and other local specialties (and party with locals) at the Gouyave Fish Fry.
BB's Crabback 
As for restaurants, everyone who has been to Grenada will tell you not to miss BB's in St. George's, near Fort George. Go for lunch while you're walking around town. It has a view of the harbor, great service, and delicious food – in particular the restaurant's namesake, the Crab back.  We've been here in a large group with lots of kids and felt very welcomed.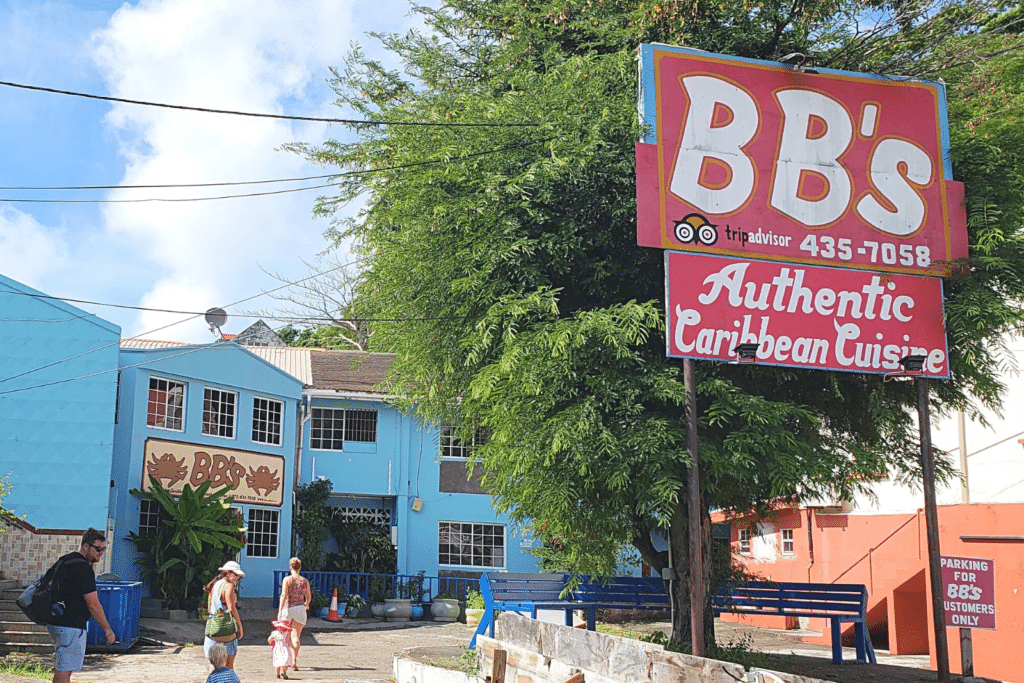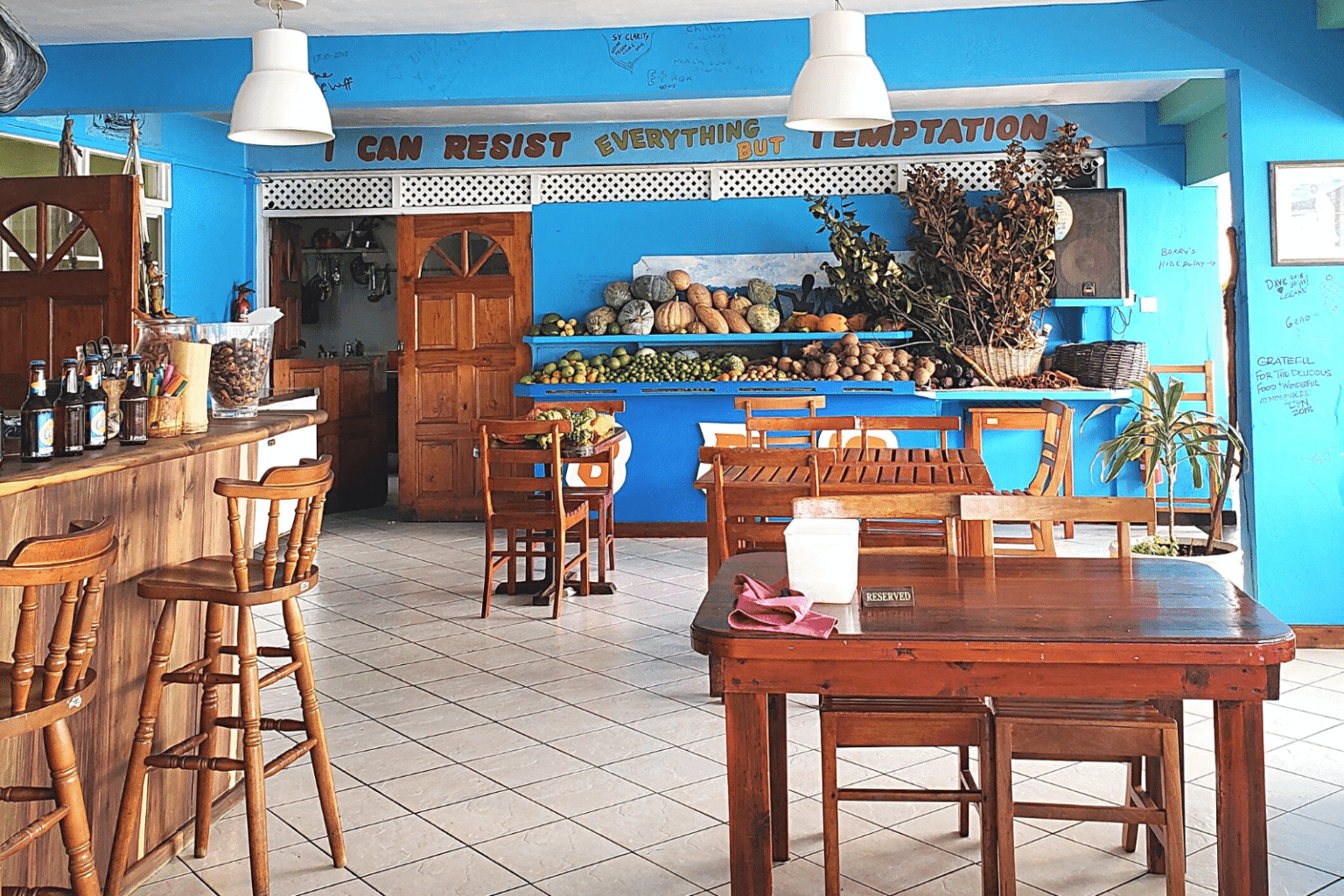 Umbrella's Beach Bar
Another staple of the Grenada dining scene, right on Grand Anse beach. (Tip: If you're staying at a hotel off the beach, you can park here for the day and rent chairs.)  Try the Carriacou Love Bites and the grilled catch of the day. There are plenty of beach food options here for the kids.  
The Little Dipper 
Head here for an off-the-beaten-path dinner. It has no website or Facebook page, so ask your hotel to call and make a reservation for you. It's a tiny restaurant with an unbelievable view of the sailboats anchored at Woburn Bay. Get there before sunset – the whole family will get a home-cooked meal, with a choice of chicken, fish, or lambi (conch) – and all the pictures your camera can hold.  
Date-Night Options
If you get a babysitter and want a fancy night out, try the beautiful restaurants at La Luna or Calabash hotels. The romantic settings at these two restaurants are hard to beat for a night away from the kids. 
There you have it! A guide to my favorite island – I hope you enjoyed it, and that you enjoy your Grenada family vacation.  Want a customized Grenada itinerary for your next family trip? Look no further, we're here for it.