British Virgin Islands vs. US Virgin Islands. What are the main differences, and which one is for you?
The Virgin Islands are a cluster of islands east of Puerto Rico. On a map, they look like one unified group. But an invisible line divides the British Virgin Islands vs. US Virgin Islands.
Is there any difference between the two island clusters, other than what side of this imaginary line they're on?  Yes.  After multiple trips to both sides of the island chain, with and without kids, I've noticed many differences.  
They may look like one cohesive island paradise, but don't be fooled—each side offers a unique flavor of tropical fun. We're here to help you figure out which one suits your travel dreams and goals.
Let's dive deeper into the difference between the British Virgin Islands vs US Virgin Islands.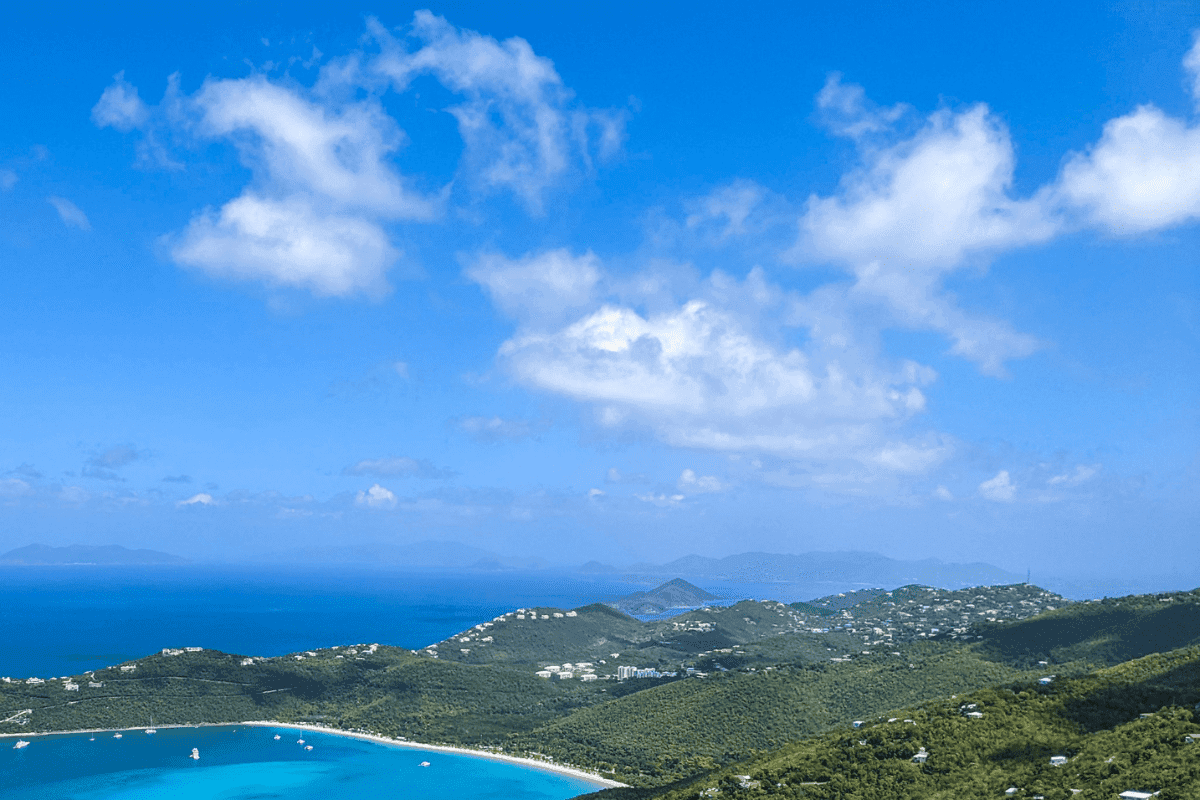 This article contains affiliate links to our trusted partners
Tortola vs St Thomas: The Main Islands in the British Virgin Islands vs the US Virgin Islands
The US Virgin Islands is made up of three main islands: Saint Thomas, Saint John, and Saint Croix.
On the British side, you'll find four main islands: Tortola, Virgin Gorda, Jost Van, and Anegada.
Let's start by comparing the main island of each chain. 
The biggest U.S. Virgin Island—and the one with the busiest international airport—is Saint Thomas.  On the British side, it's Tortola. When you compare St. Thomas to Tortola,  the differences between the British Virgin Islands vs the US Virgin Islands start to come into focus.
Tortola
Tortola, the largest of the British Virgin Islands, offers a laid-back vibe with its uncrowded beaches and charming, family-run establishments. It's an island that invites you to slow down and immerse yourself in its natural beauty.
Tortola has long been a popular destination for boat charters and yachters, and thus maintains a sophisticated and luxurious allure.  
You'll find no mega resorts in Tortola, and no big international brand hotels, except for one small Wyndham resort with less than 40 rooms. Instead, you'll find independently owned boutique hotels, like the gorgeous and newly rebuilt Long Bay Beach Resort, and some quant B&Bs.
St. Thomas
St. Thomas, the bustling heart of the U.S. Virgin Islands, stands in complete contrast to Tortola with its lively atmosphere. Here, you'll find a more Americanized tropical destination, with a bigger variety of shopping venues, restaurants, and larger resorts.
St. Thomas is an island that caters to those who want a bit of everything at their fingertips.  You want a Marriott, Ritz, Hilton, or Wyndham? You've got 'em. But you'll also find some more charming, unique hotels too, like our personal favorite, Secret Harbour Beach Resort. And there are plenty of villas that dot the hills of St. Thomas, too.
The point is, as you compare other islands in the British Virgins Islands vs. US Virgin Islands, you'll see a similar theme. As a general matter, the BVIs constantly shine through with their quiet, barefoot luxury, whereas the US Virgin Islands offer a more accessible, but commercialized, island experience.
Geographical Differences Between the BVIs and USVIs
The British and US Virgin Islands may be different in their vibes and culture, but they do share strikingly similar geographical features. Both island groups have a lot of elevation, with mountainous interiors.
These elevated terrains not only provide fun hiking trails for travelers, but they also offer panoramic views that are perfect for your Instagram-worthy family photos. Wherever you go, you'll see other Virgin Islands in the distance, beckoning you to hop a boat and come for a visit.
Trails, Parks, and Protected Areas
When it comes to national parks, both territories bring a lot to the table. The Virgin Islands National Park on Saint John is a must-visit, with its extensive hiking trails that lead you through lush forests to secluded, protected beaches.
On the flip side, the Baths National Park on Virgin Gorda in the BVIs is a marvel of natural beauty, featuring enormous boulders, hidden pools, and unique rock formations to explore.
Beaches
It's really hard to compare the beaches of the British Virgin Islands vs. the US Virgin Islands. Each side arguably has one of the best beaches in the Caribbean.
On the U.S. side, you can't help but love Magens Bay Beach, a popular stop for cruise ship passengers in St. Thomas. And many believe that the beaches of St. John, including Trunk Bay and Maho Bay Beach, are the ultimate tropical paradise, with top notch snorkeling.
The problem, for some, is that these beaches can get very crowded, especially on cruise ship days, and visitors to St. Thomas and St. John are often encouraged to head to the best beaches early in the morning, or later afternoon, to avoid the crowds.
But on the British side, you have the opportunity to discover beaches that are just as stunning—but that attract far fewer crowds due to their more remote location. White Bay Beach on the small island of Jost Van is out of this world. So too is the (other) White Bay Beach on Guana Island, a private island resort.
And these are just a few examples. Other top beaches on the British side include Long Bay Beach and Cane Garden Beach on Tortola, and Loblolly Bay on Anegada.
Watersports: A Playground for All Ages
Snorkeling and water sports are another area where both the BVIs and USVIs truly shine. The clear Caribbean waters surrounding these islands offer an underwater spectacle of vibrant marine life, making them ideal for snorkeling adventures.
Kayaking, paddleboarding, and, of course, sailing are also readily available, catering to all levels of water enthusiasts. Whether you're exploring the coral reefs around the BVIs or taking a family snorkeling trip to  Buck Island in the USVIs, the opportunities for water-based fun are nearly endless.
The Virgin Islands—both the British and US clusters—are the best location in the Caribbean for island-hopping via boat charter or yacht. That's because there's just so many coves and small islands to explore, and safe anchorages to spend the night.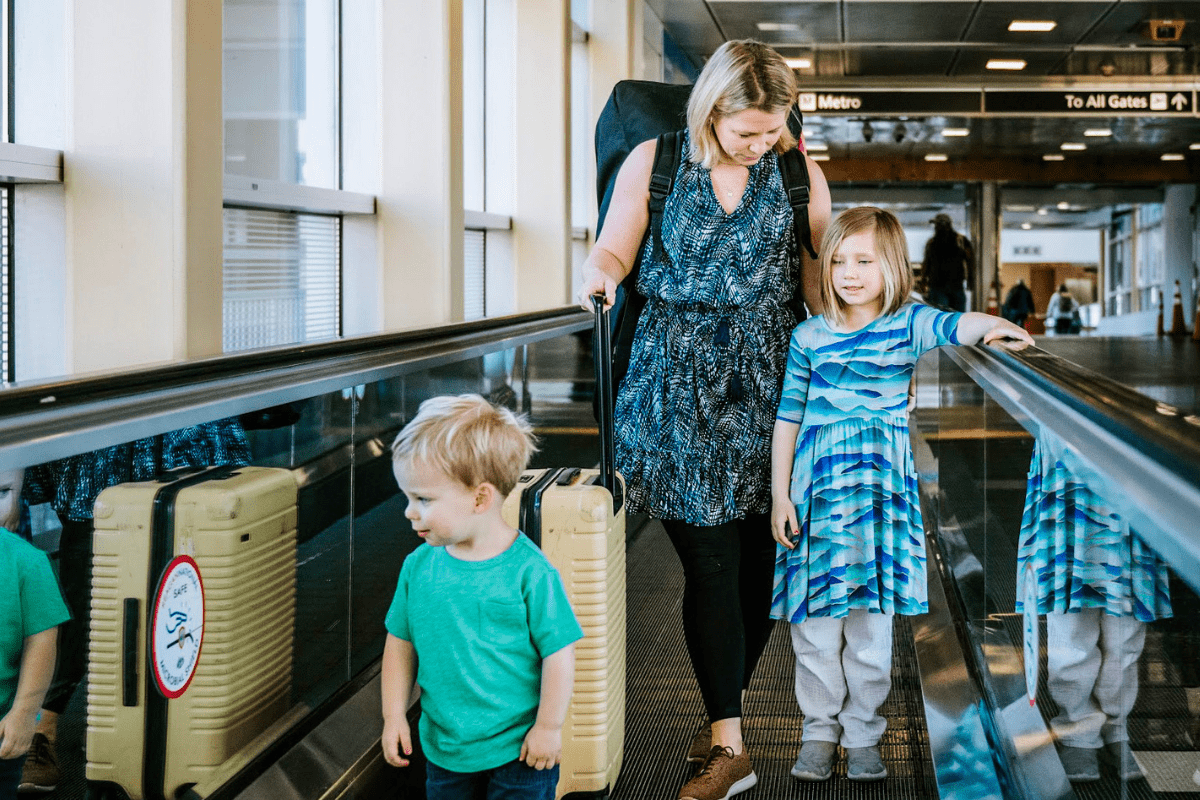 BVIs vs. USVIs: Accessibility For Travelers
The British Virgin Islands are a British Overseas Territory, which gives them a unique blend of Caribbean flair and British governance. In contrast, the United States Virgin Islands are a United States territory, making them subject to U.S. law. This has implications for entry requirements, general travel logistic, and also culture and vibe.
Entry Requirements
USVI is easier for U.S. travelers since no passport is needed. BVI requires a passport and sometimes a visa, depending on your nationality. For Americans, then, the US Virgin Islands can be a bit more hassle-free, which puts them on the list of best Caribbean islands for families.
Flights
There are also more direct flights from the United States to St. Thomas than to the British Virgin Islands. That said, flights to Tortola from the United States are increasing, as the British Virgin Islands continue to gain popularity among American travelers. In 2023, you can fly direct from Puerto Rico or Miami to Tortola's Beef Island Airport.
And even if you can't fly direct to the British Virgin Islands, you can get there via St. Thomas.  Grab a direct flight to St. Thomas and a one-hour ferry over to Tortola and you'll be on your way. The open-air ferries are part of the fun. 
Cost and Lifestyle
The US Virgin Islands are generally more budget-friendly than the British Virgin Islands, especially for American travelers. The British Virgin Islands tend to skew towards the luxury end, especially when it comes to accommodations on islands like Tortola and Virgin Gorda, or the various private island resorts that surround the bigger islands.
The USVI, on the other hand, and particularly St Thomas, has more of a mix of accommodations, and also casual restaurants and inexpensive tourist excursions.
Driving
You're stuck driving on the left side of the road whether you're in the British Virgin Islands or US Virgin Islands, so that challenge is the same on either side of the line.  And taxis are expensive in both island chains as well—especially for families, as taxis in the Virgin Islands typically charge by the person,.
Currency and Language
USVI uses the U.S. dollar and English is the primary language, making it pretty straightforward for American visitors. BVI also uses the U.S. dollar but tends to be more British culturally, which might show up in local accents.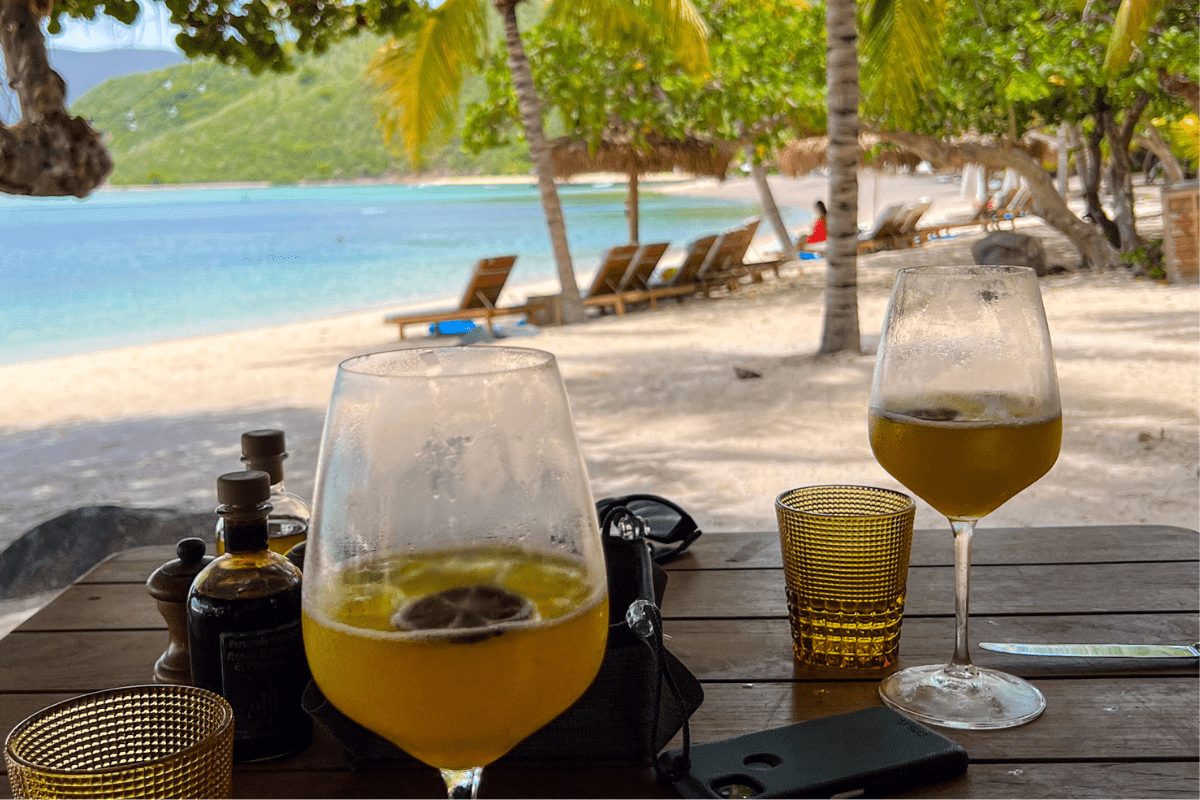 Culinary Adventures: Local Flavors and International Tastes in the Virgin Islands
When it comes to food, both the BVIs and the USVIs offer a delectable range of options.
In the BVIs, expect to find an eclectic mix of Caribbean and British influences, from fresh seafood to traditional British pies. Restaurants often use locally sourced ingredients, enhancing the flavor and giving a farm-to-table feel.
Fish and Fungi is the national fish of the BVIs—which surprisingly enough has nothing to do with mushrooms.  Fungi is a mix of okra and cornmeal.  It's served as a side dish to the fish as a carb or starch.
In the USVIs, especially in St. Thomas, you'll find a wider array of international cuisines, including American fast-food chains. But don't overlook the local Creole dishes, which are a delicious blend of African, European, and indigenous foods.
In both the US and British Virgin Islands, you'll find Caribbean classics like conch fritters, salt fish, johnny cakes, and callaloo soup.
Family Activities in the US and British Virgin Islands
The BVIs and the USVIs both offer endless family-friendly activities, with both sides focused on the water and boating. Learn more about them in our ultimate guide to the Virgin Islands for families. 
In the BVIs, you'll be tempted to island hop, and to take the kids snorkeling, because small coves and private islands beckon you to explore. You can take a family day sail to Anegada and explore the shallow reefs. Or consider a pirate-themed adventure around Norman Island, which is said to have inspired Robert Louis Stevenson's "Treasure Island."
In the USVIs, you'll find easier-to-access land-based activities.  For example, Coral World Ocean Park on St. Thomas offers interactive marine experiences that are both educational and fun for kids.  You can also zipline in St. Thomas with a view of Magens Bay Beach, or take a day trip to Water Island.
St. Croix's Estate Whim Plantation is another great family stop, offering a glimpse into the island's history.
Cultural Insights: From Calypso to Steel Pan
Although English is the language in the Virgin Islands, you'll see rich cultural history on either side of the chain, with different influences. In the BVIs, you might stumble upon a traditional British afternoon tea or a cricket match. Local festivals often feature calypso music and traditional dance forms that are influenced by African heritage.
The USVIs offer a more Americanized cultural experience but with a distinct Caribbean flair. The Carnival on St. Thomas is a noteworthy event, featuring parades, music, and dance that showcase the island's diverse cultural influences.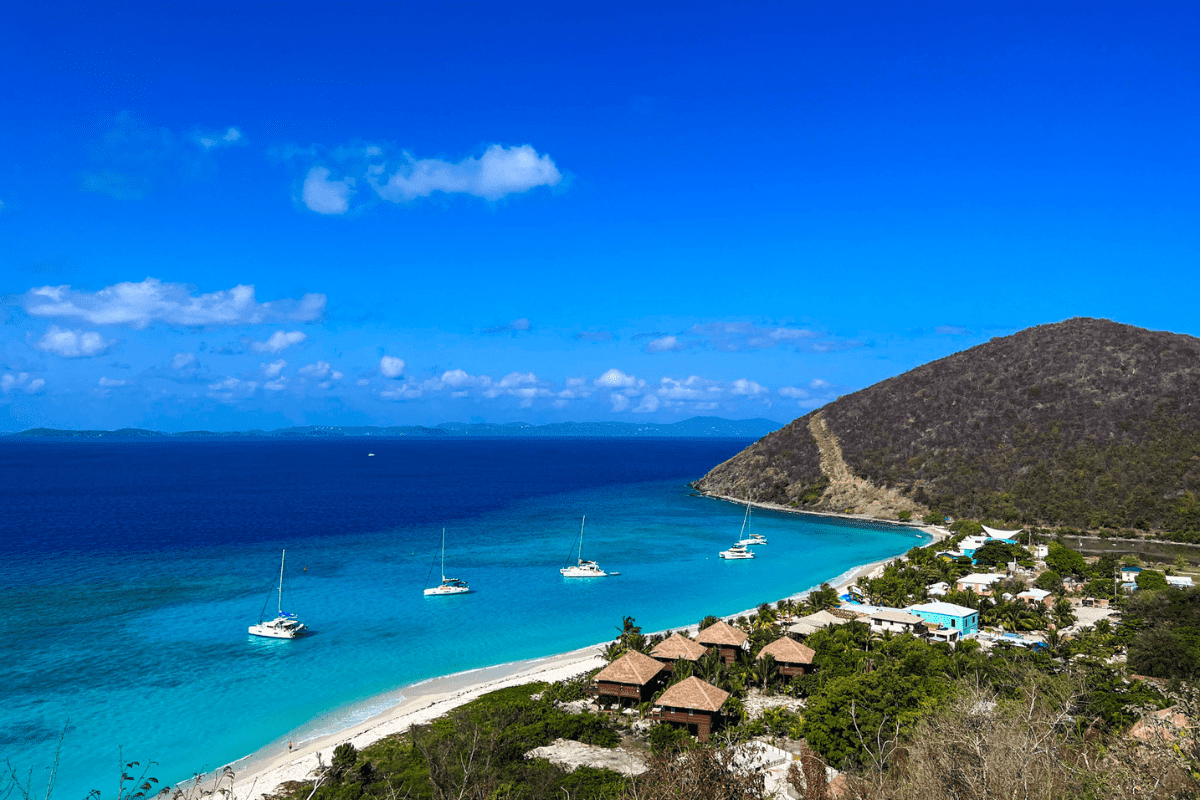 Unique Accommodations: Where to Stay
Accommodation styles in the BVIs and USVIs reflect their overall vibes. The BVIs are known for their luxurious, often secluded resorts and villas, many with private pools. On islands like Tortola and Virgin Gorda, you'll find high-end accommodations that offer complete privacy and stunning views.
The USVIs offer a wider range of options, from luxury resorts to budget-friendly hotels. St. Thomas has several large resorts with all the amenities you could desire, while St. John offers more eco-friendly lodging options. Both St. Thomas and St. John have fantastic hotel choices for snorkeling right from the beach.  
Seasonal Considerations: Best Time to Visit
Both the BVIs and the USVIs are year-round destinations, with the same peak and off-peak seasons. The Virgin Islands are often quieter during the summer months, which can be a great time to visit if you prefer fewer crowds. However, be mindful of hurricane season.
The Virgin Islands, like much of the Caribbean, see a surge of visitors during the winter months, especially around Christmas and New Year.  If you visit during the late spring, you'll find fewer crowds and more affordable prices.
Get Caribbean Family Travel Tips Right Into Your Inbox 
If you found this post helpful, don't miss our other Caribbean destination guides for families. 
And for even more Caribbean and family travel inspiration, sign up for our newsletter! We feature new destination, highlight our favorite hotels, and share family travel tips. 
Keep the travel dreaming coming all year long.