Jamaica is one of our favorite Caribbean islands here at Mango Tree. The land of reggae and chill vibes, Jamaica has a big personality. Rich with vibrant culture, stunning beaches, and a lush jungle interior, she offers something for every traveler.
Jamaica is also big — the third largest of the Caribbean islands. Travelers to Jamaica have several different regions to choose from but that can make it hard to decide where to stay.
In this article we compare two of the top family travel destinations — Montego Bay vs Negril — so you can easily and quickly book your next family trip to Jamaica with confidence.
We'll consider these two popular destinations side-by-side, including their proximity to the airport, beaches, kid-friendly hotels and restaurants, available excursions, and safety concerns. We'll even highlight nightlife options for those of you parents who can find the energy to go out after bedtime.
By the end of this post, you should have a clear idea whether Montego Bay or Negril is best suited to meet your needs.
Montego Bay vs. Negril: Mango Tree Bottom Line
Montego Bay and Negril both have a lot to offer families.  But Montego Bay, in our opinion, is best for families looking to minimize travel time from the airport and enjoy an ultra all-inclusive resort experience, with tons of amenities for kids and easy access to arranged excursions. It's also best for families who like an urban vibe, and access to nightlife. 
If you're looking for a more laid-back beach vacation with your kids, and you enjoy a beautiful walkable beach dotted with casual bars and restaurants, Negril is the better choice.  It's also best for families who prefer smaller, boutique hotels with a more intimate feel. 
Caribbean Family Travel Resources
Before we dive in, let's be sure you have our best travel resources at your fingertips.   
Jamaica is one of the best Caribbean islands for families, and one of our favorites. Did you know we have a whole collection of recommended family hotels in the Caribbean – including in Jamaica? I'll let you in on a secret, it's sort of our pride and joy. 
Wishing someone else would just handle the logistics for a change? We also offer bespoke Caribbean family travel planning services. Our specialty? Helping parents identify the best Caribbean island and hotel for a top-notch family trip. Let us take the legwork off your plate.
Now, pour yourself a glass of Jamaican rum and start planning your beach vacation…
This post contains affiliate links from our trusted partners
Montego Bay vs Negril: Which Should You Choose For Your Family?
To help you decide whether to head to Negril or Montego Bay, let's compare the two side-by-side for location, beaches, restaurants, hotel options, nightlife, and excursions.
Location
Winner: Montego Bay for proximity to airport; Negril for overall location vibe and atmosphere
Montego Bay is located on the north coast of Jamaica, and is home to Montego Bay Sangster International Airport. If you stay in Montego Bay, you'll have the shortest possible drive to your hotel — probably 15 minutes or less – which delights most parents.
MoBay is known as the tourist capital of Jamaica. It's a bustling city with plenty of activities and attractions, including world-class golf courses, luxury all-inclusive resorts and spas, duty-free shopping centers, bars and nightlife, and white sand beaches.
But, in our experience, it's the easy access to expansive resorts, in an English speaking environment that's easy to navigate, that draw most family travelers to Montego Bay — many of whom rarely venture beyond the hotel walls.
Negril, a former fishing village, is located on the western coast of Jamaica and offers a much different feel than Montego Bay. Negril is known for its laid-back, beachy vibe and long, wide sandy beach. The main beach is dotted with bars and restaurants, many of which can be explored on foot depending on where you stay. Negril is about a 90 minute drive from the Montego Bay airport, so your overall journey will be a bit longer. But what you'll get in return is a more quaint, calm experience.
Beaches
Winner: Negril 
Negril and Montego Bay both have lovely beaches. But if you're looking for a stop-you-in-your-tracks-beautiful kind of beach, head to Negril.
Negril's Seven Mile Beach is one of the most famous beaches in Jamaica, renowned for its beauty and tranquility. The beach is wide open, with powder-soft white sand, swaying palm trees, and shallow waters that are perfect for families with young kids. It's an excellent spot for long, lazy beach walks, swimming, and sunbathing. Dotted with small hotels, restaurants, and bars, it's a great home base for exploring by foot beyond your hotel.
If you love the beach, Negril's for you.
In Montego Bay, by contrast, the private beach at your hotel will likely be the primary attraction, so picking a resort with a fantastic beach is essential. (Don't worry, we recommend the best ones below!)  The MoBay beaches will be smaller and less scenic than Negril's long stretch of sand, and not as walkable, but still great choices for swimming and relaxing the days away.
There are some public beaches in Montego Bay too, with the most popular being Doctor's Cove Beach and Dead End Beach. These both offer a great experience, more connected to the local MoBay scene than the private resort beaches, so we encourage you to get out and visit them!
Hotels and Resorts
Winner: Montego Bay for larger, luxe resorts; Negril for small, boutique properties
Whether you choose Montego Bay or Negril, you won't be lacking for hotel and resort choices.
Montego Bay is home to world-class luxury beach resorts. Without a doubt, MoBay is the all-inclusive capital of Jamaica (and arguably in all of the Caribbean, though Mexico and the Dominican Republic will give it a run for its money.)
Negril has a handful of big resorts but, in our view, it's more appealing for its smaller, more intimate options. You can find quaint properties in two unique settings—on Negril's long stretch of beachfront, or atop its limestone cliffs.
Here are our top choices for each location.
Montego Bay Family Resorts 
There are so many big resorts in Montego Bay and the surrounding areas, it can be hard to tell them apart. A few stand out above the rest.
First, there are two luxury properties that welcome: Round Hill Resort and Half Moon Jamaica.  We would recommend either of these for an ultra-luxe, all-inclusive stay. Each property has gorgeous beaches, facilities, restaurants, and family programming.
Round Hill Resort & Villas 
Round Hill is the top pick for an intimate, luxury stay in Montego Bay.  With suites designed by Ralph Lauren, it'll appeal to the most discerning traveler tastes, the ultra all-inclusive escape.  But it does so without pretention, in an atmosphere that welcomes families.  You'll have a gorgeous beach, an on-site restaurant, and an excellent kids' club and babysitting options.  
The villas are a top choice for multi-generational families.  a smaller, upscale property, with rooms designed by Ralph Lauren.
Half Moon is the other top luxury choice in Montego Bay. But, in any ways, it's Round Hill's opposite. Where Round Hill has one restaurant for guests, Half Moon has nearly half a dozen.  Half Moon is a sprawling resort with three distinct areas, dozens of different room choices, a large collection of 5-7 bedroom villas for families, golf, a kids' club, and more.
Half Moon also gets top marks from big family units who can spread out in the luxury villas, but there are lots of great options here for smaller families as well.
Many families headed to MoBay choose large, all-inclusive resorts with waterslides, kids' programming, several restaurants, and more.  There are so many it can be hard to choose the right one.  
In our experience, Hyatt Ziva Rose Hall or the Hilton Rose Hall offer the best choices for families wanting the ease of an upscale all-inclusive property, minutes from the airport, where they don't have to plan a thing. 
If you'd prefer a more eclectic resort that's a little closer to MoBay's lively urban scene, check out our review of the S Hotel Jamaica. It caters primarily to adults with stylish tastes looking to enjoy Montego Bay's beaches and nightlife, but they are extremely welcoming of guests of all ages.
This hotel is an especially good choice when traveling either with young kids (under 3) or teenagers. The property has less to offer elementary school aged kids.
Where to stay in Negril with kids
It's important to know that Negril has two very different landscapes. A large portion of the resort runs along the top of the Negril Cliffs, towering limestone shelves that plunge into crashing waves. These hotels offer stunning views but no direct beach access. There is generally an age limit for children at these properties so make sure to check before you book.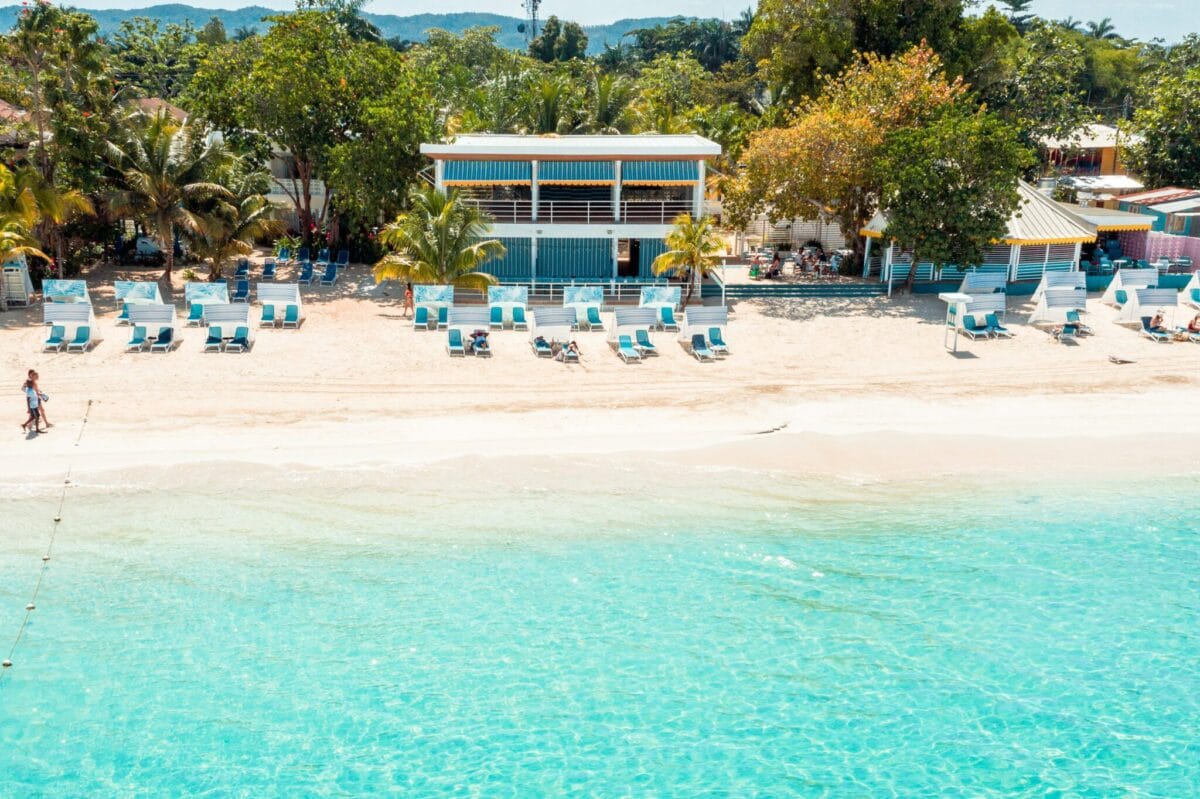 We're partial to little gems like Skylark Negril, a laid-back casual hotel that feels more like a beach club, which sits right on Negril's Sevel Mile Beach.
Negril's Cliffside Hotels
For families with younger kids interested in staying off the beach but on the cliffs, we recommend The Cliff boutique hotel, which has an incredible pool for families. With kids age 12+, we'd head to the RockHouse Jamaica, an iconic Negril hotel which is one of the best snorkeling resorts in the Caribbean.
No matter which destination you choose, Montego Bay or Negril, there's no shortage of stunning beaches and luxurious resorts in Jamaica that are perfect for families. With a bit of research, you can find the perfect spot for your Caribbean getaway.
Restaurants 
Winner: Negril for family-friendly beachfront dining 
Both Negril and Montego Bay have plenty of restaurants for you to enjoy on your trip, so from a food perspective, you can't go wrong with either.
Seven Mile Beach in Negril is full of local beach bars and seafood restaurants that you can explore by foot. These are epecially good for families because the kids can play in the sand while you're waiting for your food to appear. For a nice night out without the kids, head to one of the resorts on Negril's Cliffs for a dinner with a view.
Montego Bay also has a ton to offer by way of food, in a more urban environment. Most of the city's better known restaurants are on MoBay's "Hip Strip," though you can certainly find a handful of beachside restaurants, such as Sky Beach on Doctor's Cave Beach. Many of the Montego Bay resorts are all-inclusive, however, so realistically you may only leave for a handful of meals during your trip. When you do, don't miss the jerk chicken at Scotchies.
Nightlife
Winner: Montego Bay 
MoBay is known for its nightlife. For singles or couples, it's a huge draw. But most families don't have nightclubs on their vacation wish list.
Families are more likely to stay put on the resort property if they end up in Montego Bay. But that's not to say you can't enjoy the energy flowing from MoBay's nightlife! On my first trip to S Hotel Jamaica, I was delighted when my toddler and I woke up early, and took a stroll to the pool to take in the sunrise along with some more energetic travelers who were still up from the night before. They greeted us with warm but tired expressions, and we felt just as welcome even in our different stage of life.
If are you interested in going out for some drinks in MoBay without kids, be sure to prioritize a hotel that offers babysitting services. (Half Moon and Round Hill, again, are great choices in that department.)
Negril is not known for its nightlife in the same way as Montego Bay, but it's not lacking in nighttime activities! Its laid-back atmosphere makes it great for a family cruise down the beach, or even an evening bonfire with friends. And if you're looking for something more festive, Rick's Café is a popular spot on Negril's Cliffs for cliff jumping, and it serves up live music and great views of the sunset every night.
Excursions
Winner: Montego Bay 
Montego Bay and Negril each offer a wide range of exciting excursions for families. Many of Jamaica's best activities are inland, away from the coast, and just as accessible from either location. That said, Montego Bay is a more centrally located for big excursions. 
Martha Brae River (Montego Bay)
The Martha Brae River, located just outside Montego Bay, is a great way to explore the island's lush rainforests and get up close and personal with Jamaica's wildlife. One of the most popular excursions in the area, you can ride down the river on a traditional bamboo raft while learning about local Jamaican culture from your experienced guide.
Rastafari Indigenous Village (Montego Bay) 
The Rastafari Indigenous Village, also in Montego Bay, offers a unique and authentic experience that families will never forget. It is a working village that invites guests to understand and learn about the traditional Rastafari way of life, including traditional crafts, healing rituals, religion, music, and dance. Be aware, though, when traveling with kids that the Ratafari apprecation for cannabis is part of the experience.
Hampden Estate Rum Tour
While in Jamaica, you'd be remiss not to taste some of the island's best rums.  Hampden Estate is an up-and-comer among Jamaican dark rum brands, and the estate is less than one hour from Montego Bay. Tours are offered Monday through Friday at 10AM and 11AM with lunch included. You can book ahead via phone or email.
Mayfield Falls (Montego Bay or Negril)
Mayfield Falls is another popular destination in Jamaica's interior, about an hour drive from Montego Bay.  It offers a full-day experience of walking trails, waterfalls, and hot springs perfect for families.  It's not much farther from Negril, but remember you'll have already spent nearly two hours in the car just to get to Negril, which may make it less appealing to spend another hour on the road for an excursion.
We love YS Falls too, but it's a little further, closer to an hour and forty minutes from each of these main tourist areas
Blue Hole Mineral  Pond (Negril) 
Continuing along our theme of recommending Negril for a more relaxing vacation, it has much closer access to the Blue Hole Mineral Pond. Enjoy a dip in crystal-clear waters, swim with friendly fish, or take advantage of the poolside hammocks for a cozy nap. The Blue Hole mineral spring is best reserved for older kids who can swim confidently.
Montego Bay vs. Negril: Which Do You Choose?
There you have it.  Our comprehensive comparison of Montego Bay vs. Negril as a destination for your family trip.  No matter which you choose, you'll have a lovely time on Jamaica's shores – and we encourage you to get out beyond the resort and see what she's all about.
Get Caribbean Family Travel Tips Right Into Your Inbox 
If you found this post helpful, don't miss our other Caribbean destination guides for families. 
And for even more Caribbean and family travel inspiration, sign up for our biweekly newsletter! We feature a new destination each month, highlighting our favorite hotels and family travel tips. Keep the travel dreaming coming all year long.