If you're eager to learn all the best things to do in Roatan, Honduras, you're in the right place. 
I fell in love with Roatan on a Mango Tree scouting trip. What I learned in a few days filled an entire notebook. Roatan is rich with activities, both in the water and on land. Everyone I met was eager to help me find the best things to do in Roatan. I can't wait to pass what I learned along to you!  
She may be a small island but there are so many activities in Roatan, from night snorkeling to chocolate-making, you could easily spend a week or more here. 
This post walks highlights the absolutely best things to do in Roatan. 
At the end, don't miss my recommendations for where to stay, and links to related Roatan articles to help you plan your time on the island. 
This post contains affiliate links from our trusted partners
Roatan primarily attracts scuba divers and snorkelers, with some of the best underwater life in the Caribbean.
But there are so many things to do in Roatan beyond diving. Roatan has become one of my favorite destinations to recommend to families who want to explore the lesser travelled Caribbean, beyond the resort and beach.
The best things to do in Roatan for sand and sea
Let's start with the obvious: If you're headed to the Caribbean, you'll want to start with the sand and the sea. These are the best things to do in Roatan to kick off your trip. 
Spend the day at West Bay Beach  
No list of things to do in Roatan would be complete without highlighting West Bay beach.  It's a picturesque Caribbean beach scene: powdery white sand, gentle and shallow waters, rustic beach bars, full-service resorts, watersports galore. The vibe here is as kid-friendly as they come.
What distinguishes West Bay Beach from other Caribbean beaches, though, is its proximity to the world's second largest barrier reef.  You'll find amazing snorkeling just off-shore, accessible by even the youngest swimmers. 
The coral reef is closest to shore at the farthest end of the beach, in front of Grand Roatan resort.  Do not leave Roatan without snorkeling here; it will be a highlight. 
Grand Roatan Resort is reopening September 2023 under Kimpton's luxury hotel brand, and will be the top luxury hotel choice on West Bay Beach.
Head to Roatan Fall 2023 to take advantage of their reopening sale (25% off!). Rooms start at $375.
Book Now through Mango Tree for VIP perks like free breakfast and resort credits.
Snorkel at Half Moon Bay  
After a morning exploring West End, take a snorkeling break at one of the best beaches in Roatan.  The reef comes close to shore in West End's Half Moon Bay. The curved shape of the beach, peaceful waters, and contrast with the bustling village street makes for stunning photos.  You can rent fins and masks from nearby Roatan Divers. 
Visit Maya Key
Visiting the private island of Maya Key is a popular thing to do in Roatan for cruise ship passengers because its very close to the Coxen Hole and Mahogany Bay ports.  
If you go on a cruise-ship free day, however, you can enjoy a peaceful day snorkeling and exploring. 
Maya Key has two secluded beaches and some of the best snorkeling in Roatan. There's also an animal sanctuary, botanical gardens, a Honduran art center, and a swimming pool and a bar and restaurant.
We recommend this tour to Maya Key, which includes transportation from West End. 
Take a water taxi
The fastest – and most fun – way to travel between West Bay Beach and West Bay village is by water taxi.  However, the water taxi is more of an activity than a method of transportation. 
The 10-minute ride costs $5 per person each way, and it's a gorgeous way to see the island from the water.  Boats shuttle passengers back and forth from 7am to 10pm, but the best time for a ride is around sunset.  
Spend the day on the rogeracat catamaran
Spending the day on the water is one of the greatest things to do in Roatan.
The Rogercat Catamaran tour comes recommended by locals and visitors alike. It offers a perfect blend of adventure, relaxation, and exploration, allowing you to make the most of your day in Roatán. Whether you're an avid snorkeler or simply seeking a memorable day out on the water, this tour is one of the best bookings you'll make if wondering what to do in Roatan. 

The tour typically begins with a scenic cruise along the coastline. You'll stop at several prime snorkeling sights. The crew on the Rogercat is known for its hospitality, keeping the fun coming all day with drinks and snacks. 
Book your day on the RogerCat here! 
Go night snorkeling 
Night snorkeling on Roatán offers a thrilling and accessible adventure for both experienced and novice snorkelers. Many dive shops and tour operators on the island offer organized night snorkeling excursions, providing you with the necessary equipment and expert guidance.  
Because the reef is so close to shore, you can be in and out quickly.  We recommend grabbing dinner at Sundowner's Bar on Half Moon Bay in West End for sunset, and then taking a night snorkel tour from there! 
We recommend this guided night snorkeling tour that leaves from West End. 
Visit Camp Bay Beach 
Roatan's tourist activities are clustered on its westernmost end – near West Bay beach and West End village. The further east you drive, the quieter things get. If you're looking for things to do in Roatan off the beaten path, head east. 
There are many stops you can make along the drive, some described in more detail below. But for beach lovers, your end point should be Camp Bay Beach, about a 1 hour and 15 minute drive down the stretch of the island from West Bay Beach. 
You're likely to be the only person walking along one of the longest, most beautiful stretches of beaches you've ever seen. Absolutely worth the journey. 
Take a snorkeling trip to pigeon cay 
Another option for a full day boat tour, this one takes you to the secluded and picturesque Pigeon Cay, a tiny island located off the far eastern tip of Roatan. 
Here you'll find a pristine white sandy beach that seems to float in the middle of the ocean, surrounded by turqoise waters, with a handful of swaying palm trees. 
Enjoy seeing Roatan from the water on your boat ride to Pigeon Cay.  Once there, you can spend the day snorkeling along the vibrant coral reefs. Pigeon Cay offers a true escape from the hustle and bustle, and a visit to its shores is one of the most relaxing things to do in Roatan.  
We recommend this speedboat excursion from West Bay to Pigeon Cay that includes lunch, beer and snorkeling gear. 
I highly recommend travel insurance for all Caribbean trips. The last thing you want is for accidents and bad weather to interfere with your hard earned vacation.
I recommend IMG Global for Caribbean travel, which has better than average hurricane coverage. 
The best things to do in Roatan for animal and wildlife enthusiasts
Explore Gumbalimba Park
I almost skipped Gumbalimba Park but was so glad I didn't.  It was really one of the neatest things to do in Roatan. Towering trees line the entryway and give off a decidedly Jurassic-Park vibe. The golf-cart tour includes something for everyone: an insectarium, a suspension bridge, botanical gardens, and total immersion on the island's untamed side.
Gumbalimba Park houses Roatan's most interesting creatures. For example, you'll hear the free-roaming white-faced monkeys, macaws, and parrots before you see them. (Apparently, the monkeys tease the birds all day.) Indigenous lizards and iguanas also can be spotted around the park.
But wait, there's more! After your tour, you can go zip lining through the jungle canopy, swim in the pool, or relax or snorkel at the beach.
Tip: Gumbalimba Park is a popular shore excursion for cruise ship. To avoid crowds, check the port schedule first. 
Hangout with Sloths and monkeys 
You'd be surprised how interesting Sloths actually are.  Fun fact your kids will love: sloths only poop once a week.  Really, truly.  You're welcome for sharing that important piece of information. 
But in all seriousness, it's a very cool experience to get up close and personal with a sloth at Daniel Johnson's Monkey and Sloth Hangout. The animal sanctuary is home to seven of these fascinating animals, and you'll be allowed to hold one. You'll also see spider monkeys, white-faced capuchin monkeys, macaws, and parrots. 
The sloth hangout is a great Roatan activity.  Plus, it's a quick stop – about 45 minutes – that can be combined with other nearby activities, like a visit to Little French Key. 
If you don't want to drive yourself to the Sloth Hangout, combine it with a few other activities as part of this Customizable Island Tour. 
Go horseback riding from jungle to sea 
Explore all the different landcapes that Roatan has to offer from the back of a horse!  There are several horseback riding excursions in Roatan, but this is the one to pick. Start your horseback riding adventure in the jungle, head through a local village, and then straight into sea.  
We recommend this 2-hour horseback riding tour for a unique Roatan experience!
Visit Carambola Botanical Gardens 
For a break from the ocean blues, spend a few hours immersed in greenery at the Carambola Botanical Gardens. Located just off the main road between Coxen Hole and West End, it's an easy stop as you explore the island. 
Carambola Botanical Gardens is home to an impressive collection of diverse plant species and herbs, butterflies and other wildlife. Not to be confused with a typical flower garden, you'll meander through jungle paths and over streams, forgetting your only moments from the beach. 
There is a small café on-site where you can refuel. That said, I recommend saving room for lunch at The Sunken Fish at TranquilSeas Eco Lodge, which is right next door.  
If you don't want to drive yourself to the Carambola Botanical Gardens, combine it with other activities in Roatan, Honduras as part of this Customizable Island Tour.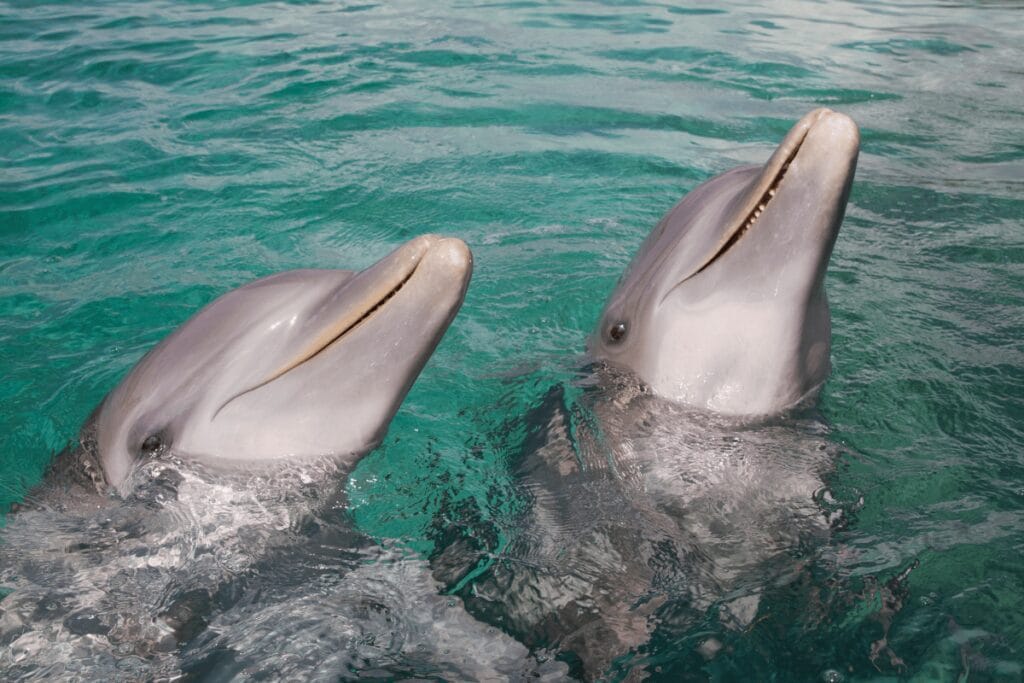 Swim with dolphins 
Swimming with dolphins makes many a bucket list. If it's on yours, then Roatan's a good place to do it. 
Anthony's Key Resort in Roatan offers a popular dolphin encounter. After a safety briefing and educational session, you'll enter the water with experienced trainers who will guide you through the interaction.
Create a lifelong memory while fostering a deeper appreciation for dolphins and their conservation.
Visit the Roatan marine park gift shop
Support the conservation of Roatan's coral reef by buying local clothing and gifts at the Roatan Marine Park office gift shop in West End. 
The best things to do in Roatan for adventurers 
Take a kitesurfing lesson 
The ideal spot for kitesurfing in Roatan is down at the east end on Camp Bay Beach. Kitesurf Roatan offers beginner lessons from December through September.  The intro course would be a perfect holiday activity for someone who's always wanted to give this sport a try. 
Try the Roatan sky swing 
The sky swing has a bunjee jumping feel to it. A giant swing will pull you up into the air near Roatan's West Bay Beach, and leave it to you to pull the chute.  When you do, the swing releases and you'll take in the view of the beach and sea as you fly through the air.  Up to three people can ride together.  
Take an ATV and ziplining tour
With a jungle interior, Roatan has some pretty great zipline and ATV options.  These offer adventure-seeking travelers a great land-based beach break. 
We recommend doing both through this Mayan Jungle VIP Tour, where you'll hit 12 zip lines and ATV through jungle trails. 
The best things to do in Roatan for a culinary experience
After a day of adventures on land and underwater, you'll be famished. Luckily, there are tons of fantastic places to eat in Roatan. For more than just a meal, these food-focused Roatan attractions are among the best things to do in Roatan when you want a beach break. 
eat your way through West End Village 
The hub of Roatan nightlife, restaurants, and dive shops, West End Village is Roatan's liveliest town. I do not recommend staying here with young kids because the evenings are for drinking, not sleeping. But the daytime is great for exploring with kids too.   
Start with a freshly-baked cinnamon bun at Sandy Buns Bakery & Cafe. Next, stroll through the town, popping into colorful souvenir shops. Pick up a piece of recycled island art from Rusty Fish. 
If you can, pop into the design-focused Beach House hotel for a drink. There's something calming about the nature-inspired decor at this 14-room beachfront hotel.  A tree literally runs through the building. It hits the Caribbean vacation sweet spot. 
Visit the Roatan Chocolate Factory
Don't miss the roatan chocolate factory on your walk through West En Village. Kids and adults can all enjoy sampling the Honduran cacao flavors at the Roatan Chocolate Factory in West End. I highly recommend the milk chocolate with island almonds. 
Chocolate lovers should book this chocolate making class for an immersive experience!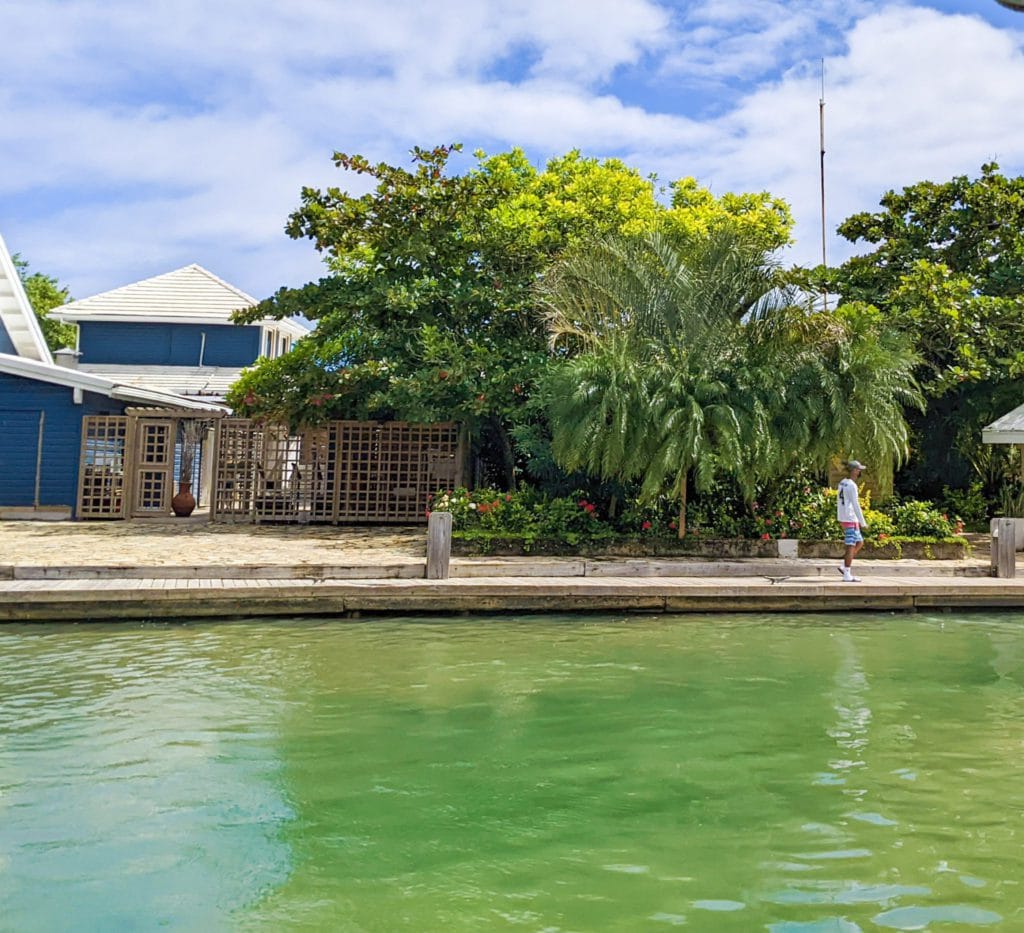 Eat and swim at Silversides 
I almost drove past Silversides restaurant on my first day in Roatan. Something told me to turn around and check it out.  As I settled into a chair overlooking the pool, sipping my ice cold, locally-brewed Barena, I knew I had discovered a family-friendly hidden gem. 
Silversides is tucked inside Barefoot Cay Resort – a dive-focused boutique hotel.  The resort itself is not geared towards kids, but the restaurant (under separate ownership) welcomes them. A special menu "for the kiddos" features burgers, noodles, fish fingers, and grilled cheese.  
What's more, Silversides serves its fresh fare poolside.  Kids can play on the pool's shallow platforms while mom and dad enjoy lunch just steps away.  A pergola offers plenty of shade for a break from the sun.  You may never want to leave.
Have a sunset burger at sundowners 
Sundowners Beach Bar
 in West End Village is a scene every night, the center of Roatan's nightlife.  Relaxed, laid-back, and on the beach, it offers some of the best sunsets on the island. Grab a burger and a cocktail and eat with your toes in the sand, with tons of happy travelers amped up after a day of diving. With live music most nights, this is a place where you'll find tourists and local residents partying side-by-side. 
Tip: If you're traveling with kids, we recommend coming to Sundowners on the early side for dinner, as it becomes more of an adult bar scene after 6pm.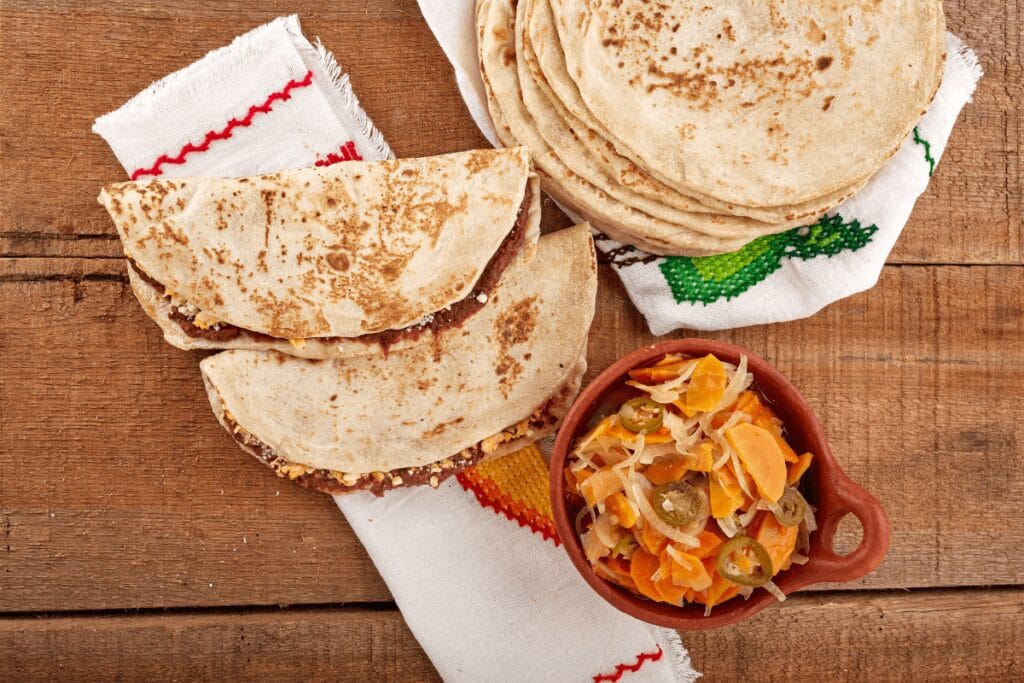 Try Baleadas
A baleada is a traditional Honduran dish that originated in the northern coast of the country, which is where Roatan sits. It is essentially a flour tortilla filled with various ingredients, which might include refried beans, scrambled eggs, avocado, pickled onions, and different types of meats. 
Baleadas are traditionally eaten for breakfast, and are super filling. They taste even better after an early morning snorkel or dive session.  
In Roatan, you can find baleadas at lots of different restaurants in West End, but Yahongreh? and Calelu's are known for having some of the best.  
The best things to do in Roatan for a cultural experience 
Visit the Garifuna Community in Punda Gorda
The Garifuna community in Roatan is an integral part of the island's cultural fabric. The Garifuna people are descendants of West African, Carib, and Arawak indigenous populations, and they have a unique heritage and vibrant traditions. 
Punta Gorda, on Roatan's East End, was the first Garifuna village in Honduras. There you can find the Garifuna cultural center, experience live performances of Punta music and dance, and even participate in workshops to learn traditional drumming or dance techniques.
Knock this vacation out of the park with an unforgettable private yacht experience that includes lunch in the Punta Gorda Garifuna village.  
Swim Or Kayak through the Oakridge Mangroves 
Oak Ridge is another must-see place on Roatan's East End.  It's a historic fishing village with a strong connection to the sea and traditional fishing practices. Imagine a quiet village with overwater homes, where many residents get around by boat. 
The mangroves of Oak Ridge are teeming with diverse plant and animal species. The intricate root systems, dense foliage, and tranquil waterways provide a stunning backdrop for a day away from the beach. You can spot a variety of bird species, marine life, and even small reptiles and mammals. 
Combine a mangrove swim with the other East End highlights on this tour.
More information about these East End activities are more can be found at Roatan Online, the largest aggregation of information about Roatan tours and activities, and a great travel planning resources.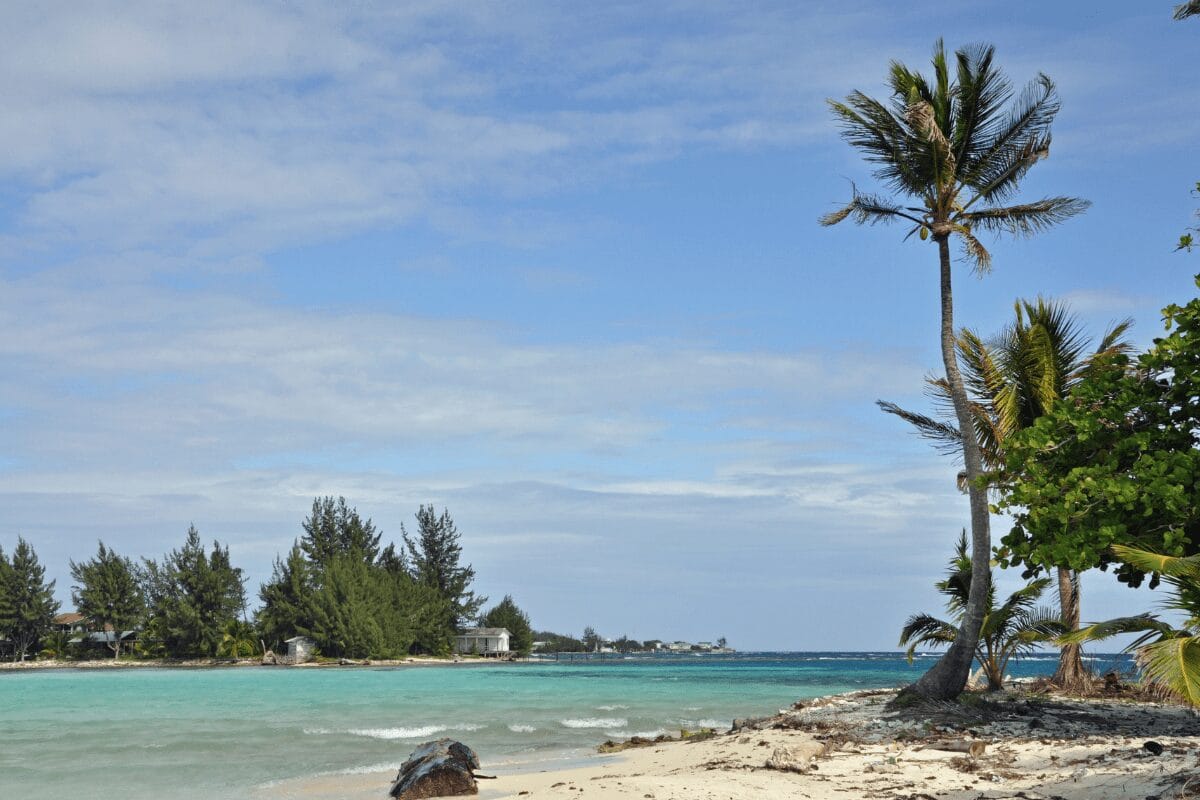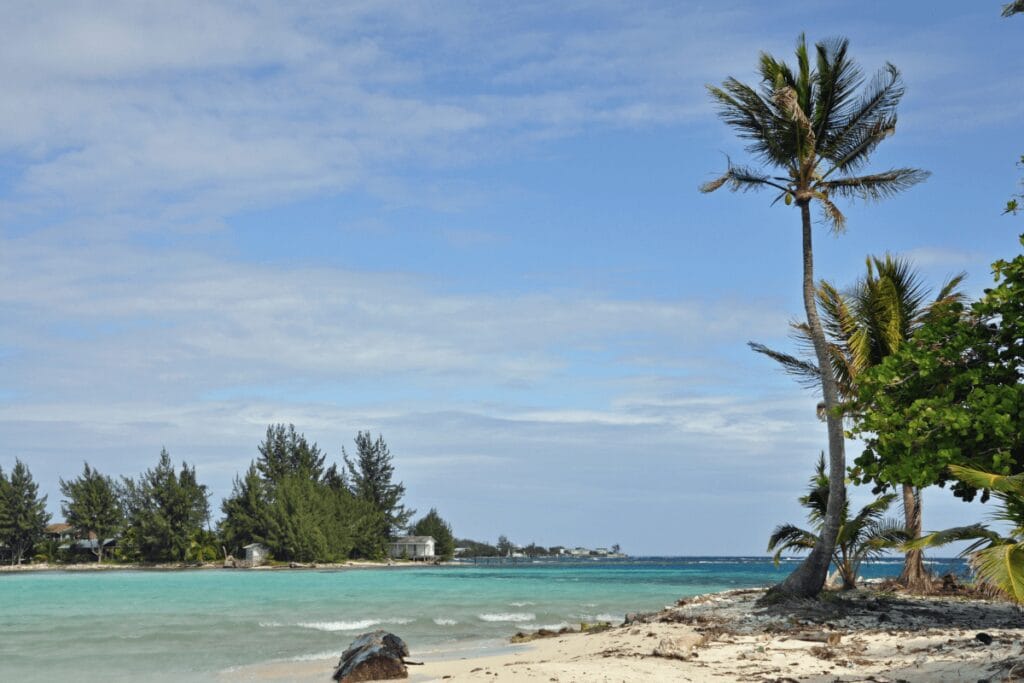 The best side trips from Roatan
Utila 
Roatan is one of three Bay Islands.  If it's off the beaten path then it's neighbor, Utila, is even more so. 
Utila is known for its pristine beaches, crystal-clear waters, and diverse marine life, and total lack of crowds. About 4,000 people call it home year round. Its laid-back atmosphere, picturesque beaches, and charming Caribbean charm make it an ideal destination to escape the crowds and immerse oneself in a paradise of tropical bliss. 
Although it can be pricey, we recommend private transport from Roatan to Utila by motor boat, which will keep your travel time to under two hours.
Take a daytrip to mainland Honduras!  La Ceiba is just 75 minutes by boat from Roatan, and once there, you have several options.  You could visit the town of San Pedro Sula City for shopping and lunch, go white water rafting through the rainforest, or take a tour of the wildlife refuge for mangroves, crocodiles, and more. 
Find your La Ceiba excursion here! 
Cayo cochinis
If you have enough time in Roatan, the Rogercat Catamaran, mentioned above, will take you on a really unique overnight excursion.  Sail 25 miles to the Cayos, two islands that sit between mainland Honduras and the Bay Islands. Snorkel and relax on Cayo Cochino, and then visit a traditional Garifuna village in Cayo Chachahuate for the night. 
This overnight Cayo Cochinos tour offers a totally unique Roatan experience.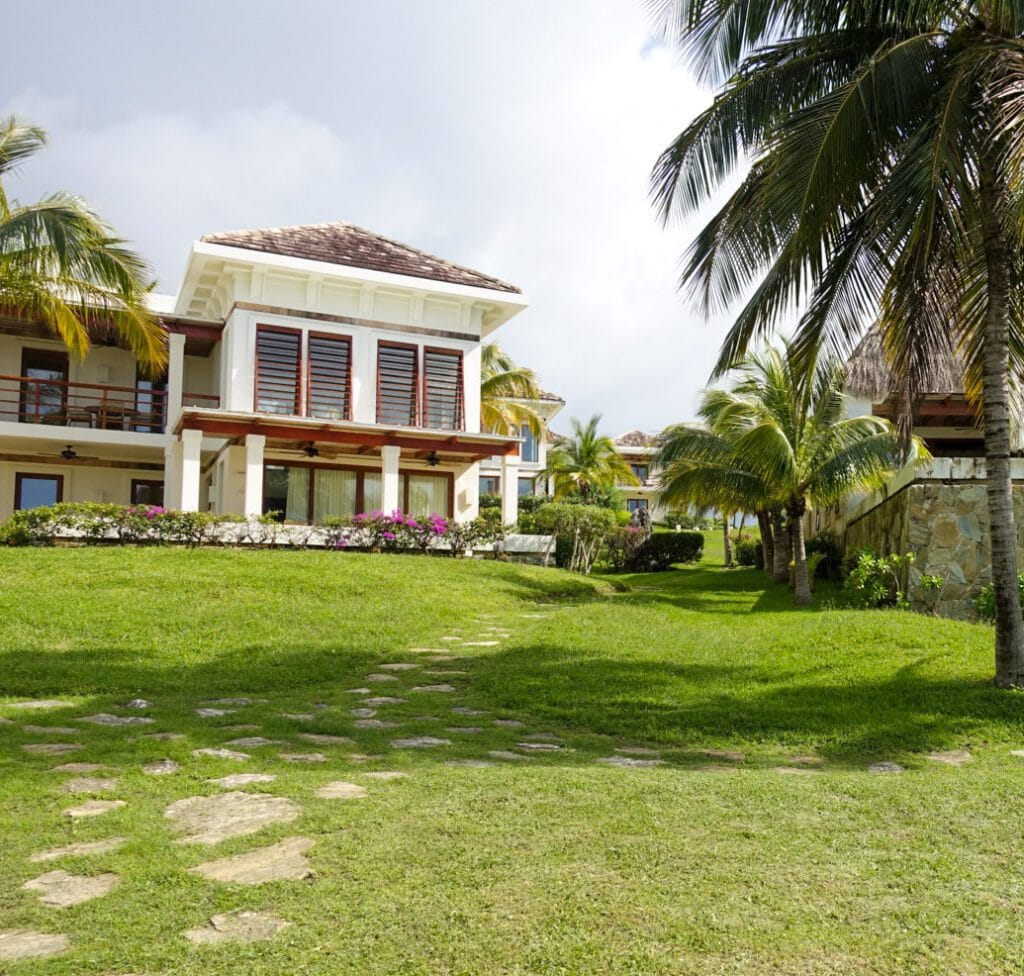 Where to Stay in Roatan 
There are many different areas to choose from when deciding where to stay in Roatan, including West Bay Beach, West End Village, Sandy Bay, and the East End.  Our complete Roatan destination guide will walk you through each area to help you choose the neighborhood for you.  
But if you just want to browse our favorite Roatan hotels, here they are: 
Frequently Asked Questions
Get Caribbean Family Travel Tips Right Into Your Inbox 
If you found this post helpful, don't miss our other Caribbean destination guides for families. 
And for even more Caribbean and family travel inspiration, sign up for our biweekly newsletter! We feature a new destination each month, highlighting our favorite hotels and family travel tips. Keep the travel dreaming coming all year long.