Is it "Cure-uh-Sow" or "Cur-a-So?"  Or "COO-ra-sow" or "Karako?"
Ask a dozen people this same question—how do you pronounce Curacao?—and you may get a dozen different answers. There are many different Curacao pronunciations in the mix, depending on which dictionary you're checking, and the language and origin of the speaker.  
Curacao is a vibrant and eclectic Caribbean destination. A trip to her sandy shores feels in many ways like a trip to the Mediterranean seaside. Her Dutch heritage and colonial history blend with local flavors and cultural traditions. T
he island offers a truly unique experience—not just another beach.  Yet she flies under the radar, leaving many to wonder where to even find Curacao on a Caribbean map, and how to pronounce the name of the island (and the blue liqueur for which she is known). So without futher ado, let's clear up any confusion about the Curacao country pronunciation. 
Start with a hard C (K sound) and end with a soft C (S sound). The one hard rule is that the second C should never sound like a K. As to the first syllable, reasonable minds may differ as to whether to go with "Cure" or "Kur." And the last syllable is appropriately pronounced with "sow" or a slightly softer "so."  Kur-uh-sow or Cure-uh-sow.
Planning a family trip to Curacao? Get our ultimate Curacao itinerary for the tried-and-true hotels, restaurants, and activities that make family travel a breeze. Made by parents, for parents.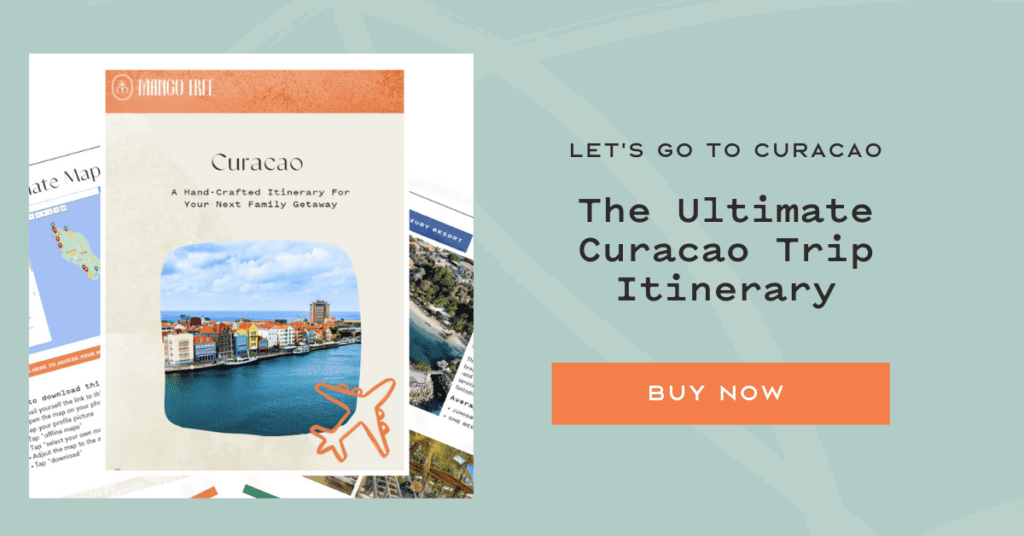 Now, pour yourself a Blue Curacao cocktail and let's practice our Curacao pronunciation.
What language is spoken in Curacao?
Curacao has three official language: Papiamentu, Dutch, and English.  Spanish also is widely used. The language variety is one reason why it's so hard to figure out how to pronounce Curacao island. 
Papiementu
Papiamentu or Papiemento, the local creole dialect in Curacao, is a blended language that seems to roll of the tongue. It's a mix of Portuguese, Dutch, Spanish, with some African and South American dialects as well. There's longstanding debate about whether Papiementu has stronger ties to Portuguese or Spanish but, whatever the answer, we know that Papiementu originated during the global slave trade.
Dutch
The second official language won't surprise you, given that Curacao is part of the Caribbean Netherlands. Dutch is spoken primarily in the administrative and legal sectors in Curacao.
In the 1950s, Curacao joined 5 other Dutch Caribbean islands—Aruba, Bonaire, Sint Maarten, Saba, and St. Eustatius—to become the Netherland Antilles. But then, in 2010, Curacao stepped out to become a "constituent country" of the Kingdom of the Netherlands, and is now its own autonomous country.
English
You'll have no trouble getting around Curacao if English is the only language you know. English is the third official language in Curacao, widely used in the tourism and hospitality industry. If you're looking specifically for the Curacao pronunciation in English, stick with Kur-uh-sow. 
Spanish
Finally, while it's not an official language, Spanish is a common language in Curacao as well. If you're looking for an island where Spanish is widely spoken, it might surprise you to find Curacao on the list. The island's Spanish influence comes from the neighboring South American countries of Venezuela and Colombia. Curacao sits only 40 miles off the shore of Venezuela, and frequently traded with these Spanish colonies.
If you're trying to figure out how to pronounce Curacao in Spanish, go with Cure-uh-sow.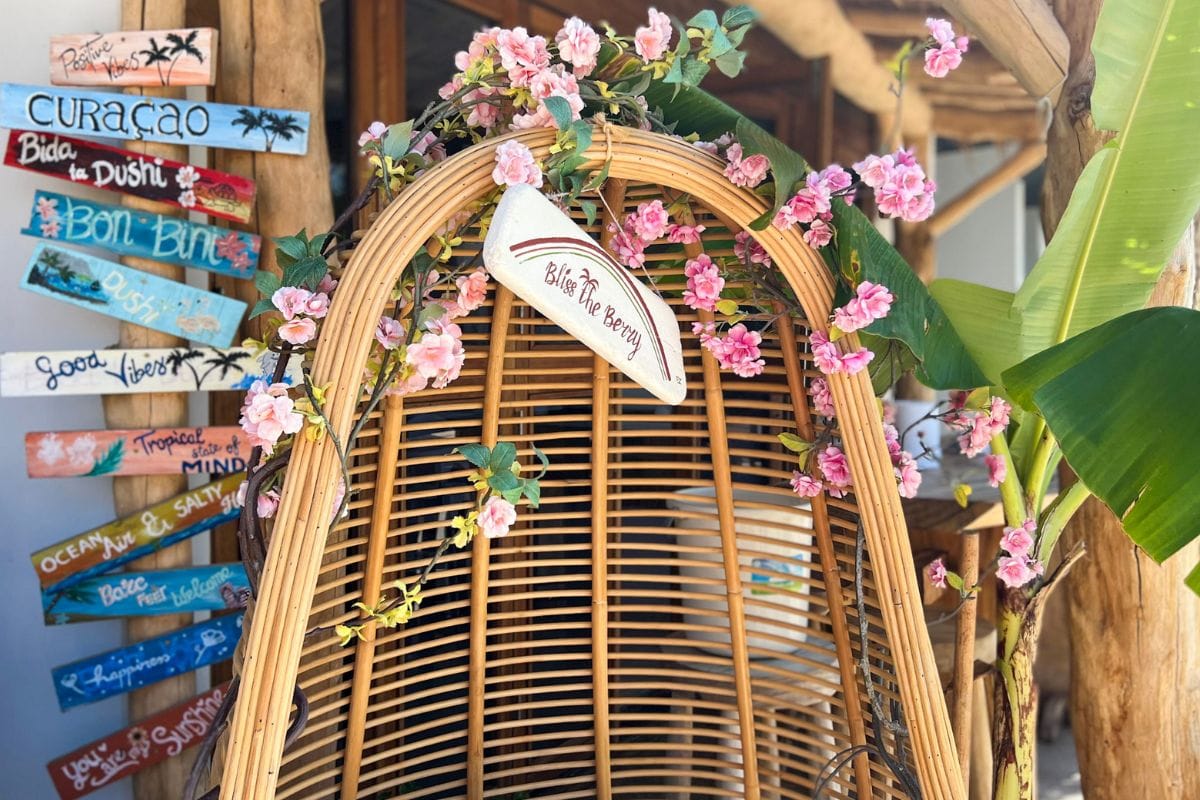 Curacao Pronunciation 
Generally speaking, Curacao has a similar pronunciation in all languages.  
Curacao is best pronounced "Cure-ah-Sow" or "Kur-ah-Sow." There is some differentiation in the pronunciation of the last syllable, with some pronunciations emphasizing the "sow" (rhymes with cow) and others using a softer "so" (rhymes with go).
However you pronounce the first syllable or the ending vowels, always remember the one hard rule: The second C is a soft S sound, not a hard K! Neither the tropical destination nor the neon liquor should ever be pronounced "Kurako" or "Kure-uh-KOW."
Beyond that, the emphasis and pronunciation will vary slightly depending on the language of the speaker.
Curacao Pronunciation in Papiemento
In her local dialect, the Curacao pronunciation is a little tighter. You will hear locals drop the "ah" between the first and last syllables, which leaves the word "Kor-Sow."
Curacao Pronunciation in Dutch
Be sure to roll your R if pronouncing Curacao in Dutch. The word will roll right off your tongue: "Cur-uh-sow."
Curacao Pronunciation in English
English speakers—whether British or North American—are more likely to start the island name using the "Cure" sound: "Kyur-a-Sow."
Curacao Pronunciation in Spanish
Curacao in Spanish is written "Curazao." If Spanish is your first language, you will likely emphasize the last syllable of the word, and the soft S at the end of Curacao may sound more like a z: "Coo-ra-zow."
Curacao Pronunciation in Portuguese
The Portuguese pronunciation of Curacao won't stray too far from the rest, though perhaps with slightly more of an emphasis on the middle vowel: Cur-AH-sow.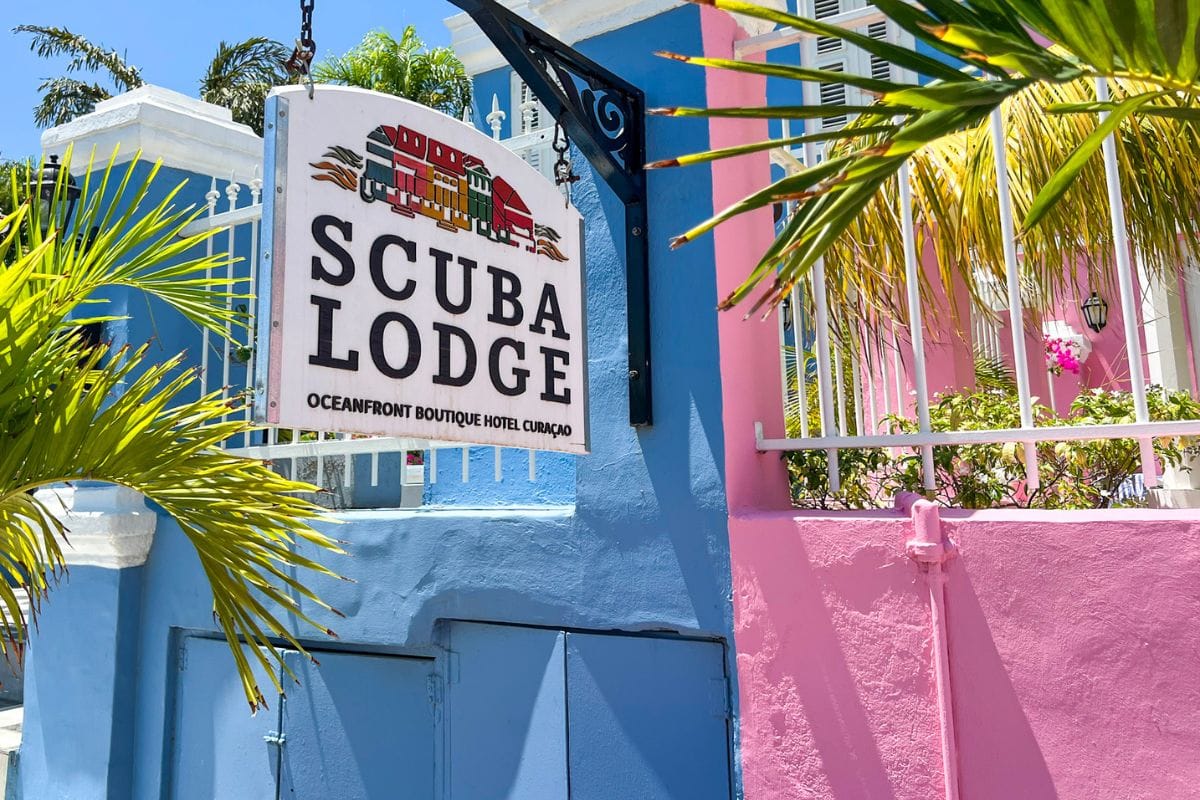 Blue Curacao Pronunciation
If you're looking for the Curacao drink pronunciation, rather than the Curacao country pronunciation, fret not. They are the same. The popular blue liquer comes from island's Laraha fruit and is named after the Dutch island. 
Get Caribbean Family Travel Tips Right Into Your Inbox 
If you found this post helpful, don't miss our other Caribbean destination guides for families. 
And for even more Caribbean and family travel inspiration, sign up for our biweekly newsletter! We feature a new destination each month, highlighting our favorite hotels and family travel tips. Keep the travel dreaming coming all year long. 
Caribbean Travel Planning Services
Wishing someone else would just handle the logistics for a change? We also offer bespoke Caribbean family travel planning services. Our specialty? Helping parents identify the best Caribbean island and hotel for a top-notch family trip. Let us take the legwork off your plate.