Turks & Caicos attracts throngs of family travelers each year—and we agree TCI is a great destination for kids.  The gorgeous Grace Bay Beach on the island of Providenciales stretches for miles and is lined with family-friendly resorts. You can see our favorite Turks & Caicos family resorts here.    
But did you know that an unspoiled Caribbean gem awaits on a nearby island?  Our overnight trip to Dragon Cay Resort on North and Middle Caicos was one of our most memorable Caribbean experiences of all time.  
If you're planning a trip to Turks & Caicos and asking yourself, "Should I go to North and Middle Caicos?" – the answer is a resounding YES.  
Below, you'll find all the details you need to plan a fantastic day trip to North and Middle Caicos. But if you have the time to spend a couple of nights off the grid, we highly recommend taking the kids to Dragon Cay Resort.  It's a one-of-a-kind adventure, you won't regret it. 
Step One: TCI Ferry to North Caicos
The North Caicos ferry takes about 25 minutes. It's a 10 minute drive from the most popular hotels on Grace Bay Beach to the ferry dock.  Factor in some waiting time, and you'll be on North Caicos in 45 minutes.  The short travel time makes a day trip to North and Middle Caicos a manageable undertaking, even with kids.
Plus, the ferry ride to North Caicos is beautiful! As you ferry north past the limestone cliffs of Little Water Cay and Pine Cay, the crowds and big resorts will melt away behind you. If you can, we recommend sitting on the upper levels for great views and a breeze.
A few more logistics: The TCI ferry to North Caicos leaves every 2-3 hours (less frequently on the weekends). Check the schedule and buy your tickets ahead of time online. The ferry terminal at Heaving Dock Rock Marina is very easy to find at the end of Providenciales's main road, the Leeward Highway. There is plenty of parking for rental cars.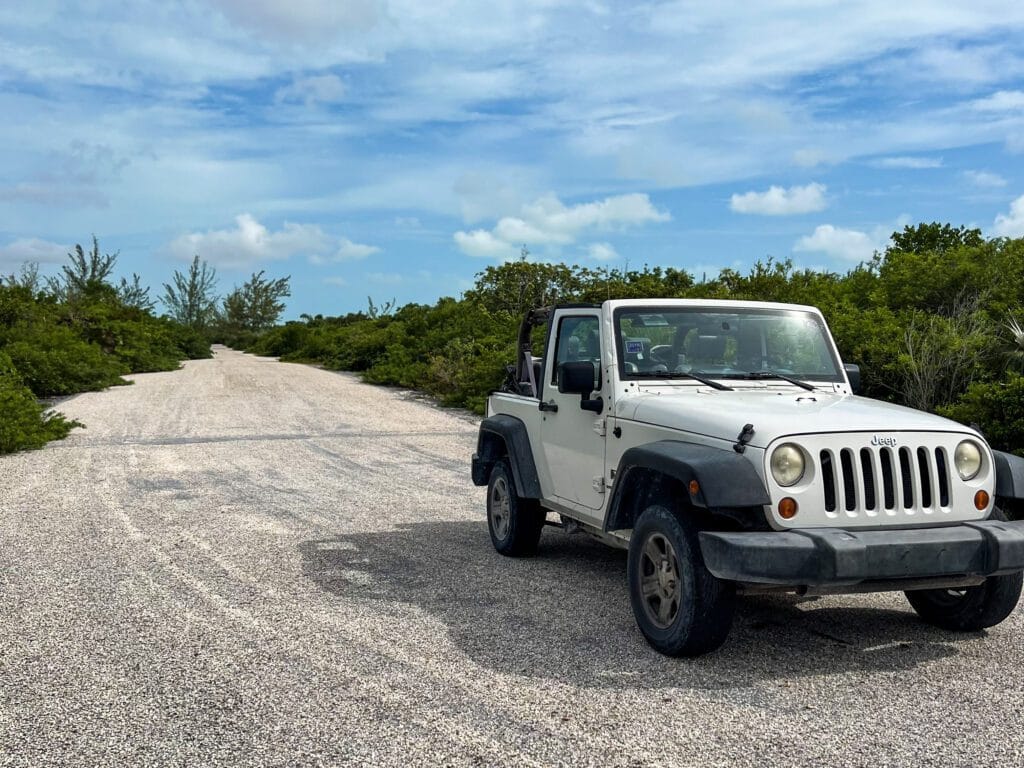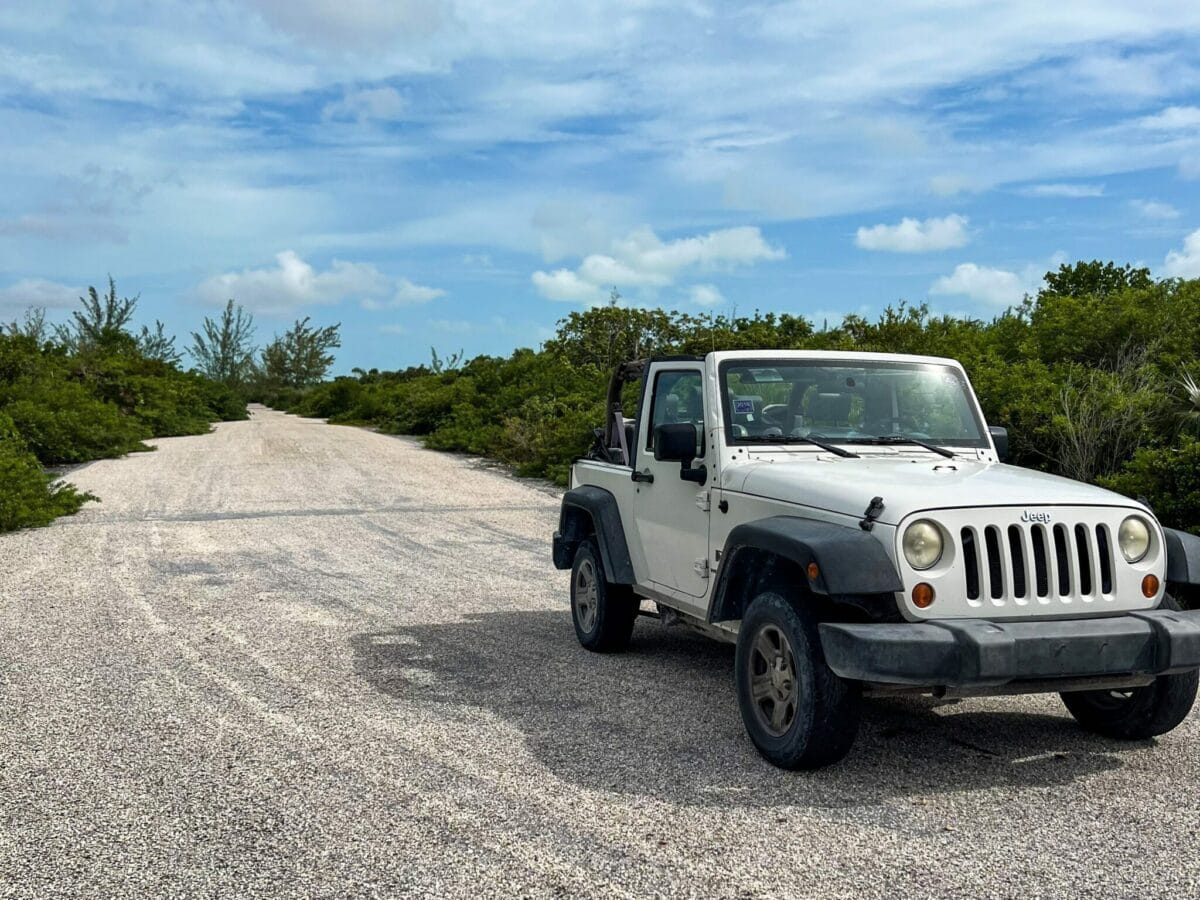 Step Two: North Caicos Car Rental
The ferry doesn't accept cars — it's really more of a small boat than a ferry. But you'll need a car on North Caicos to get around.  
Rent a car in advance from Superior Auto Rentals or Caribbean Cruisin' Car Rentals to have it waiting for you when you arrive at the North Caicos ferry dock.  If you're looking to ramp up your adventure vibes, splurge on a jeep. It was a great decision. 
Driving around North and Middle Caicos is one-of-a-kind experience.  Dense shrubs line the road, creating a maze-like feeling.  We went long stretches without seeing another car.  Then, suddenly, the lush vegetation would open to reveal a turquoise ocean view.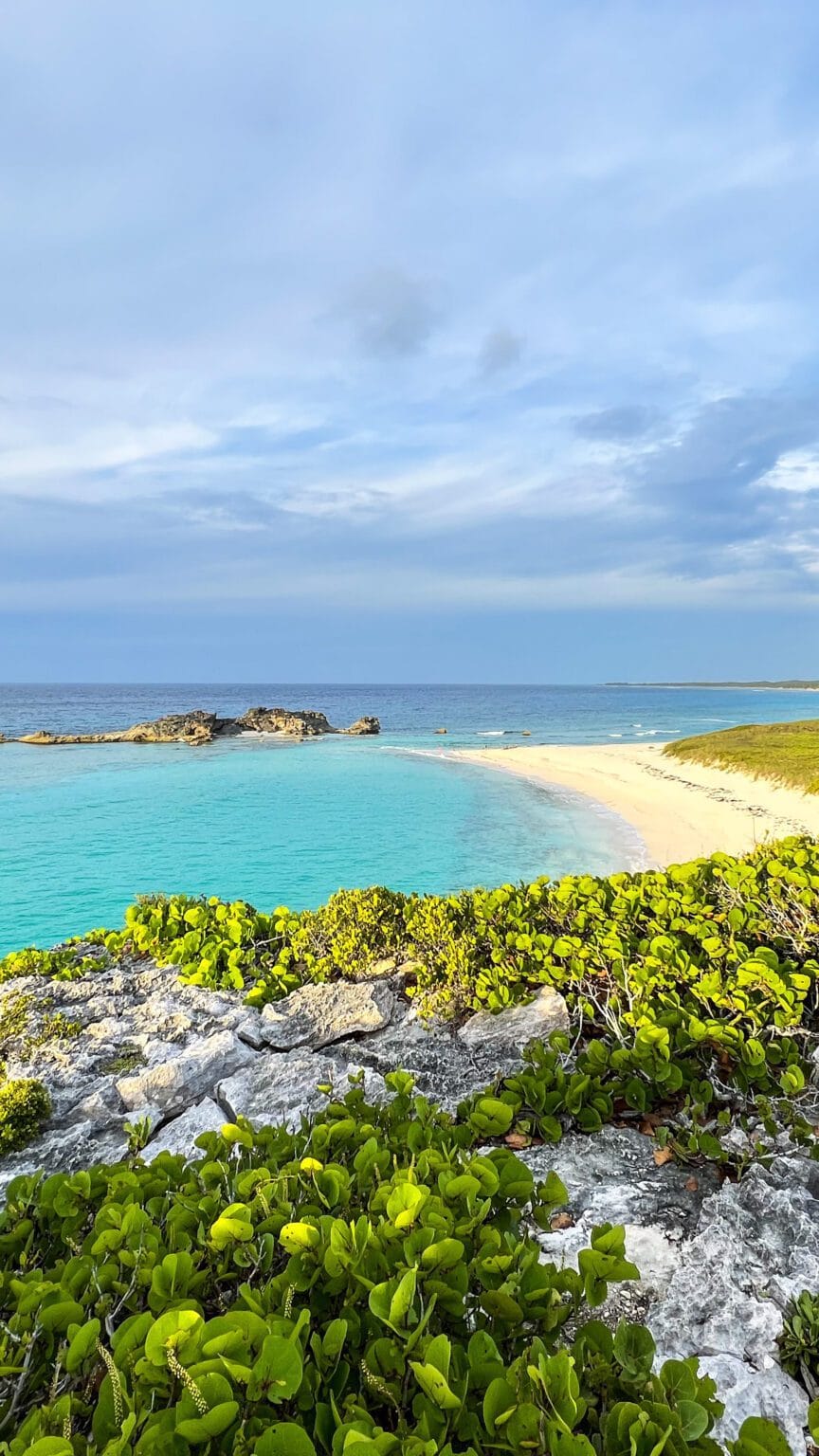 Step Three: Explore the Dramatic Beaches of Middle Caicos
Middle Caicos is about a 40-minute drive from the North Caicos ferry dock—but you do not want to miss it. One way to approach your day trip to North Caicos and Middle Caicos is to drive to Middle Caicos first to get a longer drive out of the way, and then work your way back to North Caicos.   
If you're overnighting it, you can spend the afternoon on North Caicos when you arrive (more details below), and then roll into Dragon Cary Resort by sunset, ready to explore the beaches of Middle Caicos the next morning.  The photo you see below is our view of the sunset as we arrived at Dragon Cay — a pretty magical moment. 
Whatever way you choose to approach your time on North and Middle Caicos, hit these top spots.
Mudjin Harbour Beach
Mudjin Harbour is really unlike any place we've ever experienced. We highly recommend spending a night or two at Dragon Cay Resort to enjoy the magic of Mudjin Harbour at both sunset and sunrise. You simply won't be able to take enough pictures, and none will capture the serene yet dramatic landscape.
When you pull into Dragon Cay, you look out over a plateau of untamed wildlife—an expanse of green in every direction. Then suddenly, the green drops away as spectacular cliffs plunge into turquoise ocean, creating a jarring contrast of colors.
The crescent beach at Mudjin Harbour comes to a point, with waves washing over each side in a kaleidoscope effect.  Snorkel near the point of the beach and you may find a lone Barracuda standing guard, perhaps looking to make friends?  You will be completely away from the crowds at this beach, especially in the early morning and at sunset, as Dragon Cay only has a handful of cottages for overnight guests.
Take a stroll over the cliffs and show your kids the secret staircase that winds down through a cave to a second, private beach. Have lunch at Mudjin Harbour Bar & Grill to really enjoy the views.
Flamingo Pond and BambaRra Beach
If you can tear yourself away from Mudjin Harbour—or If you spend a day or two on Middle Caicos–head 15 minutes down the road to Bambarra Beach. If you go in the morning before the Caribbean heat sets in, you may see wild flamingos strutting on Flamingo Pond off the side of the road. Just a few minutes further is Bambarra Beach, a quiet sleep stretch of sand compared to the nearly-theatrical Mudjin Harbour. This beach has better swimming conditions for kids, making it a great stop along the way.
Step Four: Visit The Secret Beaches of North Caicos
During our trip to North and Middle Caicos, we explored North Caicos first and then ended up at Dragon Cay by sunset. But you could just as easily approach your day the other way around. Whether you start or end with a swim on a secluded North Caicos beach, here are three worth exploring.
Sandy Point Beach
We started our day on North Caicos with a pit stop at Sandy Point Beach, about 12 minutes from the ferry port.  The beach wraps around the island's north point, where a narrow channel separates North Caicos from Parrot Cay.  Sand bars stretch ahead of you, creating the impression you could wade out into the ocean for hours.  We didn't see another soul the entire time we visited this beach. Come here to get in the right mindset for your day – total calm and relaxation.
Unnamed Rocky Beach
Just a few minutes down the road from Sandy Point Beach, we stumbled on another secluded beach– this one with plenty of rocks the kids will love to play on! It doesn't appear to have a name, but you can see the driving directions from Sandy Point Beach on this map.  
Barracuda Beach Bar
For a little more activity, there's another great North Caicos beach just a few minutes away. The name of this beach is also hard to figure out, but you'll find by heading to Barracuda Beach Bar. This beach not only has calm swimming conditions for kids, but also a great beach bar for food and drinks.  
We made this our final stop  on our return trip from Dragon Cay, sneaking in one last swim and rum punch before boarding the ferry and leaving the untouched Caribbean behind. I look at these photos almost daily, waiting for the day we can return. 
Inspired?  Book your stay at Dragon Cay Resort today!