You may experience a weird phenomenon when you arrive on mountainous St. Thomas: Its dramatic views make you want to leave.  Everywhere you look, more islands beg for exploration.  My daughter and I spent our dinner at a Mafolie restaurant, with a postcard view, watching boats speed around nearby Water Island.  The fourth U.S. Virgin Island – with a footprint of less than 1 square mile and a population of less than 200 – is often overlooked.  
"Mom, we should go there," my daughter declared midway through her chocolate cake.
So we did.  And we had a blast.  
It's easy to get to Water Island from St. Thomas, and I've included a Water Island map below (courtesy of Rachel's golf cart rentals). Read on for our top tips for what to do on Water Island once you arrive.  Our highlights: explore by golf cart, scout for cacti, catch a hammock nap at a beach bar, and don't miss the fish tacos. 
But first: If you're wondering where to stay in St. Thomas, take a detour and check out our review of Secret Harbour Beach Resort, our preferred St. Thomas hotel.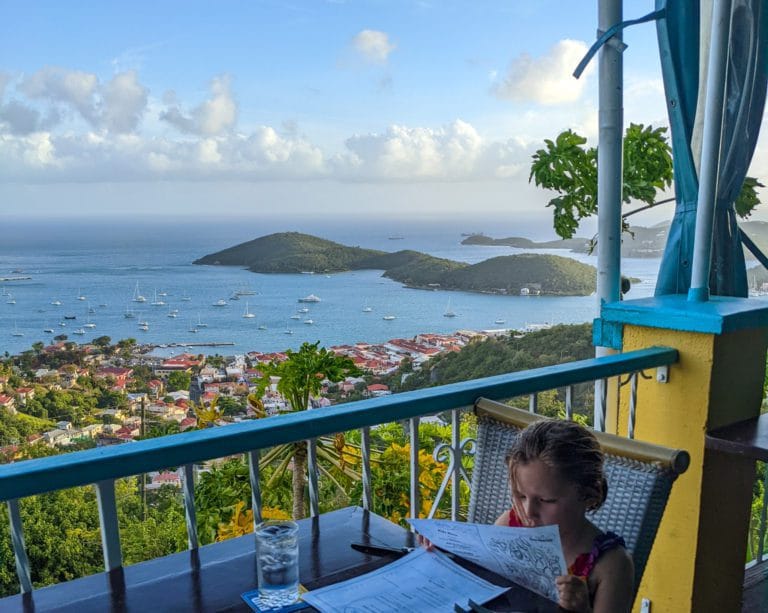 The Ferry To Water Island
The ferry to Water Island leaves every hour on the hour from Crown Bay Marina in Charlotte Amalie (schedule here). Get yourself to Tickles Dockside Pub using google maps, and you'll see the ferry out front.
It's worth arriving a few minutes early for coffee and gelato at Scoops & Brew. I walked in expecting to order coffee for me, ice cream for the kiddo. I walked out with limoncello gelato at 9:30am and do not regret my choice. We were perfectly primed to enjoy the ferry ride. Total travel time across the channel: 10 minutes.
The ferry returns at quarter past each hour, with the last ferry leaving at 6:15pm.
Rachel's rentalS: Golf carts
There's something about golf carts that shifts kids into their happy gear. Activities involving transportation by cart get bonus points on our family trips. Our daytrip to Water Island became a done deal when we learned we could explore by golf cart.
You'll find Rachel's Rentals just a short walk up the hill from the ferry dock. It has a bit of a junkyard feel when you arrive, but you'll be greeted warmly and soon be on your way. $55 gets you a golf cart for the day and this map of Water Island. Call ahead! The carts get booked weeks in advance. Lucky for us, someone returned a cart early, so we were able to get one last minute.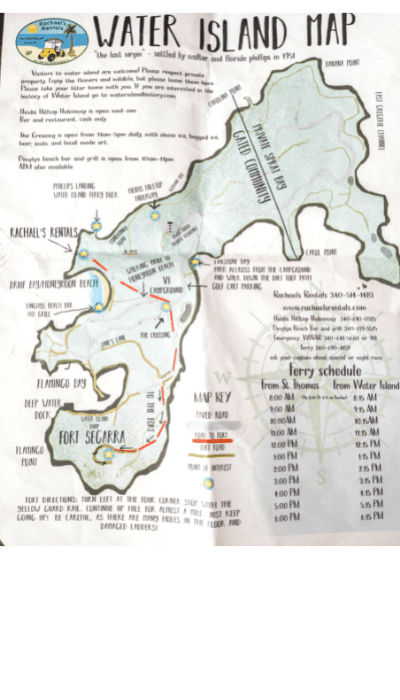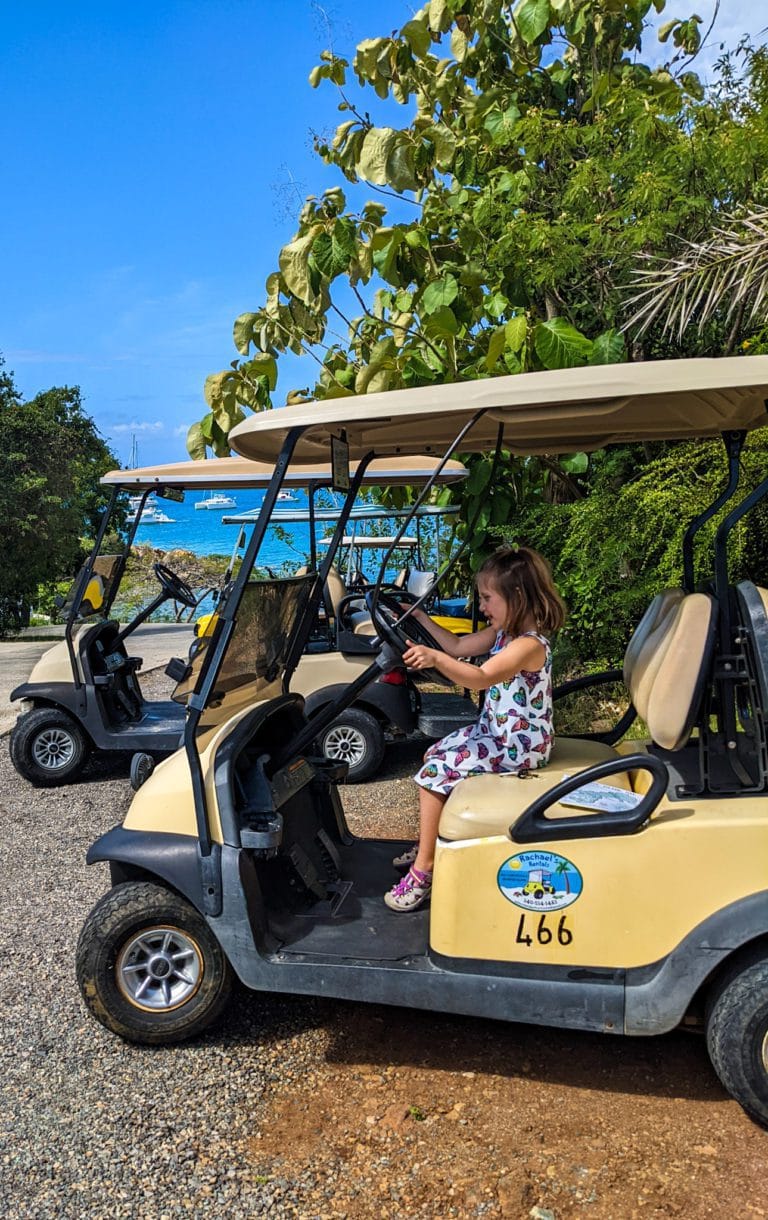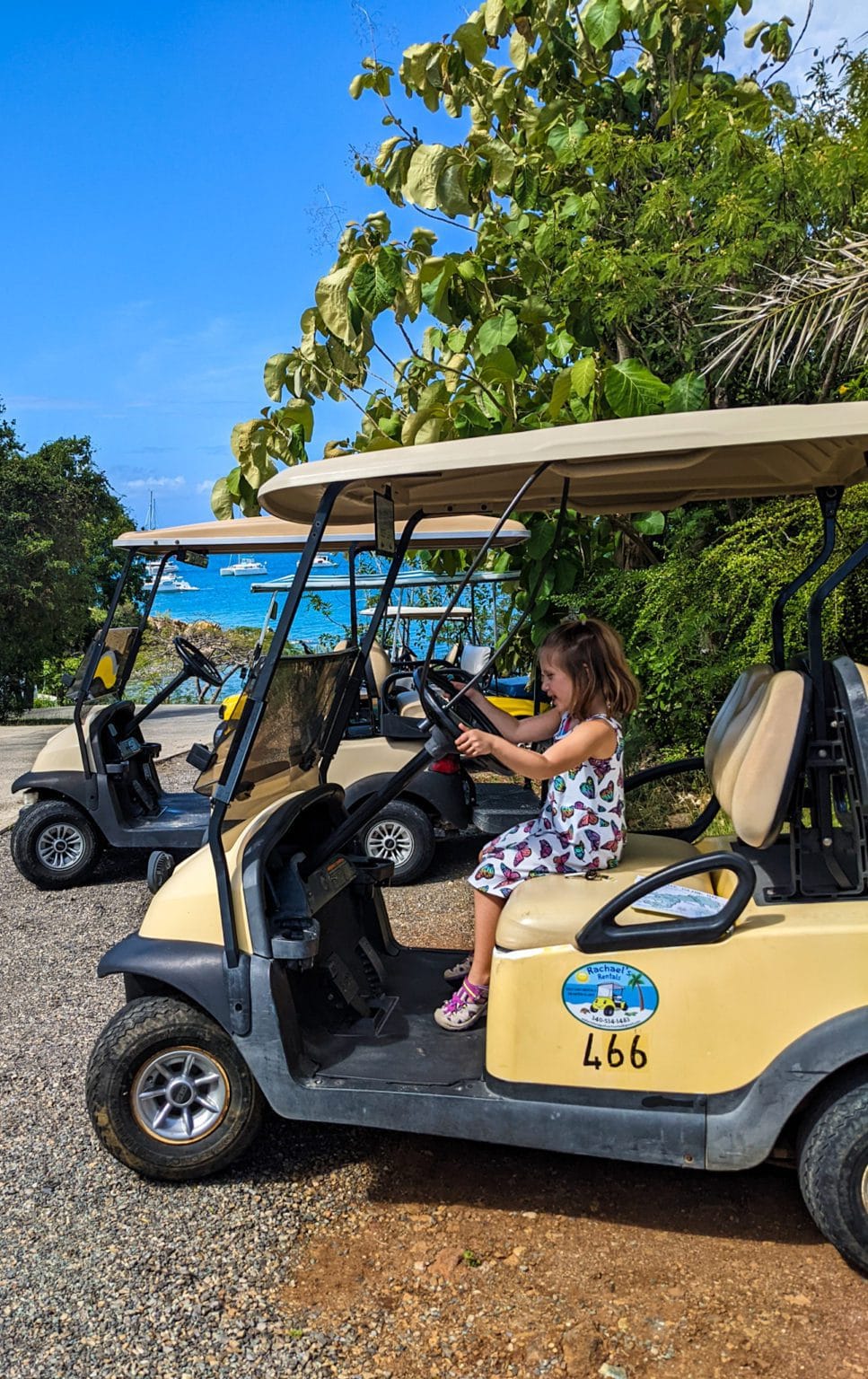 Cactuses, Bunkers, Shaved Ice, and Sweeping Views 
You're on your way!  Avert your eyes when you see Honeymoon Beach appear over the first hill. You'll get there, I promise, but first explore the island.  Let the kids enjoy the freedom of being set loose on a golf cart in paradise. You'll see – 
The road to Fort Segarra – a World War II bunker – is lined with several cactus variations.
Sweeping views of St. Thomas and open ocean 
The Crossing – roadside shop selling local art and shaved ice 
Limestone Beach – a secluded, often empty, rocky beach 
Heidi's Hilltop Hideaway (formerly Heidi's Honeymoon Grill, it moved)  – known for its fish tacos 
Dinghy's @ Honeymoon Beach, Water Island
When Honeymoon Beach appears over the hill, your eyes can't help but squint as its white sand and transparent waters reflect the beating sun.  It's a literal oasis in Water Island's desert landscape. Your hands won't be able to help themselves but to turn the wheel down-hill.  
It may look like a postcard, but Honeymoon Beach also is unrefined — in the best way.  The local roosters won't be shy about searching your beach bag for snacks. The lively atmosphere of Dinghy's Beach Bar attracts locals and tourists of all types.  Steve Bennett from Uncommon Caribbean captured the vibe perfectly: "A little loud, A LOT sweaty, and all kids of sultry." On this quiet island, people come to party the day away in the sun.    
Don't let the party vibe deter you with kids – Honeymoon Beach somehow is kid-friendly all the same. We saw just as many snorkelers as drinkers, and several babies. The beach slopes gently with no waves.  The beach stand rents not only the standard beach chairs and umbrellas, but also hammocks and pool noodles.  The music keeps everyone's energy up.
Honeymoon beach tips:
Dinghy's runs a shuttle between the ferry and beach, so no golf cart needed if the beach if your only stop
Rent a free-standing beach hammock instead of a beach chair, for the same price ($10)
Bring towels from your hotel. Or, forget like we did, and buy a $35 souvenir towel  
Be prepared for high prices at Dinghy's ($25 for fish tacos) 
Heidi's HILLTOP HIDEAWAY
Water Island has two restaurants, both mentioned above: beachfront Dinghy's and hillside Heidi's. Heidi's food truck sits up on a hill, with a deck looking back at St. Thomas, golf carts parallel parked out front. One couple on our ferry told me they trek to Water Island each time they visit St Thomas just to eat the fish tacos here. Heidi's also make a mean grilled cheese (reports my daughter, who would not let me have a bite).
It may be a challenge to tear yourself away from Honeymoon Beach to experience Heidi's. If you start your Water Island journey at the beach, you will be tempted to eat lunch at Dinghy's – a respectable choice. (That's especially true if you have kids who unravel from hunger on a moment's notice.) But consider stopping at Heidi's before you settle into the beach. Or, tide everyone over with a snack at Dinghy's, and leave room for post-beach tacos.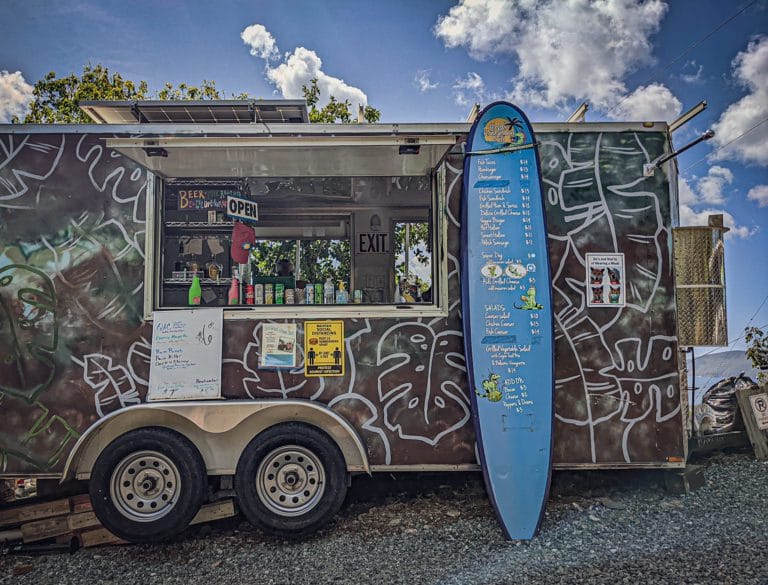 And that's it! Catch the ferry at your leisure to return to the hustle and bustle of St. Thomas. The next time you gaze across the ocean to Water Island, you can smile at the memory of having seen how the other side lives.