Getting to Bequia with kids is a journey. But it's so worth it. Our Bequia family vacation will go down as one of our best.  We'll always remember taking in the sunset from the Bequia beaches, and slowing down to island time together.  
That's why we put Bequia near the top of our list of 15 best Caribbean islands for families. 
If you're looking for the ultimate guide to Bequia with kids, you've found it. I'm sharing all the highlights here: The best beaches in Bequia, the best Bequia hotels, restaurants, activities, and more.
You'll find all the necessary logistics for enjoying a magical family holiday to Bequia.
It may be a quiet island, but there are plenty of things to do in Bequia with kids. That said, don't forget that slowing down is one of the best parts. If you take your kids to Bequia, be sure to set aside time to simply relax and take in the views. 
Before we dive in, let's be sure you have our best Bequia travel resources at your fingertips.   
Did you know we have a whole collection of recommended family hotels in the Caribbean – including Bequia? I'll let you in on a secret, it's sort of our pride and joy. 
We've made it easier for busy parents like you to find the right Caribbean hotel for your family, with space for everyone. But don't take our word for it: Explore our collection using search filters (like room size) that we designed just for parents.. 
Wishing someone else would just handle the logistics for a change? We're here for that too. We offer bespoke Caribbean family travel planning services. Our specialty? Helping parents narrow down the choices to identify the best Caribbean island and hotel for a top-notch family trip.
And finally, want more Caribbean travel inspiration in your life? Sign up for our weekly newsletter, where we feature a Caribbean destination each month and highlight our favorite hotels and family travel tips. We also share our best Caribbean destination guides for families. 
Now, pour yourself a rum punch and let's get to know Bequia… 
Where is Bequia Located?
Bequia (pronounced BECK-WAY) is the second largest island in St. Vincent and the Grenadines. There are 32 islands and cays that make up the Grenadines, which are part of the Lesser Antilles in the Eastern Caribbean. 
Still lost? Totally understandable. The Grenadines sit between St. Lucia and Grenada, near the end of the Caribbean arch. Most of the islands are accessible only to sailors and yachters. Not surprisingly, they may not come to mind as a top family vacation destination. But lightning-shaped Bequia has been getting noticed by experts like CN Traveler as one of the Caribbean's best kept secrets.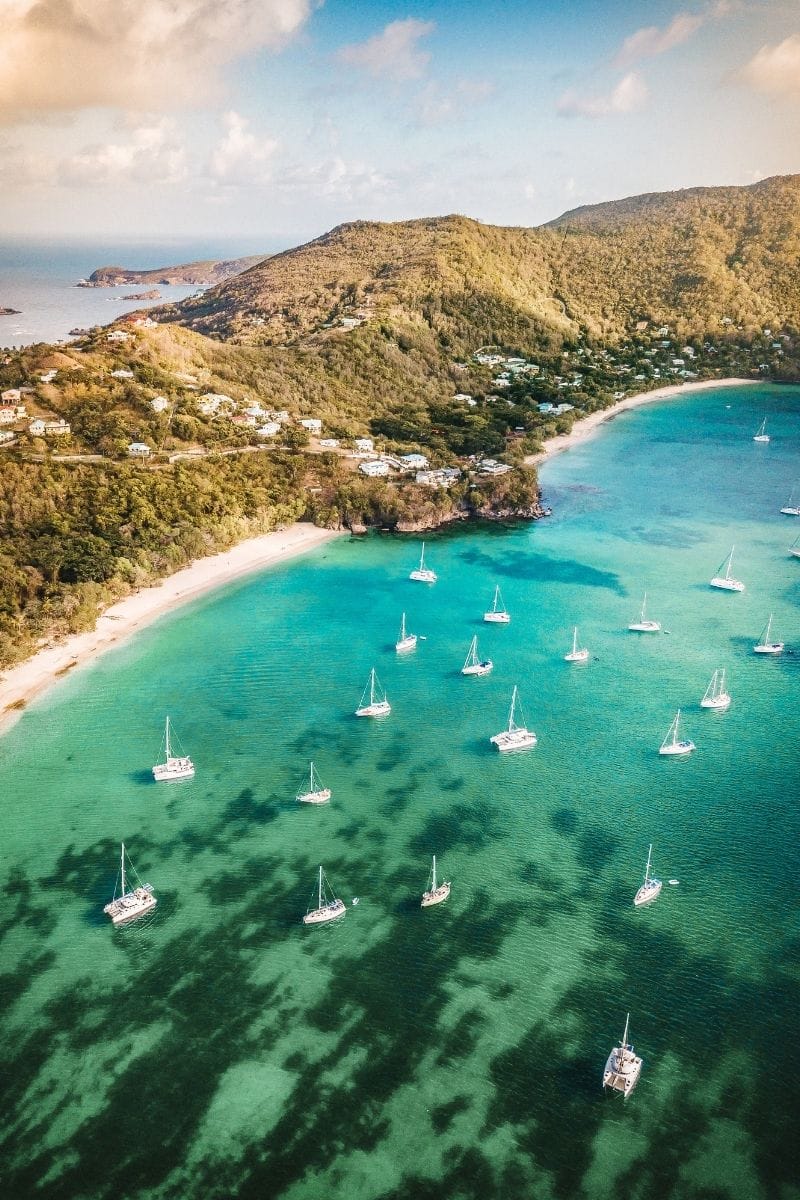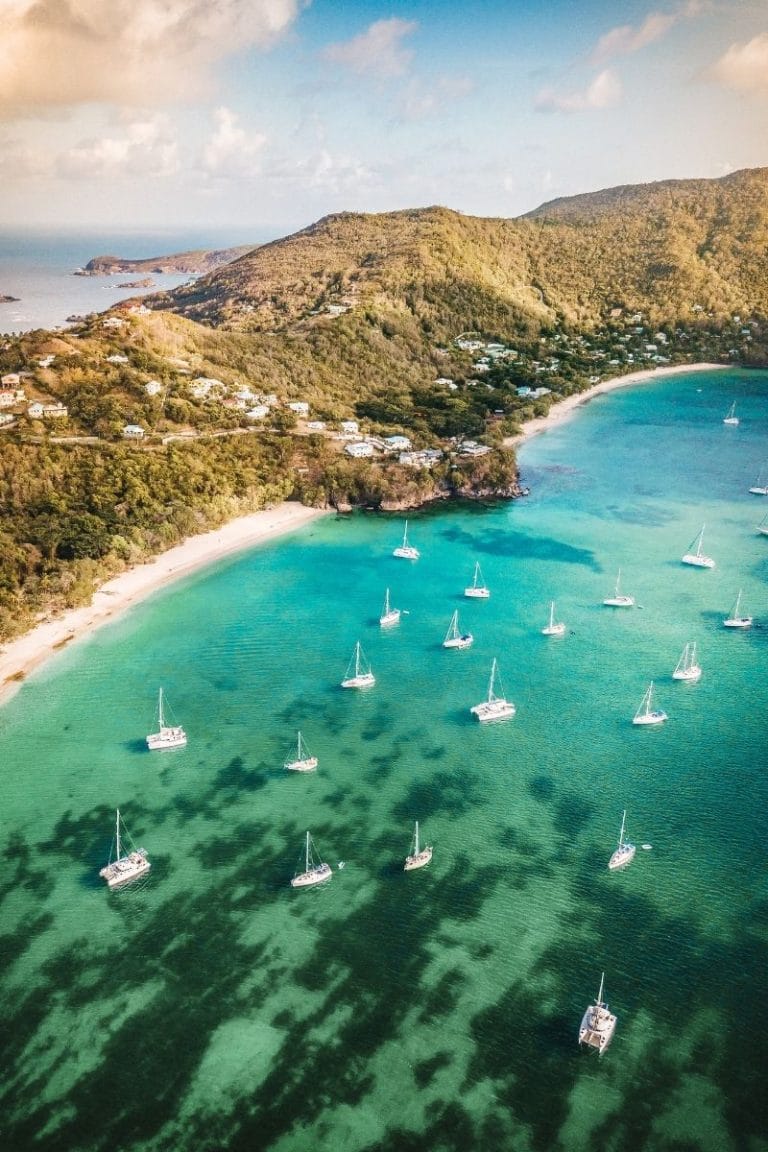 How Big is Bequia?
Only 5,000 people call the 7-square mile island home. Like a small town in the middle of paradise, hotel staff warn you (jokingly) to steer clear of their brother, who turns out to be your dive master. 
The same taxi driver arrives each day to show you around. The residents of Bequia will take the time to get to know you and your kids, tell you their story, and learn yours. 
One great thing about Bequia's size is that you can see most of what it has to offer on a short trip. But that's not how you'll want to experience it.  We met families who had traveled from Europe to spend 2-3 weeks in Bequia with kids, without the slightest concern for boredom. 
By end of the week, we understood why. There's something about the charm of this place, it's laid-back vibe, and its warmth that make you want linger – and come back again soon.
How To Get To Bequia?
Bequia 
has a small airport and a ferry terminal, making it more accessible than some of the other islands in the Grenadines.  But when trying to figure out how to get there, Bequia can seem awfully far. Here are your two best options. 
1. Take the ferry from St. vincent  
Bequia is only one-hour from Saint Vincent by ferry.  So one way to reach Bequia is by flying to St. Vincent and then enjoying the ferry crossing (schedule here). We chose this option and started our Bequia vacation watching the silhouette of dolphins jumping next to the setting sun. The kids were tired, but suitably impressed. 
Our hotel, the Bequia Beach Hotel (one of our all-time favorites), made sure we had a seamless journey from the airport to ferry to hotel.  It was long journey, but they held our hand every step of the way. 
2. Take a charter flight from St. Lucia or Barbados
Bequia can also be reached by a 30-minute charter flight from either Barbados or St. Lucia.  You can look for flights on SVG Air on Mustique Airways or on Grenadine Air. Or, you ca "fly in style" on Bequia Air's 9-seat island hopper.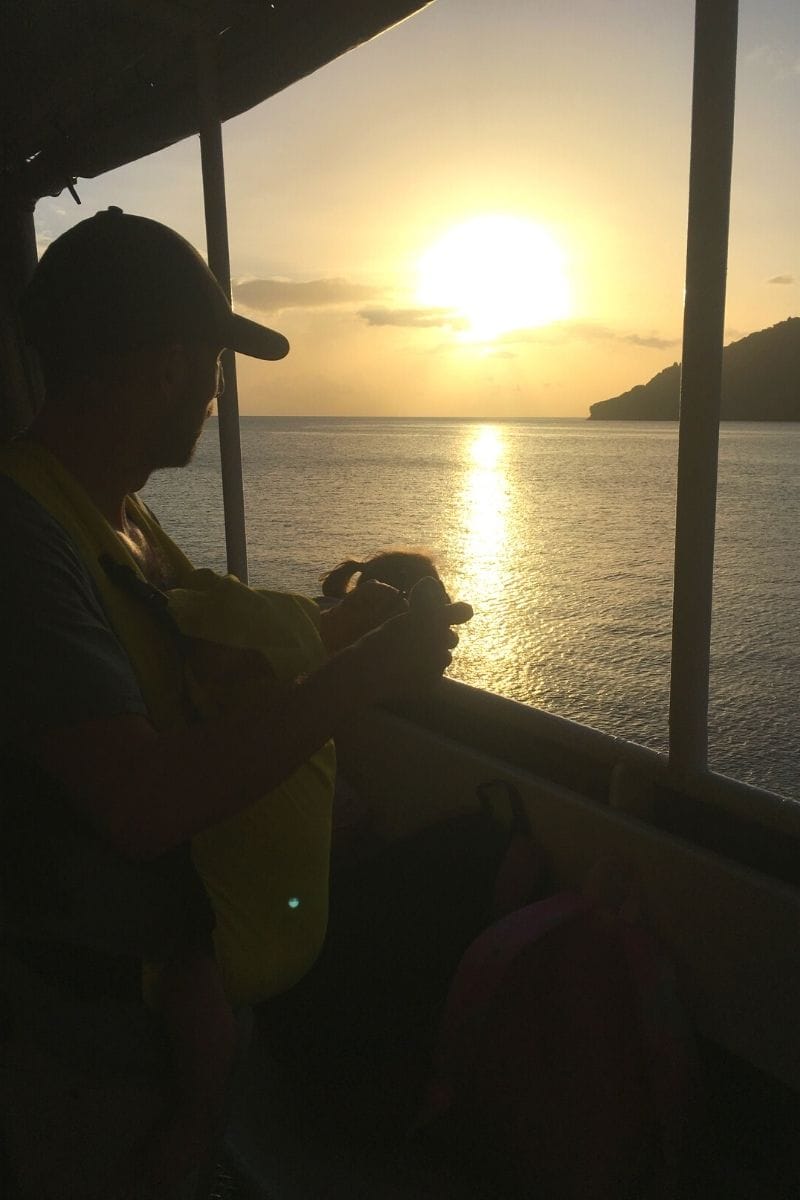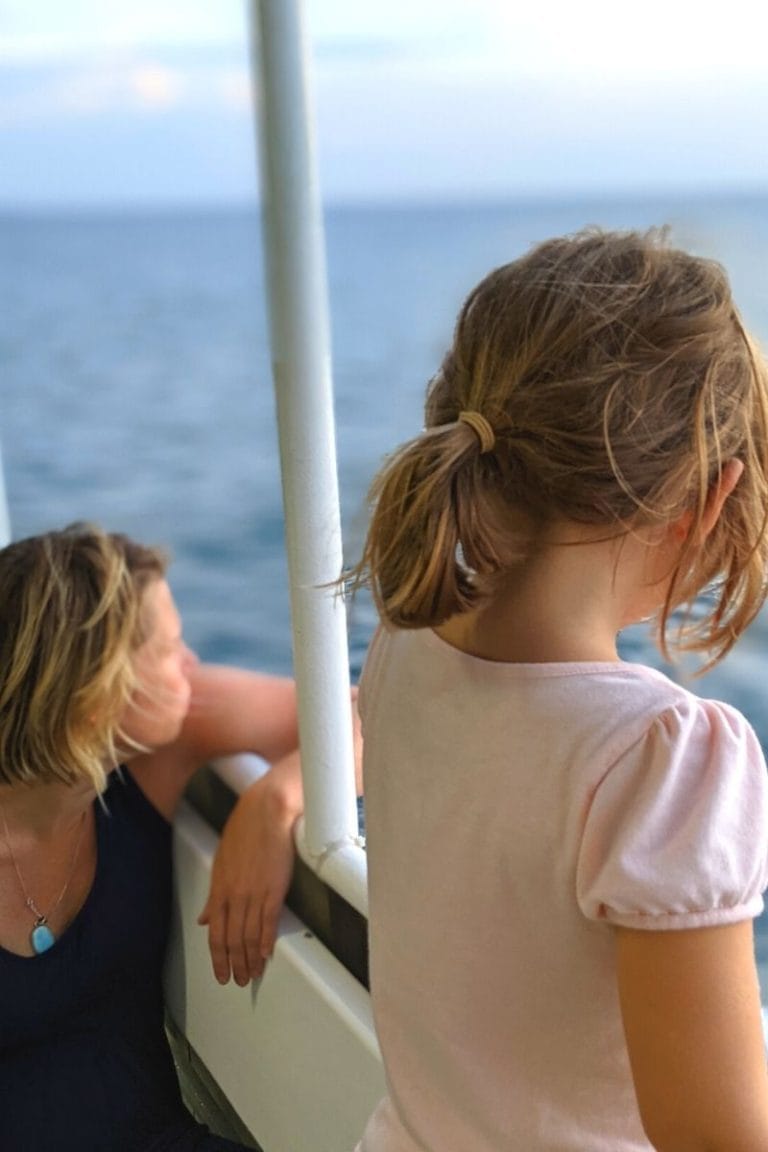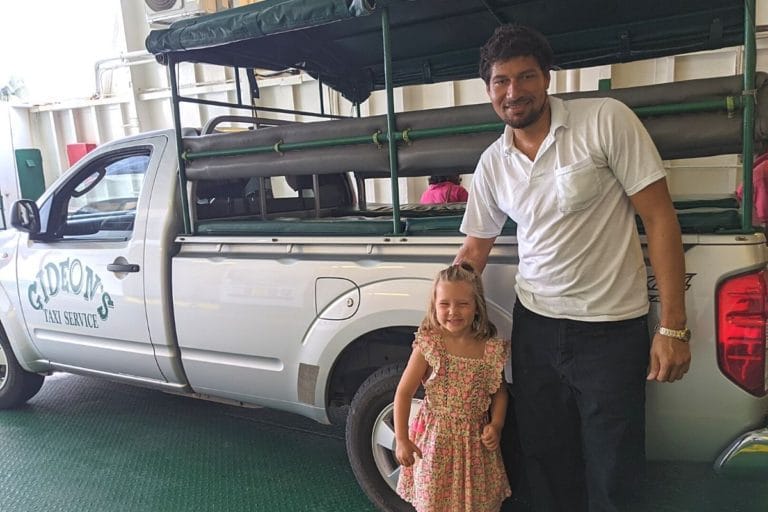 Getting Around Bequia With Kids
I can't think of many vacation destinations where getting around is part of the fun. But in Bequia our kids loved the pickup truck taxis. Our ten-month old was grinning and kicking each time we climbed aboard. It made it easy to pull them away from the pool for an adventure. 
Your hotel may work with a specific driver service, but we had great luck with Gideon's Taxi Service. As a family operation themselves, they were great with the kids. 
The Best Beaches on Bequia Island 
On the leeward side of Bequia, the beaches slope gently into the Caribbean Sea, creating ideal swimming conditions for young kids. But on the winward (Atlantic) side, you'll have bigger waves for strong swimmers.
No matter what type of beach experience you seek, you'll find it in Bequia. These are the Bequia beaches to explore on your journey. 
Princess Margaret Beach 
Start with Princess Margaret Beach (previously named Tony Gibbons beach), the island's most popular beach. Honestly, you could spend your whole week here in the sand and leave Bequia happy. 
The water is so calm that even new swimmers – with supervision of course – can jump off the jetty. Your kids will squeal in delight as they land in the cool crystalline waters and swim back to shore (again, and again….and again). 
Grab a cocktail and a beach chair at Jack's Beach Bar at the north end of the beach. Go out for a snorkel yourself, take out a paddleboard, or just relax with a the view of the sailboats anchored in the bay. There are also caves to explore on the south end of the beach.  
Spend a full day here.  Then come back another day for a sunset swim.  You won't be disappointed. 
Lower Bay Beach
This family-friendly beach is just a short hike south of Princess Margaret Beach. It has similar swimming conditions, and a different selection of beach bars and restaurants. 
The highly recommend De Reef's is known for its conch fritters and rum punches. De Reef's was closed for the off-season when we visited Bequia, but just about every person who has visited the island in high season raves about it.
Industry bay (Crescent Beach)
If you're traveling with strong swimmers, head to Industry Bay for a very unique Caribbean beach. It's a wild, secluded beach lined with palm trees, and with excellent snorkeling just off shore.  You won't find beach bars or chairs here, only a natural escape (and the adults-only hotel, 
Sugar Reef,
 up on a nearby hill).   
Friendship Bay Beach 
If you stay at Bequia Beach Hotel, highlighted below, you'll be right on the unspoiled Friendship Bay Beach.  When you drive over the hill that leads into this bay, the panoramic view will stop you in its tracks. 
The water at Friendship Bay Beach can get a little rough for small kids, but strong swimmers may do just fine. If not, it's a great beach for a long walk, or a kayak across to nearby Whale Island. (Did you know Bequia is one of the few places in the world where 
whales can still be hunted
 in limited quantities?)
What To Do in Bequia with Kids
Bequia's main activities are clustered around Admiralty Bay near Port Elizabeth. The best beaches, restaurants, and accommodations are within a 15-minute drive of each other, and many are within walking distance. 
In other words: If you stay on the southern part of the island, you'll never have to go far, allowing for maximum relaxation time. When you need an activity, here are the top things to do in Bequia with kids. 
1. Expore The Bequia Beaches 
In the section above, we've highlighted our favorite of the Bequia beaches. Find your favorite, and waste away the days.  Or, try them all! 
1. Go Scuba Diving 
Bequia is all about the water. I've done a fair amount of diving in the Caribbean, but Bequia diving revealed some of the brightest colors and coral I've seen. The island has great, shallow dive locations that allow for long, leisurely dives to explore the seemingly endless reefs. 
If you're a diver and you have the chance to get a few hours of childcare (which Bequia Beach Hotel will arrange) we highly recommend using it for diving. 
2. Snorkel
Because of the shallow reefs, Bequia snorkeling is excellent too.  Our five-year old daughter spent hours practicing with her mask and snorkel on the tiny fish in the shallows of Princess Margaret Beach (see below).  We decided she was ready to go out on the dive boat. 
She declared that she wanted to see a stingray on her first snorkeling trip ever. We, of course, told her the odds were against it. The joke was on us when she saw a huge spotted eagle ray her first time out, and now she is hooked. 
Whether you are an advanced diver taking kids for a first look underwater, Captain Ron and Lamont from Bequia Dive Adventures will ensure you have a memorable trip.  
4. Stroll the Belmont Walkway
Right next to Jack's Beach Bar is the Belmont Walkway. This 15-minute walking trail winds north up and around a cliff, and then back down to a beachfront sidewalk lined with small hotels, restaurants, and shops.  This walk along Bequia's most active coast, with views of the harbor, gives you a real sense of what the island is all about. 
I suggest having a sunset cocktail and swim at Jack's, and then, while you still have a bit of light, heading to the Belmont Walkway for dinner. Kids will enjoy the climbing part of the hike, too, but some of the stairs can be steep, so be prepared!
5. Other Things To Do in Bequia with Kids: Turtles, Fort Hamilton, Hikes, and More
If you need more things to do in Bequia, consider the Old Hegg Turtle Sanctuary, which has been working since the mid-90s to protect the endangered hawksbill turtle.  It's only 10 minutes north of Port Elizabeth and gives kid-friendly tours daily.
Other family-friendly activities include a visit to Fort Hamilton, which offers a sweeping look back over Admiralty Bay, a stroll through Port Elizabeth's shops, hiking, and kayaking. 
If you're traveling with a big group, you can plan a once-in-a-lifetime day trip on the water. Charter the 100-foot Friendship Rose schooner for a cruise through the Tobago Cays.  
Where to Stay in Bequia with Kids 
There are a handful of fantastic hotels in Bequia, perfect for families. You can't go wrong with these great spots. 
1. Bequia Beach Hotel  
Bequia Beach Hotel gets our highest stamp of approval for a family trip. The 2-bedroom garden cottages are perfect for families. The saltwater pool has platforms in the shallow end where kids can play and swim safely. Parents can gaze out at the ocean and islands beyond.  
Our children loved the homemade bread basket each morning at Bagatelle restaurant. I couldn't get enough of the traditional Caribbean saltfish. The hotel offered babysitting by trusted staff members, which meant we were comfortable leaving during the day to go diving. 
Finally, and perhaps most importantly, guest services manager Rima and the rest of the hotel staff went out of their way to get to know us and to make sure we had a great vacation every step of the way.
2. Bequia Plantation Hotel 
Other family travelers we met recommended the laid-back Bequia Plantation Hotel, which also offers two-bedroom garden cottages. The grounds surround an original plantation house.  It has a small beach and is within walking distance to town and several restaurants. 
3. The Liming
For a boutique and luxury all-inclusive option, consider the villas at The Liming, part of the Small Luxury Hotels of the World collection.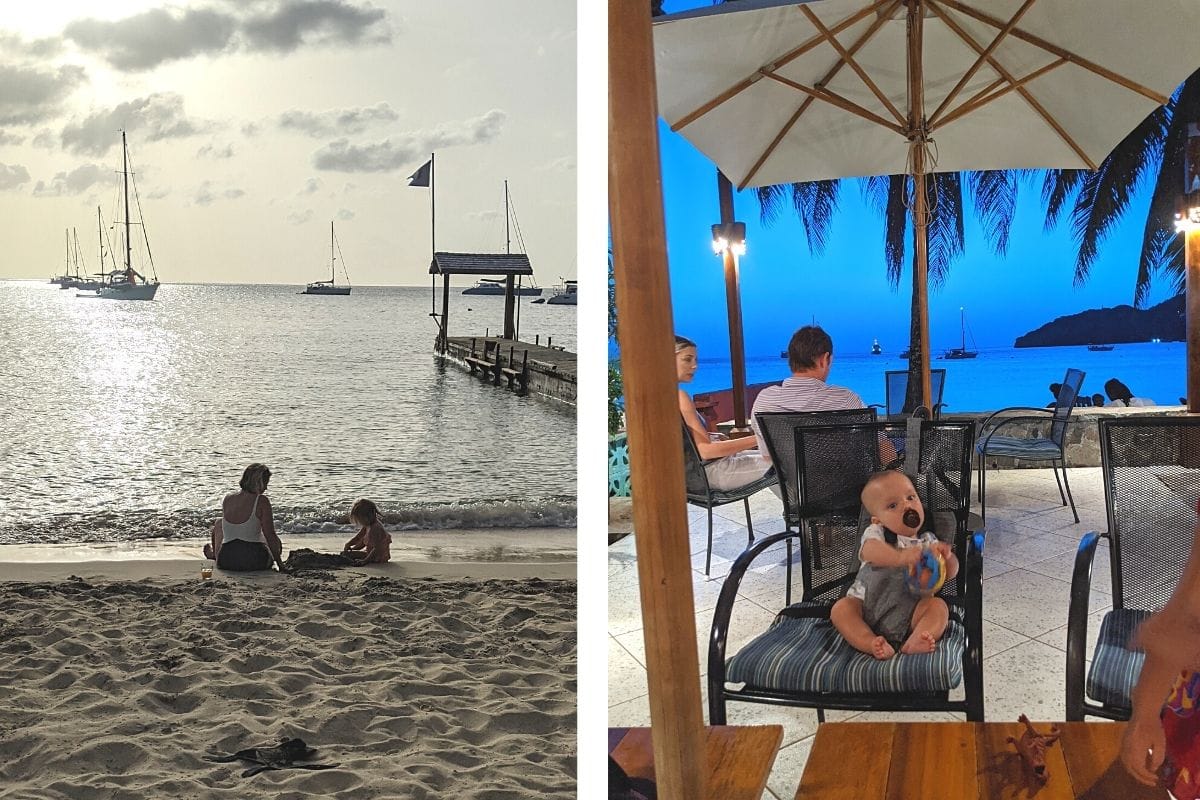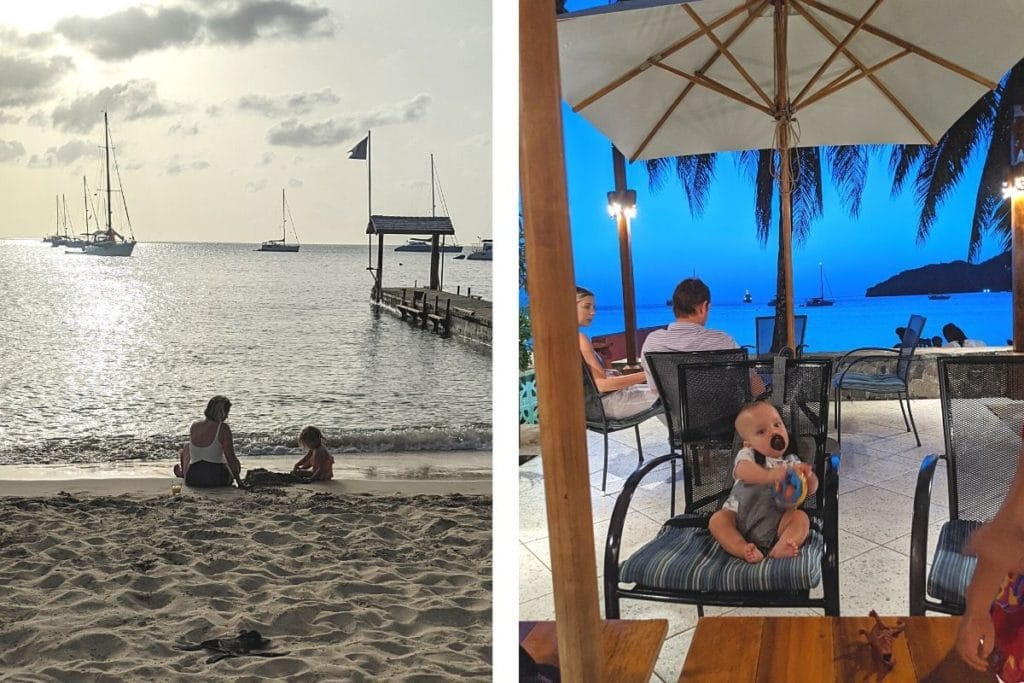 Best Restaurants In Bequia
If you're wondering where to eat in Bequia with kids, you've got some great choices. 
The Caribbean fare, friendly staff, and relaxing beachfront environment at Bagatelle, Bequia Beach Hotel's beachfront restaurant, was so good that we ate most of our meals there. That said, Jack's Beach Bar came in a close second with its delicious drinks, food, and unbeatable views. 
Many return-visitors to Bequia swear by De Reef, which is just down the road from Princess Margaret Beach. 
Finally, no visit to Bequia with kids would be complete without a visit to Mac's Pizzeria & Kitchen on the Belmont Walkay, which offers a lively patio, bay view, and 25+ toppings for you and the kids to choose from. 
Still looking for more? A comprehensive list of Bequia food recommendations can be found here.
COVID-19 Restrictions and Precautions
Bequia is open to tourists, but of course we want to prioritize safe travels with our kids.
For up-to-date information about the COVID-19 quarantine, testing, and vaccination requirements in St. Vincent & the Grenadines, your best resource is the SVG airport blog.
Want Help Planning Your Bequia Family Trip? 
We hope this ultimate guide to Bequia will be all you need for a fantastic vacation in the Grenadines.  But we also know that sometimes what you need is for someone else to take the reins. 
If Bequia appeals to you but you'd sleep better at night knowing someone else was handling the logistics for once, we're here for you.  Just click the button below and you'll be one step closer to your Bequia vacation.