In a post-pandemic world, many families are looking for more authentic travel experiences. Having been homebound for so long, parents are eager to show their kids the world.  
It is perhaps not surprising, then, that ecotourism—tourism that prioritizes benefiting the communities and infrastructure of your destination while enjoying it—is a growing sector in the industry.
Many parents heading to the Caribbean are no longer interested in an all-inclusive resort bubble. Instead, they want to taste the local flavours, connect with other cultures, and get away from the hustle and bustle of the modern world.  
It turns out that Grenada, one of our all-time favorite Caribbean destinations here at Mango Tree, is a frontrunner in the Caribbean on the ecotourism front.  
We collaborated with Lisa Tomlinson of @travelecofamily to learn more about Grenada ecotourism. Lisa and her family travel full-time and, through their Instagram page, inspire and educate other families who want to make eco-conscious choices while traveling.  She recently explored Grenada with an eye towards experiencing the island in an eco-friendly and community-focused way.
We can't wait to share what Lisa taught us about Grenada ecotourism! If you're looking for a sustainable tourism experience in the Caribbean, Grenada has amazing offerings for you and your family.
Caribbean Family Travel Resources
Before we dive in, let's be sure you have our best travel resources at your fingertips.   
Did you know we have a whole collection of recommended family hotels in the Caribbean – including in Grenada? I'll let you in on a secret, it's sort of our pride and joy. 
Wishing someone else would just handle the logistics for a change? We also offer bespoke Caribbean family travel planning services. Our specialty? Identifying the best Caribbean island and hotel for your  top-notch family trip. Let us take the legwork off your plate. 
Now, pour yourself a rum punch and start planning your sustainable Grenada family vacation…
This post contains affiliate links from our trusted partners
What is Eco Tourism?
Eco tourism goes by many names: sustainable tourism, ethical tourism, responsible tourism, and green tourism among them.  Successful eco-tourism is all about maximizing the economic and environmental benefits to the local community you're visiting, while minimizing ecological damage and disruption of infrastructures. 
As the International Ecotourism Society emphasizes, "ecotourism promotes greater understanding and appreciation for nature, local society, and culture." 
Eco tourism is one of the fastest growing tourism sectors. A new generation of connected and conscious travellers are seeking unique experiences, setting out to strike a balance between education and vacation.
There is no strict definition of an "ecotourism activity."  When traveling with ecotourism and sustainable practices in mind, choose activities that allow you to appreciate and help to protect your destination's natural environment, such as hiking, kayaking, or birdwatching.
Other ecotourism activities focus more on the culture and history of the local communities in your destination, including eating and shopping local, learning about a traditional industry in your destination.
Grenada Ecotourism: About The Island
Located at the southern end of the Grenadines island chain, Grenada is of volcanic origin. Formerly under British control, English is Grenada's official language. But most Grenadians grow up speaking an English creole full of local idioms.  
Bordered by the Caribbean sea on the West and the Atlantic Ocean on the East, its unique geography boasts six eco-systems, co-existing in harmony, with year round tropical heat, creating an adventure playground from the extensive rainforests to the mangrove lines beaches. This unique island offers many ways to learn its history and experience its culture both on land and at sea.
Even with a few great hotels, Grenada remains relatively unscathed by tourism compared to much of the Caribbean. One thing that lets it truly standout among its tropical counterparts is its produce market—arguable the best in the Caribbean—with bins overflowing with tropical fruits and vegetables.
Grenada sits outside the Caribbean hurricane belt, making it a top destination to consider for off-season Caribbean travel in the fall months. 
Top Grenada Ecotourism Activities
Around the island
Many families traveling to Grenada choose to stay on the island's south end, near the gorgeous Grand Anse Beach.  It's shallow and calm, making it ideal for swimming and water play, and this beach is one of the main reasons Grenada is an amazing family destination. It's an especially great spot for a beach trip with toddlers. 
To really enjoy Grenada's natural attractions, however, we encourage you to rent a car and head to the island's more rugged interior, and lesser explored east and north coasts.
Check grenada rental car prices on discover cars now:
For a lesson about the island's origins, head to Grand Etang National park, most famous for Grand Etang Lake – a crater lake in an extinct volcano. This park is home to indigenous plants and animals which have thrived in the luscious rainforest. The small access fee helps to preserve the lands where you can summit mountains, circle the azure lake, and hike the majestic Seven Sisters waterfalls. Stop at the visitors centre for a full round up of all the options in this 3,800 acre National Park.
If one crater lake isn't enough, continue along to Lake Antoine National Landmark in Grenada's northeast corner.  Another shallow crater lake, Lake Antoine is known for being a great place to spot waterfowl and other birds.
The scenic Levera National park, where land meets sea, is a jaw dropping natural attraction at the  northern tip of Grenada.  A boardwalk navigates an extensive mangrove swamp, providing a safe habitat for native wildlife. From the lagoon to the beach, this unique space is a nesting area for leatherback turtles and protected from May to September. You can also spot an abundance of bird and fish species as well as lobsters hiding in the sea grass.
Finally, La Sagesse Nature Center on Grenada's south coast, has an unusual tropical ecosystem that's worth a visit.  Not only is La Sagesse beach a gorgeous and unique stretch of dark sand with coral reefs just offshort, but on land you'll find a salt pond bird sanctuary, a mangrove estuary, and a collection of hiking trails.
In the community
Visit the mini-museum at the House of Chocolate in St. Geroge's – not far from Grand Anse Beach – to learn the history of how chocolate is made using the islands own resources. Of course, no visit to Grenada would be complete without sampling some of the delicious homemade options from their café or the sister location at True Blue Bay Resort.
For an authentic agri-tourism experience, tour the historic 17th century Belmont Estate. With a deep understanding of the lifecycle of its produce, the workers share a true passion in their sustainable processes. For a truly special and authentically Grenadian culinary experience, don't miss the three course farm to table meal cooked on site!
To really connect with the people of Grenada, take a break from the beach to volunteer at the Grenada Community Library which provides a homework club for local school children and supports adult literacy courses for the community. After hurricane damage in 2004 forced the last Library to close, it was only due to local donations that a new space was found. Show your support by reading to children, playing chess with the teenagers, or cleaning and organising the many books kindly donated.
Off-shore
To appreciate all the ecosystems Grenada has to offer, you'll need to take in some of the marine life as well!
Visit the world's first underwater sculpture park located in the Molinere Beauséjour Marine Protected Area. With the aim of enhancing the reef, since its installation in 2006, the park has supported the preservation of marine and coral life around the island.  
The sculpture garden is best explored while scuba diving. But if you're traveling with kids who snorkel, it's shallow enough to see from the surface! By attracting snorkelers and divers to this unique spot, the sculpture park relieves the environmental pressure on other natural reefs and tourist hotspots.
Join the hunt for the invasive lionfish species, non-native to Caribbean waters, this species rapid growth and destruction of the reef endangers the local eco-system and must be eradicated. Looking for another way to support? Following the zero-waste concept, you can sample lionfish and chips or lionfish tacos at the monthly event held at the West Indies Brewery.
Make a difference at sea through the monthly ocean & reef clean up effort organised by the Aquanauts diving team.
Where to stay for an eco-conscious Grenada experience?
Grenada has a range of accomodations, from small boutique hotels to luxury resorts. Several family-friendly hotels have obtained their Green Globe Certification, making it easy for families to experience the island in a sustainable (but fun!) way.
True Blue Bay Boutique Resort
True Blue Bay Resort in Grenada is a Green Globe Gold Member and the leader on the island for sustainable and green efforts. Sustainability is in the resort's roots, as the owners have been deeply involved in banning the use of Styrofoam on Grenada, as well as funding local community initiatives.
The Cocoa Pod Rooms & Suites are the perfect choice for an eco-stay with an impressive list of climate smart features including; double glazed patio doors, solar water heaters, electricity generated by PV solar panels with water and energy-efficient appliances, finishing the rooms with specially-commissioned and ethically sourced furniture and artworks.
At True Blue Bay Resort you can lend a helping hand at the gardens where waste is reused as compost and food is grown for the on-site 'Dodgy Dock' restaurant.
Wellness is a key aspect of this eco-chic boutique accommodation with the resort boasting a treetop yoga studio, blissful spa, several playparks & four swimming pools, designed to keep all the family happy.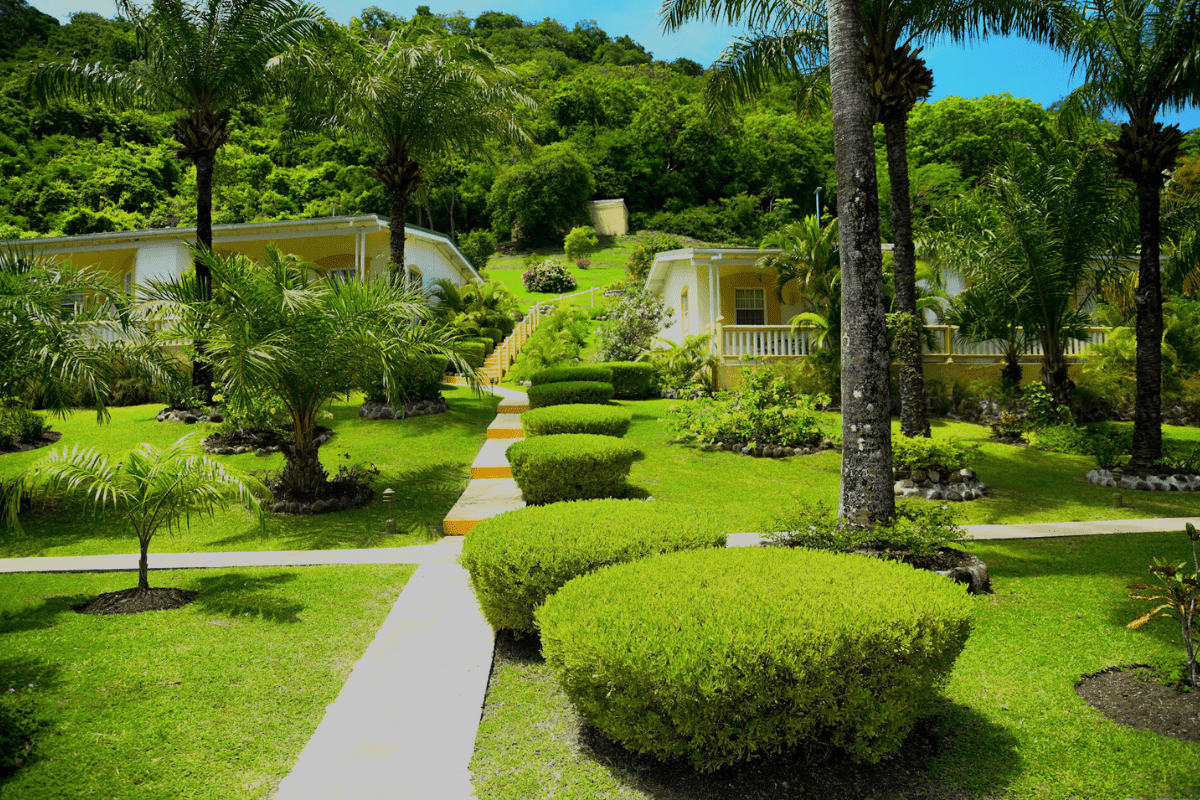 Learn More About Grenada EcoTourism
For more information about voluntourism and to connect with likeminded people in Grenada, be sure to checkout Pure Grenada's voluntourism event calendar.  Pure Grenada is the official Grenada tourism board.
Follow @travelecofamily on Instagram for more about ecotourism in Grenada, the Caribbean, and around the world.
Get Caribbean Family Travel Tips Right Into Your Inbox 
If you found this post helpful, don't miss our other Caribbean destination guides for families. 
And for even more Caribbean and family travel inspiration, sign up for our biweekly newsletter! We feature a new destination each month, highlighting our favorite hotels and family travel tips. Keep the travel dreaming coming all year long.