Trying to understand the differences between Bonaire vs Curacao vs Aruba? This article will answer all your questions.
The Dutch islands of Aruba, Bonaire, and Curacao – together known as the ABC islands – sit in a cluster off the coast of Venezuala. Choosing between them for you family vacation to the Dutch Caribbean can be daunting. 
What's the difference between Bonaire vs Curacao? Or Curacao vs Aruba? Or Bonaire vs Aruba? Which Dutch Caribbean island is more family-friendly?
The short answer is: You can't go wrong here. Aruba, Bonaire and Curacao each have something unique and memorable to offer families. But the islands are vastly different. 
A lot of Americans have traveled to Aruba, but Bonaire and Curacao receive primarily European tourists. These two lesser-known islands offer unique Caribbean experiences and should absolutely be on your radar.
We've pulled together the details in this post to help you answer this question and choose the right family vacation for you.
The ABC Islands: The Basics 
The ABC islands may be neighbors. But when it comes to their size and overall vibes, they couldn't be more different.  Both have amazing things to offer families.
How far is Bonaire from Curacao and Aruba?
First let's get the lay of the land. The ABC islands sit in a row. From east to west:  The larger islands of Aruba and Curacao, and then the small island of Bonaire.
Starting in Aruba, a 35-minute flight on a small propellor plane flown by Divi Divi Air will get you Curacao. From there, another 25-minute flight will get you to Bonaire.  Each of these flights costs less than $100 per person, one way, making it relatively easy to travel through the ABC islands.
The challenge comes from going straight from Aruba to Bonaire, or vice versa, as Curacao stands between the islands. Another airline, EZ Air, offers direct flights between Aruba and Bonaire, but that flight is a little over an hour.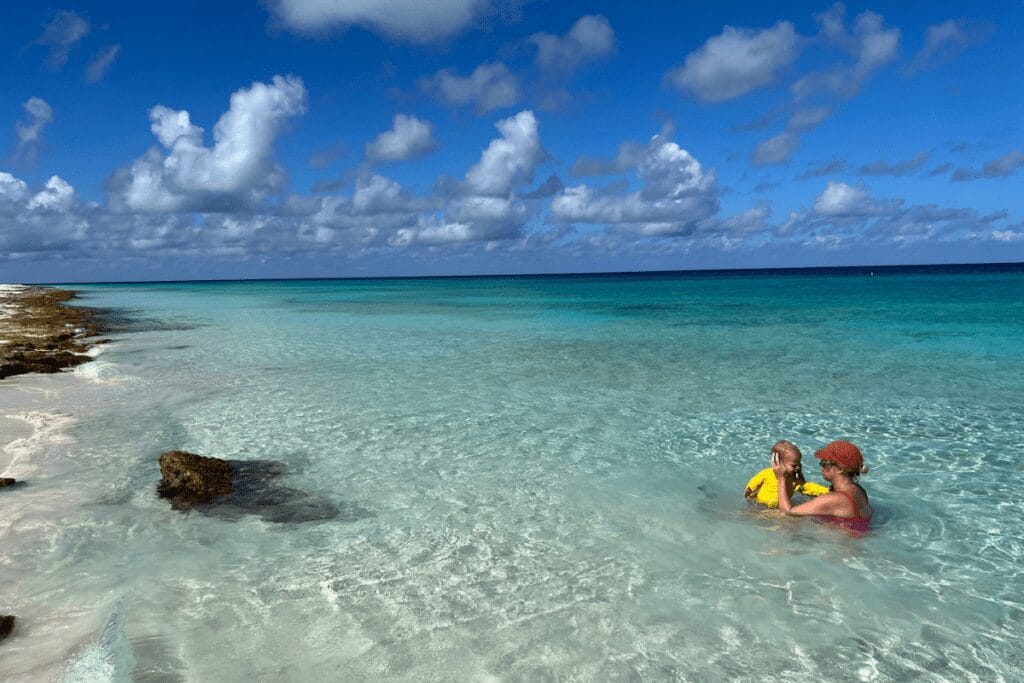 Bonaire Overview
Bonaire is a quiet island with only about 20,000 residents – around 80% of the Dutch nationals. When you arrive at Bonaire's small international airport, you can clear customs (located outside) in under 15 minutes. We fell in love with Bonaire on a recent trip, and highly recommend Bonaire for a family vacation. 
Bonaire is a nature lover's paradise, under and above the water. Under water, the reefs and waters surrounding Bonaire have been protected since 1979 as part of the Bonaire National Marine Park.  On land, the northern corner of the island remains protected and undeveloped Washington Slagbaai National Park.  
Klein Bonaire, an uninhabited island of Bonaire's coast, is a stunning place to spend the day at the beach. And the Pekelmeer Flamingo Sanctuary on Bonaire's southern tip is one of only a handful of places in the world where flamingos breed in the wild.
Bonaire's beaches are small – and many of them rocky – but stunning in their own way. The best Bonaire beaches are made less for sunbathing and more for snorkeling, though.
Go to the beach in Bonaire to get in the water, not to lounge by its side.
Bonaire has a calming vibe, and a sort of charm that can only be found on a small island. It's quaint, accessible, and easy. But there are plenty of fun things to do in Bonaire during a vacation, including beaches to explore, animals to see, and activities to keep the family busy. Downtown Kralendjik has two main streets of shopping, an ice cream shop, plus a handful of waterfront restaurants.
Curacao Overview
Curacao (pronounced Curacao), by stark contrast to Bonaire island, is the largest of the ABC islands, with a population of approximately 160,000. While it has a Dutch flavor, with unmistakable European influence, its heritage is Afro-Caribbean, with a majority Curaçaon population.
Simply put, Curacao has a lot more going on. Curacao has a rocky shoreline, but its west coast is spotted with sheltered bays with secluded beaches that are good for swimming.  And when you really want a long stretch of sand, you have a deserted island just off the coast to visit. 
There aren't a lot of massive resorts on these small beaches. Instead, just about every piece of sand has a casual beach bar and restaurant (or several), rows of chairs for rent, and shopping and activities. The beach scene has a distinctly European vibe to it (and you'll find mostly European tourists here, not Americans).  Your Curacao itinerary should absolutely leave time for beach hopping. 
Curacao's Willemstaad is a true cultural city to explore. Known for its colorful façade at the Queen Emma bridge, it feels like a little Amsterdam, with sidewalk cafes and store fronts.
The artsy Pietermaai district, which has been designated a UNESCO World Heritage site, is very walkable in the mornings and evenings, with cozy cafes, boutique hotels, and colorful bars and restaurants.
Curacao is also bigger than Aruba – but receives far fewer tourists. So generally you will feel as though you've gotten a little bit more off-the-beaten path if you choose Curacao rather than Aruba for one of the bigger Dutch islands.  For more details, read our full post on Curacao and why it's awesome.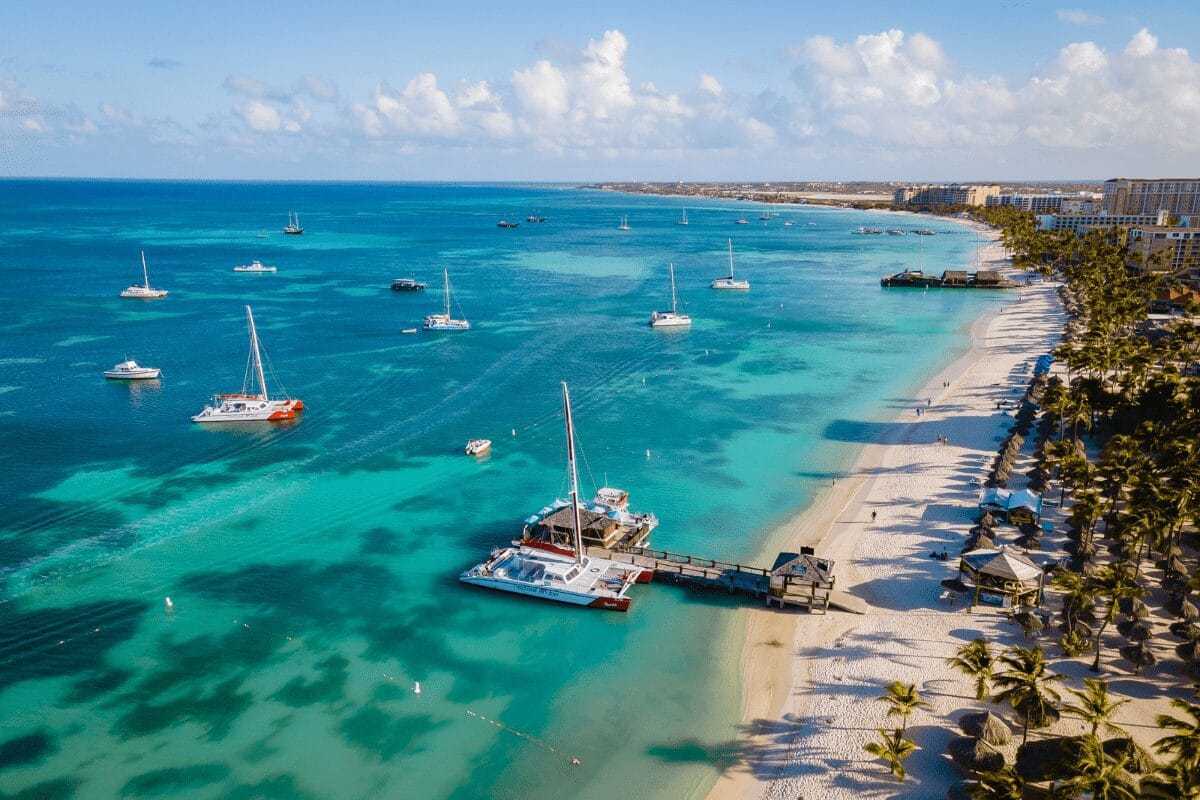 Aruba Overview
Aruba is the most popular of the Dutch islands for a reason: It boasts some of the top sandy beaches in the Caribbean. Where Curacao has small, sheltered bays, Aruba has the long stretches of white-sand beach that many people dream of when traveling to the Caribbean. The beaches in Aruba are not dotted with beach cafes, though, but larger hotels.  
Aruba is the most "Americanized" of the ABC Islands – both in terms of the hotel chains and restaurants you'll find here and the people who visit. Many Americans go to Aruba each year, and there's a TGI Fridays in Aruba – not something you'll find in Curacao or Bonaire.  In some ways, Aruba will feel more like the Bahamas: long, white sand beaches and familiar beach amenities. There are also quite a few casinos.
One nice thing about Aruba is that no rental car is needed, whereas you would most likely want a rental car to explore the beaches of Bonaire and Curacao. Aruba's nightlife, shopping, and restaurant scene is concentrated around the hotel strip.
A trip to Aruba is not a trip off-the-beaten path – and sometimes that's OK!  But this vacation would be a lot more about the beach, sun, and resort than about exploring a new island. That said, there certainly are some off the beaten path activities to find in Aruba for those interested. Because of its resorts, calm beaches, and overall ease, Aruba easily makes the list of best Caribbean islands for families.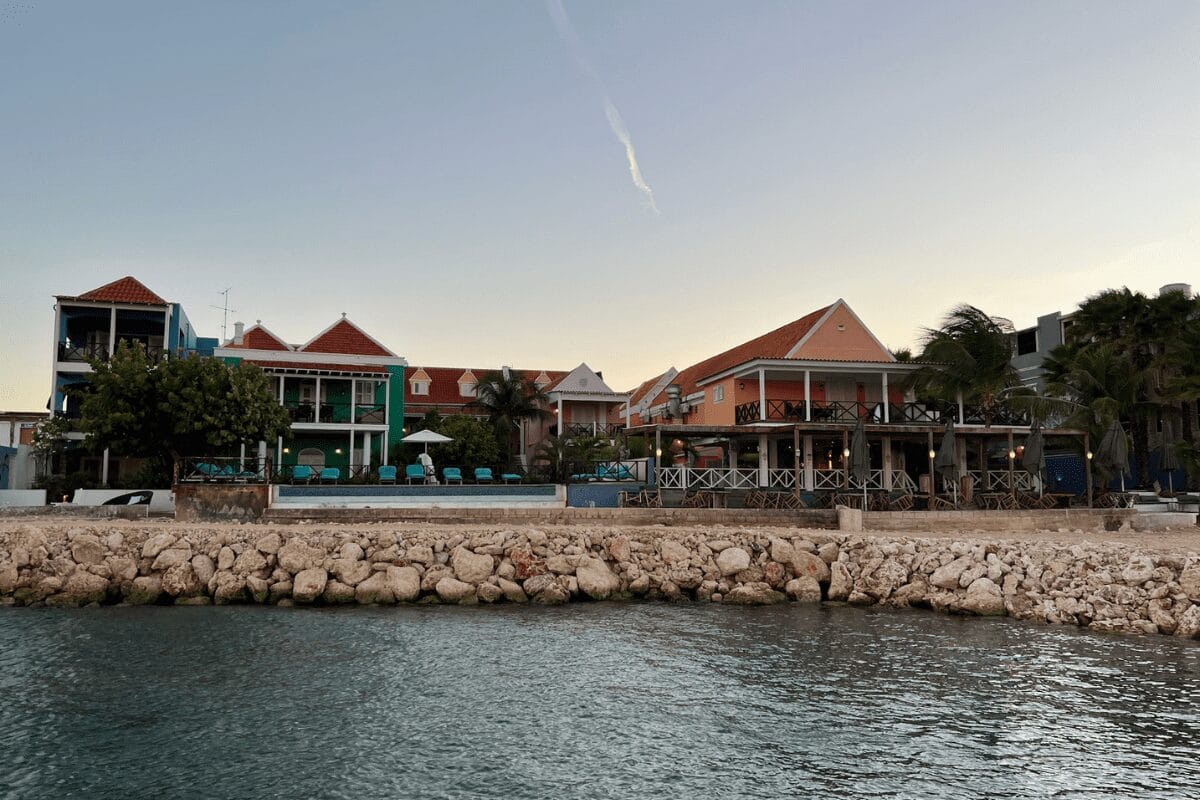 Bonaire vs Curacao vs Aruba: Which Has Better Hotels?
Sometimes picking the destination depends on finding a hotel that suits our family. So which of these islands has the better hotels?
We think that's a very hard question to answer because we found hotels we love in both Bonaire and Curacao – and there are countless resorts in Aruba. But, once again, it depends on what you're looking for.
Bonaire Hotels 
Like Bonaire generally, the hotels in Bonaire are small, calm and laid-back.
Our favorite hotel in Bonaire is Harbour Village Beach Resort. We simply love this hotel. The cozy, pristine beach has a calm entry, so small kids can splash around on the sand, and plenty of lounge chairs, hammocks, and palm trees. It's never crowded, and you'll see some of the best snorkeling we've ever seen right offshore in the Caribbean.  
Harbour Village hotel has 1- and 2-bedroom beachfront suites that are right on the beach, just steps away from the snorkeling — and the perfect size to fit families. And the people at this hotel are fantastic; the staff went out of their way to ensure we had a great stay.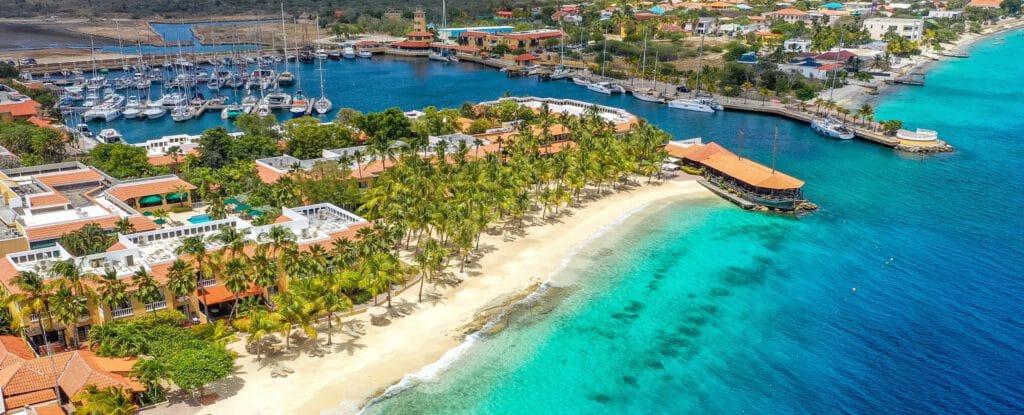 Curacao Hotels 
Curacao has more hotel options than Bonaire (though more is not always better, of course). The hotel choices in Bonaire range from stylish boutique hotels in town to eco-lodges to the highest-end luxury. As in Bonaire, many of these hotels are independently owned and on the smaller side. But you'll also find classic beach resorts in Curacao too.
If you want true luxury on the beach, you may pick Curacao just for Baoase Luxury Resort. The beach setting here, while man-made, is spectacular, and unlike anything we've experienced. You'll eat your gourmet dinner with your feet in the sand and relax on plush loungers on a pink-tinted beach with stunning views.
Book Baoase Luxury Resort through Mango Tree for VIP amenities including: upgrade on arrival and early check-in/late check-out, subject to availability, daily breakfast for two, and a $100 resort credit.
You might also pick Curacao if you like more of an eclectic, in-town boutique hotel experience.  The colorful oceanfront hotel, Scuba Lodge, for example, sits in the center of the Pietermaai district, offering easy access to the city's cozy cafes and fine-dining – but with views of the Caribbbean sea and a plunge pool that's just big enough to really unwind.
If you've decided on Curacao but want more of a mid-range resort style hotel, with pools, restaurants, and easy beach access, we think Avila Beach Hotel is the best choice for families. It has kid-friendly beaches and rooms, but it also walkable to the Pietermaai district – a location that's hard to beat.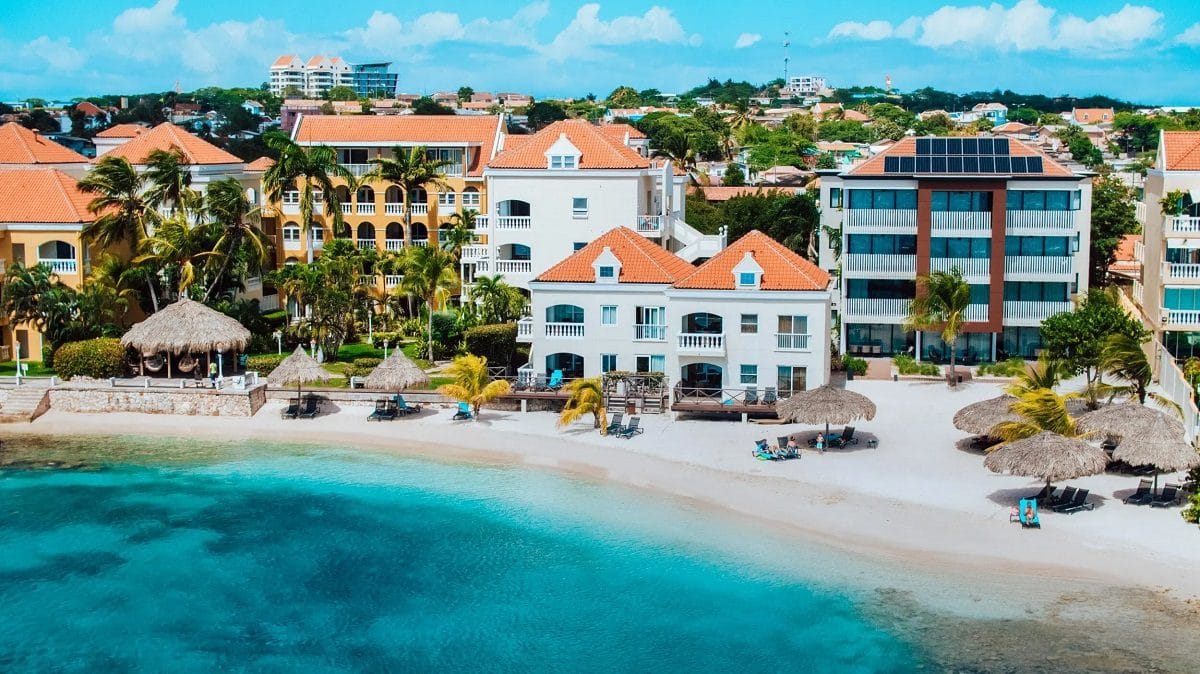 Aruba Hotels 
As mentioned above, Aruba is known for larger hotel brands, and inclusive resorts.  Most people choose to stay at a hotel on either Palm Beach or Eagle Beach, Aruba's two most popular stretches of white sand.  Popular choices include the 400-room Aruba Marriott Resort & Stellaris Casino and the 350-room Hyatt Regency Aruba Resort & Casino (both of which have kids' clubs and casinos, an excellent combination).
It's no secret that we prefer small, more unique hotels, though. (And frankly, for that reason, Aruba is not our top-choice of the Dutch Islands.) But those exist in Aruba too! If your kids are over age 12, consider the Boardwalk Boutique Hotel Aruba, an intimate 46-room hotel just off Palm Beach with grills, hammocks, and pastel-colored casitas.
Or, for something in between a boutique hotel and a massive resort, try the Amsterdam Manor Beach Resort. It's 72 rooms include two-bedroom apartments with kitchens, and there's a dedicated kids' pool.
So Which ABC Island Do I Pick? 
When it comes to deciding between Bonaire vs. Curacao vs. for a family vacation, it really depends on what you are looking for. Each of these destinations has something unique to offer.  Keep reading for a guide to help you pick the one for you. 
Choose Bonaire for the ultimate laid-back, nature-focused vacation
If you are looking for a laid-back vacation focused on water and nature, and find appeal in the small-island vibe, a Bonaire vacation is the best choice. With its small population and abundance of pelicans, reef fish, crabs, iguanas, and flamingos, Bonaire is perfect for those who want to relax and take in the scenery.
The abundance of wildlife will provide constant, easy entertainment for your kids – things they do not see every day. The island itself is also easy to navigate and get around, a plus for family vacations. We love that Kralendijk is small and walkable, just the right size to entertain the kids for a beach trip. In our opinion, taking a trip to Bonaire with kids is a top Caribbean choice, for sure.
Finally, the snorkeling off each beach in Bonaire is some of the best in the Caribbean. So if you're picking between Bonaire or Curacao for snorkeling or diving, hands down pick Bonaire.  
Choose Curacao for a cultural blend of city, beach, and boutique hotels
Curacao, on the other hand, is a great choice for a mix of cultural exploration and beach time. If you're less interested in being underwater, and more interested in having a wide variety of beach bars, restaurants, shopping, and cultural activities at your fingertips, Curacao may be a better choice.
If you go to Curacao, you'll want to explore. Part of the fun is checking out the island's sheltered beaches, and difference beach scenes. Curacao also has plenty of activities for kids aside from just beaches, but they require driving, including a Sea Aquarium, an Ostrich Farm, and the Hato Caves.
Finally, pick Curacao if you're interested in fitting some fine-dining into your trip, and well-designed restaurants and cafes in town. Willemstaad has a lot to offer (and our recommended hotels will all help you arrange babysitting).
Choose Aruba for a resort vacation on a top Caribbean beach
The island of Aruba is the best choice for a more familiar, resort-style vacation, or an all-inclusive package. If you don't mind a heavy American influence, and are more interested in staying put at your beach resort, Aruba's your gal. And if all you want for your vacation is something easy, with a gorgeous, kid-friendly beach and a kids' club at a nice hotel, head this direction.
Aruba also is known for its casinos. So if taking a break from the kids for a night of gambling appeals to you, all the more reason to choose Aruba.
Frequently Asked Questions
Final Thoughts about the ABC Islands
All three of the Dutch Islands offer something for families, and people love each of these islands. If you've met someone who's been to one of these islands, he or she probably has a favorite. 
If you've read this post and still can't choose between the islands, what about visiting more than one?  As we mentioned above, there are quick and easy flights between Curacao on the one hand, and Aruba or Bonaire on the others.  
So if you're undecided, the best bet might be to spend time in more than one of the Dutch Caribbean islands to get diverse experience!