Thinking about a trip to Turks and Caicos with kids -- but not sure where to start? Start here.
If you're considering Turks and Caicos with kids, you might be unsure if this is the best choice for your next family trip. Or maybe you know it is, but you're not sure how to start planning the best Turks and Caicos family vacation that will work for your family. 
Breathe a sigh of relief, you're in the right place. We've got everything you need to make the right decisions. We've been to Turks and Caicos with our own kids, and planned countless trips to the islands for other traveling families.  
Let's start with the short answer: If you travel to the islands of Turks and Caicos with kids (also referred to as TCI), you'll have a fantastic time. Really, you can't go wrong. TCI is truly a top Caribbean destination for families: it's very kid-friendly: it's easy to navigate, English-speaking, safe, and full of great family resorts and restaurants. 
The downsides? It's more built up than many Caribbean islands — which doesn't appeal to everyone — and it can be expensive.  
Let's dive right in and give you the details you need to decide whether to take a Turks and Caicos family vacation, and how to start your trip plan.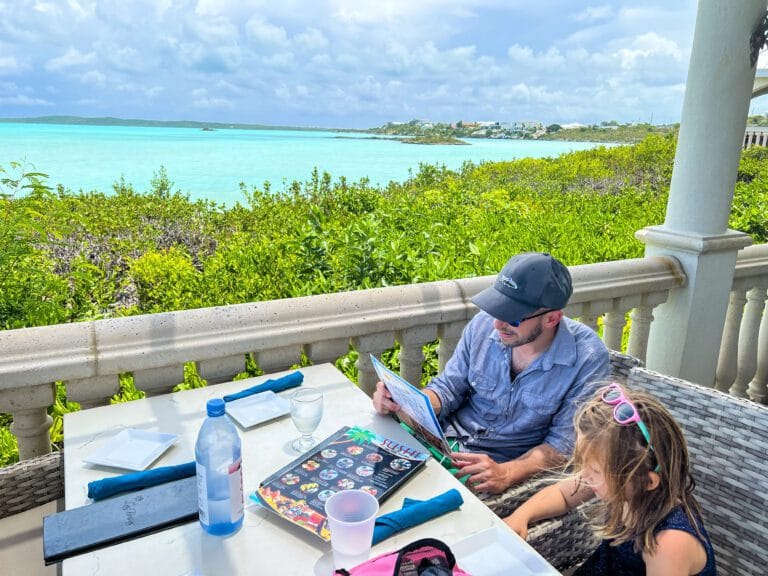 Turks and Caicos with Kids: The Basics
The Turks and Caicos Islands – or TCI – are located just south of the Bahamas.  Though technically located in the Atlantic, the island chain is considered part of the Caribbean. 
Turks and Caicos is made up of 40 small islands and cays, but only 8 of them are inhabited. The vast majority of visitors to TCI head to the small island of Providenciales – known as Provo. 
Provo is home to the three-mile long Grace Bay Beach and the most popular family resorts in Turks and Caicos.  We encourage you to spend a few days in Provos but also to consider leaving it: Our side trip to North and Middle Caicos was a highlight of our visit, and earned a prime spot on our Turks and Caicos itinerary.
Above all else, the islands of Turks & Caicos are known for their great beaches, fantastic snorkeling, and fine-dining options.  But there are a handful of fantastic casual restaurants that are great for kids, and provide a more authentic Caribbean experience.

As for where to stay: If you frequent the various family travel Facebook groups, lots of parents will recommend Beaches Turks and Caicos, an 800-room all-inclusive resort on Grace Bay. Beaches has a bit of a cult following, but it's not really our style. So we've pulled together a list of our top 7 family resorts in Turks & Caicos that are not mega all-inclusive resorts.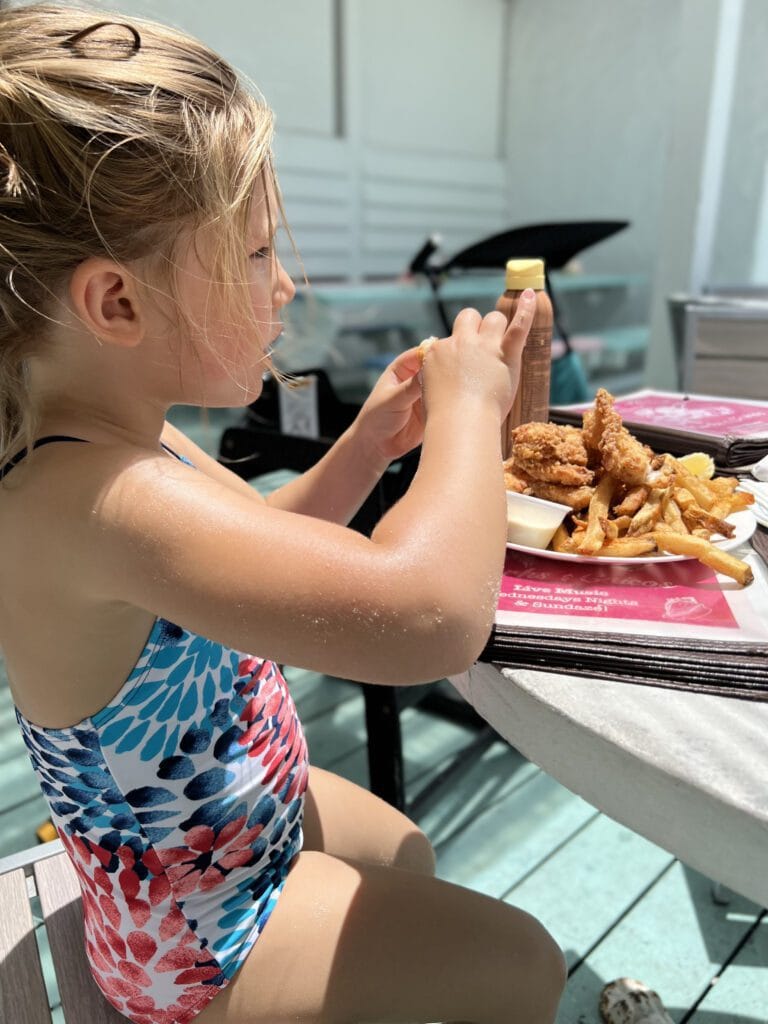 So Why Go To Turks and Caicos With Kids?
We believe each Caribbean destination has something unique to offer, it's just a matter of figuring out what it is!  As we see it, Turks & Caicos has four major things going for it for families, relative to other Caribbean islands.  Want to hit them all? Don't miss our 7-day Turks and Caicos itinerary for families! 
1. The Direct Flights
Flying time from Miami to TCI clocks in at just under 2 hours. As of Summer 2022, you can fly direct to Turks & Caicos from many major U.S. and Canadian airports, including:
Washington Dulles (United)
Newark (United)
New York – JFK (JetBlue)
Boston (JetBlue)
Philadelphia (American)
Charlotte (American)
Atlanta (Delta)
Chicago (United, American)
Miami (American
Toronto (Air Canada)
It probably goes without saying that these direct flights pique the interest of a lot of parents looking for an accessible Caribbean destinations with kids, especially babies, toddlers, and early school age kids who struggle to sit still on long plane flights. 
2. The beaches and water
For years, people told us to visit Turks & Caicos for the white sand and sparkling ocean. We were skeptical—we've seen a lot of amazing Caribbean beaches on less developed islands that seemed more our speed.  But wow. They were not wrong.  The beaches and crystal waters of Turks & Caicos give the rest of the Caribbean a run for their money. There's a reason travelers often deem Grace Bay Beach one of the prettiest beaches in the world. And the off-shore snorkeling at the Coral Garden at Bight Beach is some of the best I've seen for new snorkelers. 
3. Ease
Not only is Turks & Caicos close to the U.S. and easy to get to, it will also feel familiar when you arrive (a pro for some, a con for others).  English is the main language. The U.S. dollar is widely accepted.  Many of the hotel restaurants have a Miami/New York feel. No convertors are needed for your electronics to charge. You will never feel unsafe. And the hotels have excellent concierge services to advise you on things to do in Turks and Caicos with kids. 
4. Great hotels with suites
Sometimes it can be so hard to find a hotel with suites to fit families. (If it was easy, Mango Tree wouldn't be here!).  In Turks & Caicos, we had almost the opposite problem! There are half-a-dozen all-suite hotels right on Grace Bay Beach, with plenty of bedrooms to fit large families and full kitchens for cooking – with grocery delivery options too! 
Many have kids' clubs. Plus, the grounds are all very flat and self-contained, so your little ones can easily explore.  
Our favorite Turks & Caicos resorts with suites for families on Grace Bay Beach are Seven Stars Resort, The Palms Turks & Caicos, and The Sands at Grace Bay.  For something a little different, there's the luxury resort The Shore Club on a more remote beach only 10 minutes away. And for a Turks & Caicos hotel totally off the beaten path, head to Dragon Cay Resort on Middle Caicos.
Combined with the direct flights from the U.S., these beachfront hotels make Turks & Caicos a prime spot for an easy family getaway — especially for parents traveling with younger children.   (Older children, for their part, will really dig the watersports.) 
5. Fine-dining
Providenciales has a lot of restaurants, many in the Grace Bay hotels.  If your dream Caribbean vacation includes a lot of beach days, snorkeling, and other watersports—followed by babysitting and fine dining in the evenings—then Turks & Caicos is a great choice for you.  But don't be put off if high-end hotel restaurants are not your scene: Provo has good casual options too, you just have to look a little harder for them. 
The Downsides to Turks & Caicos With Kids  
This seems too good to be true, doesn't it?  Direct flights, kid-friendly beaches, hotels with suites and kid-friendly grounds—everything a family could want. What's the catch?  
Turks & Caicos can be 
very
expensive. Although many love it for its fine-dining, the high-end restaurants come with New York prices (or higher).  So do boat rentals and other activities.  It's also quite flat — meaning no hiking or dramatic island views. Go for the beaches and the water, not the inland activities or wildlife.  
Provo is also fairly built up: It is not a remote, untouched Caribbean destination. You have to really make an effort to get away from the hotel scene if you want real island vibes. 
You certainly can visit Turks & Caicos on a budget and get off the beaten path. You just have to be conscious of the costs and creative with your planning.  We hope our blog posts help! And if you want more one-and-one advice about your family trip Turks & Caicos, don't hesitate to reach out.  
Get Caribbean Family Travel Tips Right Into Your Inbox 
The Caribbean has so much to offer families, why stop at just one island? Don't miss our other Caribbean destination guides for families. 
And for even more Caribbean and family travel inspiration, sign up for our newsletter! We feature  new destinations and trip itineraries, highlight our favorite hotels, and offer family travel tips. Keep the travel dreams coming all year long.