Looking for the best Bonaire beaches for your family trip? (Or perhaps daydreaming about a family trip to Bonaire and wondering where to stay to be close to the island's best beaches?)
You've come to the right place.
We recently fell in love with Bonaire as a family travel destination. As you may already know, Bonaire is the smallest of the Dutch ABC Islands, off the coast of South America.
Bonaire is known for its scuba diving — not its beaches or large resorts. So many parents don't even have it on the radar as a potential Caribbean destination, opting instead to head to the more touristy Aruba.  But Bonaire has so much to offer families — including sandy beaches.
Whether you're looking for a quiet spot to relax, a stunning view with crashing waves, windsurfing, or some of the best offshore snorkeling in the Caribbean, Bonaire has a beach for you.  
This post highlights 15 of the best beaches in Bonaire, each of which has something to offer parents traveling with kids. 
Pack your swimsuit and snorkel and get ready for some beach inspiration.  
Bonaire Family Travel Resources
Before we dive in, let's be sure you have our best Bonaire resources at your fingertips.   
Did you know we have a whole collection of recommended family hotels in the Caribbean – including in Bonaire? I'll let you in on a secret, it's sort of our pride and joy. 
We've made it easier for busy parents like you to find the right Caribbean hotel for your family, with space for everyone. But don't take our word for it: Explore our collection using search filters (like room size) that we designed just for parents. 
Wishing someone else would just handle the logistics for a change? We're here for that too. We offer bespoke Caribbean family travel planning services. Our specialty? Helping parents narrow down the choices to identify the best Caribbean island and hotel for a top-notch family trip. 
And finally, want more Caribbean travel inspiration in your life? Sign up for our weekly newsletter, where we feature new Caribbean destinations and highlight our favorite hotels and family travel tips. We also share our best Caribbean destination guides for families. 
Now, pour yourself a Rum Punch and start planning your Bonaire adventure…
Map of Bonaire's Best Beaches
This map shows the 15 Bonaire best beaches, each discussed individually below.
On our virtual tour, we'll start on the east coast, with two shallow beaches that families should not miss, Sorobon Beach and Lac Cai. 
Next, we'll work our way around the Flamingo Sanctuary on the island's southern point to show you one of the prettiest, secluded beaches we've seen in a long time: Pink Beach Bonaire.
Third, we'll highlight the most popular beaches on Bonaire's west coast, near the island's town, Kralendijk, and most of the hotels, restaurants, and beaches.
Finally, we'll head up north to spend some time at the wild beaches of Washington Slagbaai National Park.
Two Items To Bring To Bonaire's Best Beaches
Before we explore these beaches, we have one important tip. There are two things in Bonaire you should always have with you. Water Shoes. And a snorkel. Many of Bonaire's beaches are rocky, especially at water's edge. Water shoes for you and your kids (which are less than $20 on Amazon) will allow the whole family to explore comfortably.
The reason for the rocky beaches? Bonaire's reef starts right next to the shore. The snorkeling from the beaches in Bonaire is the best we've experienced.  
Which brings me to my second tip: Bring your snorkel everywhere. No matter which beach you choose, you will see reef fish, coral, and more in the water.
If you never leave home without your snorkel and water shoes in Bonaire, you're guaranteed to have an amazing adventure.
Grab your beach gear FOR exploring Bonaire's beaches:
Best Beaches on Bonaire's East Coast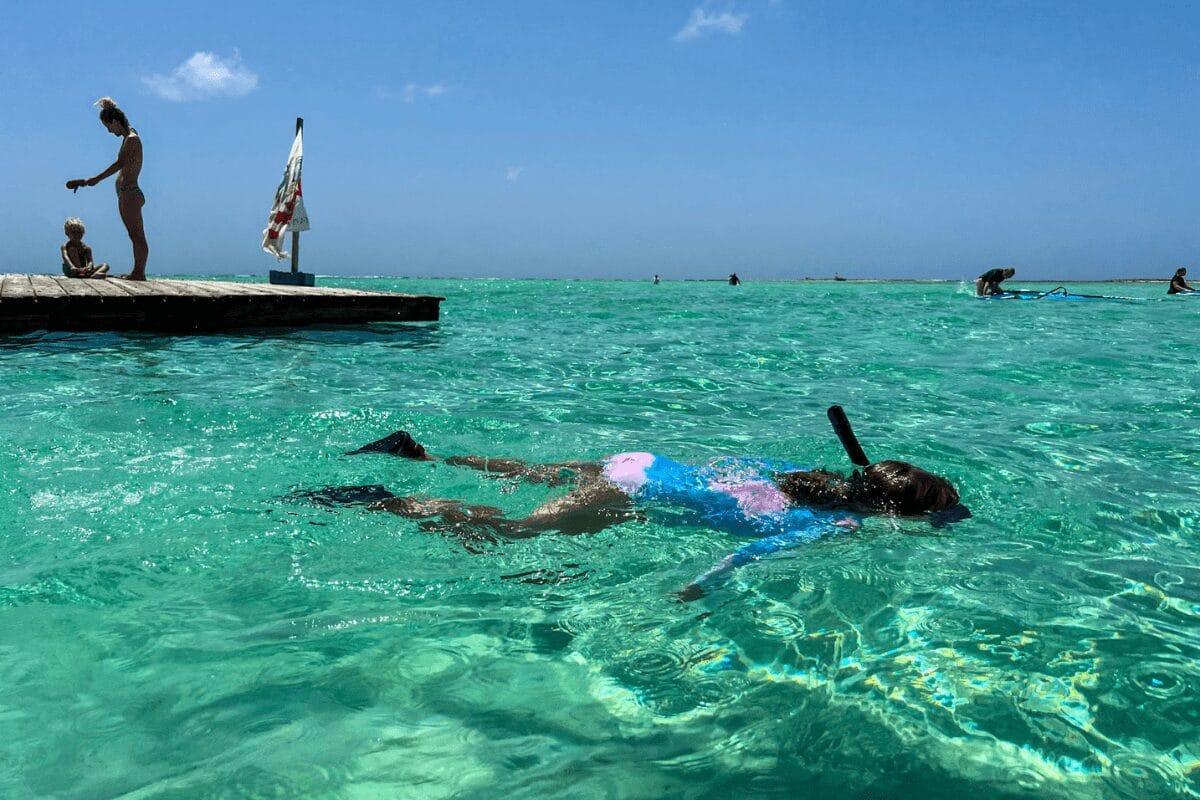 1. Sorobon Beach
We loved Sorobon Beach in Bonaire, and it's absolutely one of the best Bonaire beaches for families. Head to Bonaire's eastern shore, where a c-shaped inlet called Lac Bay creates a sheltered cove.
Sorobon Beach sits on the southern tip of that inlet, with Lac Cai beach (number two on our list) on the opposite point.  
The shallow, turquoise waters of Lac Bay stretch out as far as the eye can see, making these beaches top choices for wading and swimming. Families can wade all the way out to a swimming platform, which kids will love jumping off. Fish school underneath, so bring your snorkel out as well.  
Because of Lac Bay's shallow, clear, calm waters, Sorobon Beach is an ideal location to bring kids learning to snorkel.  (And be sure to read our guide to snorkeling with kids before you go!)  
Because of its shallow waters, this beach also is known for its windsurfing. Older kids can take lesson, while kids of all ages (and parents too!) will enjoy watching the show.
Iguanas and crabs can be seen roaming about, adding to the fun. And if you're lucky, you'll spot a Pelican flying overhead. All in all, Sorobon Beach is a great place to relax and have fun with the whole family. 
A final note: The beach has public access, but we recommend that families rent chairs or daybeds from Sorobon Beach Resort, making it a little easier to spend a day in the sun.  That's especially true for families with kids under age 5, as the area of beach in front of the hotel has little shallow areas perfect for toddler play.
2. Lac Cai Beach
Lac Cai Beach sits on the other side of Lac Bay, on the northern shore if the inlet. It's one of the most popular beaches on Bonaire, and it's easy to see why. The sparkling turquoise waters are stunning, and the beach has a great vibe.
Lac Cai hides between the lush green mangroves surrounding Lac Bay. On the way, you're likely to see groups of flamingos not far from the roadside. And when you arrive, the first thing you may notice are the mountains of conch shells. Nature at it's best.
Just like at Sorobon Beach, you can wade far out into the bay's shallow waters, making this another great beach for families.  Here too you can watch the constant rotation of windsurfers.  But whereas Sorobon Beach is great for beginner snorkelers, this would be a great place to take slightly more practiced swimmers.  Lac Cai is known for being one of the top spots on Bonaire to snorkel with turtles, but there are some currents to be mindful of.  
There's not much shade on Lac Cai beach, so bring a beach tent and lots of sunscreen.  There is one beach bar, Lac Bay Bar, where you can grab a sandwich and cold beer
Best Beaches on Bonaire's West Coast 
3. Harbour Village Beach Club 
You can sleep steps away from one of Bonaire's best beaches. 
Harbour Village is a Mango Tree preferred hotel. We simply cannot wait to go back to Harbour Village with our kids.
As for the beach at Harbour Village: It's one of the only private beaches on the island. That means no crowds.  
The beach has a calm entry, so small kids can splash around on the sand.  It gets deep quite quickly, though, heading straight to reef. Within seconds of entering the water, you'll see some of the best snorkeling we've ever seen right offshore in the Caribbean.  
The sunsets at this beach are worth writing home about.  The resort has a handful of low-lying beach chairs that you can sit right in the water to enjoy it. And hammocks dot the sandy shore for ultimate relaxation.
The hotel has 1- and 2-bedroom beachfront suites that are right on the beach, just steps away from the snorkeling — and the perfect size to fit families.  
It's the ultimate family-friendly hotel to pick as your home base for exploring all of Bonaire's best beaches! And it's absolutely the best place to stay in Bonaire for snorkeling with young kids.
4. Eden Beach Resort
The beach at Eden Beach Resort Bonaire starts where Harbour Village's beach ends. This beach is public, though, so you don't need to be staying at the hotel to spend the day here.
This – in addition to the more remote Sorobon Beach on the east shore – is one of the few Bonaire beaches with a full-service resort.  If you want to rent comfortable beach loungers, have guaranteed shade, drink service, and the occasional DJ, this could be a great place to spend the day.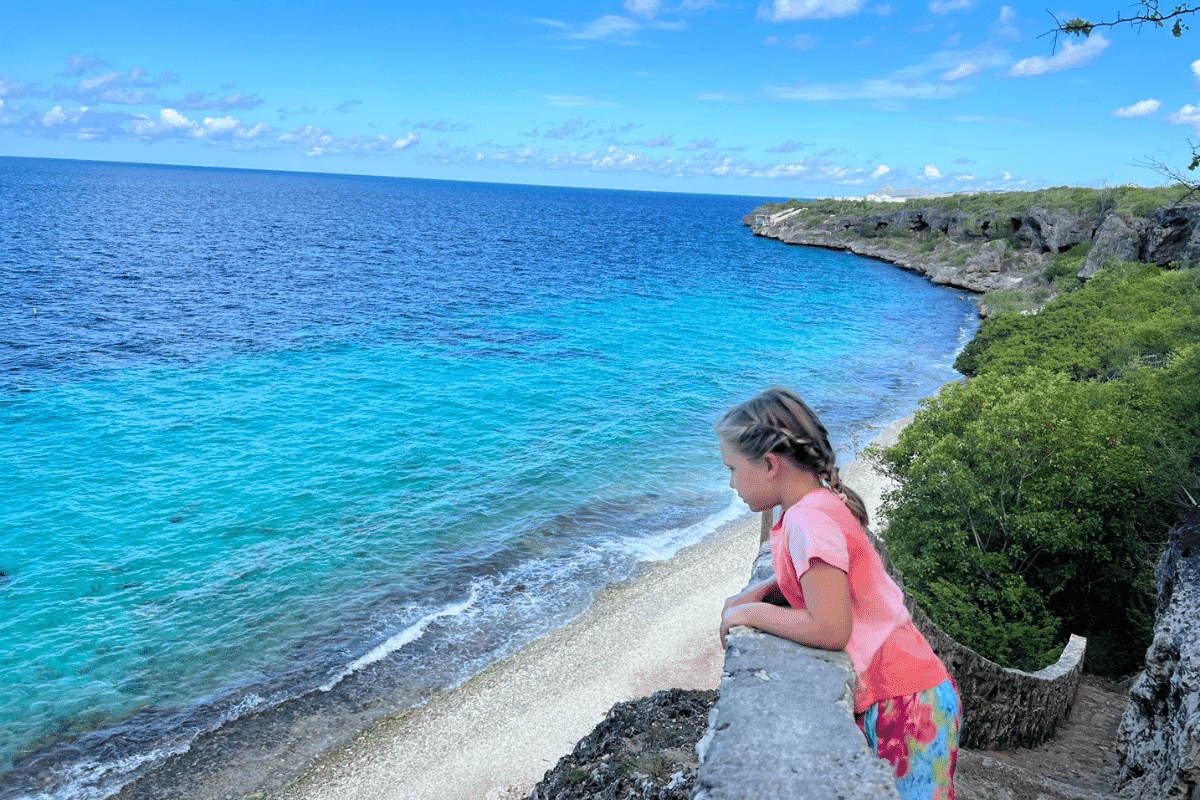 5. 1000 Steps Beach
If you're looking for a great view of Bonaire's turquoise waters, take a drive to 1000 steps beach. It's about a 10-15-minute drive north of Kralendijk. On the way there, don't be surprised if you see lizards running across the country road.
1000 steps beach gets its name from the staircase that leads down to it.  The actual step count is closer to 70 steps, but even still it can be aunting for little legs (and adult legs too!).
The view from the top is stunning. It makes you feel lucky to be in Bonaire. Don't expect a long stretch of white sand when you go down, though — this is a rocky beach known more for diving and snorkeling than lounging. Water shoes are recommended.
If you do make the hike down for some snorkeling, you may be lucky enough to snorkel with turtles, who have been known to hang out here. You may even see them on the shore.  
6. No Name Beach on Klein Bonaire
Klein Bonaire or "Little Bonaire," is a flat, uninhabited island just off Bonaire's west coast.  Wherever you are on Bonaire's west coast, Little Bonaire peeks into view, calling your name. Getting there is easy, just a 15 minute ferry from the dock in Kralendijk.
No Name Beach is a picturesque, secluded beach located on Klein Bonaire's north shore.  Like many of the beaches around Bonaire, No Name is known for its crystal-clear waters and top-notch snorkeling.  (There are many dive sites nearby.)  
What makes No Name Beach special is its secluded location. No Name Beach is the perfect place to escape the hustle and bustle of daily life. The tranquil atmosphere and natural beauty of the beach will leave you feeling refreshed and rejuvenated.
So, if you're looking for total relaxation, be sure to add No Name Beach on Klein Bonaire to your list! Just be aware that there are no facilities, chairs or shade on Klein Bonaire. So if you're traveling with kids, bring it a long — or consider an excursion to Klein Bonaire that includes them.
7. Pink Beach
If you're looking for a breathtaking kid-friendly beach in Bonaire, look no further than Pink Beach Bonaire.
Pink Beach is on the south end of Bonaire, right near the Bonaire salt flats. We recommend taking a drive to see the salt mountains, and then stopping for a swim at Pink Beach to cool off.
We were the only people around during our swim at Pink Beach. The water is sparkling and flat, great for a peaceful swim or little swimmers. There are quite a few reef fish swimming around nearby, so it's another great place for novice snorkelers to practice with great visibility.
With its unspoiled natural beauty, Pink Beach will give you a moment of true paradise.
8. Te Amo Beach 
Our next three beaches sit in a row on Bonaire's main boulevard, near the airport. All three are favorites of Bonaire visitors and residents alike. These are the best beaches in Bonaire near the cruise port, often frequented by daily visitors to the island.
First, we have Te Amo Beach, the closest of Bonaire's beaches to the international airport. Te Amo beach is right off the main road, so if you're driving along the coast of Bonaire, you can't miss it. Watch planes take off and land while you swim. And when you need to re-fuel, two of the island's most popular food trucks, Stoked Foods and Kite City Bonaire, can often be found at Te Amo beach as well.
There are a lot of things to do at Te Amo Beach, which is why it's a favorite with Bonaire residents.  On the weekends, you'll see people swimming, BBQ-ing, and lounging in the sun.  Less rocky than some of Bonaire's other beaches, there's a nice long stretch of wide sand. But as with many of Bonaire's beaches, there's a reef right off shore, so don't forget your snorkel.
The entry to the water is a mix of sand and gravel, so we advise bringing beach shows, especially for little feet.  
9. Donkey Beach 
Just a stone's throw down the road from Te Amo Beach is it's neighbor, Donkey Beach. This one gets its name from the wild donkeys that congregate on the island. Here you'll find similar vibes, with airplane views and food trucks too.  
One thing that stands out about Donkey Beach are the almond trees that create shade on it's borders, and which flower beautifully if you're on the island in spring time.
The water here can sometimes be a little bit rougher than the neighboring beaches of Te Amo and Bachelor's Beach — so perhaps best for older kids. But it's not less beautiful – another great spot for a BBQ or snorkel.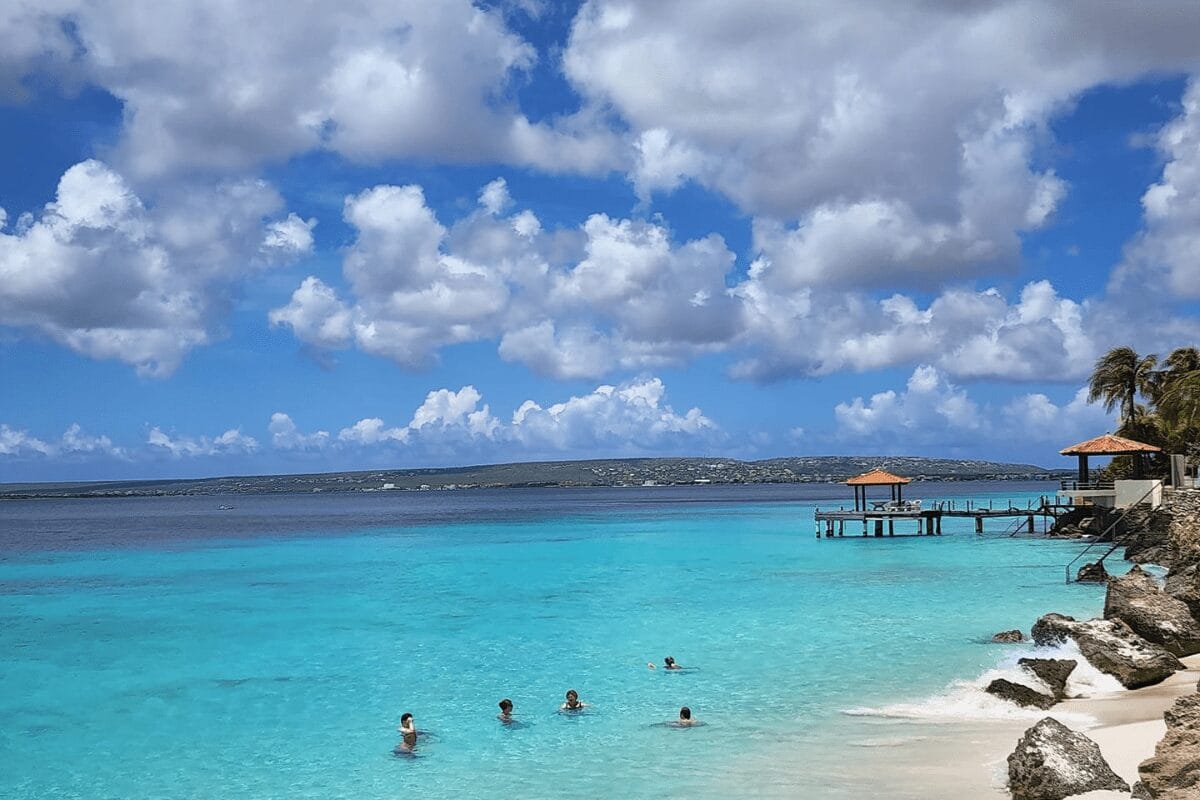 10. Bachelor's Beach
Bachelor's Beach is just a little further down the road from Donkey Beach. Yet many people never find it, as you can't see it from the road. But this is definitely a Bonaire beach worth checking out if you have time.  
A cliff runs the length of Bachelor Beach.  So once you park, you'll have to follow a set of stairs down to the water.  
At low tide, you'll step onto a small stretch of perfectly soft white sand, with an easy entrance into the water.  If tide is high, the beach will vanish, and the stairs will lead you straight to the sea.  
Bachelor's Beach is rarely crowded, and you may feel like you have Bonaire all to yourself.  Because it's sandier than many of Bonaire's more rocky beaches, it's a great place for younger kids.
Also, if you're traveler to Bonaire with new snorkelers who might need to stand up and take breaks, Bachelor's Beach is a great place to start.
Best Beaches in Bonaire's Washington Slagbaai National Park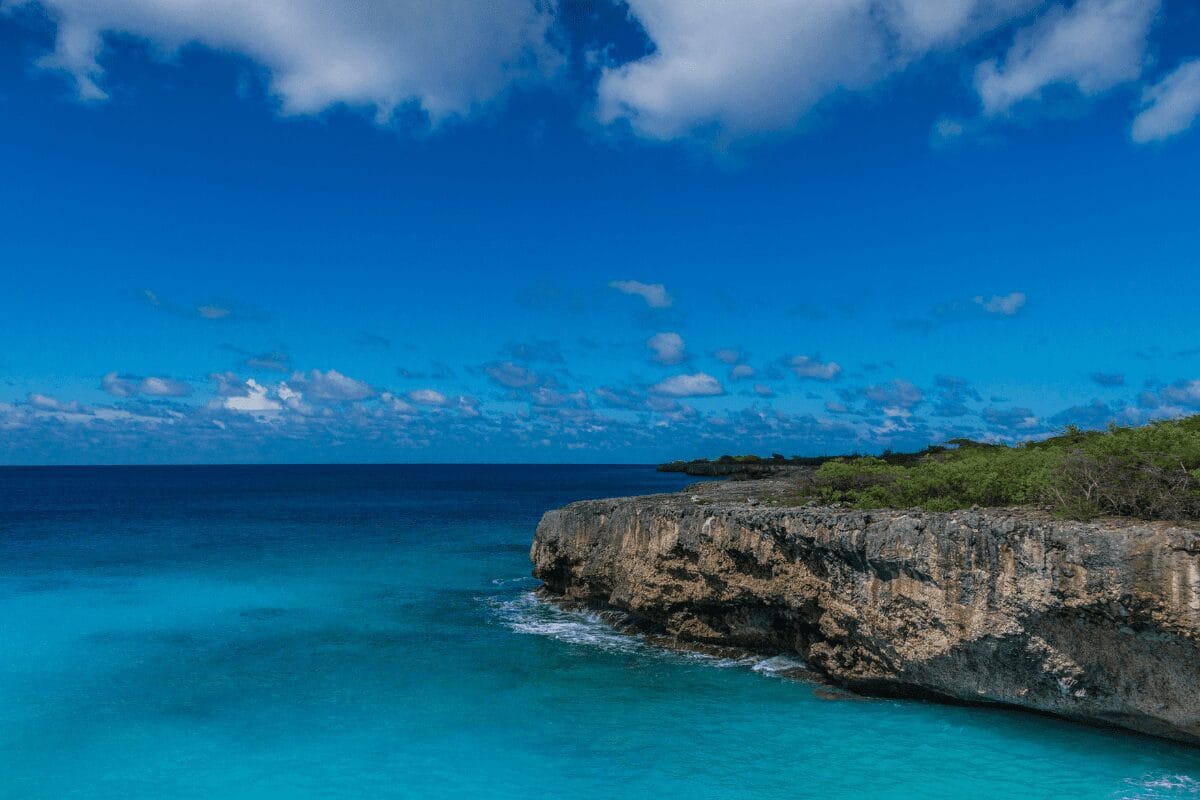 Our last few beaches are something totally different. To reach them, take a day trip to Bonaire's undeveloped side.  
Washington Slagbaai National Park covers 14,000 acres on Bonaire's northern end. It's made up of two former plantations that were turned into nature sanctuaries (the first in 1969, and the second a decade later).  
In addition to hiking, diving, bird-watching, and flamingos, the park is home to a number of unique beaches.
11. Playa Funchi
The first beach we'll cover is Playa Funchi. Head here if your kids are intrigued by lizards and iguanas. They act like they own the pebble-filled short of this beach, and won't hesitate to check you out.  
Very calm waters make this a safe beach for swimming. You're likely to see parrotfish while snorkeling.  In short, it's a great spot to stop for a swim while exploring the national park.
12. Playa Chikitu
Stop by Playa Chikitu after you've gone swimming at one of the national park's other beaches. No swimming is allowed here due to dangerous undertows.  
So why stop at this beach? The strong waves and winds form natural sand dunes – the only ones on Bonaire. Each year, these dunes provide a nesting site for green sea turtles.  
The beach is surrounded by rocky cliffs, creating a striking landscape. Take in the view, let your kids hunt for awesome rocks, and then continue exploring Washington Slagbaai National Park.
13. Wayaka Beaches
The Wayaka area of Washington Slagbaai National Park has three different beaches, creatively named Wayaka I, II, and III.
Each of these white-sand beaches is small but allows for easy entry to the water for cooling off, snorkeling, or diving.    
If you only have time to visit one Wayaka Beach, head to Wayaka II. The sandy beach is lined by a rugged cliff that creates an incredible backdrop.  The sand slopes calmly into the water, creating strong conditions for little travelers.
Perhaps the highlight — as with many of Bonaire's beaches — is the snorkeling. This site has a very shallow reef, making the reef fish extremely accessible.  
14. Kokolishi Beach
The black sand beach from Kokolishi Beach stands out from the rest. The flagship beach of Washington Slagbaai National Park, it has a dark tint that comes from crushed up shells of sea snails that have collected on its shores over the years.
As with Chikitu beach, Kokolishi Beach is not for swimming.  But it's worth a stop to see the waves crash against the volcanic rock that lines the beach.  Many visitors like to stop here with a picnic to enjoy the rugged scenery, away from it all.
15. Slagbaai Beach
Before you leave Washington Slagbaai National Park, go for a last swim at the beach that gives the park its name: Boca Slagbaai.
The calm waters here stand in nice contrast to some of the rougher beaches you'll have seen along your journey. There is a coral garden right offshore which can be fun to explore while snorkeling.
A beachfront restaurant sells sandwiches, drinks, and burgers. Picnic tables with palapas create a relaxing, shady place to unwind.
There you have it. Our round up of Bonaire's amazing beaches for kids. 
Are you ready to spend a week exploring Bonaire's best beaches with your kids?  (Yes is the right answer! We can't wait to go back.)