You're planning a Caribbean vacation, and you've compiled a list of lodging option.  Some are called hotels. Others bill themselves as resorts. You're stuck. Is hotels vs resorts an important choice?  
These two different words must mean something, right? When it comes to resorts vs hotels, is one better than the other for a trip with kids?
At the end of the day, if you and your family enjoy where you are staying, it doesn't really matter what the place is called. But the name of a place can send some pretty strong clues about what you should expect. So it's worth exploring the distinction between hotels vs. resorts to help guide your way.
And of course, we can't help but share some of our favorites of each as we go!
Caribbean Family Travel Resources
Before we dive in, let's be sure you have our best travel resources at your fingertips.   
Did you know we have a whole collection of recommended family hotels and resorts in the Caribbean? I'll let you in on a secret, it's sort of our pride and joy. 
Wishing someone else would just handle the logistics for a change? We also offer bespoke Caribbean family travel planning services. Our specialty? Helping parents identify the best Caribbean destination and hotels or resorts for a top-notch family trip. 
Hotels vs. Resorts: The Basics
While there is no bright line that distinguishes between the two, generally speaking, a hotel is anywhere that provides a place to stay for travelers.
A resort hotel, on the other hand, focuses on the amenities and experience.  While resorts are a type of hotel, resorts conjure up different images: bigger grounds and facilities, a destination in-and-of-itself with more amenities, and more entertainment for guests of all ages. They may be more geared toward longer-term stays, relaxation, and a more self-contained experience.
The easiest way to explain the difference between a hotel and resort is by way of example. Below, we give you our take on what hotels and resorts each have to offer families.  We also give you some examples of our favorites in each category, to highlight the distinction.
This post contains affiliate links from our trusted partners
Hotels or Resorts: Which Is Better For a Family With Trip?
Why resorts are great for families
This may be obvious, but having everything you need at your fingertips, especially on a family vacation, gives you a chance to focus on enjoying your time with your kids.
That's what resorts set out to accomplish.
Resorts can offer various dining options, a kids club or kids programming, waterslides, pools and grounds where smaller vacationers can run around, and activities for adults. The goal is to give you everything you need, while taking away all logistical hurdles.
Staying a resort doesn't mean you can't leave the property—but you may not want to.  If what you need is a getaway with your little one that allows for relaxation, minimal planning, and entertainment, a resort may be the one for you.
An important caveat though: When you hear the word resort, you may think of a mediocre, all-inclusive property lacking in charm. The kind of place where you could be on any beach, anywhere, with no local or culturally rich experience to be had.
It doesn't have to be that way!
Some of our favorite resorts – even though they have a self-contained vibe – give you a special experience that you cannot find just anywhere, and that is tied to their location.
Why hotels are great for families too
Sometimes, the whole point of your trip may be to spend time outside your lodgings and exploring your surroundings. These adventures are a big part of why we travel with kids, and no matter where you choose to rest your head at night, we highly recommend renting a car and getting out and about to show your kids the world.  
Often, it seems that large resorts get more attention for Caribbean trips – families associate them with a relaxing, easy, and safe tropical beach vacation.  But we love boutique hotels for travel with kids. And some of our favorites are hillside or in-town Caribbean hotels – especially on islands that have lots of beaches, rivers, and activities to see!
If you have the energy for a little more adventure on your family trip, you may not want to pay the premium for the amenities of a resort. Instead, you can think about a "hotel" as a better fit – even in the Caribbean. There may still be a restaurant, a pool, and great staff – but perhaps not the same level of programming and entertainment. 
But that's OK. You're just looking for a comfortable home base from which to connect with the place around you.
Mango Tree's Recommended Resorts and Hotels For Family Travel
Nearly every Caribbean island has a resort experience to offer.  Some islands – like Jamaica and Dominican Republic – are known for their large, all-inclusive resorts.  But other, less frequented islands offer their take on resorts as well, creating a relaxing experience from start to finish.
In addition, if you're more inclined to explore an island beyond a resort's walls, you'll find that in the Caribbean too.  
Whatever experience you are looking for – the relaxation of a "resort," the immersion of a "hotel," or some combination of the two – Mango Tree has got you covered.  Don't miss our top tips for finding the best hotel for your family. And if you want us to find it for you, it's sort of our favorite thing to do! 
If you're more of DIY kind of travel planner, then keep reading for some of our favorite resorts or hotels around the region! 
Baoase Luxury Resort – Curacao
Baoase Luxury Resort in Curacao is truly an oasis. With a sheltered lagoon, soft sand with a tinge of pink, restaurant tables right on the sand, and the most comfortable sun loungers we've ever sat in, it was near impossible to leave the beach. The attentive staff made sure we had everything we needed, at all times. 
There are lots of reasons to pick Curacao for a family vacation but experiencing this luxury boutique hotel as its own destination is one of them.  (And if you want to shave a little off the price tag, remember that Curacao is a top island to visit in Caribbean off-season, being outside the hurricane belt.)  
While you can leave the resort to explore, you don't have to, and may not want to.
Spice Island Beach Resort – Grenada
Another resort that stands out is Spice Island Beach Resort in Grenada.  This 64-room, boutique-style hotel has a near-perfect location on Grenada's best beach, spacious beachfront family suites, two beachfront restaurants, welcoming staff, colorful kids' club, and rave reviews.
This is a luxury choice for a resort, with a high price tag to match, but a worthwhile one if what you're seeking is true tropical relaxation. Your biggest adventure may be to walk down the beach to a beach bar. But if you want more, you'll have all Grenada's natural and cultural attractions at your fingertips, too. 
XBalanque Resort – Roatan
Resorts can come in small sizes too. Xbalanque Resort in Roatan, Honduras, has only 12 spacious hotel rooms – hardly an expansive all-inclusive. But that doesn't mean it is not a stunningly decorated, relaxing spot for families of all ages. There is a beautiful and delicious open-air restaurant located on-site, and a private jetty for snorkeling.
We love Roatan as a destination for a family trip. From XBalanque, you can leave the property to explore — and we think you should to hit Roatan's top family-friendly sites.  But there will be days where you may not want to, and XBalanque Resort makes it easy to stay put.  
Hotel Las Islas – Baru, Colombia
Sometimes names can be misleading, and the traditional distinctions between hotels vs. resorts may no longer apply.
Take Hotel Las Islas in Baru Colombia, for example. It's a lush, private property where you can stay in a bungalow right on the Caribbean Sea, enjoy a private beach with calm, crystal-clear waters, have sunset cocktails in the forest canopy, and then enjoy fantastic local cuisine. You're a long way from the sights and sounds of neighboring Cartagena, but that is the point!  
While it doesn't call itself a resort, it offers a self-contained, magical experience.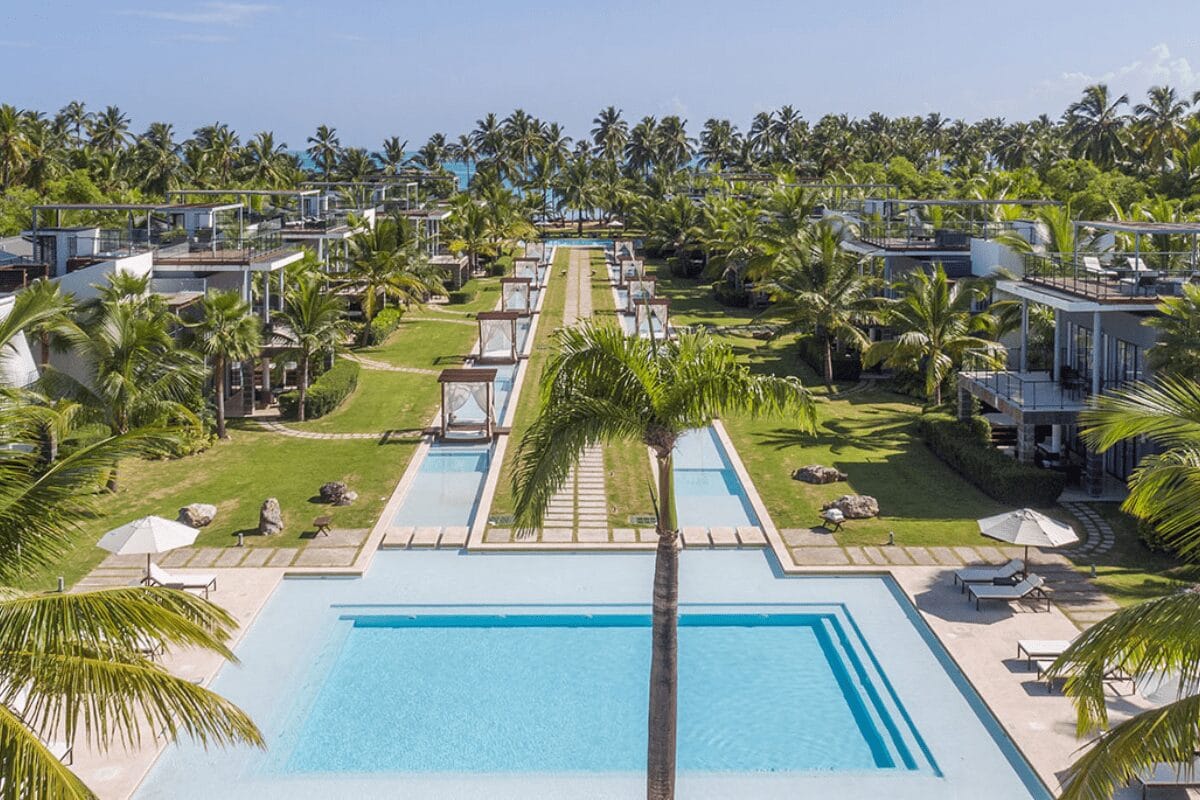 Sublime Samana Hotel & Residence – Dominican Republic
Another of our recommended hotels seems not to fit its name. Sublime Samana Hotel and Residences in the Dominican Republic may call itself a hotel, but with a network of interlinked pools, two restaurants, and an all-inclusive package that cover meals, and tons of activities, this absolutely offers more a resort vibe.
The hotel offers an exceptional deal for non-refundable rooms so, if you're willing to commit, the multi-bedroom suites are among the most affordable you'll find for a luxury Caribbean stay.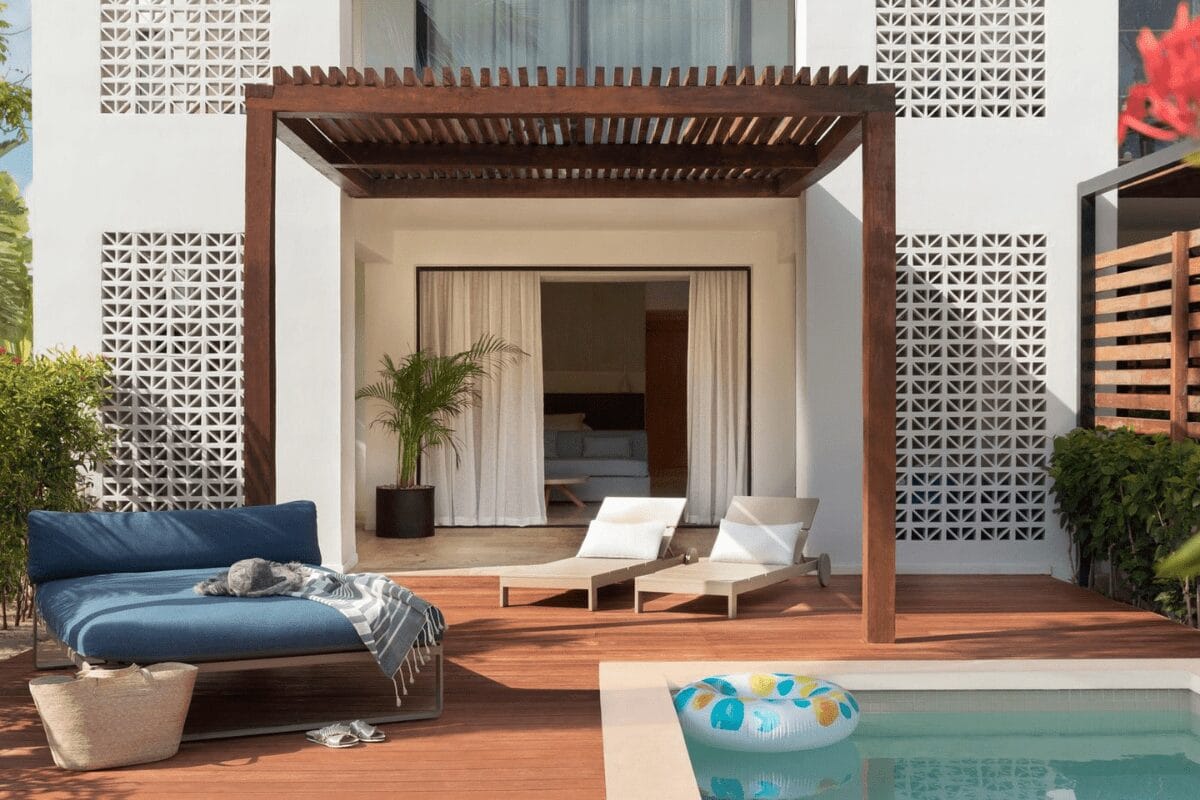 Finest Playa Mujeres – Mexico
And then of course there are the traditional "all-inclusives," which don't have to be blandly overwhelming. The Finest Playa Mujeres offers an upscale all-inclusive experience with great design, surprisingly good food, and a kids' club, among other touches. It also has rooms with private pools, for a luxurious touch. It's everything you could like about a resort experience, while still having a sense of place.
These options would all give you and your kids space to explore and play while also providing ample opportunity to relax. And because everything is on property, and right at your fingertips, they may also take some of the planning out of your trip, which we know can sometimes be a huge relief.  
The Boutique Hotels of Cartagena
Let's say you've made it to Las Islas in Baru, and spent a few days relaxing at a waterfront bungalow. Rather than spend your whole time at a self-contained resort by the beach, you could split it with one of the luxurious boutique hotels in the charming old city of Cartagena.
Kids will love touring Cartagena in horse-drawn carriages, hearing guitar players in the squares, and stopping for handmade popsicles right around the corner. You can't go wrong with any of the hotels we recommend in the city center.
S Hotel Jamaica
For something a little different, the S Hotel in Jamaica is as straightforward as they come – one chic pool, one hip restaurant, and all the vibes you can handle. But even though S Hotel offers an all-inclusive experience, it's definitely more of a homebase for exploring the local beach scene and the rest of this island's natural beauty and vibrant culture.  
And if swimming with horses is on your Caribbean bucket list, Montego Bay is a great place to do it! 
Hotel L'Esplanade – St Martin
Hotel L'Esplanade in St. Martin is a top example of a Caribbean hotel – not resort – that offers a relaxing experience while still taking you outside the resort walls.  It sits on a hill walking distance from the fishing village of Grand Case, which also happens to be the culinary capital of French St. Martin.  The hotel does not have it's own restaurant for dinner, but you're just a 5 minute walk from some of the island's best food.
French St. Martin has a lot to see and do, and dozens of amazing beaches. It's the kind of island where you'll want to rent a car to explore — and the ease of getting around is why we think St Martin is one of the best Caribbean islands for families. 
Hotel L'Esplanade is well-placed for exploring the island's gorgeous beaches and other sights, with great balcony views to come home to each evening, and a welcoming staff that makes you feel right at home.
We hope these examples help you see that the Caribbean offers something for everyone, with resorts and hotels of all shapes and sizes, at various budgets, suiting all different families.  
Whatever experience you are looking for – the relaxation of a "resort," the immersion of a "hotel," or some combination of the two – Mango Tree has got you covered.
Reach out let us help you find the right one!
Travel Insurance for Caribbean Adventure
Once you make your decision between resorts vs hotels for your next family trip, make sure you have trip insurance in case things don't go quite as planned.  
We suggest getting a quote from IMG global. The Travel SE plan will offer sufficient coverage for most family trips. And we like it for the Caribbean in particular because, on top of having comprehensive medical, cancellation, and luggage protection, the hurricane protection is better than most. If NOAA issues a hurricane warning or watch for your destination 24-72 hours before departure, trip cancellation benefits kick-in (read the fine print for all plan details, of course).  
We're also intrigued by Faye, new player seeking to revive the travel insurance space and improve the traveler experience. Faye provides coverage quotes in minutes and prioritizes excellent service. It has an easy-to-use app for claims processing, speedy reimbursements, and 24/7 travel assistance. They cover flights and have a vacation rental protection add-on. Their focus on making life easier for their travelers resonates with this busy mom!
Get Caribbean Family Travel Tips Right Into Your Inbox 
If you found this post helpful, don't miss our other Caribbean destination guides for families. 
And for even more Caribbean and family travel inspiration, sign up for our biweekly newsletter! We feature a new destination each month, highlighting our favorite hotels and family travel tips. Keep the travel dreaming coming all year long.