Staying in a hotel with a toddler can be a daunting undertaking. There are quite a few logistical challenges to navigate: Where will the toddler sleep? What time of room should I book? Should I bring my own crib? Where will I relax after bedtime?
You're not alone in asking these questions.
The truth is, many parents shy away from staying at a hotel with a toddler, opting instead for an AirBNB or apartment rental. While that may sometimes feel like a safer choice, here at Mango Tree we truly believe that toddler moms deserve to – and CAN – have a good hotel experience too.
We've traveled extensively with two toddlers, including on several international trips.  We've had good hotel stays and bad. Through it all, we have found a few key travel tips and tricks that set us up for success, including tips for picking the right hotel for families.
These are our top tips for staying at a hotel with toddler, which we hope will make your life just a little bit easier, and motivate you to book that hotel with confidence!
Top Family Travel Resources
Before we dive in, let's be sure you have our best family travel resources at your fingertips.   
Did you know we have a whole collection of recommended family hotels in the Caribbean? I'll let you in on a secret, it's sort of our pride and joy. 
We've made it easier for busy parents like you to find the right Caribbean hotel for your family, with space for everyone. But don't take our word for it: Explore our collection using search filters (like room size) that we designed just for parents. 
Wishing someone else would just handle the logistics for a change? We're here for that too. We offer bespoke Caribbean family travel planning services. Our specialty is helping parents like you narrow down the choices and identify the best Caribbean island and hotel for a top-notch family trip. 
Now, pour yourself a drink and let's get real about toddler hotel stays…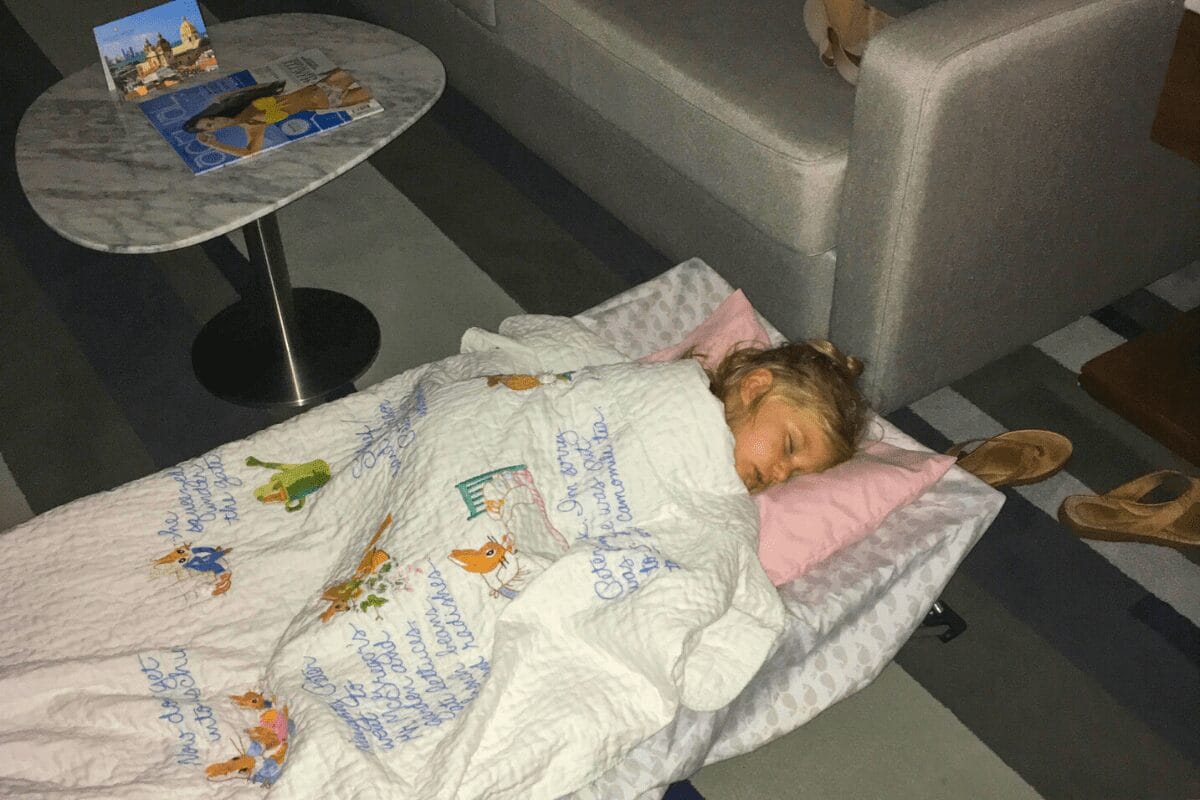 Staying In Hotel With Toddler: Survival Tips
1. Book a suite with space for your  family
Toddlers can be sensitive sleepers – and they always want to know what's going on!  They also tend to go to bed earlier than mom and dad. You need somewhere to put them to sleep where they won't be distracted.  
Having a separate sleeping space when staying in a hotel with a toddler will really make a difference to the overall quality of your trip. The same is true for babies, as you'll see in our post about maximizing baby sleep when traveling.
In our opinion, the baby and toddler years are really the time to prioritize booking spacious hotel rooms. Ideally, that would mean a separate bedroom for your toddler.  (But don't worry, more tips below if that's not in the budget!)
A word of warning, though: It's not just size that matters. A honeymoon suite won't do if the bedroom is huge but there's nowhere for the kids to sleep.  Find hotels with family suites, ideally with multiple bedrooms
2. Think creatively about sleeping spaces
If your desired hotel doesn't have a family suite with a bedroom for your toddler – or if a suite isn't in your budget – be creative when thinking about sleeping spaces.  
One-bedroom suites with a separate living room have always worked well for us when traveling with a toddler, and even with two kids. The living room doubles as the kids' bedroom.  
Some nights, we put the kids to sleep in the living room, and retire to the bedroom immediately – exhausted after a day of fun.  Other nights, we put the kids to bed in the bedroom, hang out in the living room until we're ready for bed ourselves, and then move them to the living room when we're ready for sleep.  
If you do it right, kids almost never wake up during that transition.  Our tips?  Get the living room fully dark and prepared for bedtime. Do a quick move, with the lights mostly off.  Then shut the door before turning on the bedroom lights for yourself. If your toddler does wake up, they will go right back to sleep.   
We were delighted recently, for example, to find The Dunmore Hotel in the Bahamas, which has junior suites with little alcoves with daybeds for relaxing. Those daybed nooks could provide a great separate space for a travel crib or inflatable toddler mattress.
Same goes with S Hotel Jamaica. This property has amazing, luxury bathrooms – which frankly, are as big as my son's nursery at home.  But at night, a blackout shade can be pulled down to divide the bathroom from the bedroom, and to darken it fully. It made a great bedroom for our toddler, with plenty of space for his travel crib.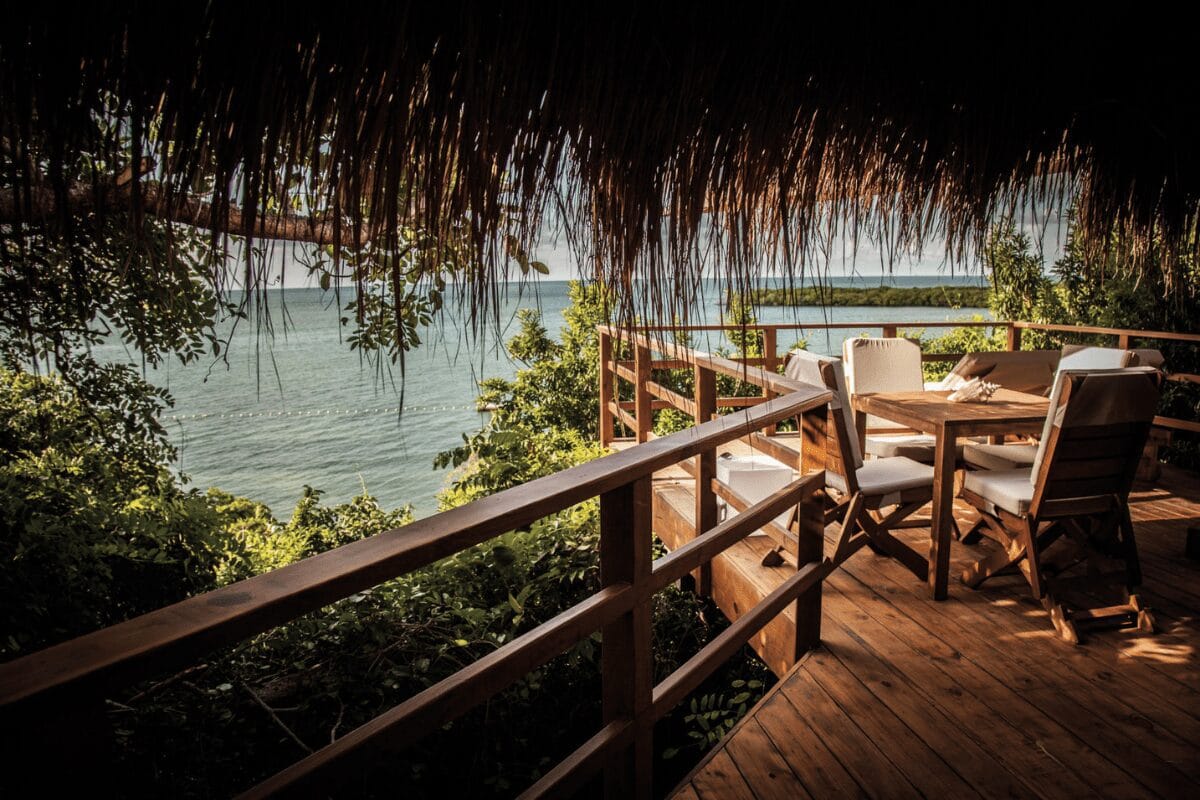 3. Plan ahead for darkening the room
There's no worse thorn in your side on vacation than an unwanted sunbeam at 6am. At home, you may go to great lengths to keep your baby's room dark. Take steps to do the same at a hotel.
This travel hacks blog post from Happy Mom Hacks has great ideas tips for little thing you can pack to help get a hotel room ready for your toddler. It includes things like binder clips, clothespins and painters tape (good for toddler proofing, but also for taping things to the windows to block the light).  These items take up minimal space in a suitcase, but can come in handy for so many ways.
Packing a Slumber Pod or other crib canopy – two products designed to create a safe, dark sleeping space over a travel crib – is another great option.
our favorite sleep products for a toddler hotel stay:  
SlumberPod: Create a separate, dark sleeping space for your baby
Crib canopy: Fits over small travel cribs to darken the room
Baby Bjorn Travel Crib: We love this lightweight travel crib so much. 
Want to travel light for a change? Rent everything you need from Baby Quip at your destination!  
4. Pick a room with private outdoor space
When traveling with littles, you always want to be sure you have somewhere to relax after bedtime. In warm weather destinations, especially on a longer trip, you will be much happier if that space is an outdoor space.  
A small balcony is fine, but a terrace or larger balcony with a view is better.  Assuming you will spend time in this space most nights during your vacation – and some naptimes as well – you are going to want to enjoy it.  As your kids get older, this might go down a notch on the travel wish list. But at this particular phase, outdoor space is key.
A room with good outdoor space is one of the first things we look for when picking a family-friendly hotel with young kids.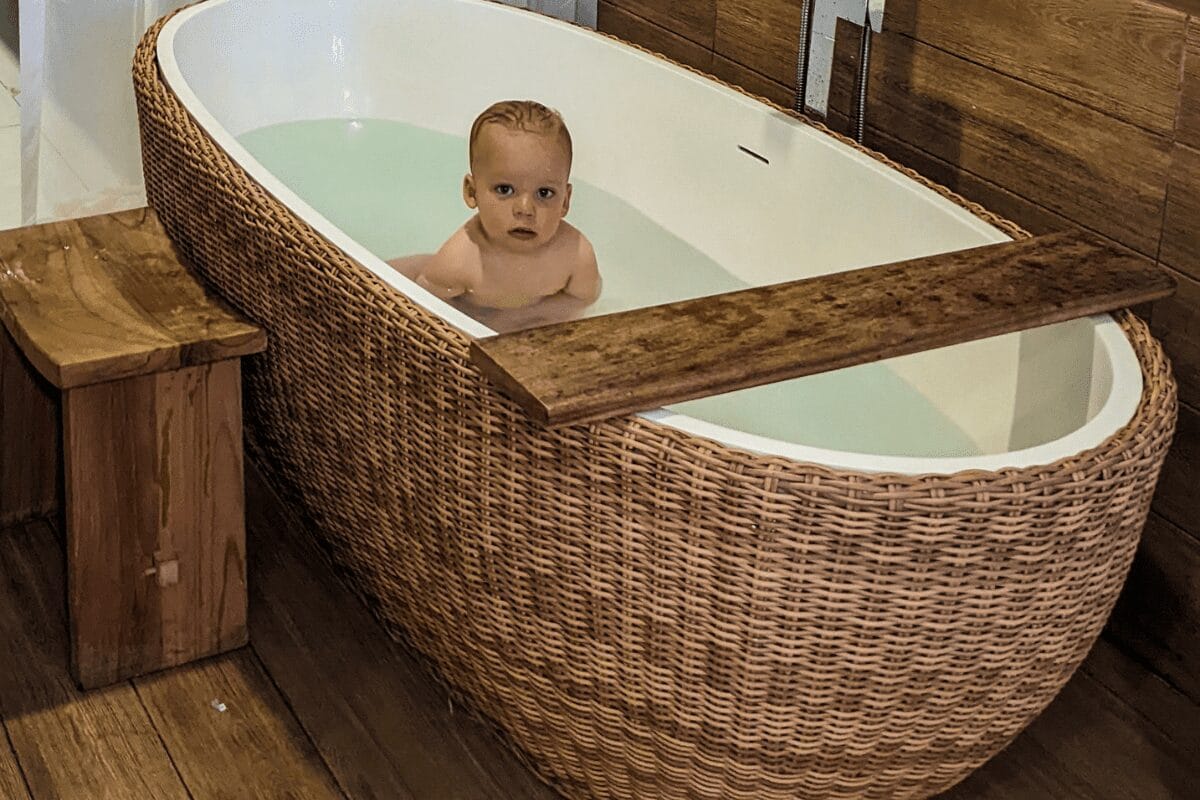 5. Be aware of the bathtub situation
I am constantly frustrated that hotels do not provide helpful bathroom photos online.  Is there a bathtub? Is there space to put a travel crib?  What are we dealing with here?
Do not assume your hotel room will have a bathtub if it's not shown or specified in the room description.  It can totally throw you off if you arrive on vacation with a toddler, see only a shower in the bathroom, and realize you have no plan for accomplishing bath time.  
In our experience, when staying in a hotel with a toddler, most do just fine with a shower. You can handle this in a couple of ways. If you know it's coming, practice at home. Give them a washcloth to cover their eyes and minimize the panic of the overhead shower blast.  
Also, kids can just sit in the shower a bit away from the water stream. Use a cup to and washcloth to clean them up without a constant flow. 
If this all sounds miserable to you, then you should ask your hotel if they have rooms with bathtubs. Some hotels have a few rooms with bathtubs, even if not specified online. You can request that room ahead of time.
If a bath is part of your nightly routine with your toddler, and the idea of staying in a hotel without one causes you stress, factor that into your hotel choice. The best thing to do when staying in a hotel with a toddler is to minimize your stress points, whatever they may be.
6. Pick the ground floor on beach vacations
When you're considering a hotel for a beach vacation – whether it's a big all-inclusive resort or a smaller hotel in town – look to see whether there is a ground floor room. If the hotel doesn't specify which rooms are on the ground floor, call and ask if you can be put in a ground floor room. (Or book through us and we will!)
What's the rationale here? Well, ground floor rooms tend to have nice outdoor space for relaxing after bedtime.  Second, having an elevator that stands between you and the fun can be extra annoying with a toddler. You forgot a toy? You have to go back up the elevator.  Need a quick diaper change or a snack? The room feels so far away.
A ground floor room relieves a lot of the stress of staying in a hotel with a toddler. You can worry a little less about packing your beach bag perfectly, or making sure you have all the right toys each time you leave the room, when popping back to the room isn't a huge ordeal.
And even beyond that, imagine your mornings on vacation. If you're on the ground floor, perhaps you can sit on your terrace in your great new bathing suit, sipping your morning coffee like a true vacation — as your child explores independently within eyesight.
One of the reasons we love small, boutique hotels with kids – rather than mega resorts – is because they often have more ground floor rooms or cottages.  We always would prefer being close to our room in a small hotel than having to find our way up a large hotel tower.
7. Make sure you have a fridge  
Toddlers require snacks. You know it.  We know it. And if we've learned one lesson in the years traveling with my kids, it's that having familiar foods on hand can make a huge difference during tough transition moments.  
Not only that: The timing of breakfast when staying at a hotel with a toddler can sometimes be a challenge. For example, our 22-month old son always wakes up early the first few days of vacation, but sometimes hotel breakfast doesn't start until 7:30 or 8am.  
So begins the panic of figuring out how to tide a hungry toddler over until breakfast starts. Having a banana, yogurt, or even just a glass of milk, on will make the breakfast experience much more relaxed once you get there.
When we arrive at a new hotel, we always give some thought to the first morning ahead of us: When does breakfast start and, if it's after 7am, do we have something in our room to get us to 7am if we need it? Most hotels will be happy to give you some milk, fruit or snacks for your room on your first night to have handy that next morning.
8. Don't be afraid to rearrange the furniture
Sharp-edged coffee tables? Move them against the walls. Need to create a diaper area, or play space for your toddler to keep him or her distracted for a few minutes? Great idea.  
When you get to a hotel room with a toddler, take quick stock of how the room might be better arranged to accommodate your family. Don't be afraid to make those changes.  
9. Keep the room tidy and organized
As a solo traveler, I almost never unpacked. Maybe I would put my nicer dresses away in the closet. But it never bothered me if my clothes ended up staying in my suitcase, or loose around the room.  
We all know that kids amplify the mess. Toys, laundry, clothes, trash – all of these things have a tendency to get everywhere.  When traveling with kids, to keep your mind clutter-free, take the extra few minutes to unpack.  
My personal approach? Most mornings, I send my husband ahead to breakfast with the kids for 5-10 minutes while I get us organized to tackle the day ahead. I take a few minutes to re-pack the beach bag, tidy up the room, and make sure I have my head on straight.  This little routine makes a big difference in my mental state, setting me up for success.
One thing that makes organization easier? Packing cubes. They have saved my mom-brain from going into total overload on numerous occasions, helping me to keep things organized.  Not only do they keep my suitcase organized, but they make it much easier to put each kids' clothing away on arrival. (We've included a stylish set on our gift guide for traveling moms.)
Need some last minute packing help? These 3 products have helped us survive the toddler travel years:  
Packing cubes: We can't get enough packing cubes in our life. 
Munchkin Disposable Diaper Pail: Keeps the hotel room smelling clean and fresh
Tush Baby: Our favorite toddler travel accessory, perfect when little ones want up and down.  
Packing tip? Pack your toddler's clothes inside the travel crib bag. There's always extra space. 
10. Ask for an upgrade
Maybe you booked through a great travel advisor and are first on the upgrade list (hint, hint – shameless marketing there, it's true).  But really, even if you didn't, don't be afraid to ask!  Maybe they'll say no but what's the harm in trying?
Our suggestion: Call the day before, or the morning of your trip to ask, rather than wait until check-in.  They may tell you a bigger room if available for an additional charge, and you can apologetically say that paying for more space simply isn't in your budget.  But then you could try again at check-in.  
Here's something we really want to emphasize:  People often ask us whether we recommend making reservations through a third-party booking site like hotels.com or Expedia. We do not.  And that's because, when you book through those sites, you immediately end up at the back of the line for perks, upgrades, or customer service priority. Especially for major trips and vacations, we always recommend booking through a trusted travel advisor or direct with the hotel.
11. Bring your own travel crib
It's lovely and thoughtful when a hotel provides cribs. But sometimes relying on the hotel crib can introduce problems you didn't expect. Two examples come to mind.
First, we traveled with friends to Jamaica who were excited not to have to pack a crib.  But the crib provided by the hotel was huge!  Their room had two bathrooms. One of them would have been perfect as a dark bedroom for their toddler.  A small travel crib like the Baby Bjorn Travel Crib would have fit, but the hotel crib did not! Their toddler ended up sharing their room instead, which could have been avoided.
Second: You never know what kind of blackout situation you're going to get in a hotel. While hotel bedrooms typically have black-out blinds, that might not be the case if you opt to put your little one in the living room. We always travel with a snooze shade so we can create a dark sleep environment – but it sometimes won't fit over a hotel crib. If darkness is critical to your toddler's sleep, that's a problem. 
With your own travel crib, there are no surprises, and you know you can create a good sleep environment when staying in a hotel room with a toddler.
You can't go wrong with the Baby Bjorn Travel Crib – So light and easy to use. 
We much prefer it over hotel cribs.
Frequently Asked Questions
What If Your Toddler Won't Sleep In The Hotel Room? 
The best thing you can do to get your little one to sleep in a hotel room is to mimic your toddler's normal bedtime routine. That might include a bath, books, or something else. Whatever it is, make time for it, especially the first night. Often, on the road, we try to rush bedtime because we've had a long day. But taking a few extra minutes to help your toddler wind down can make a huge difference!   
Do Hotels Have Cribs For Toddlers? 
A lot of hotels offer cribs for babies, but not all of them.  And even the hotels that offer than can't always guarantee there will be one available. Even though it might seem easier and more convenient to use a hotel crib on the road, we always recommend traveling with your own Baby Bjorn Travel Crib so you know what you're getting.
If you really want to lighten your load, consider renting a travel crib at your destination from a trusted provider, such as Baby Quip.
So there you have it! Our ten tips for surviving a hotel stay with your toddler.  Want more family travel and toddler travel tips?  Check out our best family travel tips and resources while you're here.