When we become parents, many of us assume that our days vacationing at chic or special hotels – the kind of hotels with a true sense of place – are over.  Must we now exist only in the land of the "family-friendly hotel" (read: all about the kids) or the VRBO rental?  Nice hotels, we figure, are only an option for the rare getaways, rather than part of the experiences we can share with our children.
Is there a little voice inside your head that's hoping maybe, just maybe, you can still enjoy unique and authentic hotels, even as a parent?  Let's make that voice louder.  I want to redefine the term "family-friendly hotel" to mean a hotel the whole family can get excited about.  Once you determine what makes your family tick, let us help you find the perfect hotel for your family. 
FAMILY-FRIENDLY HOTEL: SOMETHING FOR EVERY FAMILY MEMBER
Finding the right family-friendly hotel (different from family-focused resorts, which have their time and place) can set us up for a vacation that we can look forward to and enjoy together with our kids. For many of us, a unique hotel can generate excitement about the trip in a way that mediocre all-inclusive and brand-name suite hotels do not. 
When traveling as a family, our hotel choice can set the stage for the entire trip.  Hotels that welcome kids can make our little ones feel included and important. Choosing a hotel that appeals to our adult tastes as well, though, means we don't have to sacrifice our own vacation in the name of parenthood. That, in turn, lets us actually enjoy the adventures and time away with our kids. 
Finally, and maybe this goes without saying: The right kid-friendly hotel is a place where the whole family can sleep peacefully and comfortably while away from home. 
With two young children, here's what I look for in a family-friendly hotel.
FAMILY-FRIENDLY ROOM CONFIGURATIONS
Here's what no parent wants: To be hiding in the dark in a hotel bathroom at 8pm, with nowhere to sit, while our kids struggle to fall asleep on the other side of the door.  
Families need space to spread out. We also tend to spend more time in our hotel room than adult-only travelers because our kids need breaks and naps and wake up early – sometimes hours before it's time to explore. As a result, the right hotel room configuration is key. 
The "right" hotel room setup obviously means different things to different families, depending on a few factors: age and number of kids; whether the kids sleep in cribs or beds; whether they sleep well if they can see mom and dad, etc. But for all families, a little extra space – and a separate area that works as a sleeping space for children – goes a long way. So does a private patio or balcony where parents can unwind while kids are sleeping. And, although we can get away without a full kitchen, a mini-fridge or kitchenette for storing milk, snacks, and early-morning breakfast foods is a big help (and saves money). 
By way of example, one of my favorite hotel stays was with our daughter, age 3 at the time, in the Junior Suite at Casa San Agustin in Cartagena.  The hotel room not only was spacious, but the layout provided plenty of sleeping space for everyone. The pull-out couch faced away from the bed, which created separation. There was an enormous bathroom that could fit a travel crib with no trouble. We were happy to take breaks from the bustling city outside to rest in this beautiful space. We were able to keep a relaxed vibe throughout the trip – all because we made the right hotel choice
Warm and welcoming staff
Everyone responds well to being treated like a VIP on vacation – kids included!  When hotel staff go out of their way to welcome our children as guests rather than baggage, then our children feel comfortable.  In turn, when children feel empowered and confident, good behavior often follows.  
I find that it is the family-friendly hotels with local and welcoming staff that I want to go back to time and again — and recommend to other traveling families. At Hotel Las Islas, for example, a treetop Caribbean oasis off the coast of Colombia, the concierge gave my daughter a small stuffed animal on arrival. A small gesture, but one that made her trip, and set her up to be an appreciative and polite guest.
How do you know in advance if a hotel will have great staff? When TripAdvisor reviews uniformly emphasize that the hotel staff were key to making a trip enjoyable, I take that as a great sign. 
SMALL HOTELS – SKIP THE HIGH RISES
When traveling without children, we can grab a bag, leave the room, and wing it if the unexpected arises.  And we hope that is does! On a family vacation, though, we find ourselves needing to run back to the room to use the bathroom, grab a snack, collect a forgotten pool toy, or give the kids a break from the sun. That's much easier when the room is a short walk away, rather than a trek through the lobby at a huge resort, a 20-flight elevator ride, and a hike down the hall. 
What's more, smaller boutique hotels tend to be designed with more interesting room configurations that fit families. They also tend to check many of the other family-friendly boxes on this list. To be sure, there is a time and a place for large resorts with waterslides, kids' clubs, and multiple swimming pools.  But those perks are not necessary for kids to enjoy a family vacation. In my experience, it is sometimes easier to relax at a smaller, charming hotel with a local connection and fewer distractions. 
A great example of this is Wylder Hotel on Tilghman Island in Maryland – a boarding house turned boutique hotel.  Most of the hotel's 50 rooms have direct outdoor access so you're never more than a 5-minute walk from your room.
Good dining options
Before kids, an on-site restaurant was not on my hotel priority list.  But on a family vacation, there will always come a moment where we need to quickly and easily get food for our children. When we're in an exotic location, though, it can feel like a waste of a meal to eat at a cookie-cutter hotel restaurant.  That's not the case when the hotel restaurant is one of the best in town (as is the case with Alma, the restaurant at Casa San Agustin) or serves up delicious local flavors (as we experienced at Bequia Beach Hotel's Bagatelle restaurant). 
Plus, when traveling with kids who go to bed early, we sometimes want to eat dinner or order room service after the kids to go bed. That way, we can enjoy a few minutes of adult-vacationing with a glass of wine or cocktails.  Instead of feeling like we're missing a fun experience by being cooped up in our hotel room with kids, good dining options make evenings at the hotel part of the fun.  
A kids menu is nice, but not a must-have for us.  We find that most hotel restaurants can come up with something simple for our kids if we just ask.  
A breakfast buffet
With or without kids, I have a soft spot for a great hotel breakfast. But I especially love a good buffet, which gives kids choices (read: a sense of control). This lets our kids start the day on the right foot, and encourages them to eat enough for the big day ahead.  
Another detail we have noticed: early morning coffee.  Some hotel restaurants do not serve their complimentary breakfast until 8am or later.  We often need coffee much earlier. Fresh coffee in the lobby or restaurant helps us ease into the day.  If you share my love for a hotel breakfast, Bastion Luxury Hotel in Cartagena is my family-friendly hotel recommendation for you.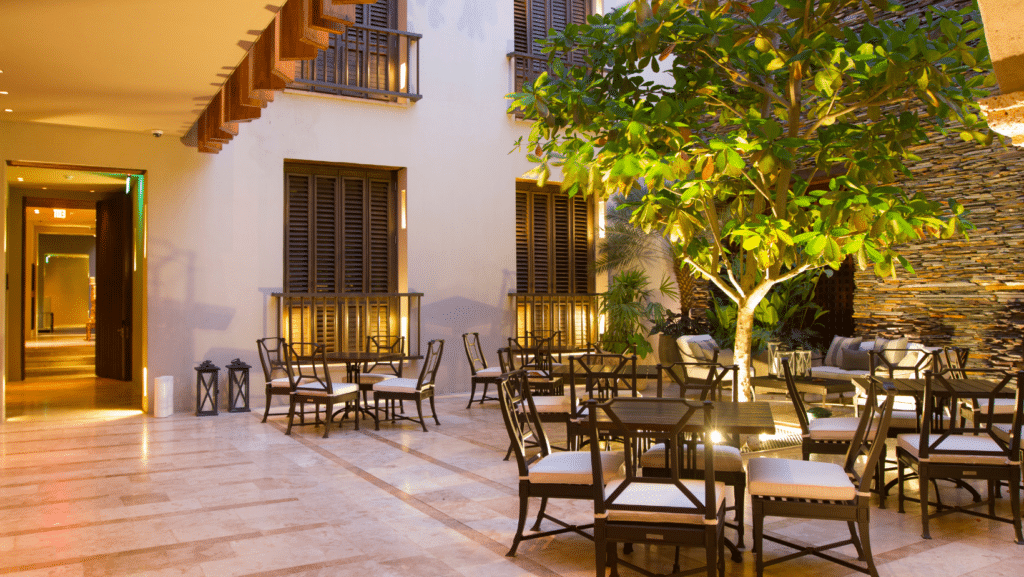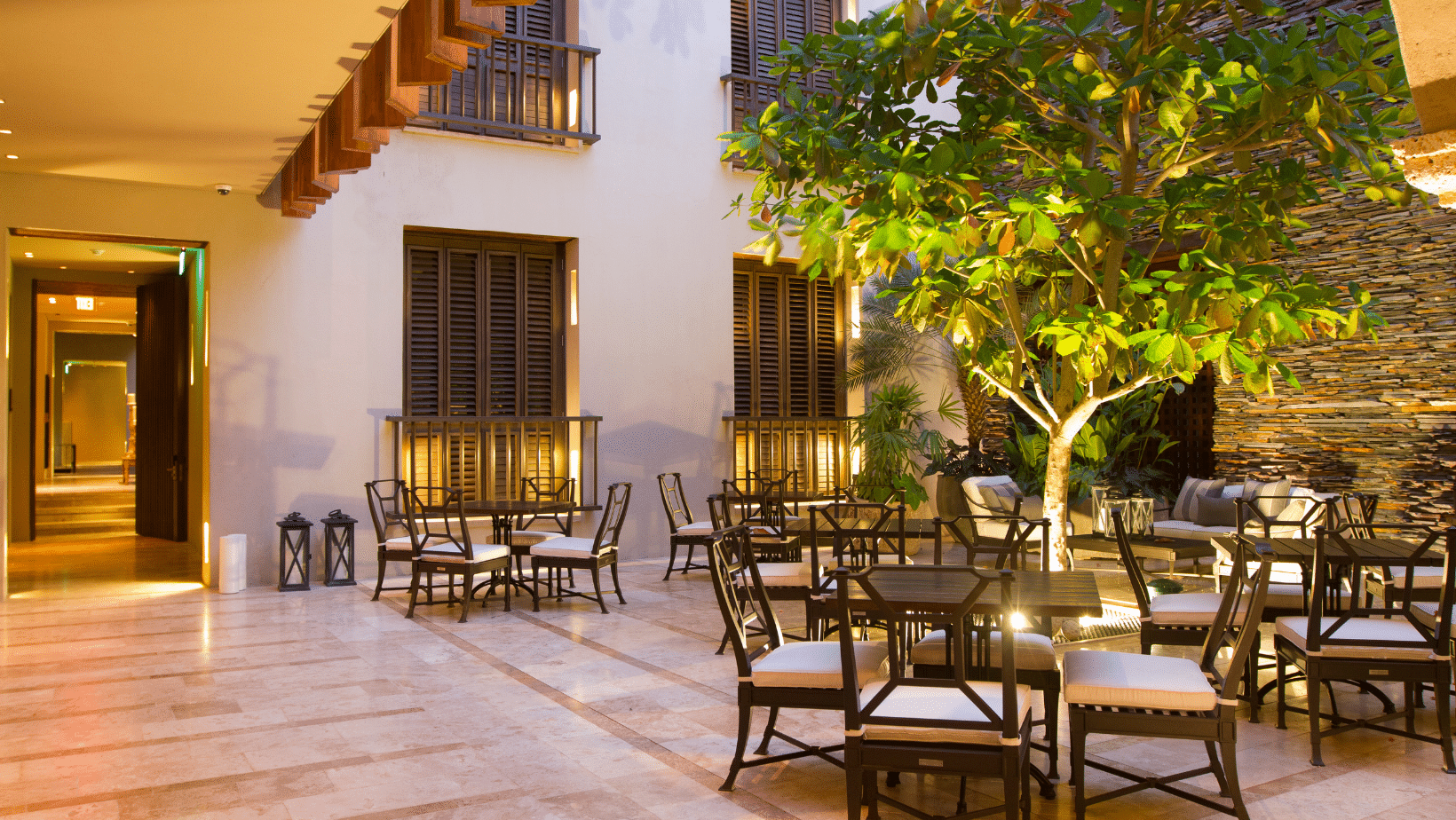 kid-friendly swimming pools and beaches
It's no big secret that a pool or beach access instantly makes a hotel more family-friendly. But true relaxation is in the details. When kids are young, a swimming pool with no shallow end means one parent is always in the water. But sometimes it's glorious when we can take a minute to relax on the pool deck, while our kids play safely in a shallow end.  Zero-entry pools, or pools with shallow platforms, can make a big difference in terms of our ability to relax. 
Likewise, a beach with a gentle slope into the Caribbean Sea (rather than crashing waves) gives small children more freedom to play near the water without raising our stress levels.
childcare services
If we're traveling for a week or more, we try to pick a hotel with babysitting services. Having a date night at a local restaurant makes us feel like we're on vacation, too. We also love scuba diving when on tropical vacations – which is one thing that really can't be done in a kid-friendly way. A few hours of babysitting lets us squeeze in one of our favorite activities.
There you have it! My tips for how to redefine "family-friendly hotel" to mean a hotel we can all enjoy.  One that will set us up for a successful family vacation. Feeling ready to get away? Use our search filters to find the hotel for you.