Let's get one thing straight: I'm not wild about the term "bucket list." Phrases like "Caribbean bucket list" or "family travel bucket list" treat travel experiences like something to check off a list. 
That said, "bucket list travel" has come to mean the kind of travel experiences we get super excited about. It brings to mind images of the remote locations and unique travel moments we might only visit once in a lifetime.  Those are  types of family trips we want to encourage at Mango Tree. 
I hope this post will help you see that the Caribbean is a great place to find them.  This post first lays out why the Caribbean islands deserve attention on your family travel bucket list.  We then provide suggestion for specific once-in-a-lifetime activities you might prioritize in planning your trip. 
Happy travels! 
Caribbean Family Travel Resources
Before we dive in, let's be sure you have our best Caribbean family travel resources at your fingertips. These resources will make it easier to make your Caribbean bucket list items happen, in a way you and your kids will enjoy.   
First, did you know we have a whole collection of recommended family hotels in the Caribbean? I'll let you in on a secret, it's sort of our pride and joy.
We've made it easier for busy parents like you to find the right Caribbean hotel for your family, with space for everyone. Explore our collection using search filters (like room size) that we designed just for parents. 
Wishing someone else would just handle the logistics for a change? We're here for that too. We offer bespoke Caribbean family travel planning services. Our specialty? Helping parents narrow down the choices to identify the best Caribbean island and hotel for a top-notch family trip. 
And finally, want more Caribbean travel inspiration in your life? Sign up for our weekly newsletter, where we feature a Caribbean destination each month and highlight our favorite hotels and family travel tips. We also share our best Caribbean destination guides for families, and keep you up-to-date on our family travel blog. 
Now, pour yourself a rum punch and start creating your Caribbean bucket list.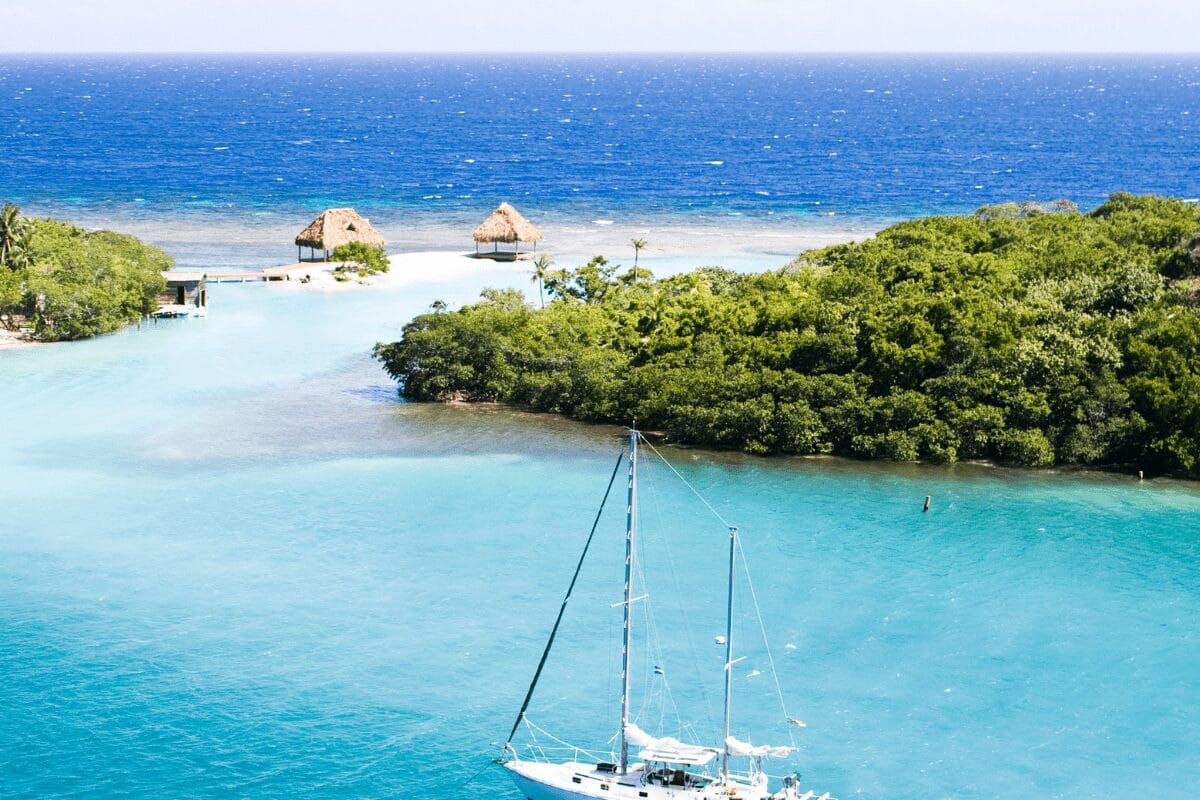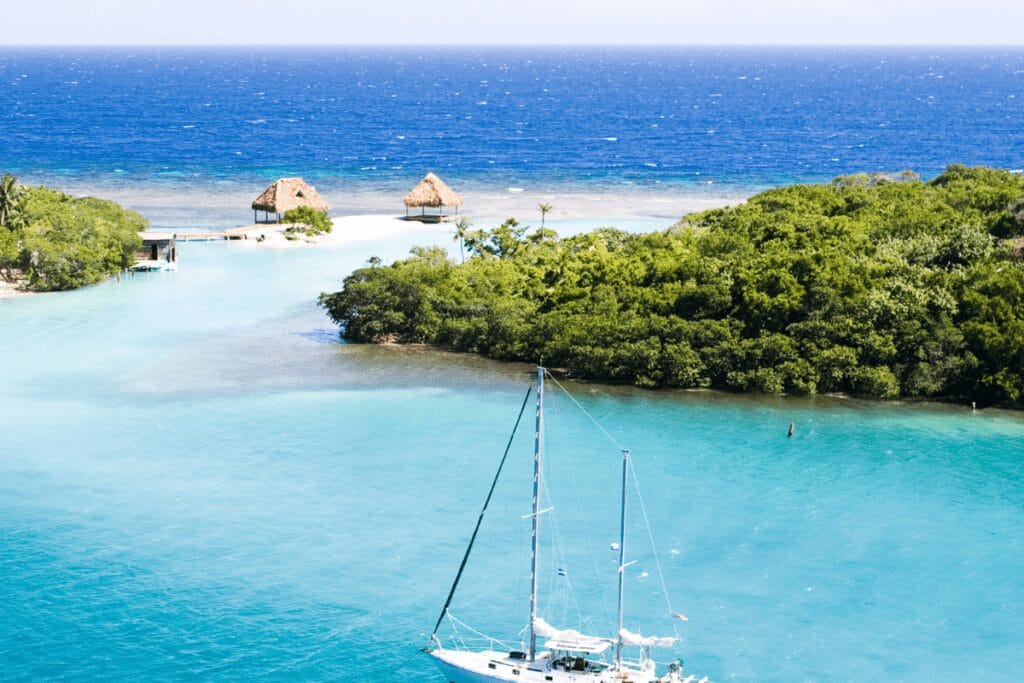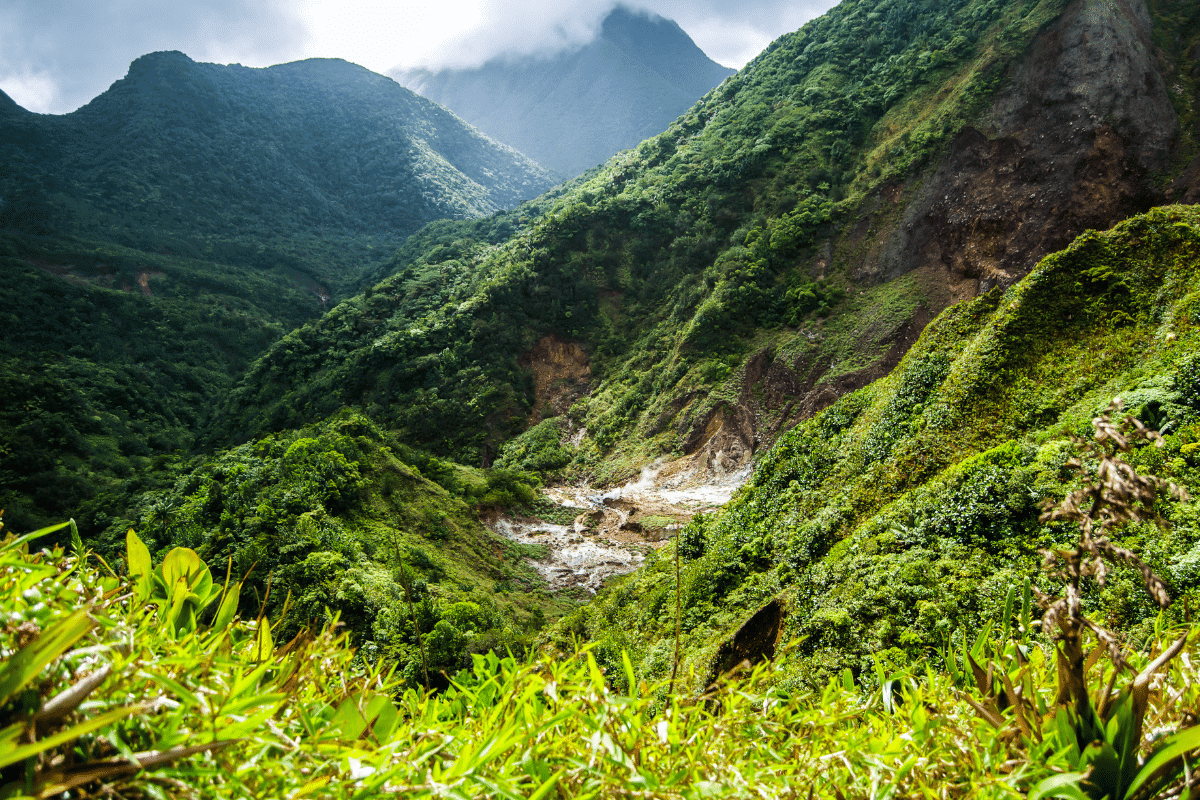 9 Reasons to Create A Caribbean Bucket List For Family Travel
1. It's A Great Time For Caribbean Travel 
Are you itching for an exciting family trip after nearly two years of staying close to home? 
You're not alone. 
Parents are breaking the seal on travel with kids again, but have totally different families than when they used to travel before the pandemic. It's hard to know where to start. The Caribbean is close enough to feel manageable, but exotic enough to feel like an escape. 
With an outdoor focus, a trip to the Caribbean may also feel a bit more safe than major urban travel destinations. In addition, most Caribbean countries have had excellent COVID protocols in place throughout the pandemic. You can feel safe when you get there.  
Plus, many airlines have been increasing their service to the Caribbean in recent months, adding new direct routes. Now you can get to some amazing islands, like Dominica, that used to be accessible only from other Caribbean islands. 
Finally, these Caribbean countries need support! These island nations have economies that are heavily dependent on tourism. They are eager to welcome us back.  
These reasons make the Caribbean a perfect 2023 family destination.  
2. Gorgeous beaches to entertain kids of all ages
What is the Caribbean famous for? There's no question that beautiful beaches and the crystal clear waters of the Caribbean Sea are the region's main draw. What might be somewhat less obvious, though, is that the Caribbean beaches are fantastic for kids. 
Each island's landscape is different.  Generally speaking, though, sandy beaches facing the Caribbean Sea will slope gently into the ocean. That means fewer crashing waves. Small children will have more fun – and thus be able to spend more time safely on the beach – with a shallow, gradual slope into the ocean.
On the other hand, older kids may want bigger waves for watersports or surfing.  The Caribbean has both – making it a great choice for any family travel bucket list. The beaches facing the Atlantic will often offer bigger waves, an attraction for older kids with an eye towards water sports. 
If a gorgeous beach is at the top of your priority list, a few Caribbean islands rise above the rest: 
We're in love with Grand Anse Beach in our family-favorite island, Grenada. 
Grace Bay Beach in Turks and Caicos is truly hard to beat. Aruba is another option for a vast stretch of white sand. 
And perhaps you don't want a long, white sandy beach, but would prefer to explore lots of little beaches on your family trip?  If that's the case, then dozens of kid-friendly beaches in St. Martin would be a fantastic choice.  So too are Bonaire's beaches, which offer direct access to some of the Caribbean's best snorkeling. 
3. Watersports (surfing, scuba diving, kayaking, snorkeling)
As kids get older and learn to swim, a whole new world opens up for them (and us) on beach vacations. Suddenly, the ocean itself becomes a playground. Taking my daughter snorkeling for the first time was a highlight of our last family holiday. I already dream of being part of her first scuba diving experience. 
Whatever Caribbean country you choose, it will have something exciting to offer on the water.  You might choose your island based on the water sport your kids want to learn.  For example, Barbados is well-known for its surfing. Bonaire is a scuba diving and snorkeling paradise. The Caribbean also has countless options for kayaking, including bioluminescent bays in Costa Rica and Puerto Rico. 
As for diving, it would be hard to pinpoint a "best" Caribbean destination, which is definitely a matter of opinion. I have been diving in half-a-dozen Caribbean destinations, and each had something unique and beautiful to offer – from bright, colorful coral in St. Vincent and the Grenadines, to fascinating wrecks in Grenada, to reef sharks in Jamaica, and aquarium-like reef fish in Bonaire. 
4. Secluded Getaways
Nothing encourages family bonding like really getting away from it all. Many family travel "bucket list" ideas focus on travel to New York City and other major urban destinations. But a visit to a remote island that's truly off the beaten path should be at the top any Caribbean bucket list. 
While some of the bigger Caribbean islands are major tourist destinations, there are plenty of small, hidden gem islands that remain secluded. The island of Bequia, for example, offers unfussy Caribbean beach charm where you can really slow down.  
GQ once referred to Tobago to as the Caribbean's "chillest" island and a great place to go for pristine and quiet beaches. 
Small islands like Saba and Dominica, which are not known for their gorgeous beaches, are often overlooked, despite having excellent diving and hiking. We recently fell in love with Bonaire (part of the ABC Dutch Islands) as a family destination. 
And while Nassau and Paradise Island in the Bahamas may, for some, conjure up images of the Atlantis mega-hotel, the more secluded out-islands of the Bahama out-islands, like Andros, are completely off the beaten path.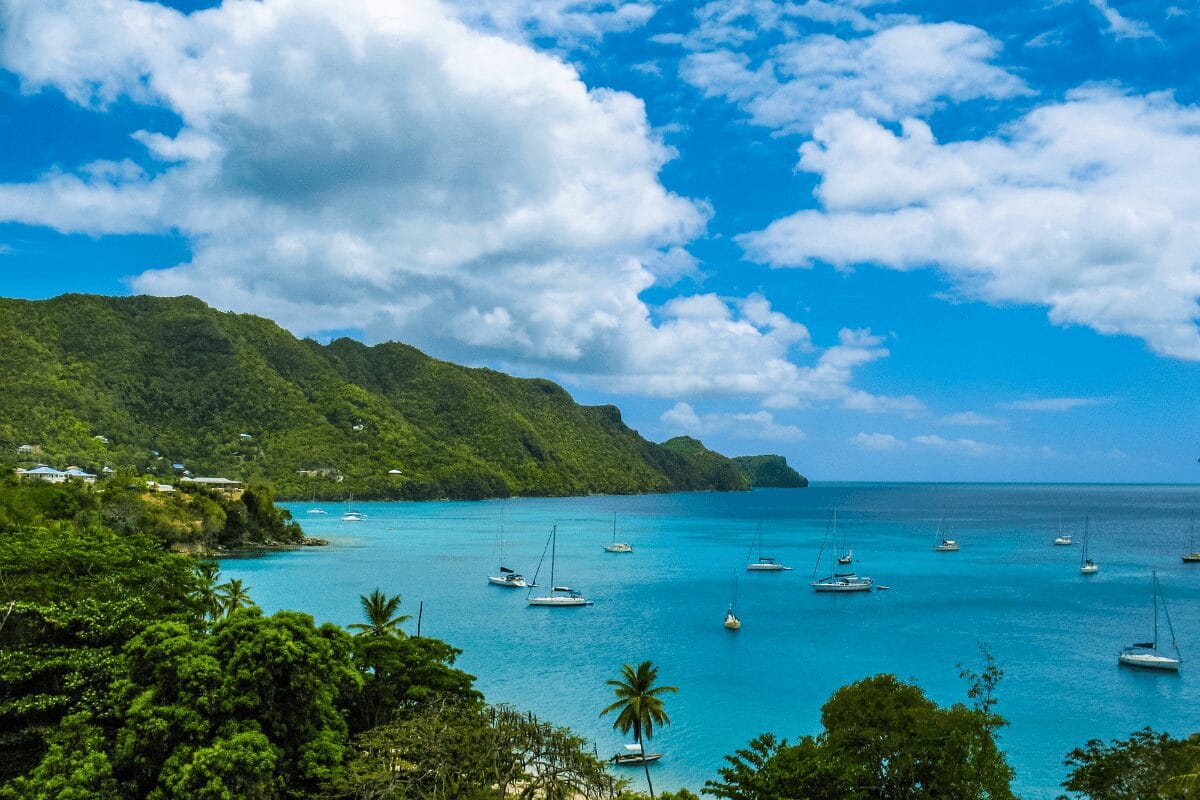 5. Colorful and Charming Cities
Although it can be tempting to spend most of a Caribbean trip at a resort or on the beach, the region's charming cities and towns can be great places to explore with kids, The little ones will be drawn to the bright colors and vibrant atmospheres of Cartagena, Havana, Willemstad, San Juan, and others. 
Of course, these towns have plenty to offer parents as well – from luxury boutiques to art galleries to delicious local food.  For those of us hunting for a travel destination with a local connection, picking an island with a quaint and charming town is the way to go.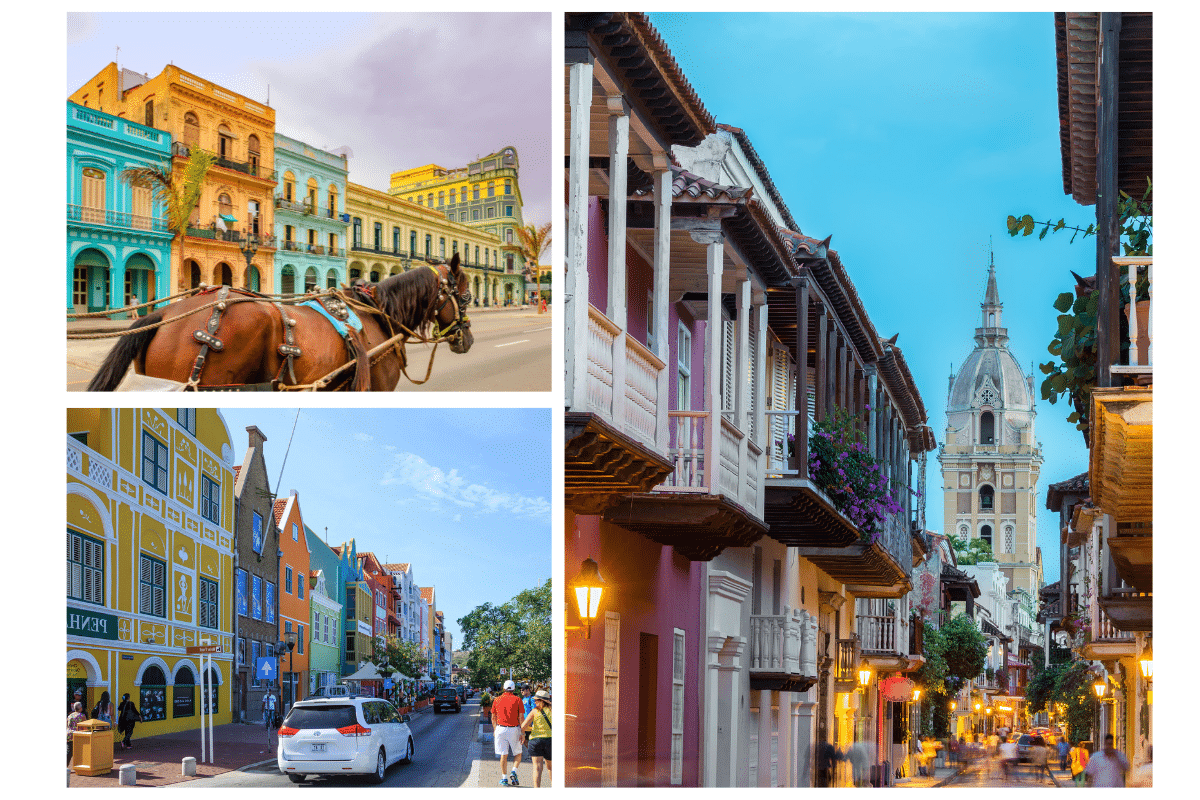 6. Amazing Food
Lots of people (myself included) put France at the top of the list of travel idea list because of the food.  But believe it or not, some of the best French cuisine I've had in last few years was in Saint Martin – a Caribbean island famous for its skilled chefs.  
That said, I also couldn't get enough of the conch fritters in the Bahamas. 
And my first trip to Grenada's colorful produce market in St. George's – where I learned about breadfruit, starfruit, plantains, and nutmeg, and came home with an embarrassing amount jams, jellies, and spices – is still one of my all-time favorite travel moments. 
Each Caribbean country has its own cuisine, and culinary story to be uncovered.
7. Beautiful and Unique Hotels
Some hotels are so special that they can become the highlight of your trip, or the reason you pick a particular location.  (That was the case for our family's trip to Cartagena, on the South American coast of the Caribbean Sea. Our stays at Casa San Agustin and Hotel Las Islas were among the highlights of our overall experience.).  
Whether you are searching for a luxury travel experience, a treehouse, an overwater bungalow, camping on the beach, the ultimate beach resort, an eco-lodge in the rainforest, or simply a charming boutique hotel with friendly staff, you can find it in the Caribbean. And our search filters — designed specifically with parents in mind — can help you find it! 
8. Once-in-a-Lifetime Experiences
No discussion of bucket list ideas, if we're really going to use that term, would be complete without highlighting some "once-in-a-lifetime" experiences.  Below, we highlight the amazing things to do in the Caribbean that should make their way onto your family travel bucket list.  
Already itching to find the right Caribbean destination for your family? That's our specialty, so reach out and we'll make it happen.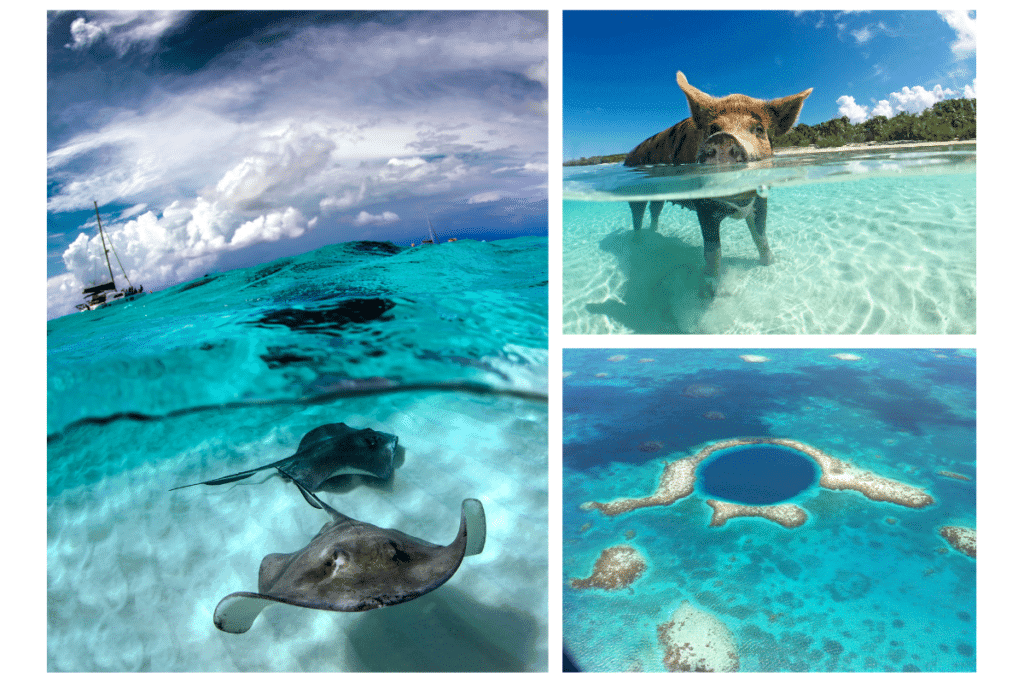 8 Kid-Friendly Activities For Your Caribbean Bucket List
Sometimes, you just want to take it easy when you head to a Caribbean island.  But the region also offers unique experiences beyond the comfortable resort chairs. If you're crafting your beach bucket list, be sure to take a break from your beach break to enjoy these Caribbean gems. 
1. Go Back In Time In Historic Havana (Cuba) 
Teach your kids some history while wowing them with bright pops of color and classic convertibles.  Touring Havana in a classic car definitely makes the list of bucket list adventures in the Caribbean region! 
We're checking this off our own bucket list next month, when we head to Havana for a few days for a Mango Tree scouting trip. We will report back soon with more on our Havana class car ride and more.  But, in the meantime, if you're planning your own Cuba trip, we're pretty pumped to book our convertible car ride and photo soon with David Y Dayan —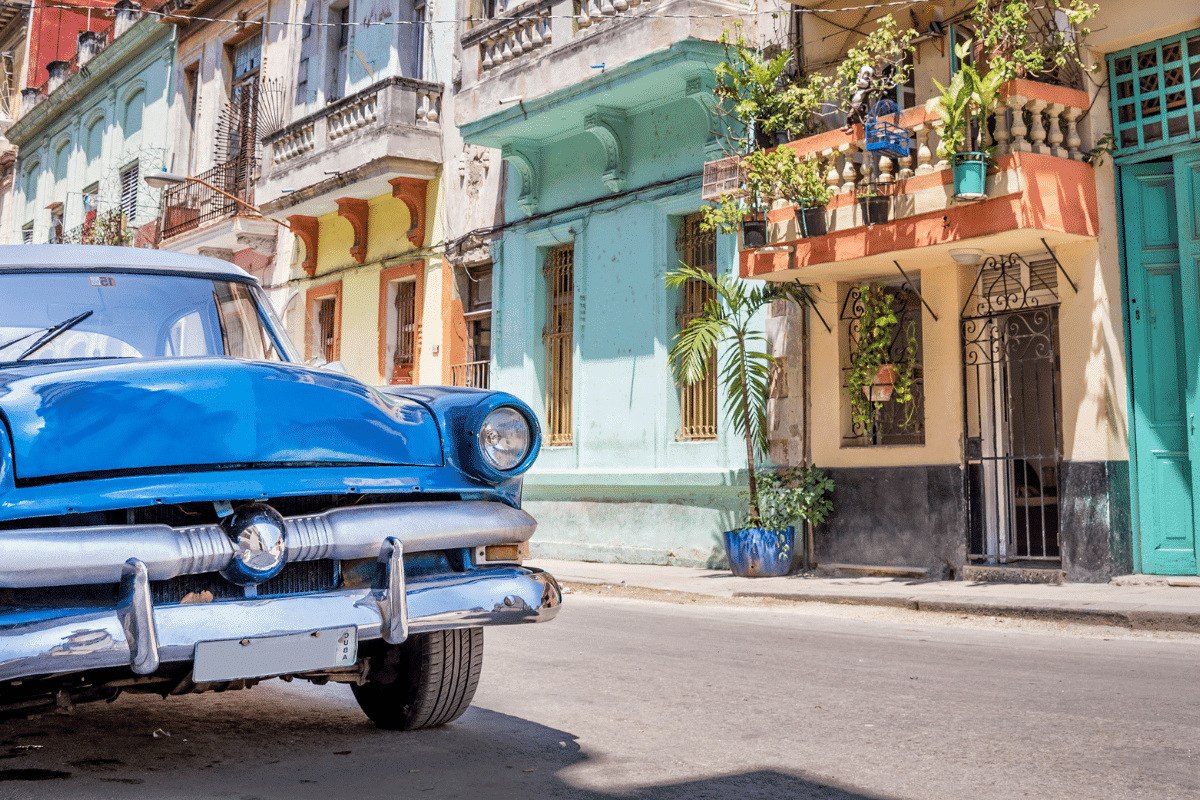 2. Swim With Horses (Montego Bay, Jamaica)
Can you imagine a countryside horseback ride that starts in the Jamaican rainforest and ends in the Caribbean Sea? Not surprisingly, a ride with the swimming horses is one of the most popular tours in Montego Bay. When tides are high, your horse will actually swim.  Montego Bay is popular for its all-inclusive resorts, but this would be a fantastic reason to venture beyond the resort walls and connect with the Jamaican countryside.
This bucket list activity is appropriate for kids age 6+. 
3. Explore a Stunning, Deserted Beach (Middle Caicos) 
We've visited a lot of beaches in building our Mango Tree collection of hotels.  But Mudjin Harbour Beach in Middle Caicos stopped me in my tracks. Cliffs plunge into turquoise waters, and it feels like there's not a soul around.  
Families often travel to Providenciales in Turks and Caicos because it is beautiful, and easy. If you head that direction, do not miss the daytrip (or overnight stay) to Middle Caicos to see this once-in-a-lifetime scene.  
4. Zipline Through A Rainforest (Cost Rica) 
Costa Rica attracts adventure-seekers from far and wide. One of the best ways for kids to see the rainforests of Costa Rica?  From a zipline soaring through the canopies. 
Ziplining has become almost a national sport for Costa Rica. It's one of the Central American nation's most popular adventure activities. You'll find the best, and most unique, zipline courses in the world here. 
Don't go to Costa Rica without having a jungle-to-floor flying experience.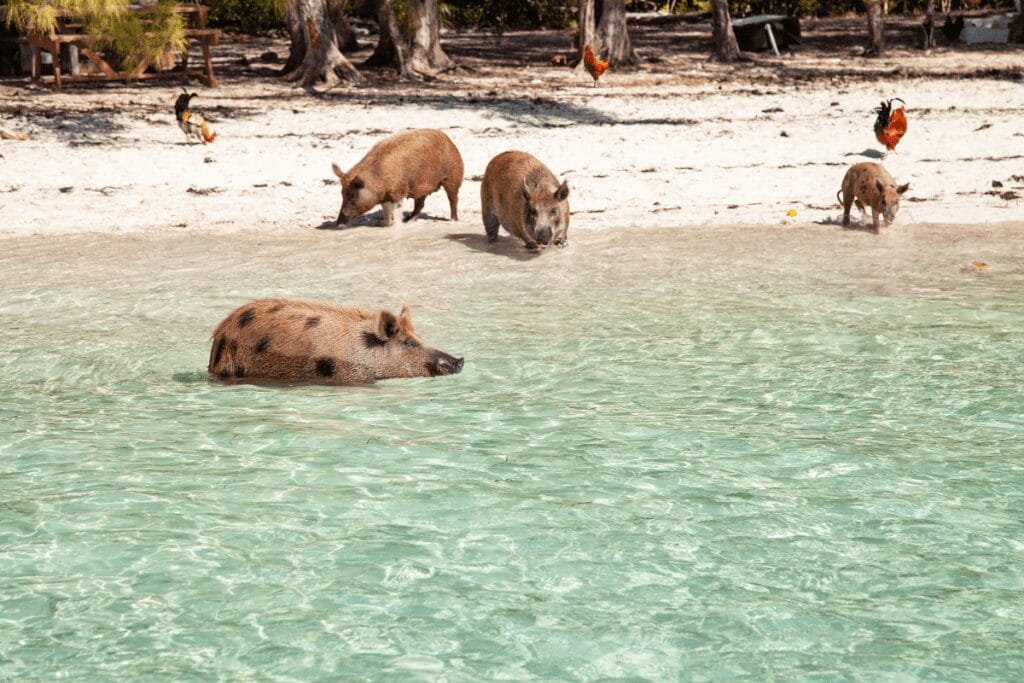 4. Swim with Pigs (Exuma, Bahamas) 
This particular activity may not be top-of-list for parents. But your kids will never forget it. The famous swimming pigs of the Bahamas put Exuma on many Caribbean travelers' radars.  
We recommend this activity for older kids, age 8-10+.  Why? The kids have been known to swim right up and bump into swimmers, and they are quite large. Combine that with a choppy boat ride out to pig beach, and smaller kids may be overwhelmed. 
5. See The World's Brightest Bioluminescent Bay (Puerto Rico)
There are a few different bioluminescent bays in the Caribbean, but Mosquito Bay on Vieques is known as one of the brightest in the world.  
Swimming in a bio bay is light swimming in sparkles. How could kids not love that? Little creatures called Dinoflagellates exist in a contained eco system in this bay, and light up at night when the water is distributed (i.e. by your swimming!). Kayak with your kids through the bay for an evening swim. A once-in-a-lifetime Caribbean Bucket List adventure, for sure. 
Note: This activity is best for older kids who are comfortable swimming.  In fact, many tour operators won't bring kids along for the evening kayak ride. 
6. Swim With Stingrays (Cayman Islands) 
Stingray City is one of the most popular Cayman Island attractions for families. And we totally get why. More than a hundred stingrays congregate near a sandbar used by fisherman to clean fish. You can feed them by hand in less than 3 feet of water.  It's a totally unique experience, and one your kids will never forget. 
As a bonus: Most tours to Stingray City make a second stop at Starfish Point, a shallow public beach where your little ones can watch starfish move through the sand.  
7. Swim With Whale Sharks (Mexico) 
There are several places in the Caribbean where you can swim or scuba dive with whale sharks at different points in the year. The best location for families, though, is off the coast of Isla Mujeres outside of Cancun, Mexico.  Tours leave from Isla Mujeres itself, or from other locations in the Riviera Maya region.  (We love the Finest Playa Mujeres all-inclusive resort for families, which is near Isla Mujeres and could be a great home base for this excursion.) 
Whale shark season in Mexico runs from May to September, with the summer months being peak season.  Traveling to Mexico in the summer may seem like an odd choice — many families reserve tropical vacations for the winter months. But we love off-season Caribbean travel (fewer crowds! better prices!) and the chance to see whale sharks makes an off-season trip to Mexico even more appealing.
Note that a whale shark tour in Isla Mujeres is not for the faint of heart.  Only two people are allowed to snorkel at a time with the whale sharks, so you will spend quite a bit of time on a rocky boat out in the ocean.  Plus, your kids needs to be comfortable swimming in deep ocean waters, which is where the whale sharks congregate. This Caribbean bucket list activity is recommended for kids 6+ who have prior experience swimming in the ocean. 
8. Take In The Great Blue Hole From A Helicopter (Belize) 
We'll round out this list with a big adventure. You've probably  seen photos of the famous aerial view of Belize's Great Blue Hole & Barrier Reef. What about seeing it in person? Your kids will get the rush of a helicopter ride, while you take in the amazing sights. 
If the idea of a helicopter ride over the ocean makes you anxious not relaxed, this may not be the bucket list adventure for you. Consider instead a snorkel excursion to the Belize barrier reef, a dedicated UNESCO World Heritage Site.
There you have it! Plenty of reasons and activities to help you start building your Caribbean travel bucket list. As always, if we can help in anyway to make your family travel dreams a reality, please don't hesitate to reach out.