Looking for a fall getaway to soak up a few more minutes of summer? The best Caribbean islands to visit in October include some of our all-time favorites.
We have always loved October in the Caribbean.  Back home, the leaves are changing, the spooky season is almost upon us. Memories of summer vacation start fading into the rear-view mirror. Can you squeeze in one last warm weather getaway before the cold hits?  
Meanwhile, in the Caribbean, it is the low season in many of the best Caribbean islands for families, making it a great time to score deals and avoid crowds. If you see the value to off-season travel, the Caribbean is one of the best places to visit in October and other fall months.
When we were taking beach trips only with toddlers in tow, school calendars were irrelevant. But now that we have school-age kids, we have even more reason to plan for an October trip to the Caribbean. Our kids have a 5-day fall break, so we can plan an October island excursion well in advance.  
Here are a few suggestions of the best Caribbean islands to visit in October to get you thinking about where your fall Caribbean trip might take you.
Caribbean Family Travel Resources
Before we dive in, let's be sure you have our best Caribbean family travel resources at your fingertips, so that you can find the best Caribbean island to visit in October, or whenever you decide to go!   
First, did you know we have a whole collection of recommended family hotels in the Caribbean? I'll let you in on a secret, it's sort of our pride and joy.
We've made it easier for busy parents like you to find the right Caribbean hotel for your family, with space for everyone. Explore our collection using search filters (like room size) that we designed just for parents. 
Wishing someone else would just handle the logistics for a change? We're here for that too. We offer bespoke Caribbean family travel planning services. Our specialty? Helping parents narrow down the choices to identify the best Caribbean island and hotel for a top-notch family trip. 
Now, pour yourself a rum punch and start planning for your October vacation in the Caribbean.
How To Plan A Trip For October In The Caribbean
Caribbean Weather in October
To narrow down your list of potential destinations, it's helpful to know a little bit about Caribbean weather in October.
According to the U.S. National Weather Service, hurricane season in the Atlantic runs from June 1 to November 30. The "hurricane belt" – the region where hurricanes are most likely to form and hit –  covers a large amount of the Caribbean and tropical U.S.
No matter where you go in the Caribbean, it is unlikely that you will be affected by a hurricane. But it could happen, and one way to play it safe – and perhaps avoid purchasing travel insurance – is to focus your fall travel on islands that lie outside the hurricane zone. This includes some of our favorite destinations in the southern Caribbean, like Grenada, Bequia, and Bonaire.   
Even if you're not in danger of facing a hurricane, October is rainy season in much of the Caribbean. But that's not as bad as it seems! In most islands, rainy season means a shower or two each afternoon, and maybe the odd day of rain. While you may not get 7 straight days of cloudless skies, is a nap during an afternoon rainstorm really such a bad way to unwind on vacation?
Remember when it comes to the hurricane belt: those who know, go below.  The islands outside the hurricane below are the best tropical places to visit in October.
Fall Caribbean Festivals
October is also a prime season for themed weeks and festivals in the Caribbean! Food, rum, and music get top billing on islands throughout the Caribbean and can offer the whole family a unique experience – especially when the island is otherwise quiet.
If you're wondering where to travel in October for a cultural connection, we highlight some of the best festivals below.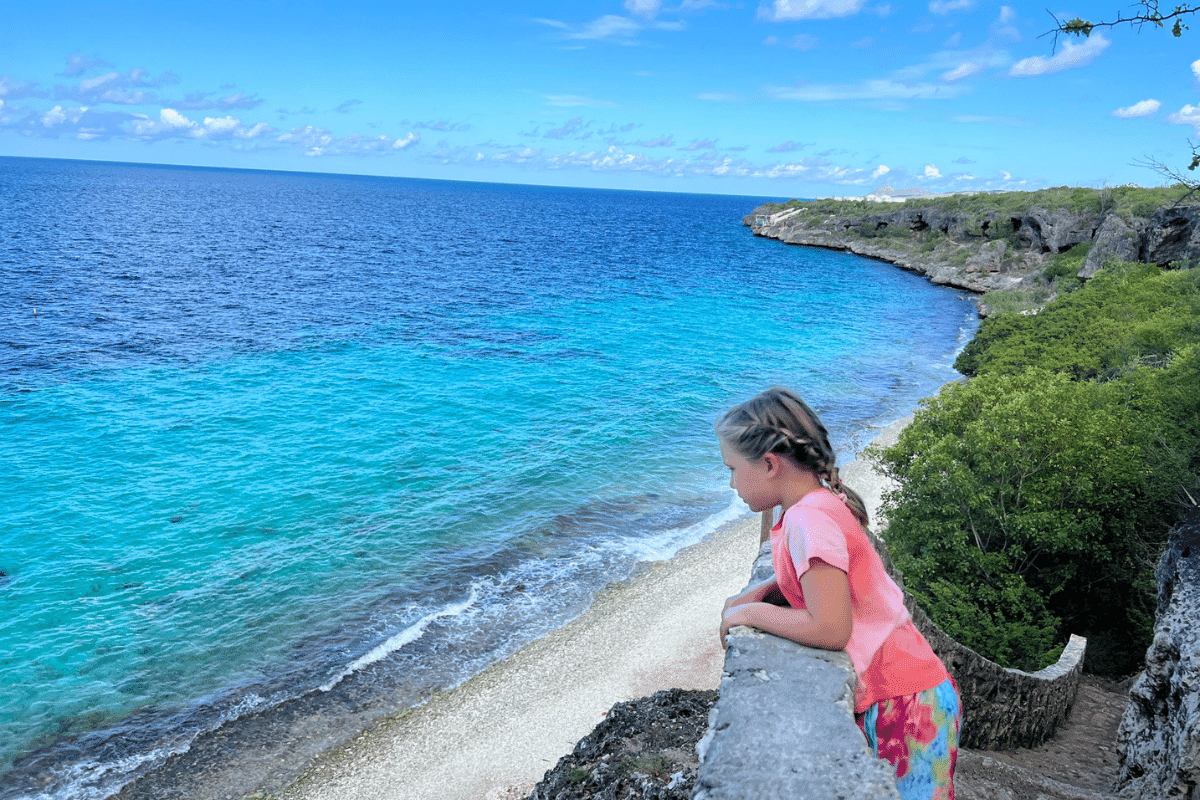 The Best Caribbean Islands To Visit in October 
1. Bonaire
We can't seem to stop raving about Bonaire. The scuba diving and snorkeling are spectacular and great for kids learning to get comfortable in the ocean. The travel to and from could not be easier. There are some lovely and kid-friendly hotels that would be perfect for recapturing a bit of summer magic.
Aruba, Bonaire and Curacao sit in a cluster just off the coast of South America. Together, they form the  "ABC Islands." All three are well below the hurricane belt and generally have an arid climate. While the "rainy" season starts to pick up in October, this usually means no more than a quick rain shower during the day with blue skies returning right after.  
Off the ABC islands three, Bonaire is the least known among family travelers. But it has so much going for it! The big focus on this island is time in the water, exploring Bonaire's incredible marine life. And the fall off-season is a great time to discover it.
On top of great weather, October is a key month for Bonaire events. The first week of October is part of "Bonaire Culinair," a 15-day culinary event, similar to "restaurant week" in major U.S. cities, where the island's restaurants showcase special menus.
This year, Bonaire Culinair coincided with the Bonaire International Regatta, which celebrated its 55th year in 2022. The regatta includes races for sailors as young as 5 to 10 years old. You can watch the boats from the island's northern beaches. Non-sailors can also participate in the associated festivals and parties.
Travel to Bonaire picks back up in November, so October is your last, best chance to get a deal! 
Where to Stay in Bonaire With Kids
We recommend three hotels when in Bonaire with kids, depending on what you're looking for.
(Note: If you're searching for Bonaire all-inclusive family resorts, you may not find one: Bonaire doesn't really focus on all-inclusive resorts. But don't let that deter you! These great resorts have restaurants and bars on-site, and provide a great home base for exploring the island.)
First, we love Harbour Village Beach Club for a laid-back, family-friendly vibe with well-appointed rooms and a beach you can't wait to return home to at the end of each day.  
Second, Delfins Beach Resort is the right choice for families looking for a lively atmosphere, a great pool, and delicious food.  
Third, Bellafonte Bonaire is our recommended choice for families traveling with older kids looking for a mix between a luxury boutique hotel and a self-catering apartment.
No matter the hotel or activities you choose for your family trip, you simply can't go wrong in Bonaire. Rent a car and it's easy to make your way around the island, exploring Bonaire's best beaches as you go.
2. Curacao
Curacao, Bonaire's neighbor in the "ABC" chain of islands, also sits below the hurricane belt.  It's another great option for October travel to the Caribbean, and a completely different island than Bonaire. 
This island is jam-packed with activities. Highlights include a sea aquarium, an ostrich farm, caves, two national parks, and dozens of beaches with lively energy. The colorful and charming buildings of Curacao's capitol of Willemstad are a UNESCO World Heritage Site. This list just scratches the surface of the things to do with kids in Curacao beyond the resort. 
Curacao is a lively destination, worthy of a family trip. Your kids might even be able to practice their school Spanish on your trip, as it's widely spoken in Curacao (and a component of the local dialect, Papiemento). 
Where to stay in Curacao with kids
Curacao's roster of family-friendly boutique hotels is deep.
There are so many cool small and independently owned hotels to choose from, offering a nice change of pace from the more typical large Caribbean resort. But if you prefer more of a resort over hotel vibe, you can find that here too. 
For an in-town experience, Scuba Lodge is walking distance from several cafes and fine dining, but also offers Caribbean Sea views, an infinity pool for kids, affordable two bedroom units, and a playground at the on-site restaurant.
For a more traditional beach hotel, Avila Beach Hotel is an excellent choice for families, with spacious rooms, snorkeling right from a private beach, and a good location for exploring Willemstad.
And finally, for ultimate boutique luxury, Baoase Luxury Resort is one of the finest in the region. The gently sloping beach at this hotel, with plush lounge chairs and attentive service, is truly a sanctuary.
Get the Ultimate Curacao Itinerary For Families
Have you heard about Mango Tree's new trip itineraries?  Each 45-page guide gives you the complete roadmap for your 7-day family trip to the Caribbean. 
Our Curacao itinerary will take you off the beaten path, but in a low stakes kid-friendly way. And it will give you this trip without the planning stress (hooray!). We can't wait to show you around this diverse and colorful island.
3. Grenada
In the Eastern Caribbean, and southernmost of the Windward Island chain is Grenada, another Mango Tree favorite. This was the island that helped us to discover the magic of the Caribbean. You can learn more about this beautiful island in our Grenada Travel Guide.
For now, suffice it to say that this hidden gem is fast becoming a popular destination for families, and it is easy to see why. It has mountains, waterfalls, and hidden beaches, all just far enough off the beaten path to satisfy families seeing an adventure. It also offers great food, hospitality, culture, and luxury. In other words: there is something for everyone.
Travelers to Grenada will spend at least some of their time at world-renowned bay beach of Grand Anse, a nearly two-mile stretch of white sand that is one of the most scenic and pleasant places to relax in the entire Caribbean. Its gentle slope, minimal waves, and ample but unimposing options for food and drink make it a perfect place to bring kids.
Other travel tips: make sure you try diving or snorkeling, hiking some of Grenada's breathtaking mountains and shopping in the St. Georges market. This lively and busy square is where you can find fresh fish, local fruits and veggies, and the spices for which Grenada is famous are all on offer.
October is the rainy season in Grenada, but this should not discourage you!  Most rainstorms are brief affairs. The island has a tropical, humid climate (compared with the more arid ABC islands) and lush foliage covers every undeveloped inch. There is also a rainforest national park in Grenada's mountainous interior, making for great hiking.
New, non-stop flights are now arriving from New York, Atlanta, and Toronto, making it easier than ever before to experience Grenada while travelling from the United States and Canada. Add it to your October travel list for sure.
Where to stay in Grenada with kids
As for where to stay, we are in love with Mount Cinnamon Resort for its intimate, boutique vibe and the en-suite kitchens (a must for all of the great produce you will pick up in the market).  This family run hotel really captures the authentic vibes of Grenada. 
Spice Island Beach Resort is the top choice for families wanting all-inclusive 5-star luxury, with rooms that are steps from Grand Anse Beach  
And True Blue Bay Resort is a eclectic and colorful option for a low-key, lower-cost hotel. It has a bayside setting, but the hotel runs daily shuttles to Grand Anse Beach, just 10 minutes away. 
4. Bequia – St. Vincent and The Grenadines
St. Vincent is the capital island of a country made of sprawling islands. The capital island itself is beautiful but the real draw is the smaller islands in the archipelago, including Bequia, Mustique, and Canouan. It will take an extra bit of travel to get to, but it is worth it.
Expect a climate in the Grenadines similar to Grenada's – humid and warm with the occasional rain shower. But the Grenadines are also firmly out of the hurricane belt, reducing your chances of having your trip interrupted by a major storm.
On Bequia, plan to spend most of your time relaxing by the pool and beach. Unless you plan on doing some diving or snorkeling, there is not too much going on here. In a good way. The Grenadines are always quiet, but during the off-season you will practically have the island to yourself.
One warning: Some restaurants may closed for the off-season. But enough will be open that you will have no trouble finding great places to eat. Jack's Beach Bar, a waterfront bar and restaurant next to the gentle white sands of Princess Margaret Beach, is a perfect spot for kids of all ages, and the first place we taught our daughter to snorkel.
Where to stay in Bequia
Bequia Beach Hotel remains one of our all-time favorite family hotels in the Caribbean.  It would be a great place to spend a fall getaway. After landing in St. Vincent, you will have a driver waiting to take you aboard the hour-long ferry that will carry you to Bequia. Grab a beer from the galley and the kids on deck may see dolphins jumping as the sun sinks down.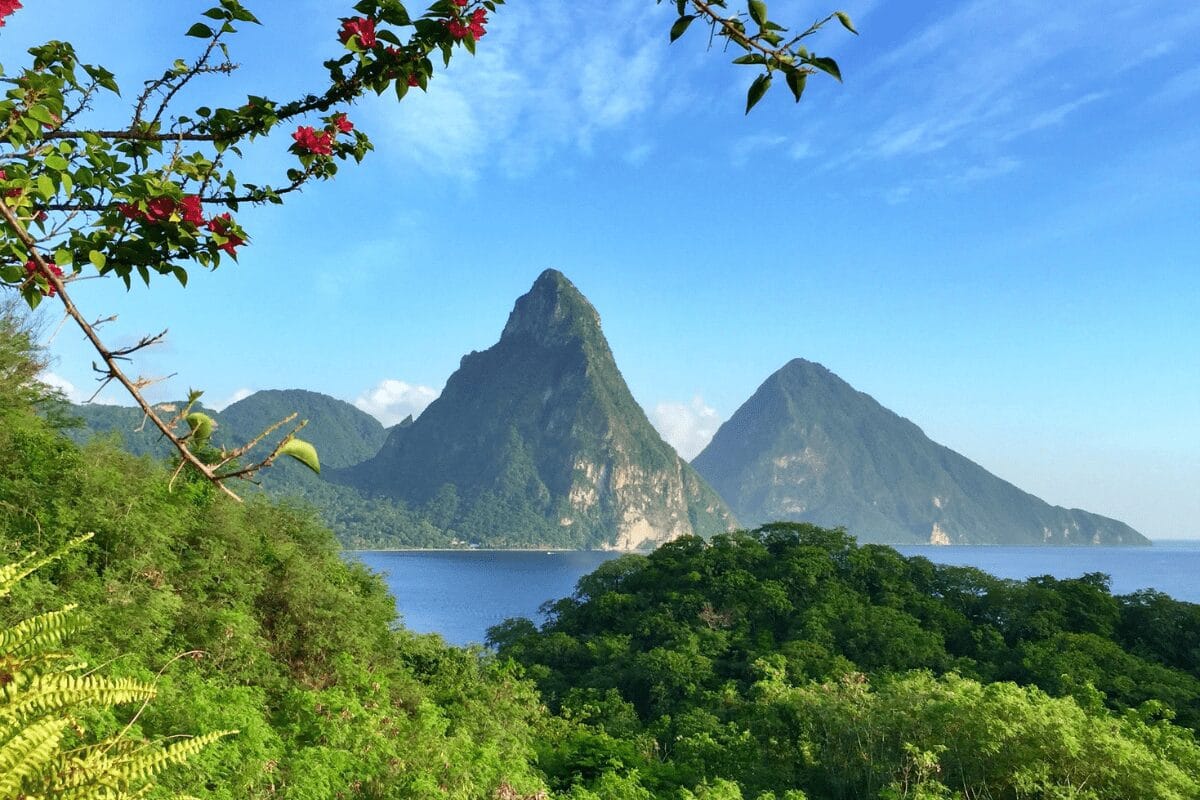 5. Saint Lucia
One of the most picturesque islands in the Caribbean, St. Lucia is instantly recognizable for its twin mountains, the Pitons. They are visible from just about anywhere on the southwestern corner of the island, and alone are a reason to pick Saint Lucia over other Caribbean options. 
Perhaps inspired by the views, the hotels in St. Lucia offer some of the most luxurious accommodations in the region, including some of the best infinity pools overlooking the Pitons, and some of the best dining options as well.  Staying at a hotel with this view should be on everyone's Caribbean bucket list. Be sure to check for kid-friendly designations, as St. Lucia has it's fair share of adult-only hotels.  
St. Lucia is yet another option to find all the features mentioned above – great diving and snorkeling, hiking, and warm weather – and also below the hurricane belt.
As for October in the Caribbean specifically, the month marks Creole Heritage Month on St. Lucia.  You'll have a unique chance to experience music, dance, cuisine, art and other cultural expression that represents St. Lucia's melting pot of African, French, and English heritage. It culminates in Creole Day, which is celebrated across the island on October 25.
Where to stay in Saint Lucia with kids
We recommend The Landings Resort and Spa in Saint Lucia for families.
This resort in Saint Lucia is a family haven for a bunch of reasons. First off, the service is top-notch, even offering butler service in some suites. Secondly, it's loaded with family-friendly amenities like a special kids pool that opens at 6 AM (a godsend for early risers), a kids club, and multiple dining options—all high-quality.
The resort offers flexibility with an optional all-inclusive package, letting you explore local cuisine if you want. Plus, the spacious suites can fit families of almost any size, making it a home away from home where everyone can truly unwind.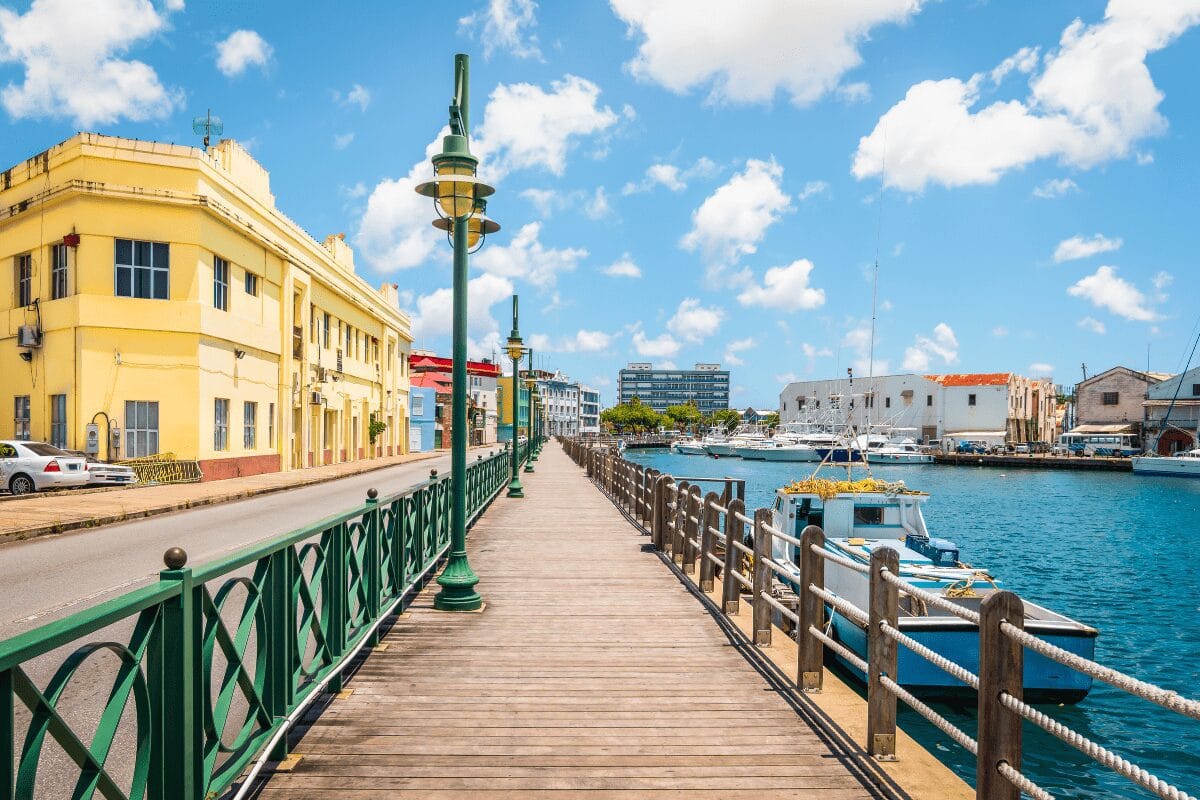 6. Barbados
And finally, just east of St. Lucia and St. Vincent lies Barbados, another lush, tropical island just on the border of the hurricane belt. It sees major fall storms very infrequently. White sand beaches, charming towns, and easy travel put this at the top of many travel guides' fall destinations.
Barbados is known best perhaps for its classic, colonial Caribbean vibe. You'll find push hotels, pastel colors, and a sophisticated air.
Like the islands above, Barbados has rich marine life to explore via snorkel or scuba. What this relatively flat island lacks in hiking it makes up for in beautiful beaches, particularly on is west coast facing the Caribbean Sea. It also boasts limestone caves right on the ocean that kids and parents will no doubt be curious to explore. The Mount Gay rum distillery offers tours that are free for kids, but the tasting and classes are for parents only.
Barbados gets lots of visitors from the U.K., so it has a relatively well-developed tourism infrastructure and plenty of family-friendly options at all budget levels. The end of October also marks the Barbados Food and Rum festival – a great to chance to experience the best offerings of local and international chefs in this "culinary capital of the Caribbean."
Where to stay in Barbados with Kids
Our detailed hotel profiles for Barbados hotels are coming soon.  
We have clients who loved the new luxury all-inclusive resort in Barbados, O2 Beach Club and Spa.  Several restaurants, swim up bars, a spa, and privileges as a sister property, you'll never got bored here. The one- and two-bedroom suites are great for kids in particular. 
For something a little further afield, we also love the family suites at St. Peter's Bay in Speightstown, a very family-focused property with tons to entertain the kids.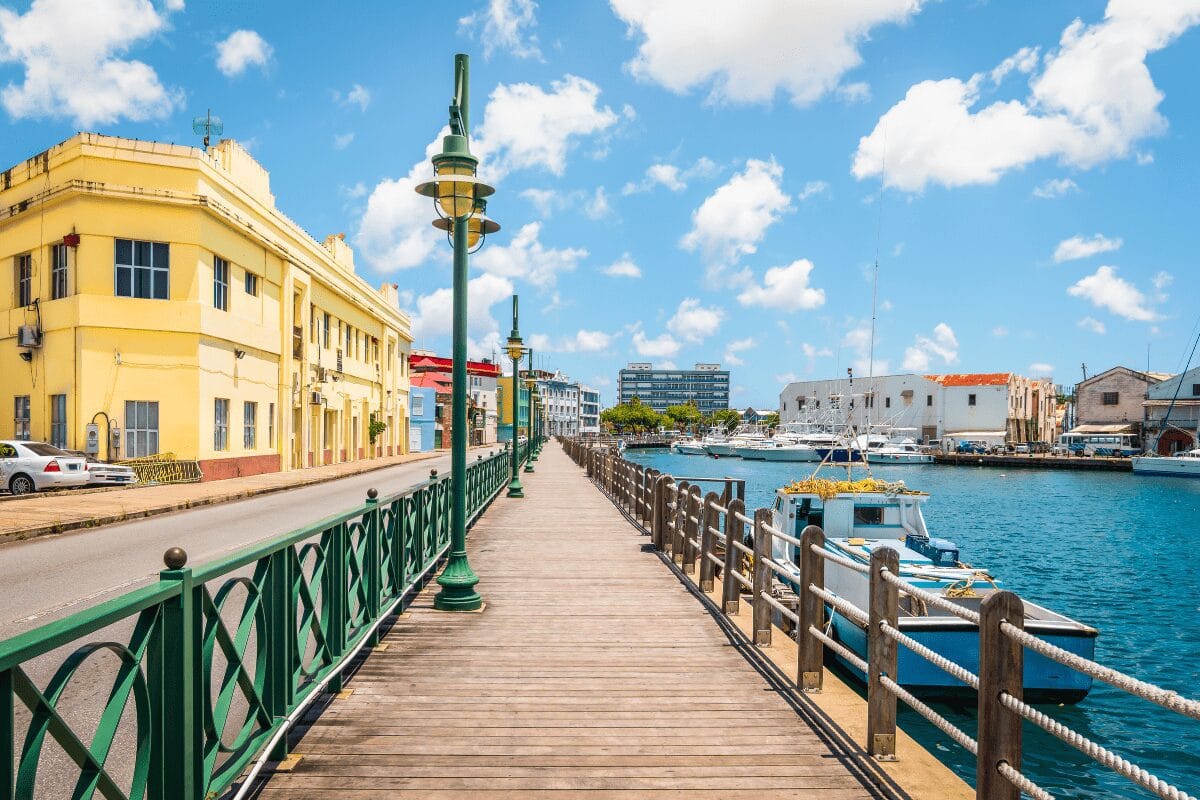 7. Aruba
Aruba is the perhaps the most popular of the Dutch islands among Americans. And for a reason: It boasts some of the top sandy beaches in the Caribbean. Because of its resorts, calm beaches, and overall ease, Aruba easily ranks among the best islands for kids in the Caribbean. 
If a classic beach vacation is what you're craving this October, with direct flights from many U.S. cities, then add Aruba to your list, as it's also outside the hurricane belt. Aruba will feel more like the Bahamas: long, white sand beaches and familiar beach amenities. There are also quite a few casinos.
One nice thing about Aruba is that no rental car is needed. Aruba's nightlife, shopping, and restaurant scene is concentrated around the hotel strip.
Where to stay in Aruba with Kids
Our detailed hotel profiles for Aruba hotels are coming soon.  
Aruba is known for larger hotel brands, and inclusive resorts.  Most people choose to stay at a hotel on either Palm Beach or Eagle Beach, Aruba's two most popular stretches of white sand.
Popular choices include the 400-room Aruba Marriott Resort & Stellaris Casino and the 350-room Hyatt Regency Aruba Resort & Casino (both of which have kids' clubs and casinos, an excellent combination).
It's no secret that we prefer small, more unique hotels, though. (And frankly, for that reason, Aruba is not our top-choice of the Dutch Islands.) For something a little smaller, try the Amsterdam Manor Beach Resort. It's 72 rooms include two-bedroom apartments with kitchens, and there's a dedicated kids' pool.
Get Caribbean Family Travel Tips Right Into Your Inbox 
If you found this post helpful, don't miss our other Caribbean destination guides for families. 
And for even more Caribbean and family travel inspiration, sign up for our newsletter! We feature new destinations, highligh our favorite hotels, and share family travel tips. Keep the travel dreaming coming all year long.