You've just found the ultimate Turks and Caicos itinerary for a family trip. Woo hoo!
Whether you're dreaming of one week in Turks and Caicos or just five days in Providenciales, crafting the perfect Turks and Caicos itinerary with kids can feel overwhelming. Before kids, didn't we just show up and let the pieces fall into place?  It's not quite the same anymore.  
You've found the ultimate travel planning stress reliever. Based on our travel experiences, and client feedback from the trips we've planned, we've created a detailed Turks and Caicos itinerary for 7 days, making your vacation planning a breeze.
There's something you should know before you dig in, though. We don't plan your average, all-inclusive vacations here at Mango Tree.  (Learn more about our style here.)  You won't find Beaches Turks and Caicos on our recommended hotel list, or any other all-inclusive resorts in Turks and Caicos for that matter.
We hunt for hotels and experiences that delight parents and kids alike, from budget finds to ultimate luxury. That's why our Turks and Caicos itinerary includes 5 days in Provo at a class beach resort, but 2 nights discovering one of Turks' best hidden gems in Middle Caicos.  
This guide strikes a  balance between comfort and relaxation and getting off the grid. Turn "just another beach trip" into unforgettable memories.
So without further ado, let's give you an overview below so you know what to expect.
What to Know About Turks and Caicos
The Turks and Caicos Islands, known as TCI, are a treasure trove for families looking for a Caribbean escape.
On your first trip, you should head to Providenciales, affectionately known as Provo, which is the most developed island in the Turks and Caicos chain. You'll land at Providenciales International Airport and will be welcomed to an approachable and easy-to-navigate English-speaking paradise.  
Provo is characterized by its flat, limestone terrain. The island is famous for its stunning Grace Bay Beach, a three-mile stretch of pristine white sand and clear turquoise water.
Provo is all about the beach, water, and relaxation. Known for its family-friendly vibe, Grace Bay Beach is dotted with luxury resorts, restaurants, and an array of water activities. The water is exceedingly calm and there's great snorkeling to be had not too far from shore.
If you're looking for the "undiscovered Caribbean," you won't find it in Provo.  One of the more popular family resort destinations, Provo can be quite expensive. Most of the fine dining restaurants are hotel restaurants, with prices to match.  But there are still gems to be found, both in terms of small hotels and casual restaurants too. 
If you venture away from Provo, you'll discover an untouched side of Turks and Caicos.  Just 20 minutes away by ferry, the rugged islands of North and Middle Caicos offers a completely different experience. Imagine dramatic limestone cliffs, cave networks, and secluded beaches.
Our Turks and Caicos itinerary helps you explore both sides of this delightful island chain on your first trip to Turks, with five days in Provo and two days in Middle Caicos.
Weather in Turks and Caicos
Turks and Caicos enjoy a tropical climate, blessed with sunshine most of the year. The weather is typically warm and dry, with temperatures averaging around 80°F to 85°F. While the summer months can be hot and humid, the trade winds often provide a refreshing breeze.
The hurricane season runs from June to November, so travelers may want to consider this when planning their visit.  Despite occasional showers, however—especially in September and October—the islands boast around 350 sunny days a year.
Travel Insurance 
If you travel to Turks and Caicos from June to November, we recommend getting a travel insurance quote from IMG global. On top of having comprehensive medical, cancellation, and luggage protection, the hurricane protection is better than most.
How to get to Turks and Caicos  
In 2023, you can fly direct to Turks & Caicos from many major U.S. and Canadian airports, including:
Newark (United)
New York – JFK (JetBlue)
Washington Dulles (United)
Baltimore (Southwest)
Boston (JetBlue)
Philadelphia (American)
Chicago (United, American)
Minneapolis (Sun Country)
Charlotte (American)
Atlanta (Delta)
Miami (American)
Fort Lauderdale (Southwest)
Houston (United)
Dallas (American)
Toronto (Air Canada)
Once you arrive in Providenciales, you'll be less than 20 minutes from the resorts of Grace Bay.
Is Turks and Caicos Safe?
Traveling to Turks and Caicos with kids is generally considered safe and hassle-free, especially in the tourist hubs like Grace Bay. Roads are well-maintained, and getting around the flat island by car is relatively easy.
Local authorities and businesses are accustomed to catering to tourists, and the healthcare facilities are of a good standard.
There are occasional crimes spikes among local residents, and so normal vigilance while traveling is always recommended. But parents should feel at ease booking a trip to Turks and Caicos.
Best Time to Visit Turks and Caicos
As with many of the best Caribbean islands for families, the ideal time to visit Turks and Caicos is during the winter and early spring months, from December to April.  You'll enjoy pleasantly warm temperatures averaging around 80°F, with a refreshing breeze. It's the peak season, so you'll find plenty of activities and a vibrant atmosphere.
There's a big caveat there, though: Turks and Caicos is one of the most popular destinations in the Caribbean for the holidays.  From December 23 through January 2 and most resorts, you should expect 7-10 night minimum stay requirements, unforgiving cancellation policies (up to 90 days out), and very high prices.
If you prefer a quieter atmosphere, head to Turks and Caicos during the shoulder months of May, June, or November. July and August will be much hoter.  Many hotels close down in September for renovations, and so we don't recommend a fall Turks trip.
Where to Stay in Turks and Caicos
Stay in Providenciales
When planning your Turks and Caicos itinerary, start in Providenciales.  Dozens of hotels line the shore of Grace Bay Beach, many claiming the title of best kid-friendly destinations.
It can be hard to tell the Grace Bay hotels apart, and everyone has their favorites.  (Don't worry, our itinerary narrows them down for you.)  But, in short, it's hard to go wrong.  
The luxury hotels on this stretch of sand offer one- and two-bedroom suites with kitchens, perfect for families traveling with young kids. Amenities typically include pools, spas, fitness centers, tennis courts, on-site dining, babysitting and kids' clubs, and non-motorized watersports – all designed to offer a relaxing stay.
A quick note about Beaches Turks and Caicos: Many families choose to stay at this 800-room, all-inclusive megaresort, which has quite the following.  While large all-inclusive resorts like Beaches have their appeal, we think families are better off at more intimate and low-key options.
The Mango Tree Turks and Caicos Trip Itinerary includes 8 different hotel recommendations (including one of the best Caribbean snorkeling resorts), ranging from budget to ultra luxury. If vacation rentals are more you thing, we've included a couple of our favorites too. If you want an overview of some our favorites, start with this post:   
Take a Side Trip To Middle Caicos
If you're craving even a little bit of adventure, add a stop in Middle Caicos to your Turks and Caicos Itinerary. Our trip guide suggests a side jaunt for two nights to Dragon Cay Resort, which is unlike any other place we've stayed.
With 5 nights in Providenciales and 2 nights in Middle Caicos, you'll have the perfect blend of comfort, relaxation, but something a little unusual and rugged too.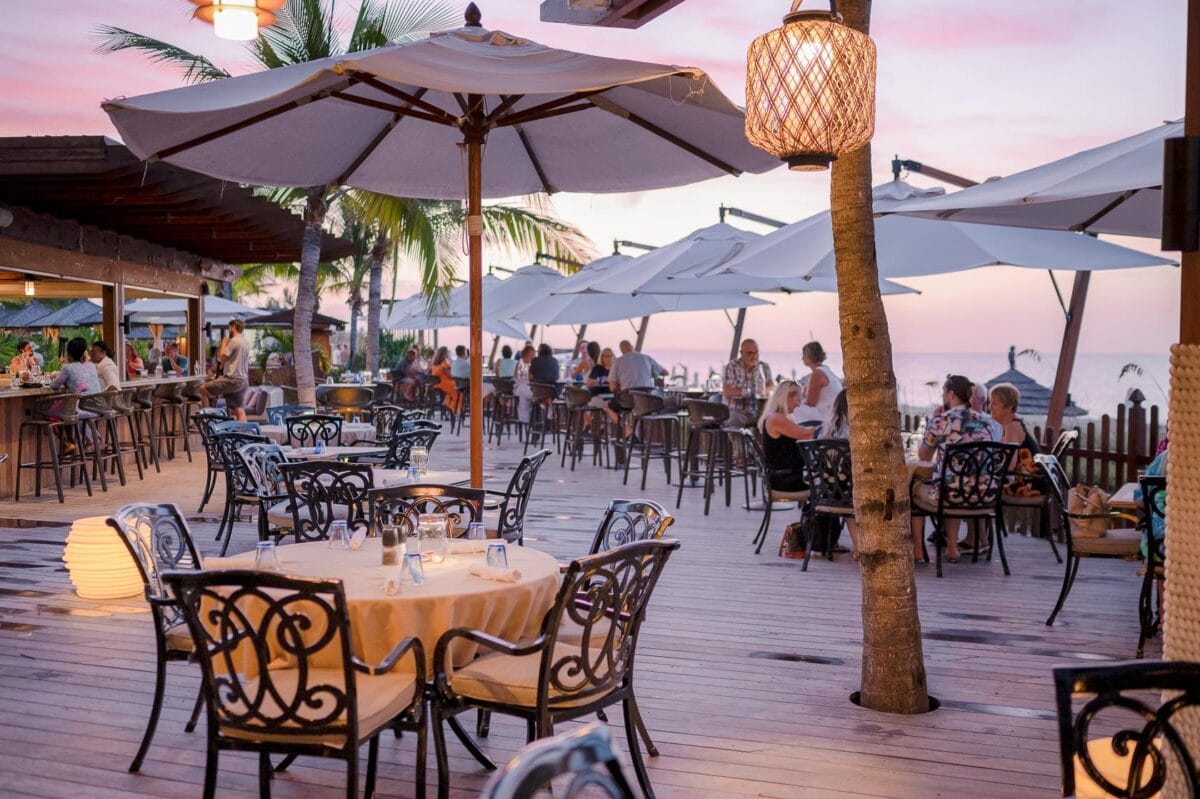 Where to Eat in Turks and Caicos
In Turks and Caicos, the dining landscape is as diverse as it is delicious, catering to every mood and occasion.
To begin, families can cook some meals themselves! Most of our recommend Turks and Caicos hotels have suites and kitchens for families, and grocery shopping in Providenciales is a breeze. Stock up to save up, and splurge on the meals that are worth it.
Providenciales is perhaps known for its fine-dining, with myriad hotel restaurants serving elevated fare. But that's not where we recommend you eat most of your meals.  Instead, families can and should revel in the island's casual beachfront eateries like Da Conch Shack, where the sand is the floor and the seafood is fresh.
Step it up a notch and get cleaned up with the kids for a handful of meals. For a balance of sophistication and child-friendly ambiance, Providenciales offers a handful of warm yet sophisticated restaurants on or near the beach—all with kids menus.
And of course, when you can secure a babysitter for a special night, pick one of the best fine dining restaurants and go all in.  Popular places like Coco Bistro and the restaurant at Amanyara stand ready to impress with gourmet menus, romantic garden settings, and a taste of tropical luxury.  We recommend reservations for this last group of restaurants.
Turks and Caicos Itinerary: What to do?
At first—nothing.
Turks and Caicos is a destination that invites you to sink your feet into its powdery sands and stay put. The island's crown jewel, Grace Bay Beach, is a haven for beach seekers looking to lounge by the crystal-clear waters and bask in the Caribbean sun.
Days here can be spent building sandcastles with the kids or tiring them out with non-motorized water sports like paddleboarding and snorkeling in shallow waters. When you need a break, the lovely resort pools overlooking the ocean beckon.
But don't let the tranquility of the beach and pools confine you; there's a whole island waiting to be explored. Venture to Chalk Sound for a different perspective on Turks and Caicos' natural beauty, or watch the windsurfers on Long Bay Beach.
No Turks and Caicos itinerary would be complete without getting out on the water. Whether it's a family-friendly snorkeling excursion to Iguana Island (Little Water Cay) or a private yacht day, the options are as vast as the ocean itself.
For those traveling with little ones, a stroll through town with a rescue puppy adds a heartwarming touch to your island adventure. Local animal rescue Potcake Place allows visitors to take puppies for morning walks, turning a simple exploration of the town into a delightful experience for kids.
And if you're still craving more, Turks and Caicos won't disappoint. From horseback riding in the ocean to kayaking through mangroves, the fun just keeps on coming.
So how will you fit it all in?
Mango Tree Travel's Turks and Caicos itinerary ensures you won't miss a thing, offering the perfect blend of beach relaxation and exhilarating activities. We handpick the best tours and seamlessly weave them into your Turks and Caicos itinerary, with easy booking links for everything.
l you have to do is indulge in the island's charm and decide whether you'd like to leave the beach for our proposed activities. Whether it's a beach day on Grace Bay or a private yacht excursion, we've got you covered, making your Caribbean dream vacation a hassle-free reality.
The Mango Tree Turks and Caicos Itinerary – 7-Days Of Beach Bliss
When you're planning a trip with kids, time is of the essence. But quality shouldn't be compromised.
 That's where Mango Tree's Turks and Caicos itinerary comes into play. Our detailed island is jam-packed with handpicked hotels for every budget, kid-friendly activities, and tours that are worth your time and money. Here's a sample of what you'll find inside:
Day 1 – Arrive in Providenciales
Stop for lunch at our favorite beach shack near the airport to start your vacation on the right foot.  Next, settle into one of our recommended Providenciales hotels—and get those kids straight in the pool! Enjoy a refreshing al fresco dining experience to let the kids burn off energy.  Each of our recommended hotels has a perfect spot for your family's first night.  
Day 2 – Providenciales
After a leisurely morning, grab lunch on the beach and stroll through town in the afternoon. Grab some snacks and get acquainted. End the day with a sunset sail on a gorgeous catamaran and a fabulous dinner (and ice cream for the kids of course).
Day 3 – Providenciales
After a slow first day, it's time for some activity! Snorkel with your kids at our favorite spot off Grace Bay Beach, part of the Princess Alexandra National Park. For kids with the energy to keep going – while little siblings nap, perhaps – squeeze in horseback riding, kayaking, or another recommended excursion of your choice in the afternoon. Wrap up the day with a charming sunset dinner at Omar's Beach Hut.
Day 4 – Middle Caicos
Start the morning with a puppy walk in town.  Then jet off to Middle Caicos with a ferry ride and a scenic drive to your remote home base for the next two nights. It's a day filled with exploration, ending with incredible sunset views. Cook dinner and enjoying a movie with your kids – a perfect end to a thrilling day.
Day 5 – Middle Caicos
Wake up to paradise on Wednesday and enjoy the beach, walking trails, and a unique tour of Conch Bar Caves. Don't miss dinner at Mudjin Bar & Grill, open only on select days.
Day 6 – Providenciales:
Catch the TCI Ferry back to Provo to continue the adventure. After a relaxing poolside afternoon, hit up the infamous island Fish Fry for a dose of local cuisine and culture.
Day 7 – Providenciales
Round out the week with a half or full day boat tour. Bask in live music on the beach at one of our favorite sophisticate but family friendly restaurants. It's the perfect end to a week filled with Caribbean charm.
Departure Day  Saturday, Departure Day, Turks and Caicos:
The final day calls for last-minute souvenir shopping, a pastry from Caicos Bakery, and a long beach walk down Grace Bay Beach. Grab a drink at the secret airport lounge before your flight, where the viewing deck of the runway will keep the kids entertained. It's a farewell filled with sweet memories and the promise of a return.