Going on a beach trip with a toddler is exciting - if a little daunting. Relieve the stress with our toddler beach vacation packing list and travel tips!
Sometimes I can't believe I've been on more than a dozen beach trips with toddlers in tow. That's what happens when you start a Caribbean travel company with a baby…
A day with a toddler at the beach means the chance to watch them take their first gleeful splashes in the ocean, feel the sand beneath their toes, and marvel at the ocean. 
But even for adults, the sun, salt, and sand can be an acquired taste.  To relax on a beach vacation with a toddler, it helps to come properly prepared. And it helps to have a specific beach vacation with a toddler packing list! 
The right gear and mindset can go a long way. 
Over the years, and through the trips, we've fine-tuned our beach packing list and beach tips for toddlers. This article shares out best hacks for tackling a trip to the beach with a toddler.  
Read on for our best toddler at the beach tips. But first — don't forget to grab your free toddler beach vacation packing list to keep you organized!   
This post contains affiliate links from our trusted partners, including the Amazon affiliate program. ​
Top Toddler At The Beach Tips  
Without further ado, here are our top toddler beach hacks and packing tips for a day with a toddler at the beach. 
1. Organization is your friend
Navigating a beach trip with a toddler can be a challenge, but one made easier with a little planning. 
If you're worried you might forget something, start early with a toddler beach vacation packing list.  Add to the beach trip packing list as they occur to you, and tick them off as you pack them.  
Think about what you really need for your beach vacation with toddler, and resist the urge to throw in more. 
It might sound obvious, but really using your packing list to avoid overpacking is one of our best beach tips for toddler. Less can often be more, and minimal clutter makes it easier to find the things you really need.  
It also pays to invest in a beach tote to carry your toddler beach essentials! We are huge fans of the Aloha collection. Specifically designed for moms, these beach totes take a weight off our minds as well as our shoulders. They are wipable with lots of pockets. Plus, the patterns are gorgeous, and will appeal to any mom's sense of style. 
2.
Start out at calm, nearby beaches 
When staying in a hotel with a toddler, it's a perk to have a beach close by that's suitable for younger kids. The chance to play in the sand and paddle in gentle, shallow waters, particularly near some food or shade, is top priority.
One of the reasons we love small beach hotels with kids is because you're less likely to have a long hike to the beach.  That makes it easier to keep the gear on your packing list close by. 
If the hotel has its own beach, you know that it'll be right on your doorstep. This is particularly attractive when nap time suddenly hits, or at the end of the day when you need a reset. The best Caribbean islands for families all have calm sloping beaches at your fingertips. 
If your hotel doesn't have a calm beach that works for toddlers, that's OK. Take the time to find the right conditions for your toddler beach day, as it means the kids will last longer at the beach. 
If you know you'll be driving to and from beaches on your beach trip with a toddler, add a beach tent to your toddler beach trip packing list, as it may be harder to find guaranteed shade. 
3. 
Prioritize and reapply sunscreen
Yes it is a pain. Yes it is absolutely on the top of all toddler beach trip packing lists. Young kids have especially sensitive skin and a bad sunburn can ruin more than just a day. 
The timing of the sunscreen application matters. Slather on a base layer before leaving the room. It's much easier to do it before the kids have laid their eyes on the ocean or pool and are itching to get in. Reapply at every snack break so the little ones are distracted. 
It can prove tricky to find preferred sunscreen brands while traveling, so consider stocking up beforehand. This is especially important if your kids have sensitive skin and you need a specific product. Besides, prices are often inflated in vacation towns.
This Neutrogena Wet Skin kids sunscreen stick is our absolute favorite for toddler faces, and always finds a place on our toddler beach trip packing list. 
It's easy to apply with no white residue, and makes it onto our toddler beach vacation packing list every year. For the body, we stick with Coppertone Kids. 
Our printable toddler beach trip packing list also includes a mini kit of frequently needed first aid items: antihistamines, hand sanitizer, antibacterial wipes, band-aids, kid-safe pain relief, and bite cream.
Another beach tips for toddlers: Keep a bottle of after sun with aloe vera in the hotel refrigerator. If anyone does come back with sore skin, that'll ease the discomfort and rehydrate the skin.
4. 
Cover up with a rashguard
Sunscreen isn't always going to cut it. For added protection – and peace of mind – add a rash guard to your beach vacation with toddler packing list. They don't hinder mobility and can be worn for sand play and swimming. 
The right rashguard for a toddler not only makes your beach trip more convenient, but can be cute or stylish too. 
Pair one with a fantastic new swimsuit for mom, and the whole family will feel good headed to the beach. Getting into the right mindset before a toddler beach trip cannot be underrated. 
Plus, if your toddler hates putting on sunscreen, a rashguard means less surface area to cover. Win-win. With a full sleeve rash guard on your toddler beach vacation packing list, you'll only have to sunscreen hands, feet, and faces. 
There's no magic to picking the right rash guard, but we like this simple UPF 50 rash guard for a pop of color.  Size up to make the rash guard easier to put on, and to ideally get more than one season out of it.
5. Pack reusable swim diapers
Assuming your toddler is still in diapers, swim diapers go on the list of must have beach items for toddlers. Consider using reusable swim diapers rather than disposable ones, which are easier to manage and take up less space in your suitcase. 
Bear in mind that these types of diapers work differently from regular ones. They're engineered to contain solids but not to absorb liquids, so you'll still need regular diapers for the flight and getting out and about. 
These i play by green sprouts reusable swim diapers are the best we've found for efficiency and comfort. The snap closure means they fit better than other makes while the wicking liner reduces the risk of diaper rash. They're machine washable too!  You'll find them on our printable toddler beach vacation packing list for sure. 
When choosing swim diapers, you'll find that brands run a little on the smaller size. Check the reviews to help choose the closest fit for your toddler.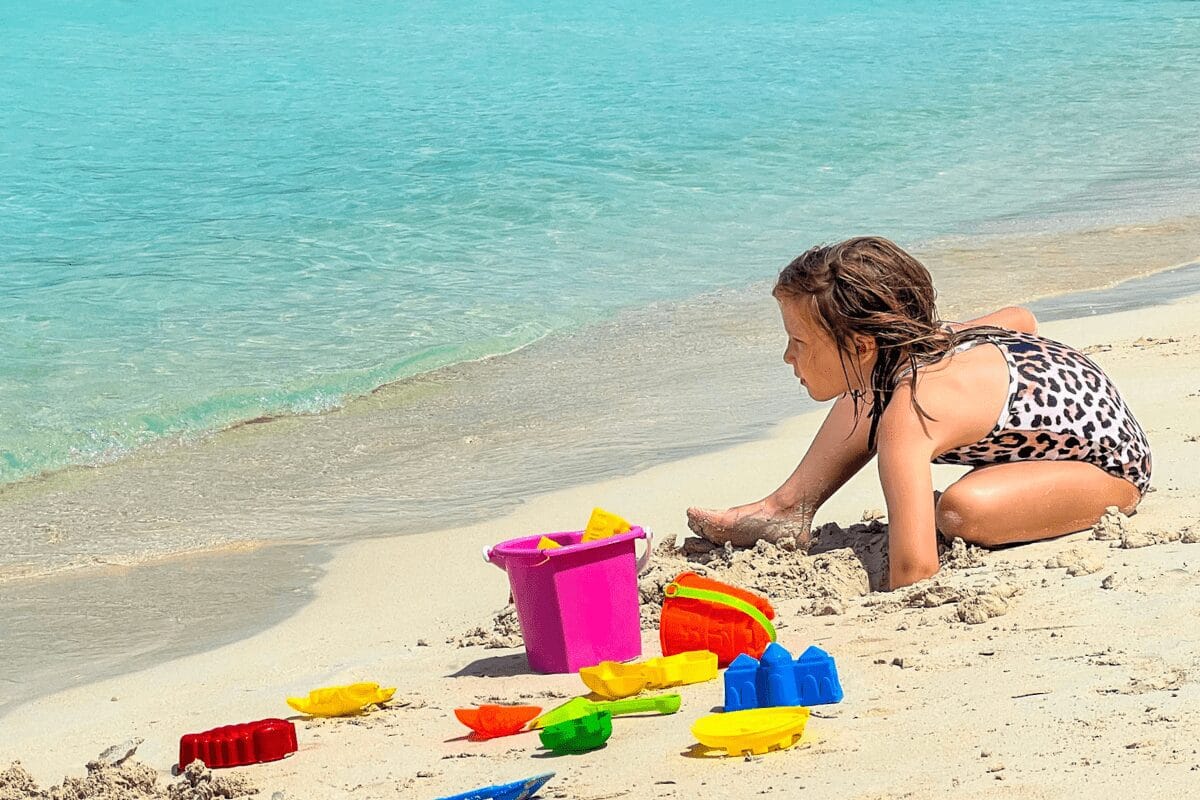 6. Be selective with toddler beach toys
Toddlers at the beach have an infinite playground of sand and sea to explore. It's almost instinctual to cram a bag with playthings, but, in reality, they may not need a ton of entertainment.
Rather than fill your toddler beach vacation packing list with toys, limit yourself to a few. Trust the natural seaside toys and take collapsible versions of tools and buckets for building sand castles that won't take up much space.
The last thing you need for your own mental sanity is to head off on your beach trip with toddler toys causing your suitcase to bust at the seams.
This set of collapsible travel beach toys for kids includes a pop-up sand castle bucket with an assortment of sand molds. You can reuse it for years to come, and on domestic beach getaways too.
Beach trip with toddler tip: Always throw a book in the bag! Lure your toddler under the parasol for a siesta from time to time.
Avoid the risk of losing or soaking favorite stuffies by leaving those safely at the hotel. If you're on the hunt for travel toys that will also keep your toddler entertained on the plane ride to the beach, check out this list of great toddler travel toys from Twins and Travel.
7. 
Keep your toddler hydrated 
While on a family vacation with a toddler at the beach, you'll need to keep everyone  well-hydrated. We suggest investing in a reusable bottle with a built-in straw or a sippy cup. Basically, anything that'll help you avoid sand getting inside.
Cute and practical, these kids' water bottles by Snug have a push-button lid to minimize the risk of sand getting in. They're BPA-free and made from insulated stainless steel to keep contents cool.
Remember to carry small change in the local currency so that you can top up with extra drinks and ice cream while at the beach. 
8. 
Find a sun hat that stays put
There are a ton of hats available to protect toddlers at the beach from getting a sunburned face. Choose one with a wide brim, neck flap, and UV to provide the most substantial protection. Meanwhile, chin straps keep the hat in place on a windy day. 
This SimpliKids wide brim sun hat blocks out UV rays with UPF 50+ and keeps heads cool with a breathable fabric. The body of the hat is adjustable so you'll get a few years out of it, wind permitting!
A side note for parents, some toddlers (ours included) simply won't keep their hats on at the beach. In that case, give yourself total permission not to worry about it. Try it out, but just let it go if it doesn't work, and take extra shade breaks.
9. Protect sensitive feet with toddler beach shoes 
Another place where toddlers can really feel the burn is the soles of their feet. Water shoes can provide a barrier from hot sand in addition to pebbles or coral. These are also typically more comfortable than sandals, which can trap and run sand against the feet. 
Feet can breathe easy with these stretchy kids' water shoes by FEETCITY. They roll down nice and small while the non-slip base makes them suitable for pool use.  If those aren't available in the size you need, there are myriad water shoe choices available on Amazon.  
10. Bring shade for your toddler at the beach
Some beaches have loungers with parasols for rent, others don't. If you take your own supply of shade, it means you have the liberty to visit quieter, secluded beaches with fewer crowds. 
This fuss-free Pop N Go PlayPen requires next to no assembly. It's windproof with UPF 50+ and folds neatly into an easily-portable carrying bag. As it accommodates up to two adults, you can sit with your toddler and relax for a sand break. 
As another tip, if you have a long walk to the beach, note that Caribbean hotels often provide large umbrellas in case of a tropical downpour. These come in handy for creating shade while walking to and from the beach.
11. Bring hooded beach towels 
 fter a lovely day with your toddler at the beach, getting back to the resort can be a different story. Rather than wrestling them into regular clothes when you peel them out of wet bathing suits, make your job easier with a nifty wearable beach towel. 
These might be one of our favorite items that has kept a prime spot on our packing list for beach vacation with our toddler. This saves you from having to pack a towel and a change of clothes. And they are so cute, we get tons of compliments. 
Thick and luxurious, this quick-dry oversized poncho toddler towel by Willow + Sim is ideal for the journey back to the resort. 
12. Take something off your plate
That pretty much wraps up our toddler at the beach tips and packing guide. 
If you're feeling apprehensive at the thought of booking a toddler beach vacation or have unanswered questions, consider enlisting a travel advisor to help you plan the ultimate family beach vacation! 
Our Mango Tree Travel planning service is designed with families in mind to streamline the process, leaving you free to focus your energy on designing your dream vacation. For less than the price of a fancy dinner out, we'll guide your way to the right beach destination for your family. Less stress, more fun! 
Toddler Beach Essentials Packing List
Sometimes, all you really need is a 2-pager to keep yourself organized. Having a printable beach vacation with toddler packing list may be the only way to ensure you don't forget what you need.  
That's why we made you one! Don't worry, it's a novel, and not designed to overwhelm. 
This simple, easy-to-follow toddler beach vacation essentials packing list to make sure you remember all the necessary gear, and nothing more. You'll get not only a full toddler packing list for beach vacation checklist, but also links to our favorite toddler travel gear. 
Grab it now before you start packing!  
Frequently Asked Questions
Absolutely! To be sure, we want to offer our toddlers at the beach sufficient shade, sun protection, and water so they stay hydrated and cool. But toddlers love the sand and sea, and with your help will thrive on a beach day.
Check in with your toddler throughout your beach trip and pay attention to their energy levels and mood. Younger kids might tire after an hour or two and need to return to the room for a cooldown. Bear in mind that even on a cloudier day, sun exposure impacts toddlers more than teens and adults and that having access to shade and water is important.  
It helps to plan your days with a toddler at the beach to avoid the hottest part of the day – usually between 12:00 and 15:00.  Good thing that's when toddlers typically take a nap! It makes it easy to avoid overheating. 

Strollers have their benefits as a place to nap while under shade at the beach. On the other hand, strollers and sand don't mix so you will need to prepare to carry it. This really depends on what you – and your toddler – feel most comfortable with. 
Final Beach Trip with Toddler Thoughts
Just remember, less can be more! Having an organized packing list for a beach vacation with toddlers is a must. But it's not the end of the world if you forget something, or throw in something extra. You can do it!