The Caribbean brings European, African, and local influences together to produce an irresistible combination. The languages spoken in the Caribbean are a window into the region's history, vibrant culture, and diversity.  With dozens of islands, each having its own linguistic journey, there's much to discover.
English is most widely spoken language in the Caribbean. But Spanish, French, Dutch, Creole variants, and other indigenous languages blend in various patterns as you go from island to island.
We love the Caribbean's beautiful beaches, of course, but family travel can and should, in our view, be about much more. Your next trip to the Caribbean could be a chance to immerse yourself in a different way of describing and seeing the world – or, if that's too much, you can at least dust off your high school French or Spanish.
Read on to see who speaks what, where, and to get planning!
Caribbean Family Travel Resources
Before we dive in, let's be sure you have our best travel resources at your fingertips. Did you know we have a whole collection of recommended family hotels in the Caribbean? I'll let you in on a secret, it's sort of our pride and joy. 
A Guide to Languages Spoken in the Caribbean
The six official Caribbean languages are:
English
Spanish
French
Dutch
Haitian Creole
Papiamento (another creole language)
Although only two creole languages have official status, most Caribbean and Latin American countries have their own version of the blended language. These are generally only spoken between locals but you can try to learn a few sentences while traveling.
Creole
You can't talk about the language spoken in the Caribbean without talking about Creole, so let's start there.
Creole languages (sometimes referred to as pidgin, patois or patwa languages) are combinations of multiple languages that come together into something local and unique. Each one draws on at least two other languages and is characterized by simplified grammar, which allowed people without a common language to communicate.
Most Caribbean islands have at least one Creole language, with Caribbean creole languages widely spoken by residents. In two cases are spoken widely enough to be deemed an official language:
Curacao and Aruba each have two official languages, Papiemento and Dutch
Haiti's official languages are Haitian Creole and French
In other island nations, English remains the official language, but the local creole language is so widely used as to be quite recognizable, such as in Jamaica (Jamaican Patois/Patwa) and Barbados (Barbadian Creole/ Bajan).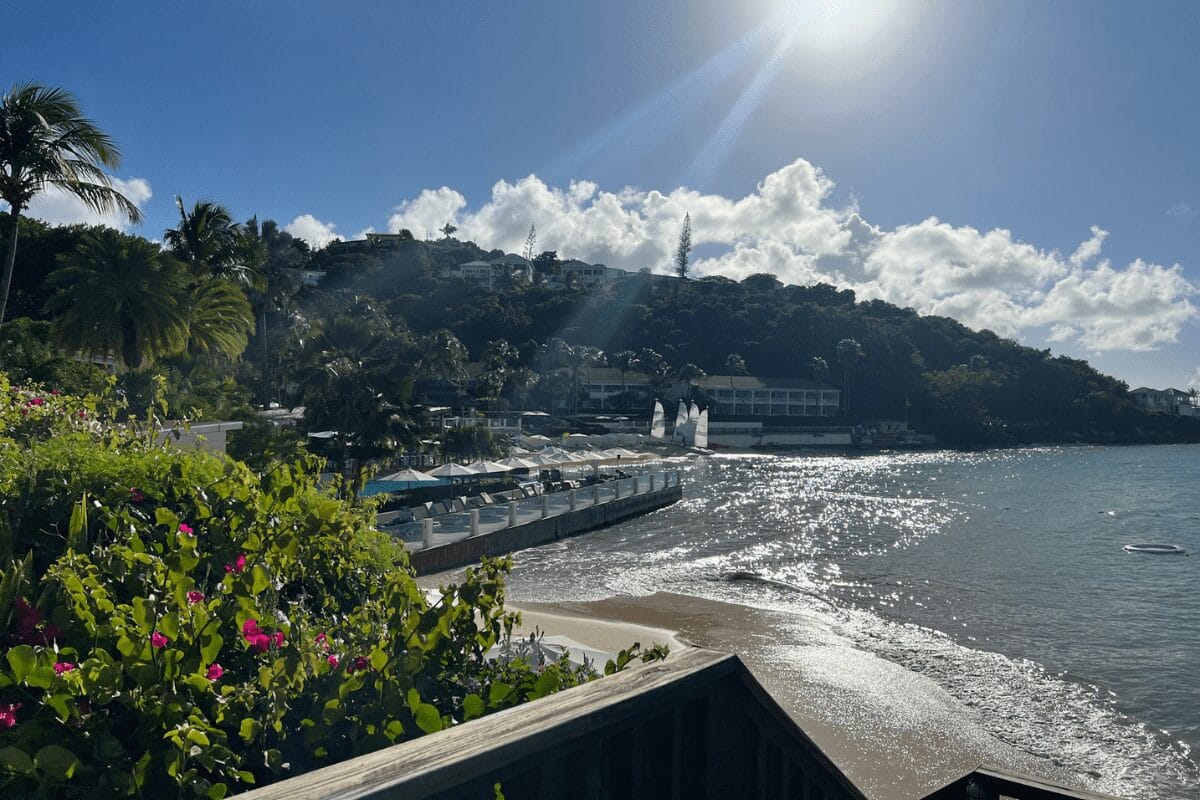 English
English is the most widely spoken language in the Caribbean, due in no small part to the region's colonial past, and the official language of many island nations and overseas dependencies.  
English is the official language in these Caribbean countries.  
Antigua and Barbuda
Barbados
Bermuda (not technically in the Caribbean, but we still count it)  
Bahamas (not technically in the Caribbean, but we still count it)  
Dominica
Grenada
Jamaica
Saint Kitts and Nevis
Saint Lucia
Trinidad and Tobago
Belize
Guayana
Saint Vincent and the Grenadines
English is also the official language of the following territories overseas:
Anguilla
British Virgin Islands
Cayman Islands
Montserrat
Turks and Caicos
S. Virgin Islands
These islands are among the best Caribbean destinations for families, in part because of the ease of communication. Caribbean English typically sounds more British than American but is easy to understand nevertheless. 
To plan a trip to one of these tropical destinations, start with our detailed overview of the English Caribbean island countries, where you'll find our tips on what each one offers families, and where to stay with kids.  
Want to start with a deep dive into one of our favorite English speaking islands?  Jump right to our Grenada destination guide and learn some common phrases of Grenadian English.  Or consider whether English-speaking Saint Lucia or Antigua might be for you. 
Beyond these Caribbean islands though, you won't struggle to find English speakers across the region. Tourism fuels the region, and hospitality workers generally speak great English. If your itinerary takes you off the beaten track, you'll find it handy to have a few basics of Spanish or French up your sleeve, but we've never struggled to communicate in the Caribbean.
Spanish
Christopher Columbus flew Spain's flag when he first landed in the Caribbean in 1492. So perhaps it comes as no surprise that Spanish remains one of the most widely spoken languages in the region. 
Our deep dive into the Spanish speaking countries in the Caribbean is packed with language tips, travel advice, and hotel recommendations for the following Caribbean countries, where Spanish is the official language: 
Puerto Rico
Dominican Republic
Mexico
Costa Rica
Panama
Honduras
Colombia
Nicaragua
Venezuela
Spanish is also spoken to varying degrees or at least taught in schools in:
Aruba
Barbados
Belize
Curacao
Trinidad and Tobago
U.S. Virgin Islands
Before you hop on a plane with your phrasebook, note that the Spanish spoken in the Caribbean is different from the Castilian Spanish (or, Peninsular Spanish) taught at schools in the U.S. and Europe. There are notable differences in pronunciation, grammar, idioms, and slang used in all of these countries.
These Spanish speaking countries have so much to offer families. Mexico, Puerto Rico, and the Dominican Republic are long-standing favorites with calm beaches, resorts of all shapes and sizes, and lots of flights from the United States.
For a specific suggestion, if you're seeking a combination of city, culture, and beach, jump right to our guides to Cartagena, Colombia or Roatan, Honduras, two of our all-time favorite destinations.
French
If a French-focused trip is calling your name, our guide to the French Caribbean highlights exactly where to stay and what to do on each island.
There are far fewer French speaking countries in the Caribbean, with French being the official language of two countries —
Haiti (shared with Haitian Creole)
French Guiana
— and four French overseas territories.
Saint Martin (paired with Dutch speaking Sint Maarten)
Martinique
Barts
Guadeloupe
A trip to the French overseas territories in the Caribbean really feels like a mini-trip to France, with sun and sea mixed with croissants and laissez-fare attitudes. We can't recommend the French Caribbean for travel with kids highly enough.
Not sure where to start? Scan through French Saint Martin's best beaches and you'll be packing your bags in no time.  
Dutch
Dutch is the official language spoken in three Caribbean countries that are constituent nations of the Kingdom of the Netherlands:
Plus, you've got three municipal islands of the Caribbean Netherlands, which are not independent nations:
Bonaire
Sint Eustatius
Saba
We love the ABC islands for a family vacation to the Dutch Caribbean – with a special fondness for Bonaire in particular, as it remains a hidden gem among family travelers.  
Even if you don't speak Dutch, you should have no issues communicating on vacation in the Dutch Caribbean.  Residents study English at school and most restaurant menus are printed in English.
Papiamento
Spoken exclusively on the ABC Islands, Papiamento is a Portugese based creole language, which is also grounded to a lesser extent in Dutch, Spanish, and West African languages. Together with Dutch, it is the official language of Curaçao and Aruba while around two-thirds of Bonaire residents default to Papiamento.
FAQs
How many languages are spoken in the Caribbean?
Six official languages are spoken in the Caribbean: Spanish, English, French, Dutch, Haitian Creole, and Papiamentu. Haitian Creole and Papiamentu are creole languages. Countless other creole languages and dialects are spoken on islands throughout the region.
What is the most common language in the Caribbean?
English is the first or second language in most Caribbean countries. That said, Spanish is actually spoken by the most people in the Caribbean, so both could be said to be the most common languages in the Caribbean. 
Get Caribbean Family Travel Tips Right Into Your Inbox 
If you found this post helpful, don't miss our other Caribbean destination guides for families. 
And for even more Caribbean and family travel inspiration, sign up for our biweekly newsletter! We feature a new destination each month, highlighting our favorite hotels and family travel tips. Keep the travel dreaming coming all year long.