Our Cartagena Colombia beach vacation with our 3-year old daughter was one of our all-time favorite trips. 
If you're thinking about heading to the Caribbean coast of Colombia, you're making a fantastic choice. I can't wait to help you decide which beaches to visit on your journey. 
But there's something you should know right off the bat. 
The Cartagena Colombia beach in the city proper is not a powdery white beach that cascades gently into turqoise waters. Cartagena's best beaches are a short boatride outside the historic city center. If you're willing to go a little further, though, you won't be disappointed. 
Cartagena's best beaches are in the Rosario Islands and on the Baru peninsula. They are absolutely worth the trip, and great for families.
In this article, I'll give you an overview of all the best Cartagena Colombia beach options, and my best tips for planning a trip that hits Cartagena's highlights. 

If you combine your trip to the colorful city center with a few days at one of the Cartagena best beaches outside the city, you'll have an oustanding family beach vacation with just the right mix of culture and relaxation.  Let's get started!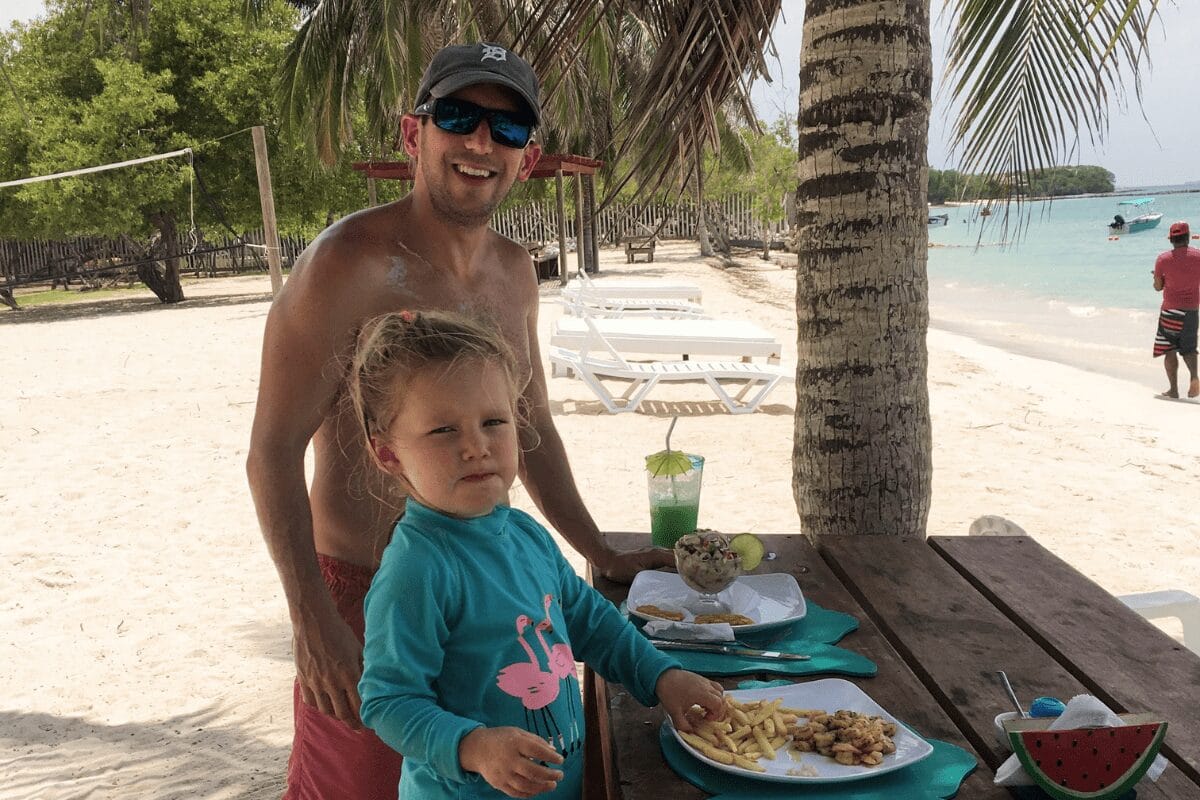 This post contains affiliate links from our trusted partners
The short version: Here's how to approach your Cartagena Colombia beach trip 
The best Cartagena Colombia beach vacation is a split stay, divided between the historic city center and a nearby beach. 
First, spend several days in the city itself. Our complete guide to visiting Cartagena with kids has everything you need to know about where to stay in Cartagena, what to do, and what to expect from a trip to the charming walled city.  Cartagena is extremely welcoming to kids and vacationing families. Visiting the colorful city should absolutely be on your Caribbean bucket list. 
Second, if you have time, head out of town and hit the best Cartagena beaches for a few days.
I describe each of these beaches in more detail below, but here's a quick overview of your two best Cartagena Colombia beach options: 
Isla Baru is a peninsula about a 45 minute boat ride away. It has nice, sandy beaches, and one of our top Caribbean hotels for families, Las Islas.  This is the best Cartagena beach for young kids.  
The Rosario Islands, a one-hour boat ride, are gorgeous, part of a national park, and worthy of any daydream. But there aren't many sandy beaches here. You'll find rocky shorelines and top notch snorkeling. Save these islands for a trip with tweens or teenagers who can swim comfortably in shallow ocean waters.
If you only have time for a short beach day while in Cartegena, you do have options! Your best bests are: 
Tierra Bomba island, Bocagrande, and Manzanilla del Mar — all decent beaches less than an hour drive from Cartagena.  
Finally, some of our recommended Cartagena hotels (Casa San Agustin and Bastion Luxury Hotel) have relationships with private beach clubs. Staying at one of these incredible hotels will give you access to these private Colombia Cartagena beaches for a day of sand and sea. 
I'll walk through each of these Cartagena beaches in detail below. But here's the takeaway: There are tons of great options for a Cartagena, Colombia beach trip with kids! With a little planning, you can't go wrong.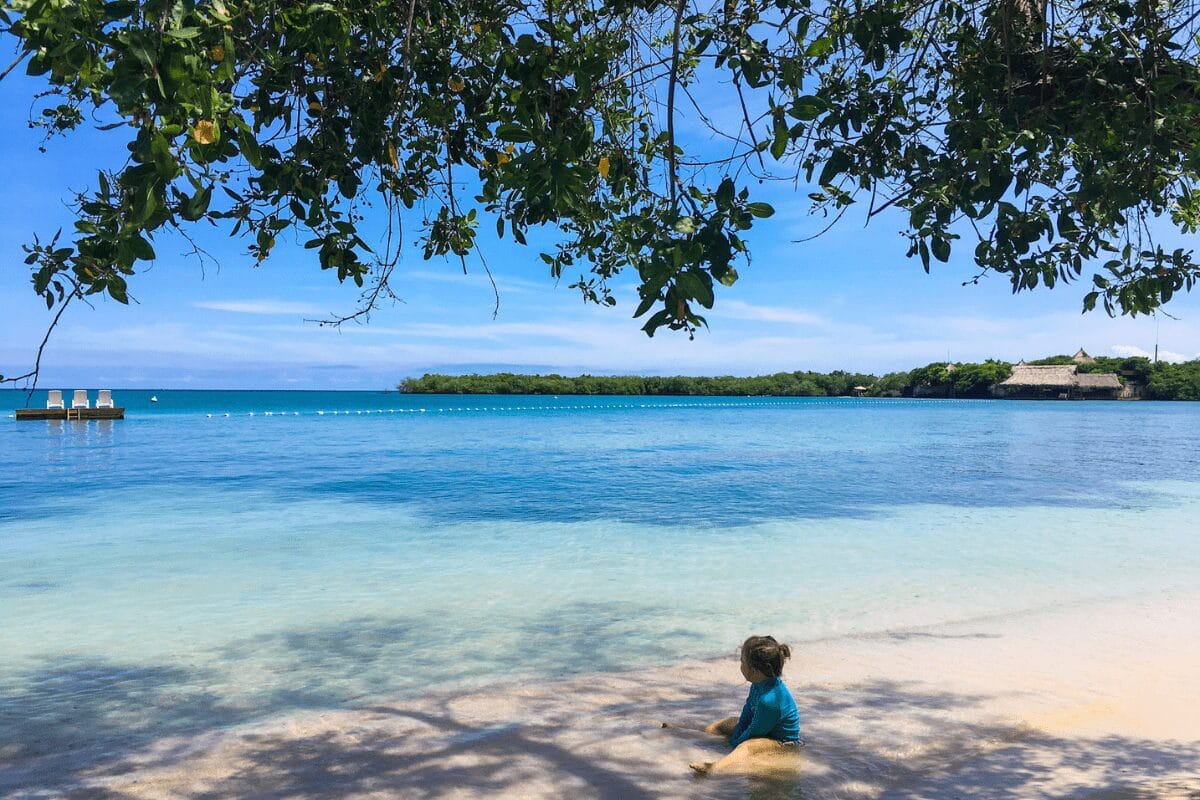 The Best Cartagena, Colombia Beaches One-Hour Outside the City 
These Cartagena Colombia beaches are worth the journey from the city.  Each can be reached in an hour or less by boat – not a major undertaking! They offer pristine conditions for swimming and snorkeling, and white sandy shores great for little ones. 
Best beach for luxury and littles: Isla Barú (45 minute boat ride)
Isla Barú is a truly tropical paradise located 13 miles southwest of Cartagena's Old Town. With its crystalline waters, powdery sand, and lush mangroves – the beaches of Isla Barú tick all the Caribbean vacation boxes. 
Isla Baru is a peninsula rather than an island, so it's possible to connect overland by shuttle bus. But my recommended method of getting to Isla Baru is via speedboat from the La Bodeguita Pier in the port of Cartagena, which takes only 45 minutes. 
You can visit the peninsula either as a day trip or as an overnighter. I encourage the second option for a more relaxing experience, as there are two phenomenal hotels on Isla Baru.
Where to stay on Isla Baru
There's no better place to maroon yourselves on Isla Barú than at the eco-luxe Hotel Las Islas. It may have one of the absolute best Colombia beaches.
Unwind in a thatched bungalows with a private terraces – or perhaps a personal plunge pool. The beach at Las Islas is soft and calm, great for little swimmers. We stayed two days on our first voyage and could easily have stayed a week.
Dishes at the Las Islas restaurants are prepared using organic ingredients grown on-site. Occupying a beachfront spot on the cusp of the Corales del Rosario National Park, the water at the property is shallow and calm for younger kids. Meanwhile, the staff at this family-friendly hotel will help you organize tours and cultural activities.
Isla Barú with a stay at this resort gets our vote for the best beach in Cartagena, Colombia with younger children. 
If an eco-cottage is not your thing, and you prefer a more traditional luxury resort, you'll swoon over the new Sofitel Baru Calablanca. 
Best Beach on Baru: Playa Blanca
The mesmerizing Playa Blanca is the star of Isla Barú.  If you can't stay overnight at one of Baru's great luxury hotels, then Playa Blanca is one of the best beaches near Cartagena for a day trip.
You could also consider stopping off at Playa Blanca before heading onward to our recommended Hotel Las Islas for a couple of nights. 
Sand the color of clotted cream and aquamarine water makes Playa Blanca one of the prettiest swim spots in Cartagena. In fact, this is about as close as you'll find to the dreamy turquoise hues of Caribbean travel brochures. Note, however, when travelign with little children that the beach drops off fast. 
As a popular Cartagena Colombia beach, Playa Blanca can get crowded. We recommend getting there early in the day to secure a good spot.  If you get really turned off by a crowded beach, this may not be the best choice for you.
Playa Agua Tranquila is another mellow choice to lay your towel for a few hours. 
Because it's marketed as a party destination, Cholón is the one Cartagena beach we suggest skipping on your family excursion. 

The best choices we made on our Cartagena beach vacation
We split our trip between Casa San Agustin in Cartagena and Hotel Las Islas on the beach, both members of the Leading Hotels of the World collection. Two of my all-time favorite hotels.
Rather than arrange a direct transfer between hotels, we booked this full-day private boat experience for the day that we checked out of Casa San Agustin.
We brought our luggage with us, spent the day in the Rosario Islands, and had fresh grilled whole fish for lunch on a deserted beach.
Our captain dropped us off at Las Islas for check-in at 4pm to end our day. It turned a travel day into a truly perfect vacation day.
Best beach for teens and snorkeling: Rosario Islands
The Rosario Islands, or the Islas de Rosario, are one of Colombia's natural national parks. With coral reefs, mangroves, and cerulean waters, this archipelago will offer a true castaway Caribbean experience.
Unlike Playa Baru, you won't find many long stretches of white sand here. You'll find smaller beaches, and rocky shorelines giving way to reef just below the surface.
Rosario Islands – Isla Grande
Isla Grande is the natural starting point for exploring the remote Rosario Islands cluster. There are countless scheduled boats and group day tours from La Bodeguita marina in Cartagena to Isla Grande in the Rosario Islands. These are primarily aimed at adult travelers, and perhaps older teens.
Playa Libre is the only public beach; elsewhere, you will need to purchase a meal in order to access the beaches. If you decide to drop anchor for a night, there are a handful of family-friendly resorts with private beaches.
Paddleboard and kayak rentals are widely available in the islands, and the snorkeling potential is unrivaled. If your kids are old enough to snorkel, you can do so right off the beaches to see reef fish and sea crabs, or from the boat.
Rosario Islands – Isla del Pirata
Just next to Isla Grande is a small neighboring island, Isla del Pirata. What was once a thriving hub for pirates has since cleaned up its act.
Although privately owned, boats are authorized to dock at Isla del Pirata to let you plunge into the crystal clear water and snorkel the reef. There's no actual beach on the island, but the little island resort has great swimming just off the dock.
The Rosario Islands are a great choice for older, confident swimmers, including adventurous tweens and teens. The emphasis on water-based activities will offer hours of entertainment.
The Best Cartagena Colombia Beaches Closer To The City
If you have a limited amount of time in Cartagena, and don't want to venture out to Playa Baru or the Rosario Islands, there are some other solid beach choices a little closer to the city. 
While not as stunning, these beaches will help you scratch the itch for a day by the sea.
Isla Tierra Bomba
Isla Tierra Bomba is one of the closest beach destinations to Cartagena. Located a mere 15-minute boat ride from the port, it's perfectly feasible to scoot across to Isla Tierra Bomba for the day. 
Despite that, the island somehow manages to fly under the radar. 
Visitors will arrive at Punta Arenas, which will welcomes you with a string of low-key public beaches with easy access to amenities and seafood eateries.
These Cartagena Colombia beaches have a sheltered position on the island, with tranquil waves lapping at the shoreline where younger kids can cool down. While basking beneath the palm trees, you can look back at the skyline of Cartagena. 
Although the Playa de Punta Arena is lovely and laid-back, the beach can be fairly busy at weekends and later in the afternoon. 
Consider heading down to Bocachica in the south of Tierra Bomba to combine a session on the sand with a stroll around the forts. But bear in mind that a couple of the beach clubs – for example the well-known Blue Apple Beach – cater less to kids on this part of the island. 
Manzanillo del Mar
Manzanillo del Mar is a fishing village located about 35 minutes from Cartagena. For now, the area remains undeveloped, with a scattering of unpretentious hotels and wide sweeps of beaches. 
Despite its relative proximity to downtown, the beaches of Manzanillo del Mar are rarely overcrowded. Playa Manzanillo is the most central beach, where you can rent loungers and palapas. 
As this shoreline is prone to winds – particularly as you head south – and so you'll often see local residents honing their windsurfing and kitesurfing.  It's a good beach for watersports. 
If you have access to a rental car or are hiring a driver, Manzanillo del Mar is a great option for a half-day at the beach. Again, the beaches are not as stunning as those on the islands. But, they are more family-friendly than Bocagrande and handy for a quick fix and sand and sea before your afternoon siesta back at your Cartagena hotel.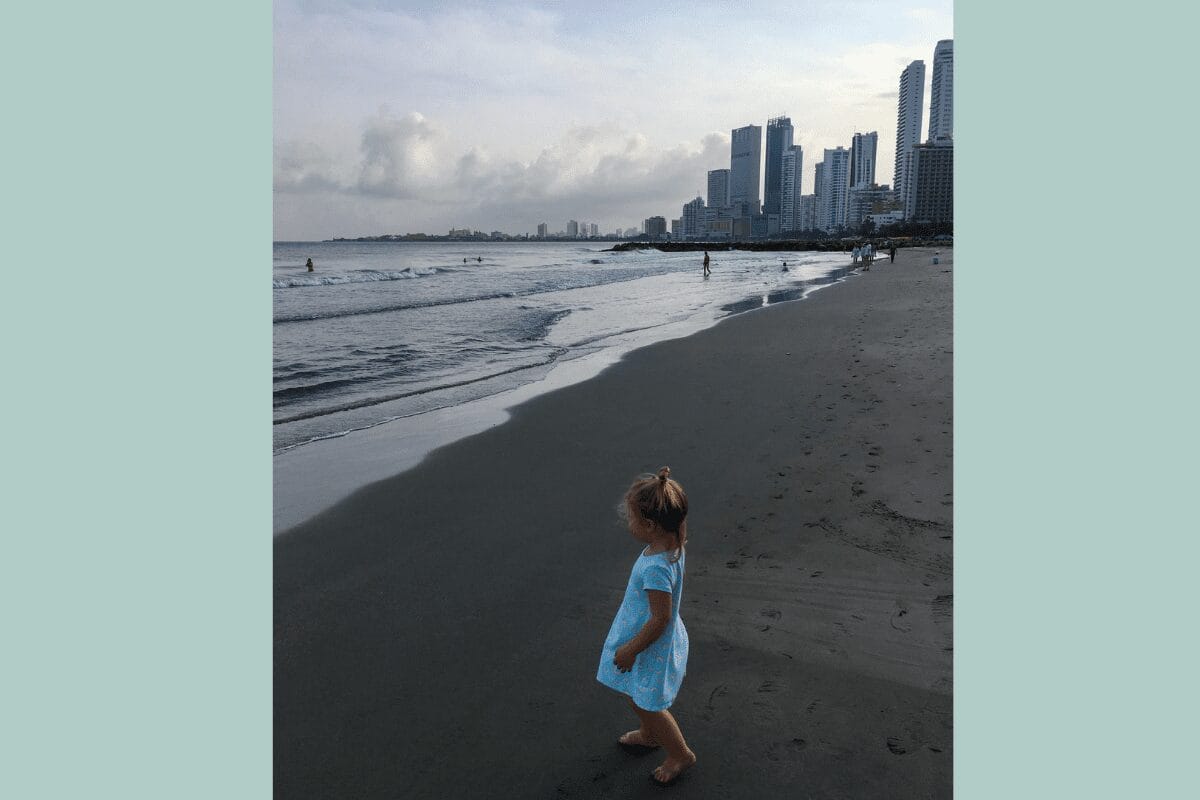 The Best Cartagena Colombia Beach In Town
Playa de Bocagrande
If you've been researching a trip to Cartagena, chances are you've already heard about the city's most central beach neighborhood, Bocagrande.
Playa Bocagrande is worth adding to your radar if you need a quick burst of vitamin D while exploring Cartagena's Old Town. This long stretch of sand fronts the glitzy Bocagrande district. 
Bocagrande has a little bit of a Miami beach feel to it, or may remind you of the beaches right outside San Juan, Puerto Rico, with high-rises and skyscrapers lining the beach. It's noisier and more crowded than the more remote options described above.
The water clarity here isn't on par to what you'll find out on the islands.
Bocagrande will do in a pinch, for sure, but when planning a Cartagena, Colombia beach break, we highly recommend going a little bit further out.
Castillo Grande Beach 
Playa Castillo Grande sits at the end of the Bocagrande neighborhood, facing south (compared to Bocagrande's western facing beach).  It's much quieter, as the tourists tend not to venture this far, with dark sand and chairs to rent. 
Castillogrande beach is a great alternative to Bocagrande for families with little children, with a very gentle break and very cool views of the city. 
Frequently Asked Questions 
Get Caribbean Family Travel Tips Right Into Your Inbox
If you found this post helpful, don't miss our other Caribbean destination guides for families.
For more Caribbean travel inspiration, sign up for our newsletter! We feature a Caribbean destination each month, highlighting our favorite hotels and family travel tips. Keep the travel dreaming coming all year long.