Key West, Florida brings a slice of Caribbean vibes into Florida's borders and offers a ton of fun the whole family can enjoy. But if you have your eye on the "Conch Republic" for your next family vacation, figuring out the best time to visit Key West can be a little tricky.
Key West—the final island in Florida Keys—lies off the tip of Florida and is the southernmost point of the continental United States. It is connected to the mainland via the Overseas Highway, a series of stunning causeways that carry U.S. Route 1 over electric blue water and into the islands.
Key West is only 90 miles from Cuba – but even that 90 miles gives Key West more seasonal variation than the average Caribbean island. You'll have to pay close attention to Key West weather when booking plane tickets.  
Also, because Key West primarily attracts American tourists, prices rise and fall dramatically based on peak travel seasons. 
All of this means you'll want to time your trip carefully.
Fortunately, we've done the legwork and taken these factors into account in evaluating the best time to go to Key West and the other Florida Keys.
Keep reading for the details, and to learn what to expect month-by-month when visiting the Florida Keys with your kids – and why we think it's a great option for a family trip.
Mango Tree Bottom Line 
The best time to visit Key West, Florida is from March to May, during the springtime shoulder season. Great weather, slightly more reasonable prices than winter months, and fewer crowds—but no hurricanes—all align to set the stage for a delightful family vacation.
Mango Tree Recommends 
Stay here… 
Santa Maria Suites for muliple bedrooms in the heart of Key West.
Sunset Key Cottages for luxury family cottages and a proper beach.
Don't miss…   
This Half-Day Snorkel and Kayak Cruise (1000+ rave reviews!) 
This Sunset Catamaran Cruise (with live music) 
A Hop-On Hop-Off Trolley Tour with kids  
A unique glass bottom boat tour with the whole family
Pancakes at Blue Heaven
And don't forget… 
Book your Key West rental car early – and go for the convertible, you won't regret it. 
Caribbean Family Travel Resources
Before we dive in, let's be sure you have our best travel resources at your fingertips.   
Did you know we have a whole collection of recommended family hotels in the Caribbean? I'll let you in on a secret, it's sort of our pride and joy. 
Wishing someone else would just handle the logistics for a change? We also offer bespoke Caribbean family travel planning services. 
Our specialty? Helping parents identify the best Caribbean island and hotel for a top-notch family trip. Let us take the legwork off your plate. 
Now, cut yourself a slice of Key Lime pie and start planning your drive down the Florida Keys…
This post contains affiliate links from our trusted partners
Overview: When Is The Best Time to Visit Key West?
Key West is the most recognizable of the hundreds of islands in the Florida Keys.  It's the end point for most road trips through the island chain, and a top family destination.  But when to do? In evaluating the best time to go to Key West, we considered:  
Hotel availability and rental prices
Key West weather, including hurricane season
Seasonal events and festivals
Potential crowds and
Activities available for families
So how did we land on March to May as the best months to visit Key West? Here's the calculus.
While you can certainly enjoy Key West year-round, the winter and summer seasons have some drawbacks.
Wintertime is peak season. From late December through February, accommodations are as costly as they get. Plus, the Keys can get quite cool in December and January, with temperatures dipping into the 60s.
The practical effect of the cool Key West weather? It may be too cold to really enjoy swimming in the ocean or unheated pools. 
On the flip side, there are plenty of festivals and events throughout the winter, all taking advantage of the crowds who have made their way south for warmer weather. See below for some examples.
The summer season offers the cheapest hotel prices.  But with kids out of school and headed to the beach, you may find crowds at family-friendly hotels. Temperatures will be hot and muggy in July and August, with Florida's rainy season in full swing.  
Hurricane season in the Caribbean—including Key West—runs from June to November.  While we're fans of Caribbean off-season travel, even during fall months like October, you should expect plenty of afternoon showers this time of year.  You also face heightened risk of having your trip disrupted by a major storm.  
That leaves the sweet spot: March to May, the best time of year to visit Key West. 
In late March, you'll get Key West at its best weather. Tourist season is still going strong, especially during spring break weeks, but hotel prices start to drop from the end of February into March.
And as you head into April and May, those prices decrease even further—while the weather keeps getting warmer and better!  That's the best time to grab a car at the Miami airport, and head south through the Florida Keys. 
Check Rental car rates in miami for april and may now!
Where To Stay In Key West With Kids
Key West may not scream "kid-friendly destination" on first glance, but a drive through the Keys, culminating with a few days in Key West, is a road trip every family should take. 
Once you arrive at the end of the United States, there are lots of family-friendly hotels to choos from! 
Our full hotel profiles are coming soon, but we've got an eye on these kid-friendly properties:
For a private island choice, book luxury stay at Sunset Key Cottages, or a spacious unit at Parrot Key Hotel & Villas. Both properties sit on private keys just a short boat ride from Key West. You'll have easy access to the energy of Duval Street but a quiet place to retreat with the kids.
To stay right downtown, walking distance from art galleries, restaurants, live music, and more, the Santa Maria Suites offer families condo-style units with multiple bedrooms and a cozy courtyard pool for unwinding at the end of the day.  Havana Cubana also has a great pool.
If you're driving south, and love a marina view, the 100-room Perry Hotel and Marina just outside Key West on Stock Island is another great choice. With three restaurants, live music nightly, two waterfront pools,and  firepits, it's a destination in its own right, but offers easy access to Key West, with just a 15-20 minute drive into town. 
Key West By Month
We've given you our logic for the ideal time to visit the Florida Keys. But maybe you want to head there a different time of year, or perhaps have limited flexibility. 
Let's walk through a month-by-month breakdown of weather, prices, crowds, and events in Key West so you'll know exactly what to expect whenever you decide to go!
Key West in January

January closes out the winter season in Key West. This is the coldest month on the island – the average temps range from a high of 74 degrees to a low of 64 degrees.
If you are traveling to the Florida Keys in January with kids, know that it may be too cold to enjoy the ocean or unheated pools during the winter months. If you and your kids want to enjoy swimming, look for a heated pool when visiting Key West in January.  
Despite the cool weather, January is still the height of peak season for Keys tourists, as the rest of the continental US is far colder. This means accommodation prices are about the highest they get.
But on the bright side, the island is buzzing with holiday fun and annual festivals in January, including: 
Key West in February
Peak tourist season remains in full swing in February, with hotel rates peaking to match. For prices, this may be the worst time to visit Key West.
That said, Key West weather in February is pleasant, with mild temperatures averaging from a high of 76 degrees to a low of 66 degrees. This is also the island's driest month of the year, with plenty of sunshine and very little rain.
Just like in January, if swimming is at the top of your family itinerary, consider finding accommodations with a heated pool. At 72 degrees, the ocean will be too chilly for anyone not looking for a heart-stopping cold plunge—but there's so much to see in the Keys beyond the ocean that you can still have a great time.
Key West in March
And now we're getting into the best time to visit Key West, especially later in March. Average temperatures float around a high of 78 degrees and a low of 68, with low humidity and sunny days. 
In Key West in March, you can break out your favorite swimsuit, load your best beach bag with cold drinks, and settle into a proper beach vacation.
There are also minimal threats of hurricanes or other harsh tropical storms in spring.
March is right on the edge of peak tourist season in Key West, marking the start of the spring shoulder season. Prices start to come down as the snowbird crowds slowly disperse. That said, you won't get rock bottom prices this month: Between school spring breaks and clear blue skies, you'll still pay a premium for Key West's best weather.
Key West in April
 Key West is beautiful in April, with warm weather that's ideal for beach lounging and swimming. Temperatures range from a high of 81 degrees to a low of 72, and humidity is as low as it gets. The crowds continue to get lighter, while prices continue to creep down.  This might be the perfect time to visit the Florida Keys.
April is also one of the best times to visit the Florida Keys for fun annual events and festivals. Join in the yearly Key West independence festivities at the Conch Republic Independence Celebration, or dance and experience Afro-Caribbean culture at the Afro Roots World Festival.
Key West in May
May is also a great shoulder month in Key West. Temperatures hit their tropical stride, with an average high of 85 degrees and a low of 76 degrees. The warmth, sun, and clear skies are ideal for those who like watersports and beach fun, and some would say May is the best time to travel to Key West.  If you head to Key West in May, you'll sneak in right before hurricane season and Florida's rainy season.
May is perhaps the best time to visit the Florida Keys if you want to go snorkeling with kids, as the ocean feels warm, yet still refreshing. Fans of music will also enjoy the week-long Key West Songwriters Festival, the largest of its kind in the world.
Key West in June
June is the start of low season in Key West, which means hotel and resort prices will see a big drop. It's one of the most affordable months to visit Key West – making it one of the best times to visit the keys for budget-minded families.
By June, summer has arrived and Key West's weather is no longer ideal, with temperatures creeping up to an average high of 88 degrees and a low of 79. Humidity is quite high, and the island's rainy season is well underway.
There will still be plenty of sunny days, however, and Key West Pride is an exciting festival taking place this month. June also is arguably the best month to visit Dry Tortugas National Park, just off the cost of Key West.
If you don't mind humidity and afternoon showers, consider a trip to Key West with your kids at the beginning of their school break.
Key West in July
Temperatures continue to climb in July, with an average high of 90 degrees and a low of 81. July is one of the hottest, rainiest, and muggiest months in Florida, and the Florida keys are no exception.
While the weather may not be as enjoyable, July is perhaps the cheapest time to go to Key West. Whatever family beach resort you've had your eye on, it is a great chance to snag a room without the usual sticker shock. It will also be quite easy to book popular tours for your family.
Ernest Hemingway is among the most notable of Key West's famous former residents. If your high schoolers are enjoying (or suffering through…) The Old Man and The Sea, then the Hemingway Days Festival may help bring the novels to life.
We spent July 4th in Key West a few years back, and while we remember the energy of Duval Street, we don't remember rain interfering. So don't write off the option of a July trip to the Keys.
What better way to kick-off summer than with the 4th of July Weekend Key Lime Festival? If you're super into Key Lime pie, this festival alone might make July your best time to visit the Florida Keys.
Key West in August
August is the hottest month in Key West, with average temperatures ranging from an average high of 91 to a low of 81 degrees. The humidity is also quite high, with plenty of rainfall.  For those sensitivy to humidity and weary of rain, August is probably the worst time to visit Key West. 
That said, as a general rule, we don't shy away from off-season Caribbean travel here at Mango Travel. Despite the risk of rain and the high humidity, we love exploring our favorite destinations in the quieter summer months.
If you're traveling on a budget and want to avoid droves of crowds, long lines, and restaurant waits, August is your best bet. Enjoy spacious, care-free beach days with your toddlers, cheap accommodations, and easy access to Duval Street nightlife.  No reason to let afternoon showers scare you away.
One exception to these low-key August weeks may be Key West Lobsterfest, where the island kicks off lobster season with a massive party, which draws more crowds.
Protect Your Trip To Key West!
Do not let the rainy season scare you away from Caribbean travel! There's no reason to shy away from Caribbean travel during the rainy season (July to November). Even if you see storms in the forecast, we're typically just talking about afternoon rain showers—-a great time for a nap.  
That said, approach your trip with eyes wide open — and with a safety net. Caribbean travel during hurricane season (July to November) always comes with the risk of tropical storms. 
This is the most important time of the year to buy travel insurance, in case your trip gets impacted by a storm and you need to pivot and change destinations or dates.
We recommend that you get a travel insurance quote from IMG global. On top of having comprehensive medical, cancellation, and luggage protection, the hurricane protection that comes with the Travel SE plan is better than most. If NOAA issues a hurricane warning or watch for your destination 24-72 hours before departure, trip cancellation benefits kick-in (read the fine print for all plan details, of course).  
Key West in September
Key West weather in September is still quite rainy and humid. Temperatures begin to fall, but not by much, with an average high of 89 degrees and a low of 79. The island is still relatively crowd-free – the kids are back in school, after all — and hotel prices are reasonable. While Key West in September is quieter than peak months, it still marks the annual Key West Brewfest.
Key West in October
October is the start of the fall shoulder season in Key West. Storms abate and rain is less frequent, while temperatures begin to offer a little relief from the summer heat, averaging from a high of 85 degrees to a low of 76.
More visitors are returning to the island now that hurricane season is on the way out. If your kids have a school fall break, Key West may make a great destination for a quick October getaway.
That said, the island's adult energy starts to come alive in October, as electric events like Fantasy Fest kick off. This racy festival is probably too much for young kids, so don't let it surprise you!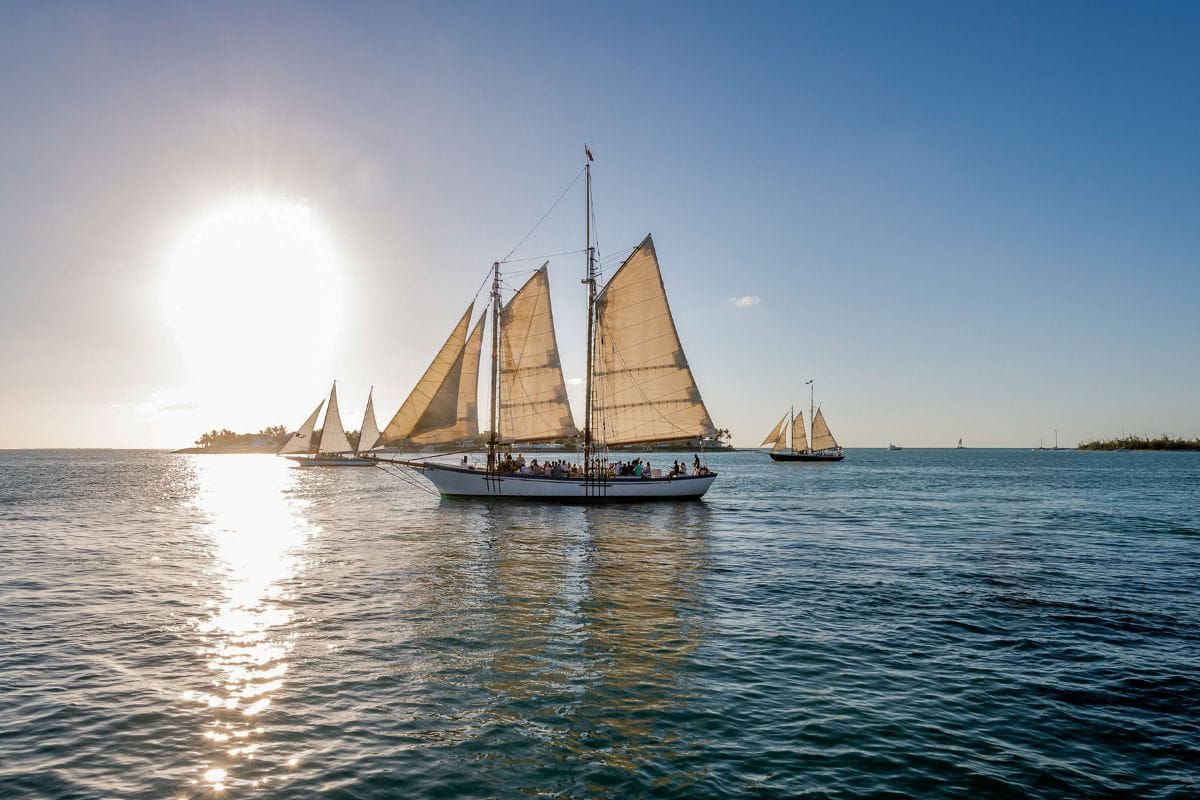 Key West in November
November is another good month to take advantage of shoulder season. As for Florida Keys weather in November, average temperatures float somewhere between a near-perfect 79 and 72 degrees.
Hurricane season isn't technically over, though. That's why November falls just short of being one of the top months for a visit to the Florida Keys. You may still get some storms, and a late-season hurricane could blow through.
The tradeoff is getting to avoid the large December and January crowds.  And prices are still reasonable before peak season hits. Get a babysitter and take in a show at the Key West Film Festival.
Key West in December
The weather in Key West is quite idyllic in December, with temps ranging from 77 to 70 degrees, and clear, sunny skies. Because December is the start of peak season, there are plenty of local events to enjoy.  
By the end of December, though, temperatures start to drop, so we'll repeat our reminder here to prioritize heated pools if you're headed to Key West over the holidays. Don't be surprised by the Florida Keys weather in December.  If you're heading to the Keys expecting it to be hot every day, this would be one of your worst times to visit the Key West. 
With endless activities (including family-friendly favorites like the Lighted Boat Parade) and perfect lounging weather (if not swimming), it's no surprise that many others have caught on too. 
Hotel prices reflect that December is a busy, popular month—especially during the week between Christmas and New Year's Eve.
Ready to Book Your Caribbean Family Getaway?

There you have it! Our month-by-month guide to the weather, tourist trends, and hotel prices in Key West.
Want some help planning your tropical family getaway? That's why we are here. Schedule a call to chat about our favorite Key West hotels for your next tropical getaway!
Get Caribbean Family Travel Tips Right Into Your Inbox 
If you found this post helpful, don't miss our other Caribbean destination guides for families. 
And for even more Caribbean and family travel inspiration, sign up for our biweekly newsletter! We feature a new destination each month, highlighting our favorite hotels and family travel tips. Keep the travel dreaming coming all year long.