The Florida Keys offer a unique Caribbean experience right in the heart of the Sunshine State. But with more than 1700 islands in the chain, it's a challenge to even sort through the names of the Florida Keys—let alone figure out which ones to visit!
To help make your trip planning easier, we've put together a complete overview of the names of all the Florida Keys that you'll cross on your way north to south. We also highlight what each area is known for and offer some tips on how to get around the Florida Keys islands, and where to stay if you're traveling to the Florida Keys with kids. 
Let's dive in!
Caribbean Family Travel Resources
Before we dive in, let's be sure you have our best travel resources at your fingertips.   
Did you know we have a whole collection of recommended family hotels in the Caribbean? I'll let you in on a secret, it's sort of our pride and joy. Our Key West hotels are coming soon, but in the meantime you can explore some of our other Caribbean destinations! 
Wishing someone else would just handle the logistics for a change? We also offer bespoke Caribbean family travel planning services. Our specialty? Helping parents identify the best Caribbean island and hotel for a top-notch family trip. Let us take the legwork off your plate. 
Now, pour yourself a Rum Runner and get to know the Florida Keys…
This post contains affiliate links from our trusted partners.
How many Florida Keys Are There? 
There are over 1700 little islands in Florida Keys National Marine Sanctuary, about 800 of which are keys. What's the difference between a key and an island? A key is a specific type of island: One that's limestone-based and created through low-lying coral build up. So, all keys are islands, but not all islands are keys. 
Before you get overwhelmed, note that fewer than 50 of the Florida Keys are connected by the infamous road that connects the island chain, the Overseas Highway. These islands are the only ones that can be accessed by car, whereas the thousands of Outer Keys — most of which are uninhabited — must be viewed by boat.
The Regions of the Florida Keys 
The Florida Keys are often grouped into different areas. But even the names of the Florida Key regions can get a bit confusing.
You'll hear most people group the Florida Keys into five regions, from north to south: Key Largo, Islamorada, Marathon, the Lower Keys and Key West.
Islamorada and Marathon Key are often described as though they are singular islands. They are not.  Islamorada and Marathon are each regions of the island chain, and each include several small keys. Key Largo and Key West, by contrast, are singular islands.
Another set of terms used to described the Florida Keys: the Upper Keys, Middle Keys, and Lower Keys. Those labels overlap with the five regions listed above.  
The Upper Keys usually refers to Key Largo and the islands of Islamorada. The Middle Keys is synonymous with the Marathon Key group of islands.
And the Lower Keys includes anything south of the Seven Mile Bridge that you'll cross when you're leaving Marathon. The Lower Keys continue until you hit Key West, the southernmost point in the United States.
Finally, you'll also hear people talk about the Dry Tortugas Keys. Dry Tortugas is a collection of keys that sits about 70 miles west of Key West. Reachable only by boat, Dry Tortugas isn't part of the connected chain of Florida Keys but instead is most often visited as a day trip from Key West.
What is the best way to get around the Florida Keys?
Before we walk through the names of the Florida Keys—how do you get around them? There are several ways to explore the Florida Keys that will make it an unforgettable experience for your whole family.  
Explore the Florida Keys By Car 
The best way to explore the Florida Keys with kids, in our opinion, is by driving along the Overseas Highway. Plan your Florida Keys road trip for the spring shoulder season for the best weather and thinner crowds.
You can fly to the Miami International Airport and drive from there. It takes about half a day (4 hours) to drive from Miami to Key West, longer if you stop to enjoy some of the sights and restaurants along the way. A roadtrip through the Keys is something every family should do at least once.  
You can also skip the drive and head straight to Key West, with lots of domestic flights to the Key West International Airport. Make Key West your homebase, and explore the lower keys from there.
Be aware: Sometimes there is traffic. Portions of the route from Miami to Key West are on a two-lane road. If you make the drive from Miami to Key West, do not be in a rush. Make it part of the adventure, with lots of stops. And do it in a convertible for extra fun.
This unique road offers stunning views of the sparkling blue waters, lush green tropical vegetation and colorful coral reefs below. The seven-mile bridge will give you panoramic views of the turquoise waters and the Keys' unique ecosystems.
Use discover cars to get the best rental car prices for your florida keys roadtrip:
Explore the Florida Keys By Boat
You can also take explore the Florida Keys by boat. With access to a boat, you can explore isolated islands, swim with dolphins and enjoy a relaxing cruise while taking in the views of the Keys from the water.
There are several boat tour options available depending on how much time you have to explore and how deep into the Keys you want to go. We suggest a few specific tours below but there are lots more in the different regions of the Florida Keys! 
The Florida Keys Mile Marker System
The Florida Keys is a maze of islands, waterways, and bridges. Street names aren't exactly intuitive, and some restaurants and sights sit right off the side of the Overseas Highway, so how do you find them?
The infamous green mile markers on the Overseas Highway help visitors navigate their journey rom the Florida Keys. Key West is Mile 0 and the green mile markers go up from there. The edge of Miami-Dade County is at Mile Marker 113, which marks the end of the Keys and your return to the Florida mainland.
As you plan your trip and map out your stops, you'll often see things referenced by Milke Marker number, which will keep you oriented and help you keep track of how far you are into your journey.
Names of the Florida Keys
Upper Florida Keys: Key Largo
The northernmost of the Florida Keys, Key Largo, is best known for its stunning coral reefs and easy access to nature. It's home to Everglades National Park, as well as some of the most popular destinations in the island chain like John Pennekamp Coral Reef State Park.
Key Largo is the diving and snorkeling center of the Florida Keys, with tons of underwater marine life to observe. Only about an hour from Miami, Key Largo can be a great day trip if you want to spend some time in the Keys with your kids don't have time for a deep dive into the island chain.
Upper Florida Keys: Islamorada
Located south of Key Largo, Islamorada is a collection of six keys – Plantation Key, Windley Key, Upper Matecumbe Key, Lower Matecumbe Key and two offshore islands – Indian Key and Lignumvitae Key. It's considered by many to be the Sport-Fishing capital of Florida, with countless boating excursions available for those who are interested.
The travel time from Miami to Islamorada is about 90 minutes.
Where to Stay in the Upper Keys With Kids 
Baker's Cay Resort
Baker's Cay Resort in Key Largo, part of Hilton's Curio Collection, has two waterfall pools, a lawn where kids can run around, and a private, calm beach. Connecting rooms are available for families, which the resort will confirm at the time of reservation.  
Cheeca Lodge 
This family-focused resort in Islamorada has a kids' camp (ages 5-12) and a whole host of family focused amenities, including a family fishing tour.  There are several pools, but no swimming beach. The Golf Course Suites have tons of space for families, including kitchenettes and separate living spaces.
Middle Florida Keys: Marathon
The Marathon Key region of the Florida Keys is an idyllic destination for family travelers – with something for everyone. It's a collection of 13 small keys that stretch from Vaca Key to Long Pine Key, each boasting unique attractions and experiences. This region is known for having the most vacation rentals and lodging options in the Keys, and the best beaches, including Sombrero Beach.
From Miami, it takes about 2 hours and 15 minutes to get to Marathon. Travelers often make it as far as Marathon just to see the Seven Mile Bridge at its southern end, a seven mile stretch of highway that's pretty much entirely over the water. It's just a stunning part of the drive through the Keys that shouldn't be missed.
The Marathon area and Middle Keys include: Long Key, the Conch Keys, Duck Key, Knight Keys, Hog Key, Vaca Key, Long Point Key, Stirrup Key, Crawl and Little Crawl Key, East and West Sister's Island, Deer Key and Fat Deer Key, Grassy Key, and Pigeon Key.  
But even this is an overgeneralization. Duck Key, for example, is made up of five tiny little islands that each has its own name.  There are nearly too many keys to count!
Where to Stay in the Middle Keys With Kids 
Marathon has perhaps the most lodging accommodations of all the Florida Keys, plus the most central location.  If you're traveling with a group, getting a villa in Marathon with a private pool or waterfront location could be a great option.  If you're traveling with a dog, you'll find lots of dog-friendly beaches here too. 
There are several great family resort options in Marathon too! Tranquility Bay Resort and Isla Bella Resort are the two most popular; both have multi-bedroom suites for families, private beaches pools, and activities to keep the kiddos entertained.  Hawks Cay Resort is another favorite among families with similar amenities and room setups.
Lower Florida Keys: Bahia Honda Key to Key West
After Marathon Key, your drive starts to turn almost directly West. You'll now head into the more romantic, and more remote region of the chain: The Lower Keys. This is when you'll start to feel like you're in a different country, driving off towards the sunset. With two wildlife refugees in this part of the island chain, you can really get away from it all.
The Lower Keys begin with the Seven Mile Bridge. From Miami, it should take about 2.5 hours to get to the start of that bridge. The drive through the Lower Keys to Key West takes about an hour.
The lower keys include: Bahia Honda Key, Spanish Harbor Key, Big Pine Key, Little Torch Key, Middle Torch Key, Big Torch Key, Ramrod Key, Summerland Key, Cudjoe Key, Sugarloaf Key, Saddlebunch Keys, Boca Chica Key, Stock Island, Key West.
By the time you get to Key West, the southernmost point of the continental United States, you're closer to Cuba than to Miami! You've now made it all the way through the Florida Keys and it's time to celebrate. Known for the street performers and lively nightlife of Duval Street, epic sunsets, and Ernest Hemingway, Key West is a destination within its own right. But it's also a great place to end (or start) a longer journey through the Florida Keys.
Where To Stay Near Key West With Kids
There are lots of hotels to choose from in Key West. Our full hotel profiles are coming soon, but we've got an eye on these kid-friendly properties:
For a private island choice, book luxury stay at Sunset Key Cottages, or a spacious unit at Parrot Key Hotel & Villas. Both properties sit on private keys just a short boat ride from Key West. You'll have easy access to the energy of Duval Street but a quiet place to retreat with the kids.
To stay right downtown, walking distance from art galleries, restaurants, live music, and more, the Santa Maria Suites offer families condo-style units with multiple bedrooms and a cozy courtyard pool for unwinding at the end of the day.  Havana Cubana also has a great pool.
If you have a car, and love a marina view, the 100-room Perry Hotel and Marina just outside Key West on Stock Island is another great choice, with three restaurants, live music nightly, two waterfront pools, firepits, and more.
Key West Boat Excursions
If you make it all the way to Key West – whether by car or via direct flight to Key West – we recommend you get out on the water. 
The Florida Keys is one of the only places in the United States where you can take a glass bottom boat tour and see coral reef right underneath! It's absolutely worth your while. 
But whether it's on a glass bottom boat, a catamaran, or a sailboat sunset tour, be sure to get on the water.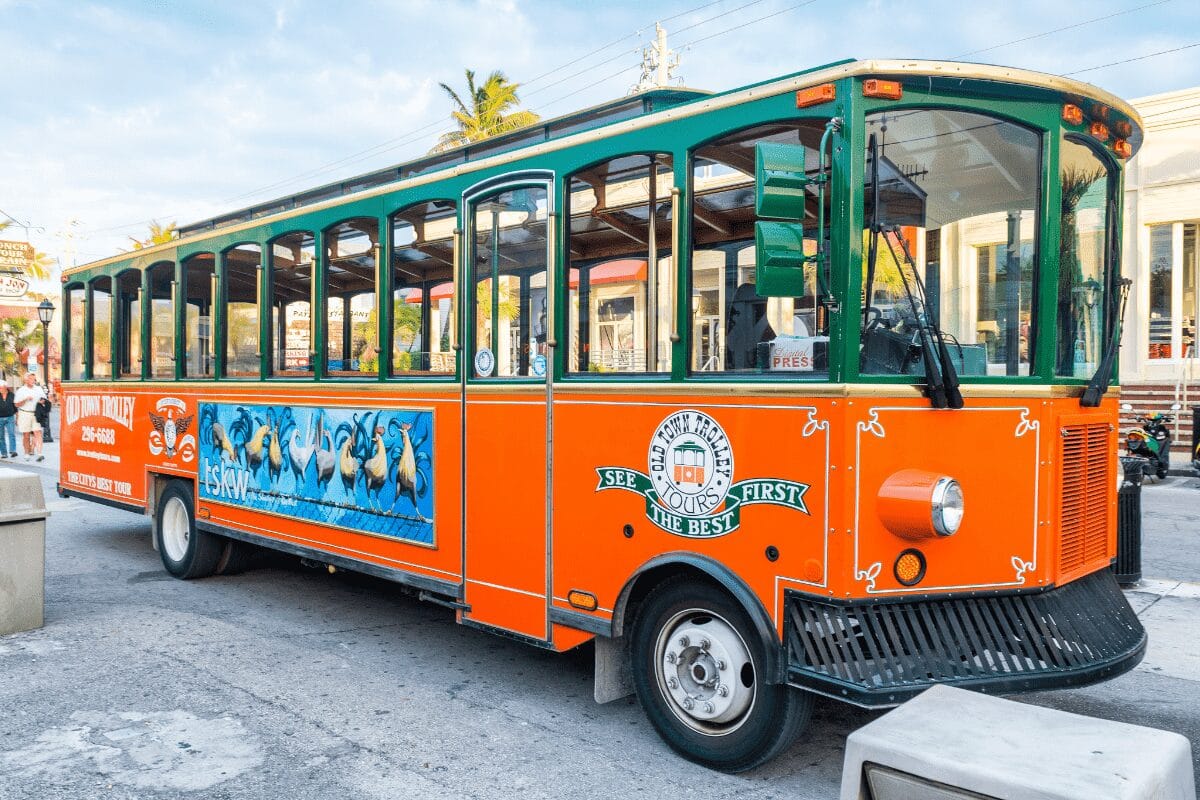 Dry Tortugas Keys
Dry Tortugas National Park is a collection of islands located about 70 miles west of Key West, and it is often visited as a long day trip from Key West. The park includes seven tiny islands: Garden Key, Loggerhead Key, Bush Key, Long Key, Hospital Key, Middle Key and East Key. 
Dry Tortugas is home to Fort Jefferson, a massive 19th-century brick fort that was built to protect the entrance of the Gulf of Mexico. In addition to its history, the park is known for its bird population and stunning crystal clear waters.
Protect Your Trip To The Florida Keys
When you book travel with your kids – to the Keys or elsewhere – you should always make sure you have trip insurance in case things go wrong. You want to be sure you're covered for trip delays or cancellation, medical costs, and lost luggage. 
We suggest getting a quote from IMG global. The Travel SE plan will offer sufficient coverage for most family trips. And we like it for tropical destinations in particular because, on top of having comprehensive medical, cancellation, and luggage protection, the hurricane protection is better than most. If NOAA issues a hurricane warning or watch for your destination 24-72 hours before departure, trip cancellation benefits kick-in (read the fine print for all plan details, of course).  
Get Caribbean Family Travel Tips Right Into Your Inbox 
Don't miss our other Caribbean destination guides for families. 
And for even more Caribbean and family travel inspiration, sign up for our newsletter! We feature new destinations, highlight our favorite hotels, and offer family travel tips. Keep the travel dreaming coming all year long.