Best overall pick: the Aloha Collection Day Tripper Bag.
As a mom, somehow you always find yourself carrying a ton of stuff when you head to the beach with kids. You need a good beach bag. 
But traipsing through websites and stores to find the best beach bags for moms takes time that you don't have to spare. 
So we've rounded up our 12 favorite mom beach bags to save you the time (and mental energy) of reading 1,000 reviews yourself. 
There's something here for every mom, and every budget, to keep you organized and stylish on your next beach vacation. Enjoy! 
Mango Tree Tested and Approved 
The Aloha Collection Day Tripper Bag takes the top prize, thanks to it's waterproof material, gorgeous patterns, coordinating internal pouches, expandable top zip closure, and ability to pack down flat.
Get 20% our favorite beach bag with code ALOHAMANGOTREETRAVEL20! 
What We Look For In The Best Beach Bags For Moms
Before we run through our list of winners, let's quickly go over what to look for when choosing the best mom beach bag for you. 
Size
It goes without saying that the most mom-friendly beach bags are on the larger side. You need to be able to fit toys, water bottles, sunscreen, possibly diapers and extra clothes, and enough snacks to keep everyone happy.
That said, avoid grabbing the largest bag just for the sake of it. You'll just be tempted to overstuff your bag with toys your kids simply won't need once their toes touch the sand. If you're traveling with toddlers, our toddler beach vacation packing list will help you stay on point.
Another factor to consider is whether you'll be traveling by plane with your beach bag – to a family-friendly Caribbean island for example – or whether you plan to use your bag mostly to go to local beaches or pools.
For our Caribbean travel, we like a beach bag that folds down into a suitcase. That's less important, of course, for day-to-day summer use.
Material
The beach bag of your dreams will be water-resistant, sand-proof, easy to clean, lightweight, and feel good against the skin. Our roundup of the best mom beach bags does its best to satisfy the whole shebang.
The material you choose might depend on how you intend to use your bag. If you envision a bag that will mostly be full of sand toys, wet shoes, and sunscreen, go for one that you can rinse off with a hose!  But if you expect to pack diapers, clean clothes, snacks, and a book or two, you'll want one that can keep things dry.
Compartments
Every pocket brings you a step closer to flawless organization. The best beach bags for women come with a mix of internal and external pockets for stashing your belongings and beach gear.
If your pick of the best pool bag for moms lacks compartments but otherwise has everything you need, don't let that stop you. You can keep your bag organized just as effectively with internal pouches or packing cubes.
Structure
As we alluded to above, consider whether you'll use your beach bag as a carry on, or whether you need a bag that easily packs down in your luggage. On the flip side, consider whether the bag with be robust enough to withstand being plonked on the sand, blustery conditions, and boat excursions.
If you're like us, and addicted to beach travel, you may consider building out a range of beach bags depending on the vacation. Some women buy shoes…
Style
Last but not least, you'll want your mom beach bag to capture your own sense of style. Sure, your bag should be practical, sturdy, and keep you organized.  But if  you go for substance over style, there's a high chance it'll end up at the back of your closet.
Life's too short to carry a beach bag you don't love. Make sure your choice is the best pool bag for you before you click that buy button.
Before we run through our list of winners, let's quickly go over what to look for when choosing the best mom beach bag for you.
Our 12 Favorite Mom Beach Bags
As promised, we've rounded up 12 of the best beach bags for moms that are just what you need for your next Caribbean getaway, starting with our absolute favorite.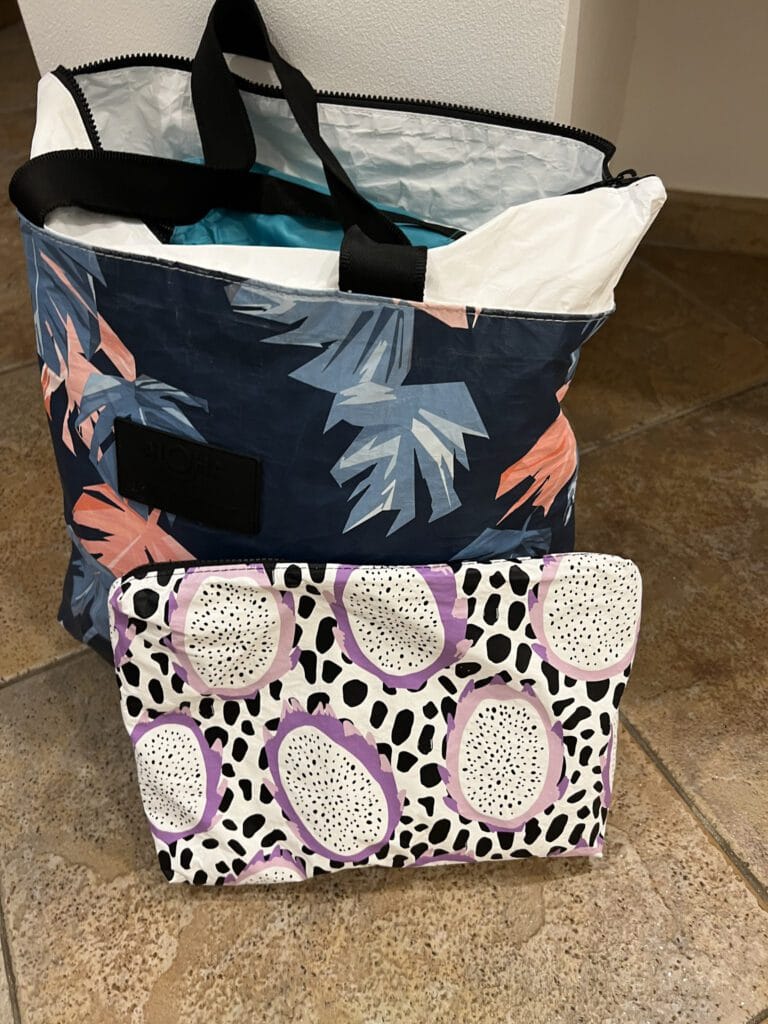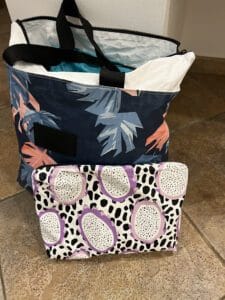 1. Aloha Collection Day Tripper Bag
The Aloha Day Tripper is our top pick for the best beach bag for moms. It's our founder's go-to beach bag for Caribbean trips with her kids, and gets the Mango Tree stamp of approval.
This is a true Mary Poppins bag: it's incredible how much it can hold. 
An expandable zipper creates maximum space, while three small zipper pockets keep phones, pacifiers, and sunglasses safe and to hand. 
The material is waterproof and is very easy to wipe clean. Wonderfully lightweight, the beach bag packs down small into a suitcase.
Aloha was formed by two friends and former roommates, Rachael and Heather, as a Kickstarter campaign in 2014. They've gone on to create a huge range of bags and pouches available online and in their Honolulu and California stores. 
Designed by women for women, Aloha has an entire page dedicated to moms, breaking down what you can expect to fit in each size beach tote. 
Made from the brand's own bespoke splash-proof fabric, we can't get enough of Aloha's tropical designs. The hardest part will be choosing the one you like best.
The interior of the bag is a single compartment. 
Our top tip: Buy a few Aloha Collection pouches to keep your beach gear organized. If you mix and match, this also means you get to try more than one pattern! The pouches also make lovely gifts for traveling moms.
Price at time of publish: $68.
Mango Tree Bottom Line: 
Aloha's entire collection of beach gear gets our stamp of approval. We love supporting women-owned-businesses, and products designed by women for women. The Aloha Collection Day Tripper is our overall winner for the best mom beach bag.
Aloha has graciously shared a discount code for our audience. Don't forget to use the code ALOHAMANGOTREETRAVEL20 for 20% off! 
2. Salt Life Beach Bag
For a soft fabric, and lots more pouches, we're drawn to the Salt Life Seaside Stripe Tote.
Salt Life started life as a decal business. The team has since rolled out clothing, accessories, and beach gear – all designed to hold up against ocean air and saltwater.  That's our kind of beach bag.
Fashioned from heavy-duty cotton chambray, this Seaside Stripe tote will keep your beach essentials secure without dragging your shoulders. This brand was born out of a passion for the sea, it's perhaps the best mom beach bag if you spend a lot of time on boat trips or doing water sports while traveling.
The tote just comes in papaya and cobalt stripes. You've got six outer pouches for any items you'll want to have to hand and there's one zipped internal pocket. If we had to name one thing we don't like, it's the lack of a zipper closure on top to keep things dry.
Salt Life has stores in California, Florida, Georgia, and South Carolina, plus they sell their bags online.
Price at time of publish: $54
Mango Tree Bottom Line: 
We love that this bag is stylish, and of course functional with exterior pockets, but most of all that it is designed with salt and sea in mind.
3. Esvan Large Beach Bag
This high capacity Esvan bag can hold a couple of big beach towels plus your other essentials. The lightweight canvas fabric is thick and easy to clean.  Sand won't stick to the outside. Other than the size, we appreciate this bag for its two huge mesh pockets – perfect for stashing water bottles and sunscreen within easy reach.
The bag comes in vivid colors and patterns including florals, pineapple, sea creatures, and waves. With a long strap, you can sling it over your shoulder and keep both hands free for keeping hold of younger kids or checking directions.
Our only criticism is that the bag tends to topple over when not weighted properly. It's not machine washable either, which might be a sticking point for some moms.
Price at time of publish: $40
Mango Tree Bottom Line: 
Large but not oversized, the Evsan Beach Bag is one of the best pool bags for moms seeking something practical yet pretty at a reasonable priced.
4. Canvelle Beach Tote
Canvelle (previously Logan + Lenora) is the pioneer of waterproof, machine-washable travel bags created using recycled plastic bottles. For a high-end beach bag, this one is a great choice.
The sophisticated Canvelle Beach Tote comes in a choice of two sizes with the option to customize with a crossbody strap. Both sizes include a waterproof inner pouch plus two mesh pockets and six exterior pockets.
The palm trees caught our eye, but it's also available in a classic black and white and other prints as well – whatever suits your personal style.
If we had to name one thing we'd like to change, it's the lack of a zipper up top. (An older version of the bag had the zipper, and would have been higher on our list, but it was removed in a recent redesign.) If you can live without that, though, some moms we trust for their style and practicality swear by this as one of the best beach bags for moms. This could be the tote you've been looking for.
Price at time of publish: $225
Mango Tree Bottom Line: 
A high-quality and timeless design with a sustainable initiative and pockets in all the right places, this bag will give you years of use.
5.Shylero Zippered Beach and Pool Bag
The colorful starfish Shylero Zippered Beach and Pool Bag will turn heads and make it impossible to lose sight of your stuff.
Those chunky rope handles are sturdy and soft, thick enough not to dig into your shoulder even when the bag is at capacity. Even with the size – this is one of the largest bags on our list – the bag folds down easily. The water-resistant canvas is backed up with a waterproof lining and a zippered inside pocket. As a bonus, this bag comes with a separate PVC case for storing valuables and electronics.
Officially, the bag is hand-wash only but we've heard reports that it's perfectly safe to go in the washing machine on a cool cycle.
Price at time of publish: $59.99
Mango Tree Bottom Line: 
For a practical, enduring family-sized bag with some fun accents, this bag would make a great addition to a bright summer wardrobe.
6.Sea Bags Maine Recycled Sail Tote
"Once a sail, forever a sea bag" is the ethos behind Sea Bags Maine. Sails are repurposed as totes, bucket bags, duffels, crossbody bags, and beyond. Each one is made by hand with no two products being the same.
We're drawn to the Surf Tote for its water-based design that leaves us itching to plan our next snorkeling trip with kids. There are five pockets inside the bag for organization (one with a zipper) and an outer stash pouch holds wet swimsuits, flip-flops, or books. The hemp rope handles are soft and durable and add a stylish finish.
If we're being picky, we'd rather see a zipper closure on this one too, but the clasp does a solid job of keeping contents secure while at sea or on the sand.
Price at time of publish: $250
Mango Tree Bottom Line: 
This bag is worth the splurge for design-conscious moms who love to sail and support sustainable initiatives, and who want a one-of-the-kind beach accessory.
7.Dejaroo Mesh Beach Bag
The Dejaroo Mesh Beach Bag is our pick for the best pool bag for moms on a budget. The mesh material is great for ventilation when you're spending a full day poolside or at the beach with your kids and their wet pool gear – it also resists sand well. Extremely lightweight, the meshing is strong, sturdy, and holds its own when at capacity.
The pockets are wonderful, with varying depths to contain your belongings. It's useful to be able to see through the mesh and keep track of everything too.
We'll admit that this bag is not our favorite on the style front. But for a no-frills bag that doesn't crease and can be tossed in the washing machine at the end of the day,  it'll do the trick.
Price at time of publish: $16.95
Mango Tree Bottom Line:
For a cheap and cheerful choice to mix up the summer wardrobe, this bag will totally do the trick.
8.Blueboon Beach Tote
We like this bag for its fashionable range of designs, we love it for its generous pockets and everyday potential. This is another budget pick, just with a slightly different approach.
Pockets are deep enough to hold larger bottles of water and flip flops, while the inside has compartments for cell phones and wallets. You can zip it all up nice and neat while at the beach to keep everything secure. The roomy interior comes with a wet pouch for keeping wet clothing separate from the rest of your stuff at the end of the day. It's easy to wipe clean between uses and also is machine washable.
Another plus: This bag can double as a carry-on, with a comfortable double handle. It's also small enough to fling over your shoulder to explore towns and markets on your beach vacation.
Price at time of publish: $24.99
Mango Tree Bottom Line: 
We included this bag for its overall functionality and size, at a budget price. The thoughtfully designed pockets make it a good choice for beach days, pool days, and an airplane carry-on too.  
9.Blueboon Beach Tote
The OdyseaCo Beach Tote sparked our interest because of its insulated cooler bag.  The cooler zips onto the base of the beach tote, so you can choose to leave it behind some days. Once removed, the bag is another low frill, mesh option.  
The other feature that helped this bag make our list of top beach bags for moms: the removable, adjustable shoulder strap, and reinforced handles. Specifically on days you take the cooler, these little details will help ease the load. Overall, it's a sturdy build that works perfectly for beach, pool, and camping.
Price at time of publish: $36.99
Mango Tree Bottom Line: 
The detachable cooler bag is a neat addition, particularly appealing for moms with babies still drinking bottles. This beach bag doubles as a bottle bag so can keep you packing relatively light. 
10.Scout Utility Tote
This Breton-esque Scout Utility Tote gets brownie points for its stable, burst-proof bottom and high-level water resistance. This, coupled with its structure, makes it ideal for boat excursions.  It also has the zipper closing we want out of all our best beach bags! The last thing you want to fret about is escapee items while on a snorkel or dive trip.
We've also included it on the list because of its four large external pockets that'll store anything from sandy flip-flops to swimwear to diapers.
The downsides? The interwoven polypropylene is easy to clean, durable, and maintains its shape, it's not quite as pleasant to touch as other materials, and it doesn't fold down as easily for plane travel. For us, the pluses outweigh that, but that's your call.
Price at time of publish: $56
Mango Tree Bottom Line: 
A top choice for nautical days out, this is one of the best pool bag for moms traveling to the beach by car rather than plane. A mini-suitcase, this is the bag for moms who like to take plenty of toys, books, and snacks.
11.MauiBagg Rubber Tote
The MauiBagg Rubber Tote is a bit of a wildcard – it won't be for everyone. But the resilience and toughness of rubber can only be a benefit when it comes to beach and pool bags, right? You can plonk this travel bag down on the sand (or boat deck) without a second glance, knowing full well it won't tip.
The base color, liner, handles, and keyring accessory are all customizable. We wish this bag had exterior pockets, but we're happy to see at least that it has an internal zipper pocket and pouches for cell phones and sunglasses.
Although you can't pack this bag down, there's a way around that. Pop your packing cubes and shoes inside the tote before putting it in the main luggage, to make good use of space. It'll also come in handy as a grocery bag to keep in your trunk.
Price at time of publish: $89.50
Mango Tree Bottom Line: 
You won't see many rubber beach totes out there, but this one will withstand toddler life, for sure. A solid pick for the early years.
12.Bang & Carsen Extra Large Utility Tote Bag
Finally, with this last bag, you can pack everything but the kitchen sink.
The massive Bang & Carsen Extra Large Utility Tote Bag makes it easy to cart buckets, spades, balls, and snacks aplenty down to the beach. It features one main compartment with a hard base and two reinforced sides. You've got one zipped pocket on the front of the exterior and two deep mesh pouches.  The waterproof fabric is a bonus.
Given the size, we recommended this as one of the best beach bags for moms with larger families or younger toddlers. If you're traveling with one or two kids, realistically, a beach bag of this size isn't necessary.
Despite the size, we're impressed by how small it packs down once empty.
Price at time of publish: $59.99
Mango Tree Bottom Line: 
This bag is top contender for big families, or families who expect to have long beach days and want lots of gear. We wouldn't want to carry it too far when at maximum capacity.