Key West is one of the best places in the Caribbean to take a glass bottom boat tour! Learn all you need to know to book.
Welcome to the breathtaking island paradise of Key West, where crystal-clear waters meet vibrant marine life, and adventure awaits on land and underwater.
Key West's reputation as a snorkeling and scuba diving haven is no secret. But what if you're traveling with kids too young to dive or snorkel? Or maybe you're just a little squeamish about breathing under water. 
A glass bottom boat tour in Key West lets you and your little ones partake in the magic beneath the waves. This article rounds up the best tour operators and tells you what to expect on your boat tour!
Two things make a glass bottom boat Key West tour an especially cool experience. First, Key West has the only living coral reef in North America – and it's in crystal clear, shallow water.  That means you can easily and clearly see the coral and tropical fish through the floor.  Second, the shipwrecks in Key West are also shallow, visible through the glass bottom boats.
Here's the trick though: When you search online for Key West glass bottom boat tours, it's quite confusing to figure out the best options.  Several different websites all seem to point back to the same tour company, while other websites that seem to advertise glass bottom boat tours in Key West are actually promoting tours in other parts of the Florida Keys, hours away.   
We cut through the noise for you to figure out which companies are actually offering worthwhile glass bottom boat key west tours.  Here's what we learned.  (The short version: There are really only 3 options for glass bottom boat tours in Key West, plus a few more great ones in the Upper Keys.)
This post contains affiliate links from our trusted partners
My Top 2 Picks
Best Glass Bottom Boat Key West Tours
Best group tour 
Large viewing area 
Open air deck
Small boat 

Snorkeling option 

Flexible schedule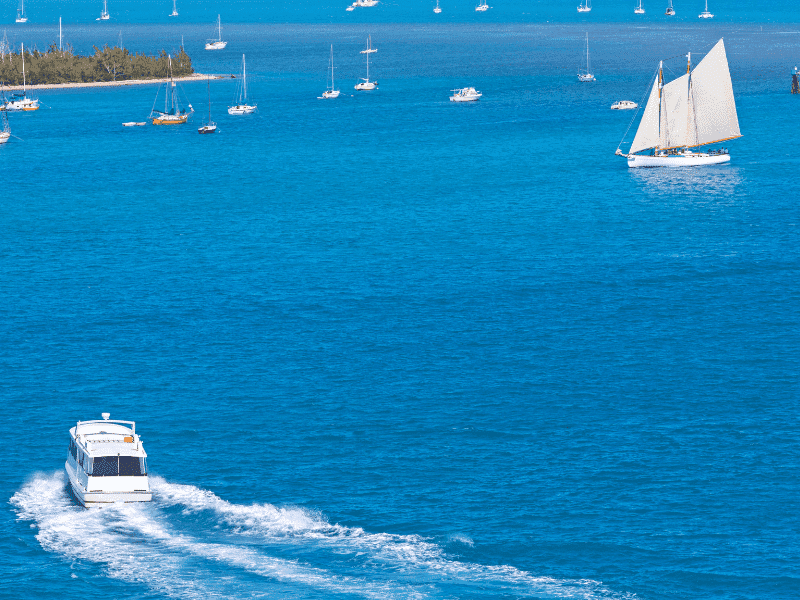 Best Key West Glass Bottom Boat Tours
If you want the classic glass bottom boat tour in Key West, go with Fury Water Adventures.  Fury has been running it's glass bottom boat tours for 70 years. While the glass bottom boat itself has been replaced many times since them (your trip will be on a modern boat, don't worry), the spirit and history has been respected and consistent.
Many websites that promote glass bottom boat tours are actually just booking companies for Fury's glass bottom boat, "Pride of Key West," which joined the fleet in 1994.  
This 65-foot aluminum catamaran has a dual hull design to provide a calm and stable ride, and maximum viewing capacity.  It's the best glass bottom boat in the Florida Keys, and the most reliable.
Fury's Glass Bottom Boat Tours are a great choice for a family outing in Key West. The glass bottom boat tours cater to all ages, and kids will be thrilled as they peer through the glass-bottom windows, discovering the captivating marine life below.  The local staff are excellent tour guides.
"Very nice trip the crew was great very knowledgeable and the sunset was really cool on the way back. Glass bottom view was cool specially if your not a fan of snorkeling." – Mario C. (Read more reviews)
The "Windows to the Reef" viewing area is air conditioned for a comfortable tour.  But there are also two open seated sun decks, so you won't be stuck inside the whole time.
Fury's most popular "Eco Reef Tour" typically runs three times a day, at 12pm, 2pm, and 6pm for a Key West glass bottom boat tour with a sunset option. It can be quite popular during peak season, so book ahead. 
Tours typically last 2 hour, which includes the 7-mile journey out to the reef, and about an hour of prime viewing above the reef.  Some days, you'll have up to 80 feet visibility below!
The glass bottom boat leaves from Duval Street in Old Town Key west, making it easy to grab a bite to eat before or after your journey.
The only downside to booking your glass bottom boat Key West tour with Fury is the group size. This large catamaran does hold nearly 100 people.  If you'd like to avoid the crowds, keep on reading for a better option.
If crowds are not your thing – or if you're traveling as a large family or in a group – then Fury's Pride of Key West is not the glass bottom boat for you.  Instead, book a private glass bottom boat tour on The Looking Glass with Floridays.  A 28 foot boat, The Looking Glass offers a smaller, intimate experience above the reef. 
If you book a Looking Glass private tour, the boat will be yours for 3 and half hours.  In addition to floating above the reef, your private glass bottom boat tour will cruise through the dolphin playground, with a great chance of a dolphin encounter! It also includes a sandbar stop.
"Beautiful boat and great crew. Exactly what I had hoped for. If you do not want the crowded party boat this is perfect. Highly recommend." – Ann G. (Read more reviews)
The best part: You can decide whether to jump in and snorkel above the reef, or stay onboard and take it in through the glass bottom. This flexibility makes the Looking Glass a fantastic choice for multi-generational groups: Grandparents and toddlers can enjoy the glass bottom, and active snorkelers can get in the water.
Note: The Looking Glass does not have an inside cabin – you'll be outside the whole time, but under a shaded cover.  This is a perfect choice for groups who want to snorkel and have the glass bottom experience, and can split the cost of the private tour experience.
If you prefer something a little flashy and high energy, consider Ocean Vue.  Not your average glass bottom boat, Ocean Vue is a high-speed hydrofoil that zips out to the reef at up to 50 miles per hour.
The Ocean View glass bottom boat Key West tour starts off with a high-speed jaunt.  Once your energy level is up, you'll slow down above the reef, where you can snorkel and swim, or take it all in through a large 6 x 9 foot glassbottom boat window.  The boat then explores the dolphin playground.
"This tour was a must do! Absolutely beautiful & breathtaking! I snorkeled for the first time & felt completely comfortable with the knowledgable staff!" – Ann G. (Read more reviews)
While Ocean Vue certainly offers something unique, the small size of the hydrofoil boat makes it slightly more sensitive to rough seas.  The viewing window on Ocean Vue is below deck and semi-enclosed, and appears a bit claustrophobic—most guests are more impressed by the speed and the snorkeling than the glass bottom itself.  
For the active Key West travelers, skip the motor boat altogether, and try your hand at a glass bottom kayak.
Glow Paddle Key West rents glass bottom kayaks lined with LED lights.  There are lots of different options for how to tackle this activity.  You can rent your own kayak for the day to explore mangroves, coral reefs, or shipwrecks around Key West. Or head out on a 2-hour guided tour.
"We saw glow fish and two sharks. You can see everything at the bottom of the boat. With the glow lights. Cool thing to do with family." – Faye M (Read more reviews)
Our recommended choice if you pick this glass bottom boat: Take out a kayak for a 45 minute nighttime spin, letting the LED lights illuminate a different side of this underwater world.
If you search for glass bottom boat tours Key West, you're likely to come across at least one page about the Key Largo Princess – not in Key West, but worth keeping on your radar.  
Key Largo is the entryway to the Florida Keys when you're driving down from Miami – the first island in the chain, about 2 hours and 15 minutes north of Key West.
The Key Large Princess offers a classic glass bottom boat experience, much like the Fury's Pride of Key West. This 75 foot glass bottom boat  holds up to 140 passengers, has an air conditioned cabin, and a large sun deck.
"We had a wonderful time. Our toddler was able to walk around upstairs. They little bar had slushies for the kids and good key lime colodas for the adults. Crew was very nice and knowledgeable. Thank you!" – Havana P. (Read more reviews)
The difference: The Key Large Princess tours through John Pennekamp Coral Reef State Park, and the Key Large National Marine Sanctuary.  It's a really special place to explore the underwater world of the Florida Keys, and another good option for your Key West adventure.
Transparensea offers another small glass bottom boat experience up the Florida Keys. Like the Key Large Princess, this boat tour does not leave from Key West proper. Instead, it departs from Islamorada about 90 minutes up the Florida Keys.  If you're driving through the Florida Keys, it's a great option.
The Transparensea boat floats to Cheeca Rocks, Alligator Reef, and Caloosa Rocks – all visible in the shallow waters surrounding Islamorada. We like this boat because it's open air, which minimizes sea sickness and maximizes ocean breeze. It's covered and shady, and has a restroom too.
"This was an amazing trip! Kids loved seeing all the sea life! The crew did a fantastic job highly recommend!" – Patty R. (Read more reviews)
This 2-hour tour runs several times a day: 12pm, 3pm, and 8:30pm.   Yes – there's a nighttime glass bottom boat tour too! This is the only company that lets you see the marine ecosystem after dark, with underwater lights to brighten up the sea.
Why Take A Glass Bottom Boat Tour in Key West With Kids? 
Glass bottom boat tours can be an excellent and enjoyable experience for little kids, offering them a unique opportunity to explore the fascinating marine world without getting wet. 
Here are some reasons why a glass bottom boat tour of Key West is a great choice for parents on a beach vacation with little ones.  
Safe and Comfortable Observation 
Glass bottom boats provide a safe and secure environment for kids to observe the underwater world. There's no need for snorkeling gear or floaties or swimming skill. These glass boat Key West tours are accessible for even the youngest of children.  
Educational and Inspiring Experience
For curious little minds, a glass bottom boat ride can be so inspiring! Children can learn about different fish species, colorful corals, and other marine creatures from knowledgeable guides. It's a fun way for kids to learn about marine conservation, and to inspire their imagination. And it may spark their interests in learning to snorkel on the next trip!
Short Attention Spans
Young children might have shorter attention spans at the beach, making it challenging to engage them in lengthy activities.  Snorkeling trips, for example, are often a full or half day – with minimal opportunities for little kids to participate.
Glass bottom boat tours, on the other hand, typically run about 2 hours.  We find this is an ideal length for keeping kids entertained without overwhelming them.
Friendly for Grandparents Too!
The whole family, including parents, grandparents, and young kids, can enjoy the experience together, creating lasting memories for everyone. Especially with the smaller boats on this list, we love that grandparents and littles can be entertained with the glass bottoms, while mom and dad get a chance to snorkel.
Environmental Consciousness
Many glass bottom boat tours in the Florida Keys focus on eco-friendly practices and emphasize the importance of preserving marine ecosystems. By exposing kids to such experiences, they learn about environmental responsibility from an early age.
Final Thoughts on Glass Bottom Boat Key West Tours
This is one of those family-friendly activities that offers something for everyone to enjoy, and we hope you consider taking a glass bottom boat ride with Fury Water Adventures or Floridays on your next family trip to Key West.
That said, while glass bottom boat tours are generally well-suited for little kids, be sure to consider the individual preferences and comfort level of your child.  If traveling with a little, don't miss our toddler beach vacation tips. 
Some children may be more sensitive to motion sickness, in which case be sure to bring the Dramamine. Always remember sunscreen, towels, water and maybe an activity or two in case the trip is too long.
Ultimately, glass bottom boat tours provide a safe, educational, and captivating experience for little kids, making them a fantastic activity for your next vacation.