Surfing with kids had not always been on my radar – as a Caribbean fanatic, I gravitated more towards calm waters and snorkeling.
But then I took my first surf lesson at Zuma Beach in California, and I was hooked. Perhaps the best part, though, was taking my first surf lesson alongside my six year old daughter. I immediately saw the appeal of surfing with kids, and wondered how many other families out there might be interested in surfing as a family activity.
So we connected with Emma Bukowski, founder of Noserider Surf Club.  She gives us her thoughts below on the benefits of getting the kids surfing, and her tips on how to do it.  
By the end of her article, you'll be rushing into the ocean to catch your first wave. When you're ready to start surfing with kids, you should also check out her amazing gear to fully master the look too.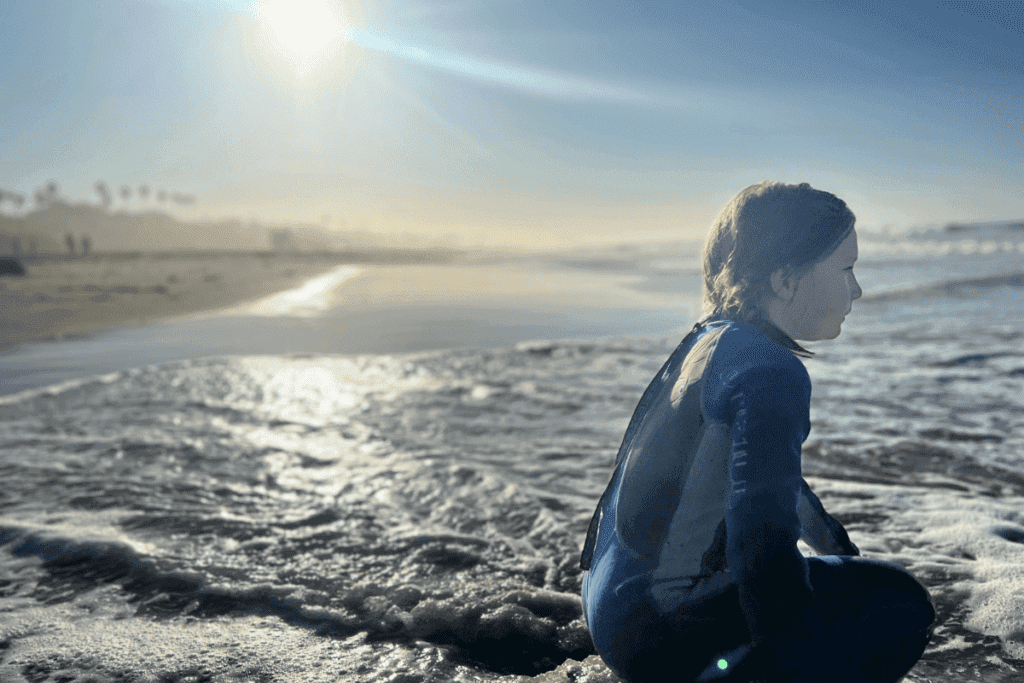 How to Start Surfing With Kids  
It's no secret that the earlier you begin learning something new, the better. Many of the biggest names in surfing began their journey on the board in their youth, a factor that likely contributed to their remarkable skills and seemingly innate talent.
For me, teaching my children surfing means more than just honing their skills. It's about sharing a lifelong passion, one that ties them to the ocean and the world around them.
Teaching your kids surfing will give them an undeniably precious gift. In an era where children are increasingly detached from nature, captivated by screens and technology, surfing with kids offers a healthy escape from the digital world. Embracing this gift means conquering challenges both physically and mentally – from wipeouts to knocks in confidence and maybe a few bumps from their surfboard. However those who embrace these hurdles will likely find a love that lasts a lifetime.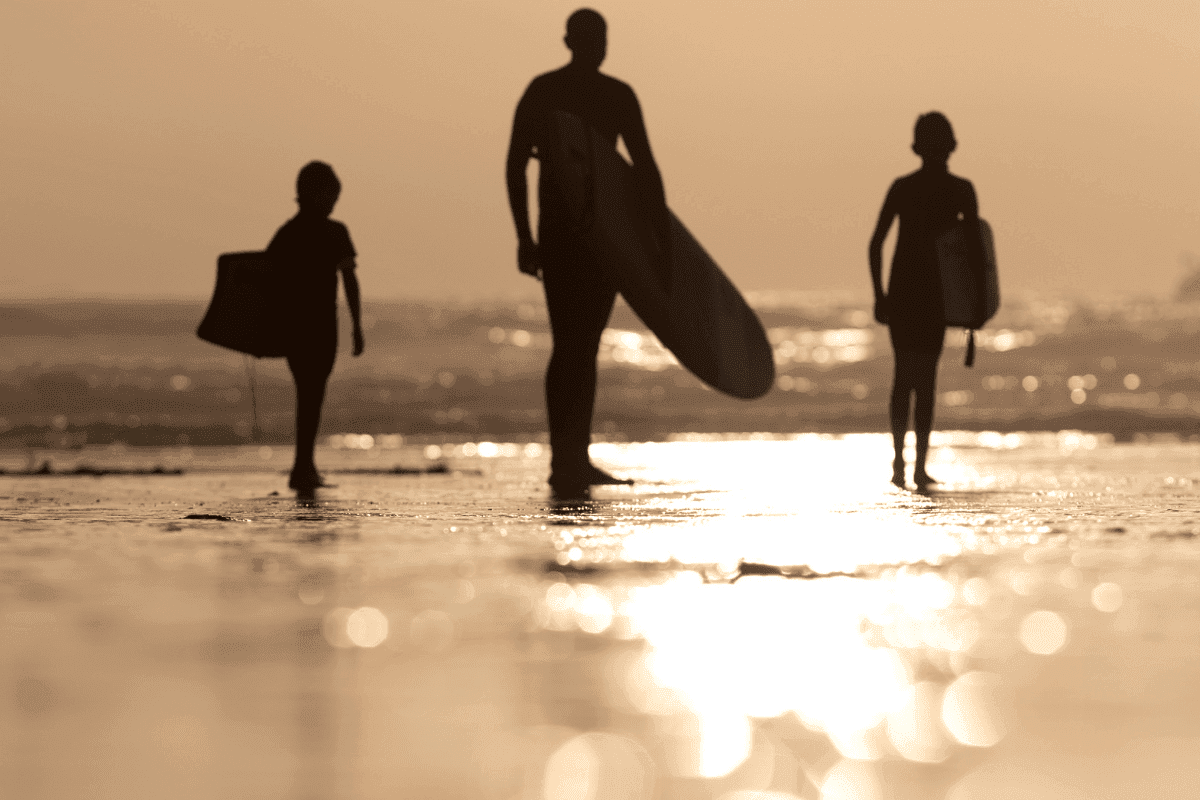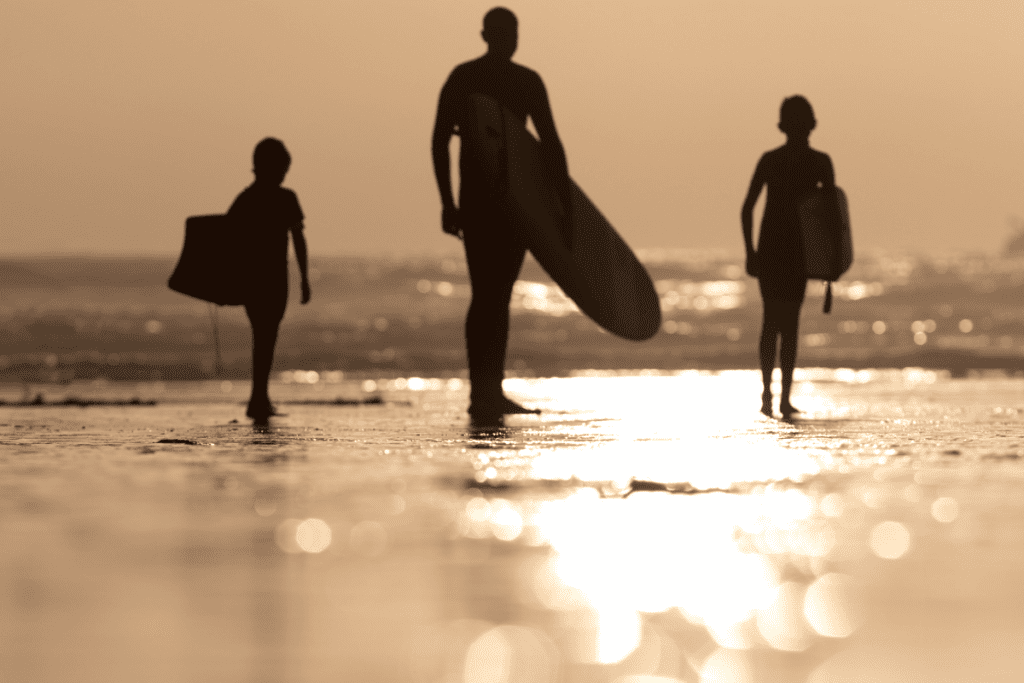 Start By Learning to Love the Beach
Whether you're teaching your kids to snorkel, or getting them up on a kids surf board for the first time. It's crucial to introduce your child to the beach and ocean gradually, especially if they are unfamiliar with the ocean environments. You want to instill a love and enjoyment in coming to the beach before boards even factor into the equation.
I believe in gradually immersing children in the beach experience – from the soothing sound of the ocean to the sensation of beach sand underfoot, the rhythmic movement of the waves, and the feel of salty skin after a dip in the ocean. An enjoyment and understanding of the beach will have your kids well-prepared for surfing long before they stand on their board. Becoming more familiarized with the beach environment will help alleviate any fears they might have.
Get your future surfer kids used to the beach by first playing games on the shoreline and allow them to experience the oceanWhen they feel ready, try walking together through the waves, teaching them to leap over the whitewash. It's important to move at the pace set by your child, respect their comfort level and avoid pressuring them to go further than they are ready to.
Instill Good Beach Behaviors
I can't wait to teach my kids not only about the waves, but also about the diverse ecosystems along our coasts. I still cherish the memories of my parents taking me rock pooling as a child, teaching me about the different animals living there, the excitement I felt when we found starfish and them emphasizing the importance of leaving them be in their environment. This lesson becomes even more significant in tropical climates, where it's not always safe to assume a marine animal is harmless.
Establishing good habits before you start surfing with kids is easy; remind them to always carry back everything they bring to the beach. If you're in the mind to teach them about environmental protection, it's a great idea to introduce the #take3forthesea campaign. It's very easy to turn this small-scale beach cleanup initiative into a game, who can collect 3 pieces of trash the fastest?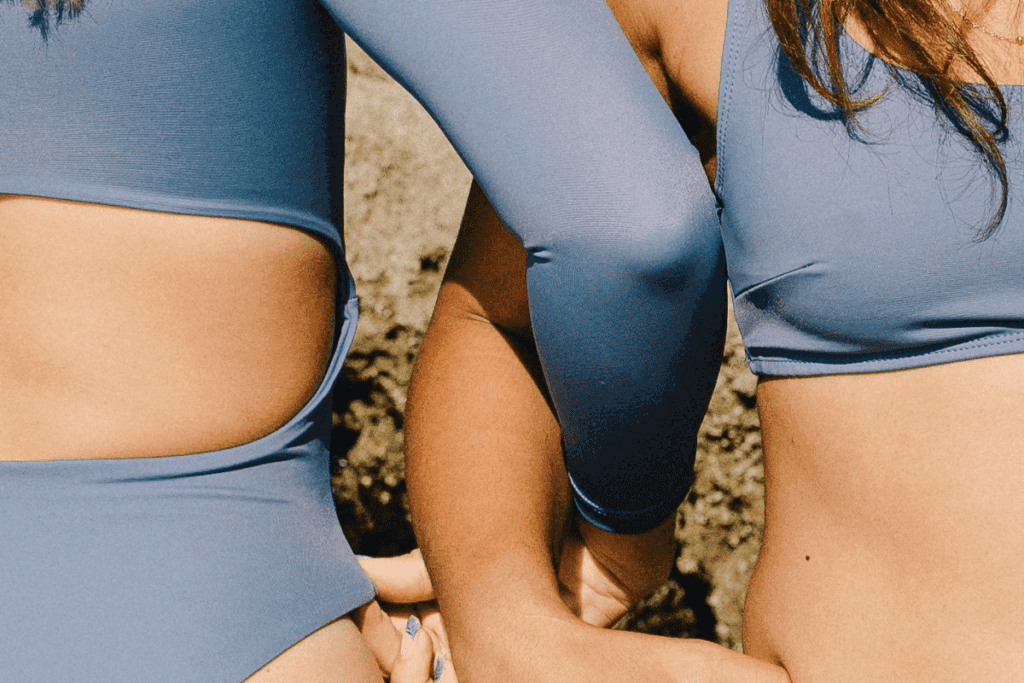 Always Teach Safety First
Whether your children decide to pursue surfing or not, it's crucial to teach them about beach safety, particularly when it comes to the power of the ocean.
Lifeguards: Choosing a beach with a lifeguard presence is a wise move, regardless of your surfing expertise. Not only will this provide an additional layer of reassurance for your own peace of mind, it encourages children from an early age to pay attention to beach flags and tide warnings.
Swimming: Being a strong and confident swimmer is a foundational MUST for surfing with kids. Your child should be able to swim before you ever think about taking them out on the board. It probably goes without saying that you should start by practicing in a pool, and move to the sea only when they are comfortable with the feeling of being totally submerged,
Floating Aids: Although a strong swimming foundation is essential, it's never a bad idea to consider floatation aids such as life jackets while teaching kids to surf, especially for younger children (under 5 years old). They can give kids some added confidence as well as assistance in keeping their head above water, ensuring a safer overall experience.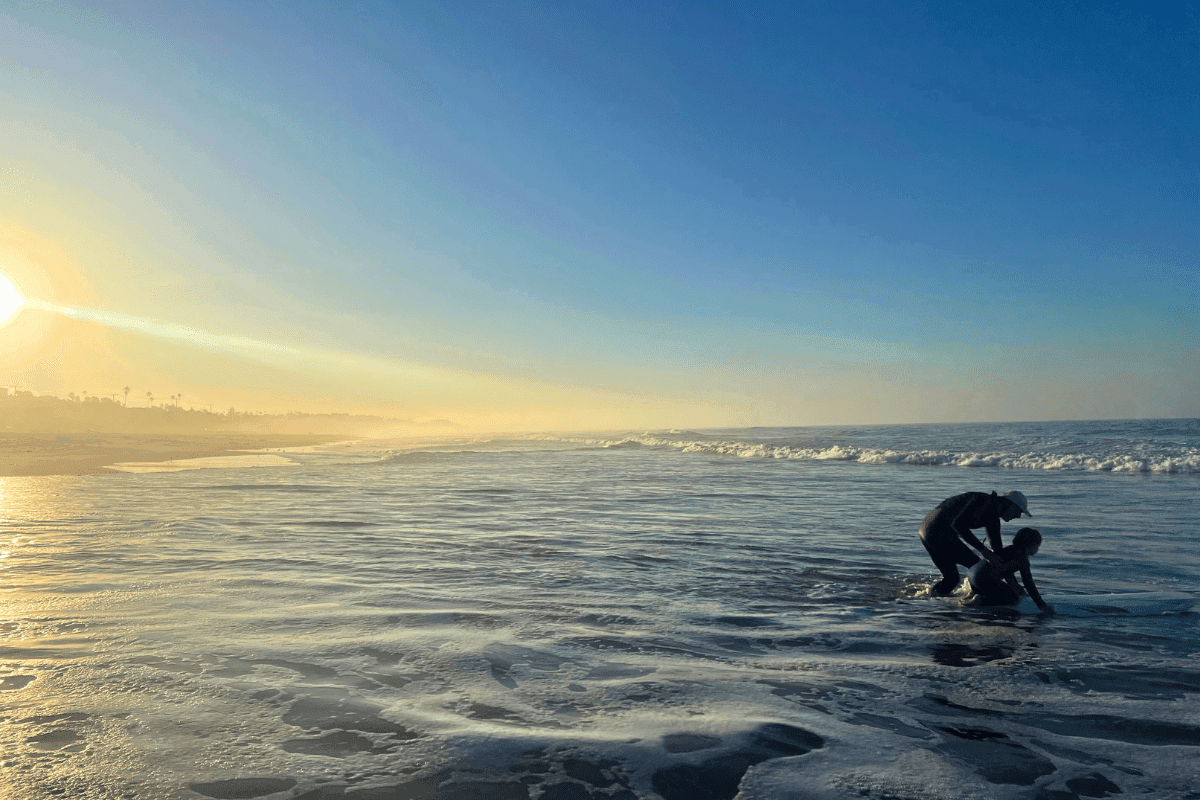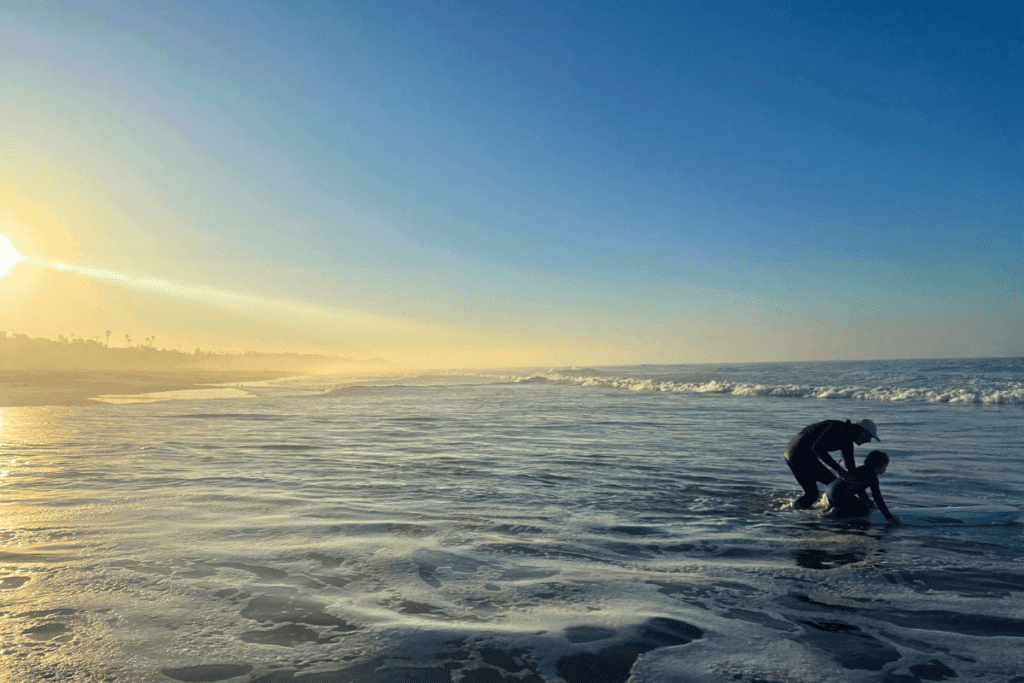 Introduce the Surfboard in Flat Water
Once your child can swim, you can start your child's surfing journey as soon as possible! There needn't be any actual surfing involved at first. Start by practicing sitting on a surfboard and laying the other basic foundations for the actual surfing that can come later.
During this early stage, consider introducing them to a surfboard in gentle, flat waves. You can gently push them around on the board, let them get comfortable jumping (and falling) off.  You want to introduce your child to surfing gently, and just as important as riding the board is learning how to fall off it safely. Endless hours of fun and splashing will ensure.
Get the Right Surfing Equipment
Choosing the right surfboard will make all the difference in safety and enjoyment when teaching your kids to surf.
The wrong kind of board can lead to frustration and make accidents more likely. For younger children, a boogie board is an excellent starting point, it was my first introduction to wave riding as a child and I loved it.
As your kids get older. transitioning to a soft-top foam surfboard is ideal as they are lightweight, stable and safe. The aim is to build your child's confidence in the water so select a board that's an appropriate height for their age. Depending on your location and the water temperature, it's a good idea to invest in a wetsuit to keep your child warm and comfortable as they learn to surf.
Practice on Land
Like any person learning to surf, dry land practice as the first step to surfing with kids is a vital part of the process for your little ones.
Getting to grips with the fundamentals of surfing techniques on solid ground helps kids get used to the movements and motions they'll need to lock into muscle memory. Practicing these skills before heading out on their board will help build your child's confidence. These skills can include their pop-up, keeping their balance and paddling. Practicing on the beach also provides the opportunity to educate them about the surfboard's components, such as fins, rails, nose and tail.
Take the time to teach them about the leash and which leg it should attach to. I recently had the chance to teach my niece and nephew some standing-up practice and I found the most effective method was keeping it fun and lighthearted by turning it into a game.
Begin by having them lie on the board and break down the standing up process into three parts:
Step one: Start laying on their stomach and paddle, paddle, paddle.
Step two: Get them to straighten their arms and lift their head and back off the board similar to cobra pose in yoga
Step three: Have them bring their front foot forward, placing it under their chest before standing upright.
Getting them to move through these positions, back and forth can become a fun game similar to Simon says.
Advance to Shallow Water
As I mentioned before, you can introduce the surfboard in flat and calm water before your kids are ready to try any basic surfing.  When it's time to start actually surfing with kids, return to those flat waters first before trying to teach themto catch a wave.
Your kids can practice the surfing skills you've been developing on land whilst on these calm waters so they feel comfortable on the new, changeable surface. Show them how to lie down and to practice their balance. Teach them proper arm movements and hand positioning for paddling. Encourage them to stand and jump off the board and practice falling in safely. This is a great way to transition them from land to sea.
Once they're comfortable on the board in flat waters, it's time to progress to some small waves. One of my top tips for teaching kids to surf is to absolutely start in shallow areas where the child can stand without swimming. Have them hold the board in the shallows and experience the sensation of being propelled by a few waves while lying down. This allows the child to familiarize themselves with catching waves independently – and with falling under water in a way that's not overly scary. Once they gain confidence in catching waves while lying down, guide them to transition to the three-step process of standing up. Once they master this, you can move to deeper waters.
Positive encouragement and a focus on having fun should be paramount throughout your child's surfing journey. Surfing skills develop gradually, requiring patience and consistent practice. Be encouraging even when your kids don't get something right immediately. Remember a mini 'wipe-out' can be a scary experience the first time it happens. Meet tears and hurt pride with understanding and validation and they'll be back on their board in no time. Taking regular breaks is needed for little ones. Surfing is a physically demanding sport so encourage them to listen to their body and rest when they feel tired.
Invest in Surf Lessons
As they get older and gain enough confidence to venture into the waves without you accompanying them, I encourage you to sign your kids up for surf lessons – even better if surf school is on vacation somewhere like Costa Rica or Puerto Rico. Even if you're an experienced surfer, it's great to learn from a multitude of sources and can take some of the pressure off you as well.
Kids may also make some lasting friendships from surf lessons, in a supportive group environment. Of course, keep practicing with your kids whenever you can, both to help them to improve, and also so they know surfing is a thing you can do together.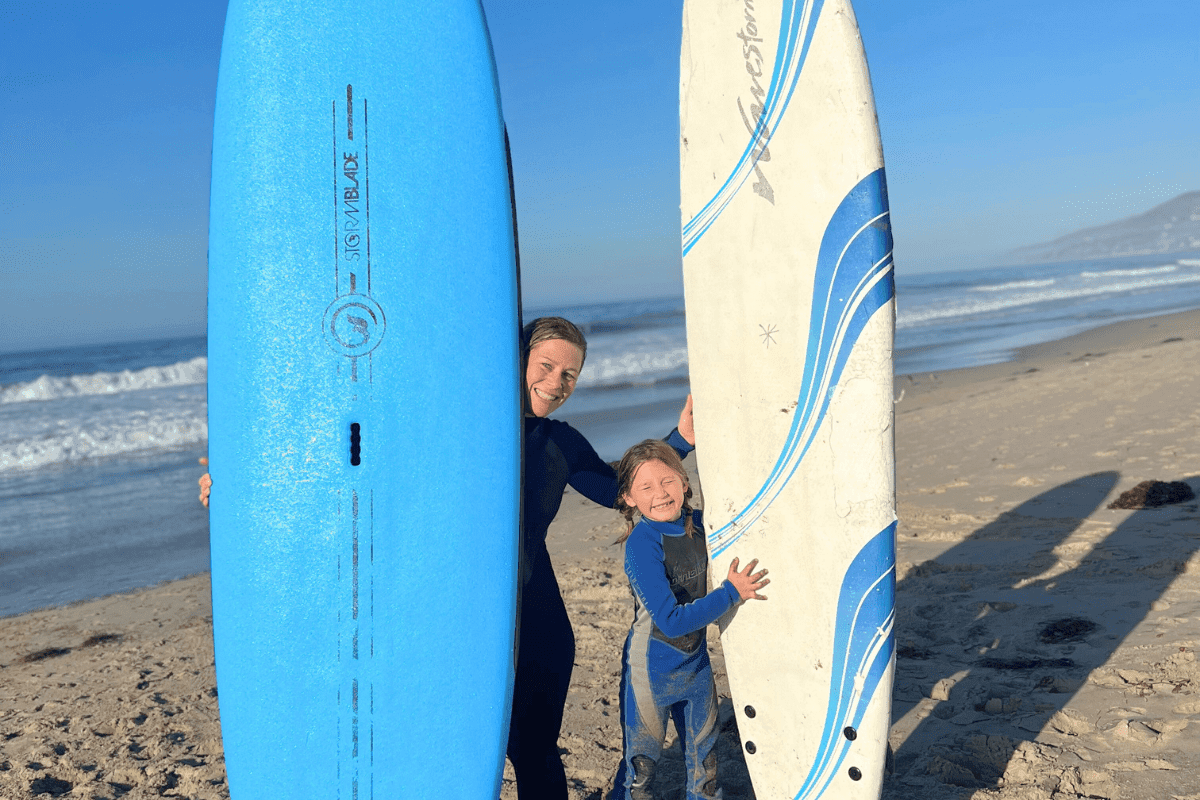 Final Thoughts About Surfing With Kids
By introducing your child to the world of surfing, you do so much more than teach them a sport – we impact essential life skills and a profound love for the ocean. Sharing any passion with your child is one of the gifts of being a parent, connecting them not just to you but also the wider world and setting the stage for a lifetime of joy on the waves.
Get Family Travel Tips Right Into Your Inbox 
If you found this post helpful, don't miss our other family travel tips and resources and beach destination guides. 
And for more tropical family travel inspiration, sign up for our newsletter! We feature new destinations, highlight our favorite family-friendly hotels, and share family travel tips. Keep the travel dreaming coming all year long.