Looking for family travel inspiration? You've come to the right place. 
I'm Lee, the founder (and for the moment, everything else) of Mango Tree Travel. I'm a mom, a litigator, a cook, a wine lover, a scuba diver, and – maybe above all else – a woman who loves to travel. I live for the anticipation of jetting off to a new place, towards a great sunset at a local restaurant, a view of the Caribbean Sea, or a day exploring an island.  
I loved to travel before I had kids and have made it a priority to keep traveling with them. Traveling has shaped their first few years and brought us closer together. That's a feeling I want to share with others who need family travel inspiration. I created Mango Tree Travel to encourage you – and other busy parents like us – to get excited about family travel. I want to help you find the perfect hotel – the hidden gem – where you (and your kids, of course) can enjoy your next family vacation.
Why family travel? 
Some of our very best moments with our kids have been on family vacations. A multi-family trip exploring Grenada with four 18-month-old babies (chaos, but the best kind).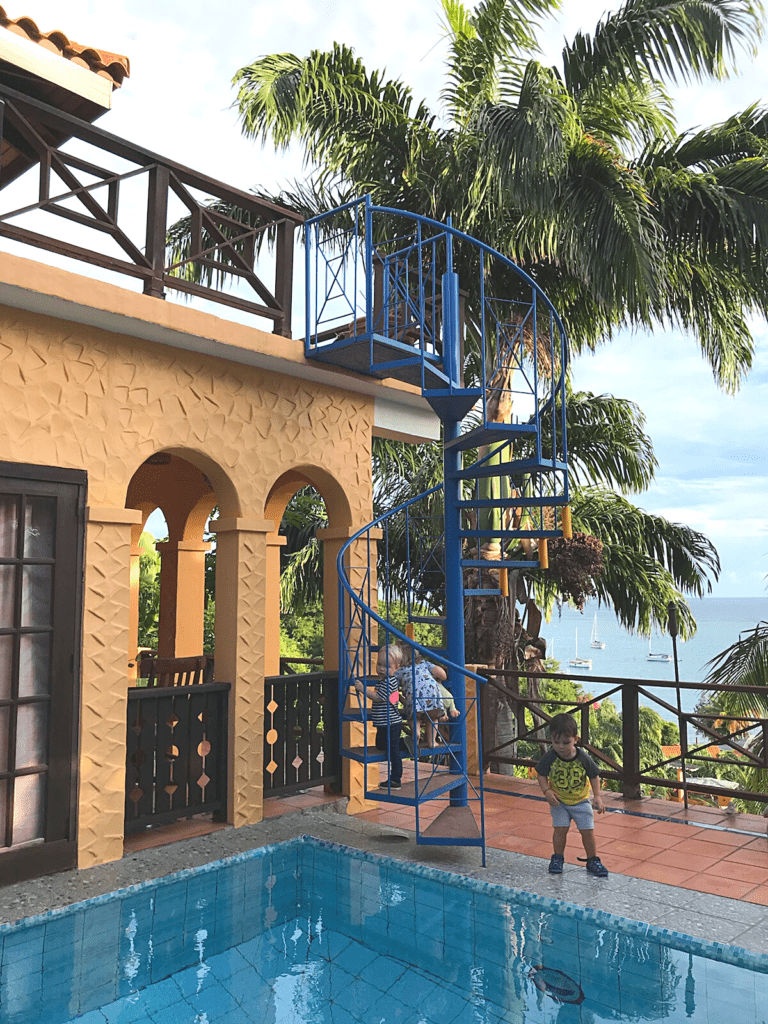 A family vacation to Cartagena where our 3-year-old surprised us by trying (and enjoying) octopus, and we found two of our all-time favorite hotels (Casa San Agustin and Hotel Las Islas). 
A post-vaccination adventure to Bequia in St. Vincent & the Grenadines, where we reconnected after adjusting to life with a new baby.
Even in moments when family travel seemed impossible and totally overwhelming – like in 2021, when we had our second child amid COVID concerns and restrictions – we were determined to find ways to keep it up.  For us, it was a way to feel like we hadn't lost ourselves in the sea of major life changes.  
The inspiration for Mango Tree Travel
Here's the thing: I not only love to travel, I love travel planning.  When I say this out loud, it confuses people. But I can lose hours exploring travel websites, blogs, and Facebook groups looking for family travel inspiration. I enjoy hunting for the perfect hotel – somewhere that offers a connection to the destination. I study maps and articles and try to get a sense of the place we're headed before we get there. I'm almost embarrassed to admit how much joy I get from finding hidden gem hotels and restaurants, and how much this contributes to my anticipation for the journey.
I want to walk into a hotel and feel a sense of energy at having arrived, while at the same time, a sense of calm, relief, and relaxation. We love the Caribbean, especially with kids – but not necessarily the go-to all-inclusive resorts that are an easy choice for family travel. These have a time and place, and some are great, but more and more I look for small, boutique hotels with character. Hotels that, in their own way, are a destination, rather than just a place to crash. 
On family trips, especially with young kids, we tend to spend more time at our hotels – so, these should be places where we want to spend time. That means something a little different for each family and each trip. For me, that means a hotel with friendly staff, good food (and drinks), some family-friendly amenities, but more than anything, personality: that certain je ne sais quoi that you immediately want to tell your friends about.
But I'll also admit, as I've gotten older and busier – and as the children in my life insist that I get less and less sleep – I also like a nice hotel.  I don't necessarily mean luxury – though there's a time and a place for that, too.  I mean comfortable.  We are a family with two parents who work full-time, demanding jobs, and have two small children. When we pile everyone onto an airplane to get away from our daily routine, we need a break, sleep – and maybe even a little pampering – when we get there.  
A hotel with kid-friendly staff and thoughtful amenities goes a long way in these circumstances.  So, I am on a hunt to find these kid-friendly hotels all across the world, starting with our favorite destinations in the Caribbean (like Grenada), so that I can recommend to them other busy, travel-loving parents.
If this post resonates with you – if you're a parent who loves to travel and who also loves a great and unique hotel experience – then I want to hear from you!  Get in touch if you'd be interested in writing a guest post about a great (or maybe even not so great) family travel experience. Let me know if there's a hotel you can't wait to recommend to other families. And don't forget to sign up below for travel and hotel inspiration!