Blue holes, pirates, and pigs – oh my! There's more to the Bahamas than meets the eye (or Instagram feed). We love the Bahamas as a family destination! These fun facts about the Bahamas will get your travel planning juices flowing.
You've undoubtedly heard a lot about the soft white sands and turquoise waters of this Caribbean paradise. When you think of the Bahamas, I'm sure you picture sunshine, snorkeling, beaches, and tropical drinks.
But maybe you aren't quite sure what else there is to it? Or what is so special about the Bahamas that has your friends raving about it?
There's so much more to the Bahamas than may meet the eye. This Caribbean destination is chock-full of outdoor adventures, natural gems, beautiful small hotels, and a captivating history.
Whether you're considering the Bahamas for your next tropical family getaway, or just want to know some Bahamas fun facts to up your trivia game, you'll find it here.
Read on to enjoy 12 fun facts about the Bahamas! If these interesting facts about the Bahamas inspire you to plan your next family trip, keep reading to hear our 4 top reasons why we love the Bahamas for family trips.
Caribbean Family Travel Resources
Before we dive in, let's be sure you have our best travel resources at your fingertips.   
Did you know we have a whole collection of recommended family hotels in the Caribbean – including in the Bahamas? I'll let you in on a secret, it's sort of our pride and joy. 
Wishing someone else would just handle the logistics for a change? Great news: We also offer bespoke Caribbean family travel planning services. Our specialty is helping parents identify the best Caribbean island and hotel for a top-notch family trip. Let us take something off your plate. 
Now, grab a Carib and start planning your Bahamas beach vacation…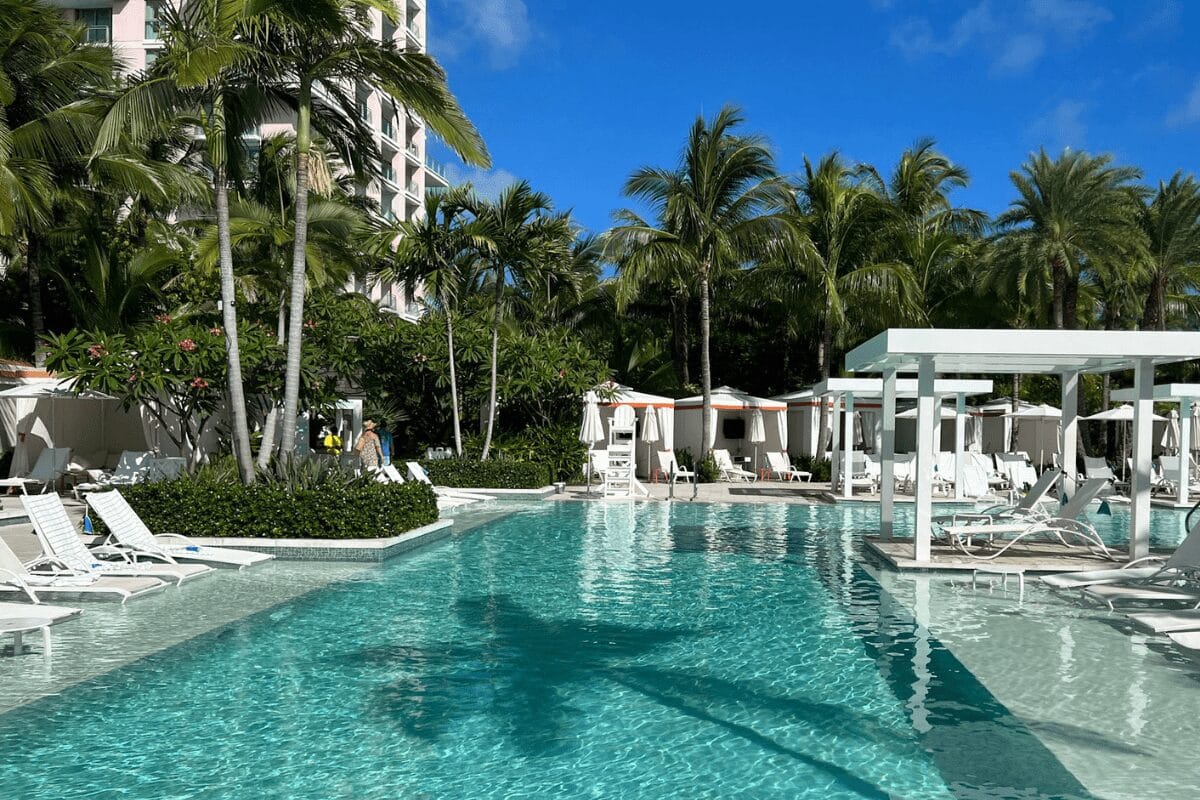 12 Fun Facts About the Bahamas (Kid-Friendly!)

Now, for what you came for: our Bahamas fun facts to inspire your next getaway! 
1. The Bahamas is next-door to Florida

Did you know the Bahamas islands are right below Florida? In fact, the island of Bimini is just 80km away from Florida's southernmost tip.
The Bahamas is a chain of islands that belong to the greater Lucayan Archipelago in the West Indies. While you might expect the Bahamas to be in the Caribbean Sea, it actually sits above the Caribbean in the North Atlantic Ocean – between the Caribbean and Florida.  
To put it into perspective, the Bahamas is so close to Florida that you can reach it in just 2.5 hours from Miami by boat! Even faster, you can arrive in the Bahamas from any of Florida's major airports in 45-90 minutes, depending on the island you choose.  
Mango Tree Travel Tip: 
Many flight aggregators don't show routes from smaller airlines that fly to the Bahamas from Florida. Check the Bahamas Out Islands Promotion Board for a comprehensive list of great flights!  
It may surprise you to learn that, technically, the Bahamas are not in the Caribbean, being just north of the Caribbean Sea.  But the Bahamas are still considered part of CARICOM, or the Caribbean Community. So, for all intents and purposes, especially for Caribbean vacationers, the Bahamas are treated as part of the Caribbean islands.  
2. The Bahamas is home to the planet's third largest great barrier reef
Andros Barrier Reef, located off the east coast of Andros Island, is 190 miles long. This massive living organism is unique even among other barrier reefs due to its rare depth of 6,000 feet – though much of it remains visible near the surface.
Anyone vacationing in the Bahamas can take a diving or snorkeling excursion to the magnificent Andros Island reef. Two of our favorite Bahamas hotels for families, Kamalame Cay and Small Hope Bay Lodge, are both in Andros, and offer easy access to the underwater magic.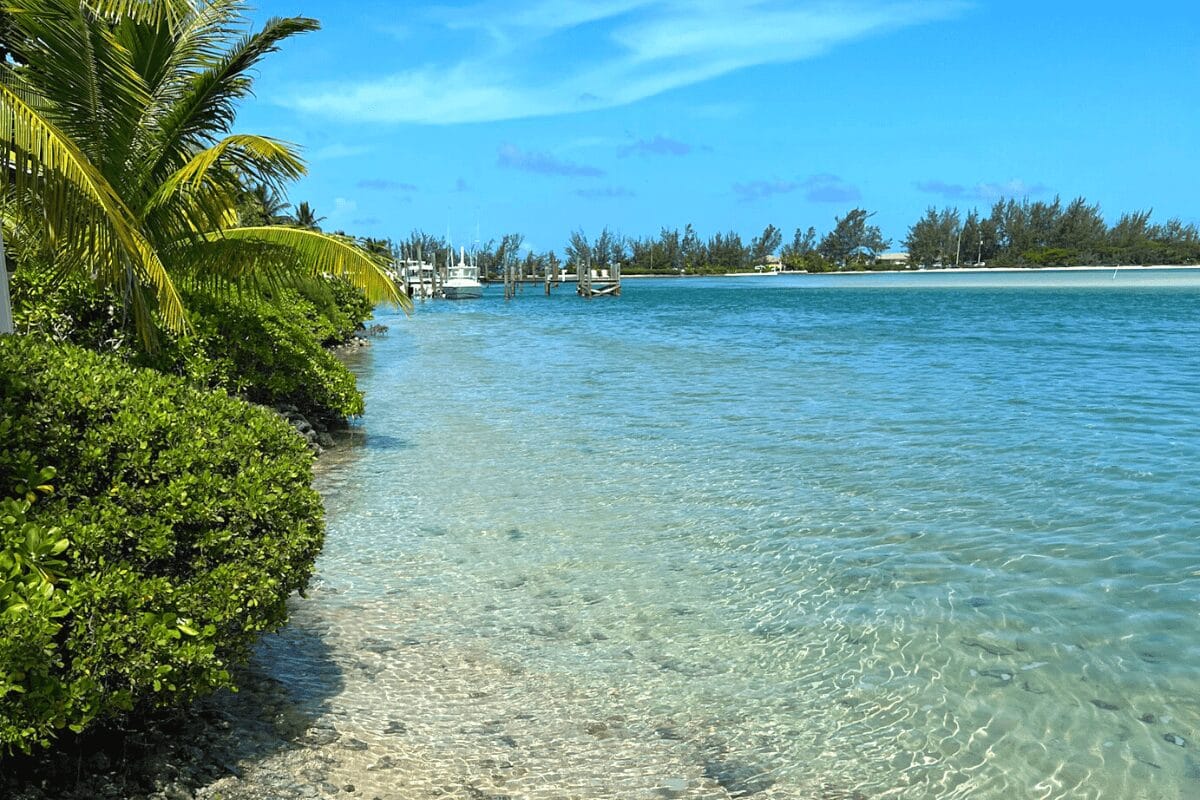 3. There's a scientific reason for the Bahamas' clear, turquoise water. 
The Bahamas is beloved for its nearly-green, transparent water. Whenever we fly over the Bahamas, we snap dozens of photos of the canvas below. 
The water appears so blue because many of the island beaches are quite wide and shallow. As the sun hits the golden sand below the waves, it scatters and reflects this aqua color.
The water is also intensely clear – so much so that you can see the ocean floor 200 feet below the surface! Sediments in the ocean around the Bahamas are heavier and less likely to be stirred up by waves or currents. There is also less phytoplankton in the water than you'd see at other beach destinations.  
All things contribute to the postcard-worthy beauty of the Bahamas' water. They also make the Bahamas a great destination for teaching your kids to snorkel!
4. There are more than 700 islands in the Bahamas
The Bahamas is an archipelago of over 700 island, though only about 30 are actually inhabited. Even less have been popularized as tourist spots.
You can enjoy the more built-up, amenity-filled islands like New Providence Island and Grand Bahama Island. Or take advantage of the more remote Out Islands like the Exumas or Eleuthera islands. With so many islands, there's something for everyone in the Bahamas. 
5. It is a popular Hollywood film site
Dozens of Hollywood movies have been filmed in the Bahamas over the years, including iconic movies like Pirates of the Caribbean, Casino Royale, Thunderball, Flipper, and Holiday in the Sun.
If you're a big Pirates fan, visit Grand Bahama. Its coasts were the backdrop for many sweeping beach scenes in Pirates of the Caribbean: Dead Man's Chest.
6. You can make friends with swimming pigs
There is a colony of huge pink pigs in the Bahamas that love swimming in the warm, shallow waters. Do we know where the swimming pigs came from? No. Do we love that they exist? Absolutely. 
The swimming pigs are one of the most unique, iconic features of the Bahamas, and understandably earn a spot on many families' Caribbean bucket list. Kids will be tickled by this one-in-a-lifetime experience. 
They're docile and friendly with humans. You can find them across the islands, from Eleuthera to Rose Island to Abaco, though the pigs on Big Major Cay (Pig Island) are considered the 'original swimming pigs' of The Bahamas.
7. The Bahamas is home to one of few pink sand beaches
 There are only a handful of beaches with pink sand in the world, and the Bahamas lays claim to one of the best! Aptly named Pink Sands Beach, you can find this spectacular stretch of sand on Harbour Island. The pale pink color is caused by microscopic coral insects with pink and red shells – they look beautiful, but fortunately are too small to bite.
Harbour Island has more than just pink beaches to attract families: It has a handful of delightful boutique hotels you can make your home base, such as the Dunmore Hotel and Coral Sands Resort. And most guests choose to get around the island by golf cart, a charming perk that the kiddos will love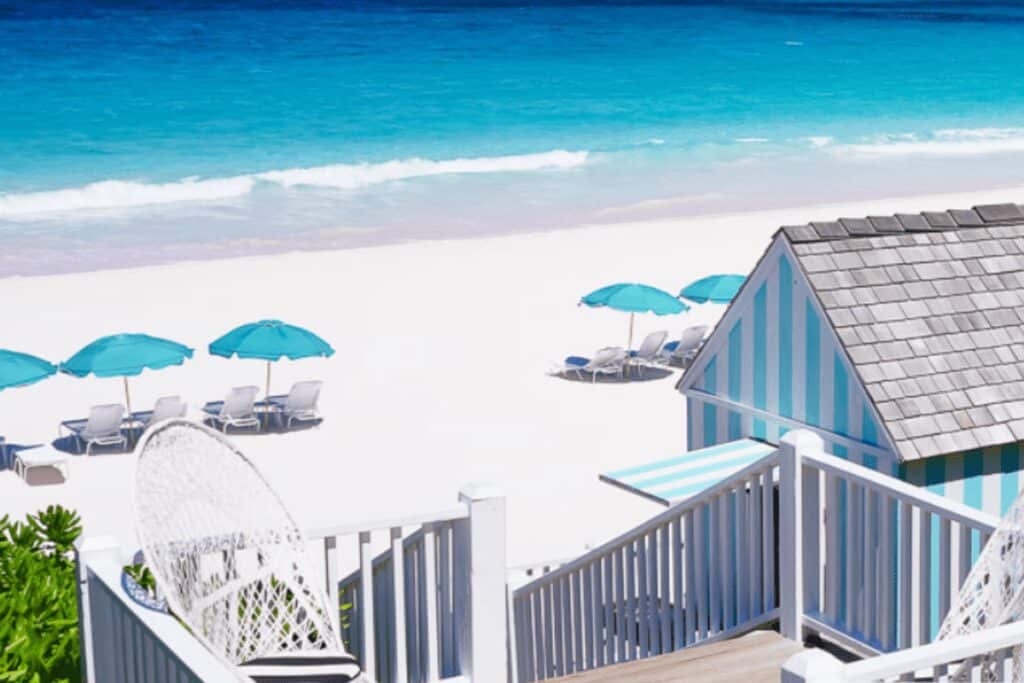 8. Christopher Columbus found the Bahamas before America

On Christopher Columbus' voyage to discover the New World, he actually landed in the Bahamas first in 1492.  Although it's an English country now, the Bahamas subsequently was colonized by the Spanish in the 1500s. It was named the "Bahamas" by the Spanish, or "baja mar," which translates to shallow water or sea. Then in the 1600s, the British took control of the colony.
9. Before the Spanish were the Tainos indigenous peoples
 The original occupants of the Bahamas islands were known as the Lucayan Tainos. The Tainos migrated to the Bahamas from the Dominican Republic and Cuba by boat sometime in the 12th century.
It's hard to call this a fun fact about the Bahamas because these indigenous Bahamian peoples were victims of a tragic genocide during the islands' Spanish colonization in the 1500s. While not a happy facts about the Bahamas culture, it's an important one.  You can learn more about the Lucayan Taino at the Grand Bahama Museum.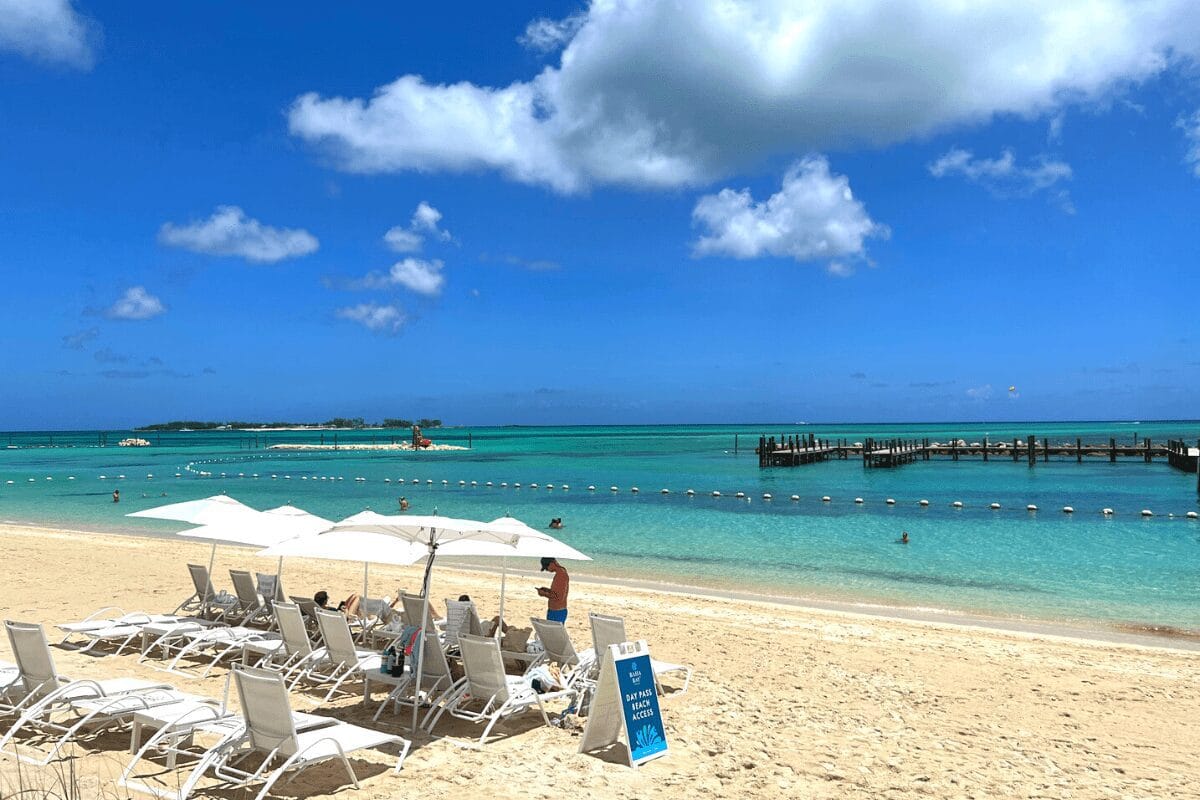 10. The Bahamas is home to the world's second deepest blue hole
The Bahamas is home to the world's second-deepest blue hole: Dean's Blue Hole. This massive underwater cavern is located on Long Island and plunges to over 660 feet deep! Scientists aren't quite sure how it formed, but they suspect it's due to natural limestone erosion.
Visitors to Long Island can swim in the Dean's Hole or enjoy the breathtaking beach that encompasses it. We've got our eye on Cape Maria Resort for a family-friendly getaway to Long Island.  With spacious cottages steps from the sand and a calm beach, this would be an easy and delightful hotel to check out with your littlest travelers.
11. 18th Century Caribbean pirates loved Nassau

Forget Disney World. One of the best fun facts about Nassau Bahamas: The actual pirates of the Caribbean in the 18th century were extremely fond of it.
For a short time, this port city was declared a Pirate's Republic, and pirates would lie in wait amidst the Cays to pillage the Caribbean. Captain Woodes Rogers, the first Governor of the Bahamas, was tasked with ending piracy in the region. Learn more about this fascinating pirate history at the family-friendly Pirates of Nassau Museum.
Another of my favorite Nassau Bahamas facts for the wine-loving parents among you: The wine cellar at Nassau's historic Gray Cliff Hotel – the biggest private cellar in the Bahamas — used to be a pirate prison.
12. Grand Bahama has an underwater national park
The Bahamas is home to a spectacular national park: Lucayan National Park on Grand Bahama Island, which contains the world's longest network of underwater caves. Visitors can take tours or snorkeling and diving excursions through this beautiful underwater world, meeting tropical fish and reefs along the way.
4 Reasons Why The Bahamas Islands Are Perfect For Families
We hope you've enjoyed these 12 interesting fun facts about the Bahamas. Great if you learned something new; even better if you're inspired to take your family to the Bahamas for the vacation of a lifetime. 
We can't help but ad our two cents about why this island country is a top choice for a family trip.
1. Kid-Friendly Boutique Hotels

If you've been to our site before, you'll know we're not a huge fan of  impersonal mega-resorts or kitschy, cartoonish family resorts. If we're being honest, the Bahamas has its fair share of those, in particular the Atlantis on the infamous Paradise Island, and they tend to get a lot of media attention.
But some of the best hotels in the Bahamas hotels have really nailed the perfect balance between family-friendliness and laid-back luxury, the  exact type of boutique hotel we love to visit with kids.  And don't worry, if you stay at a boutique hotel like The Island House in Nassau, for example, you can still give your kids a day of waterpark fun by getting a day pass at a bigger Nassau resort. 
If you're looking for a small, beachfront hotel with a warm family vibe and luxurious feel, the Bahamas is the right place. You can choose from award winning all-inclusive resorts like Kamalame Cay, to intimate, more rustic hotels like Small Hope Bay Lodge.
Or check out our round-up of the best Exumas Bahamas resorts for families to learn about some special places that offer a true toes-in-the-sand experience. 
We understand that every parent has their own checklist of desired hotel features, and that's why we're here – to help you select a family-friendly boutique hotel that fits your personal needs.
2. Gentle and Safe Island Geography

There are so many family-friendly Caribbean islands out there, but some can be challenging with young kids, with rocky shorelines and mountainous terrain. Many parents are understandably concerned about taking their little ones to beaches with choppy waves and intense surf,  to hotels perched on hilly, cliffside land.
More dramatic landscapes might be ideal for families with a penchant for adventure sports, but might be tricky with young children. 
Fortunately, the Bahamas are known for having long stretches of soft, white sand, shallow, clear water with gentle waves, and flat terrain. It's hard to find a safer and easier destination for your kids to frolic on the sand and in the sea. This all makes the Bahamas particularly attractive for a toddler beach vacation.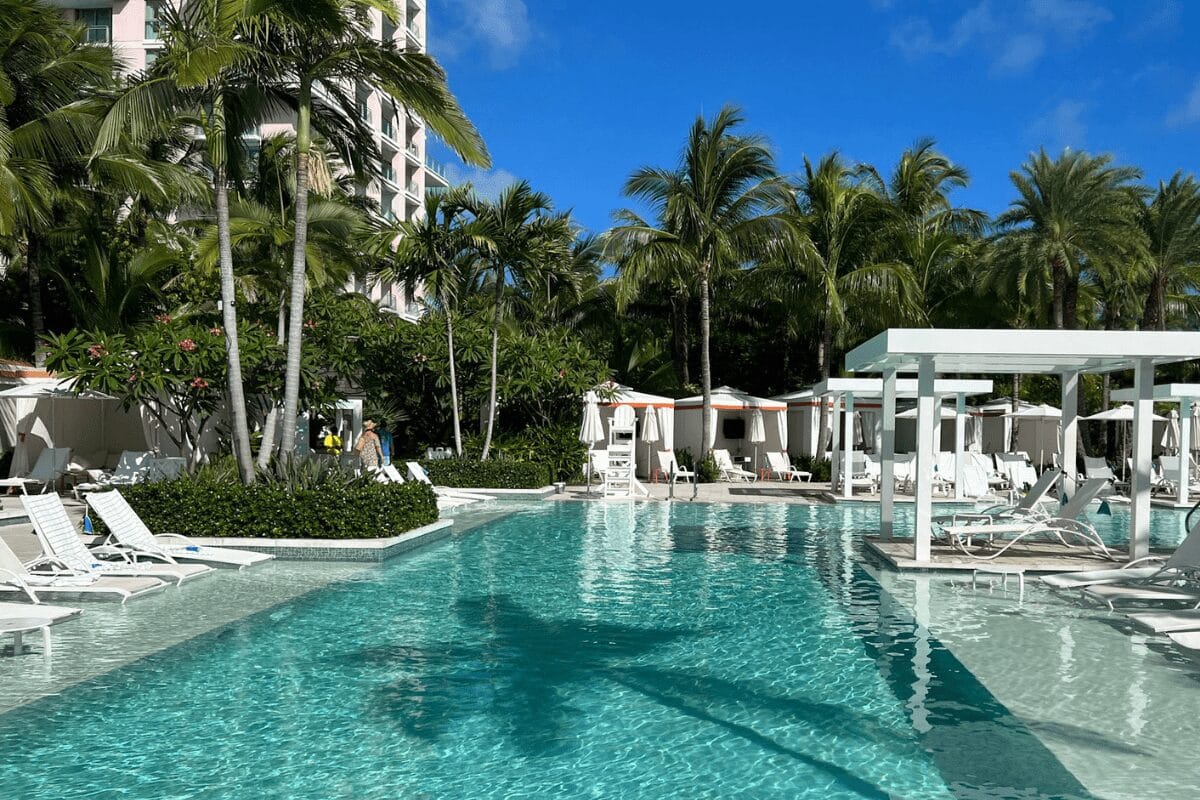 3. It's an Ideal Slow Travel Destination
Looking for a place to unplug from the hustle of work back home? A place you and your kids can slow down together, and reconnect with natural tranquility? 
The Bahamas' Out Islands, like the Eleuthera Islands and Abacos Islands  are uncrowded and remote. Your kids will enjoy the natural attractions like hermit crabs, colorful reef fish, and spacious beaches. Try some local Bahamas food at an authentic island restaurant. No ultra all-inclusive mega resorts or garish water slides to take away from the moment.
4. Its Highly Accessible from the US
One of the ultimate reasons the Bahamas is so perfect for families: it's easy to get to! Many cities have direct flights to Nassau on New Providence Island.
If you want a sophisticated stay in Nassau for a few days with your kids, we love The Island House – a small hotel with a centerpiece pool, a welcoming community vibe, and a pizza window open all day (music to a mom's ears). Grocery shopping in Nassau is easy too, always a perk when traveling with kids. 
If the Out Islands are calling your name, they too are accessible from Nassau. Island hopping in the Bahamas may seem daunting, but the airport makes it quite easy to connect to an inter-island flight for a short flight (15-60 minutes) to more remote and pristine beaches and cover, or to total seclusion in paradise.
Get Caribbean Family Travel Tips Right Into Your Inbox 
If you found this post helpful, don't miss our other Caribbean destination guides for families. 
For more Caribbean travel inspiration, sign up for our biweekly newsletter! We feature a Caribbean destination each month, highlighting our favorite hotels and family travel tips. Keep the travel dreaming coming all year long.